Tales from the cyclo-cross peloton, December 31, 2005
Inside Geoff Proctor's Euro Cross Camp
Helping U.S. 'crossers make the grade
How do USA's cyclo-cross riders get up to speed with their European counterparts? It's not easy, as results from the World's generally show. But cyclo-cross coach and English teacher Geoff Proctor is doing his bit to help the top Americans gain more experience by organising a European cyclo-cross camp in the depths of winter. Steve Medcroft reports on the initiative.
Geoff Proctor
Photo ©: Ed Collier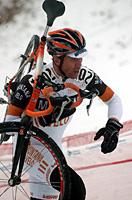 Something unusual is showing up on the results of top Belgian Cyclocross races between Christmas and New year's; there are Americans on the list. We're not talking about the two names we've seen all season (Jonathan Page and Jeremy Powers; who have been quietly making careers for themselves in European 'cross), but sixteen new names in one race alone (the Loenhout, Belgium Gazet van Antwerpen Trofee Veldrijden #5 for example).
You're seeing all those American names in European 'cross because of the efforts of a Helena, Montana High School teacher named Geoff Proctor, A USA Cycling elite-level coach and the U.S. Cyclocross National team coach for four of the last five years, Proctor has gathered the best 'crossers America has to offer the last three years running and flown them to Belgium for an intense eleven-day block of racing and training.
The point of what Proctor calls "Euro Cross Camp", which is held at the home of USA Cycling's European-based espoir development program (a house in Belgium run by U23 team manager Noel Dejonckheere), is to give young American cyclists an opportunity Proctor says he himself had early in his career. "I raced two season of 'cross here in the early nineties (with the GS Guerciotti team based out of Zurich) and did two world championships, and it just was glaringly obvious that U.S. riders needed help. Our riders basically had no opportunity in the six weeks leading up to world's to prepare for the biggest race of their lives."
By opportunity, Proctor means racing experience in the intense and demanding Belgian-centred European 'cross scene. "At the highest level of racing, no matter what discipline," Proctor says, "experience and results go hand in hand. "Even in U.S. 'cross races, some people can slip into a race and score a result even without maybe having top fitness. When you're in Europe, the course, the level of racing, the technical nature of their races and the culture are all so new to some of these guys that it really takes them by surprise."
So the short-term goal of Proctor's camp is simple: "to prepare riders for the world championships and give them European experience."
A humble beginning
Danny Summerhill (TIAA-CREF/CLIF BAR)
Photo ©: Ed Collier

Euro Cross Camp sprang into reality only three years ago. "In the summer of 2003, USA Cycling put together a mentorship program for coaches," Proctor said in late December; one week before leaving for Belgium. "I mentored under Noel Dejonckheere in his espoirs program; I spent a month learning the European road scene, driving the car, helping however I could. Part of my agenda when I did that was to see if there was the possibility to work with him to set up something for cyclocross. That's where it really began to blossom."
The assistance the camp receives from USA Cycling's U23 program isn't sanctioned by the American governing body; the camp is entirely a private affair put together by Proctor. With a little help. "I couldn't do this without Noel," he says. "Noel organizes the staff in terms of who he can call on for massage and mechanics and drivers. Noel knows how to get people picked up from the airport at all different times. he knows how to get groups racing at different times, even in different cities, to their races on time."
Using vacation time from his day job as a creative writing teacher at Helena High School, Proctor works with Dejonckheere throughout the year to prepare the camp. "Noel and I are constantly back and forth planning things," he said. And after two successful prior versions, Proctor admits that putting the camp together has gotten easier. "The logistics are dialled."
The campers
Jesse Anthony
Photo ©: Marek Lazarski

As technical director to the U.S. Gran Prix of Cyclocross Series, Proctor had a front row seat at the season's premier events to scout the best available American 'crossers to invite to camp. "The two criteria for selecting people was that I wanted the hungriest riders and I hoped to pick riders who would ultimately make world's," he said in the lead up to last year's camp. "Personality was important as well. These guys travel together for a week and a half, living in the same house."
Proctor approached racers throughout the season and, he says, had the roster filled by Thanksgiving. A mixture of new and returning racers, the camp hosts sixteen riders for 2005, four more than the 2004 version. The roster includes Kona elite 'crossers Ryan Trebon, Barry Wicks and Erik Tonkin. "We also have Jeremy Powers and Jon Baker," he adds. "Jon's an exciting new elite who has pretty much focused on 'cross this year as well. He's a great example of a movement we see in U.S. 'cross; racers who are specializing and focusing completely on the cyclocross season," not just racing it in their road or mountain bike off-season. "Jon's right up there in the top ten most of the season and he's one of those guys hoping to fill those world's selection spots – which aren't settled until after the January/December races."
Proctor also brought seven espoirs to Belgium. "We want to keep the development of our young guys going," he said. "Guys like Adam McGrath and Brady Kappius, both who were juniors at camp last year, are in their first year as espoirs. They're both going to race world's so we have to invest in them. We also brought Troy Wells and Jesse Anthony, who have pretty much been a level above all the other espoirs this year. Then there's Dan Neyens, Morgan Schmitt, a Redline guy out of the Seattle area, and Mitch Peterson, a Devo mountain biker who did really well in the NORBA junior series."
"For the junior category, we have Bjorn Selander, Danny Summerhill, Chance Noble and Alex Howes," Proctor says. "These guys have shown themselves to be the four strongest juniors in U.S. racing, and Bjorn and Danny have been duking it out at the front all season."
The schedule
Ryan Trebon
Photo ©: Ed Collier

The sixteen riders will compete every other day during the eleven-day stretch between Christmas Eve and January 4th. "You can go over and race virtually every day," Proctor says, "ten or twelve times in a row. But most of the riders wanted a little rest in between the races so we have a full but conservative schedule."
The schedule started with a Superprestige in Diegem on Christmas Eve. "Then we have a day off before Hofstade (World Cup #7). Then another day off." And on like that for a total of six races in eleven days. "The elites and the U23s do our full schedule and with the exception of the last two races (which are U23 only), the espoirs do the same schedule as the elites. The juniors are restricted to two races per week (between Mondays and Sundays) so they'll skip two of the races."
The cost
A ten-day, fully-supported European cyclocross trip can be a financial burden for the racers but, because of the economics of European cyclocross, Proctor says the trip often works out in the racer's favour. "The riders pay a daily fee for all the things Noel provides but these guys are getting very good start money at the world cups. Even the juniors are getting start money." Add up all that start money and even prize money in some cases and, Proctor says, the riders may only be left with the cost of a plane ticket. "Even the smaller races are paying something in start money. It's very foreign to the American riders. In America, we pay to race. Riders in Europe could not fathom paying for races."
As for Proctor, he doesn't take payment for his own time. He only asks that the riders cover his expenses for the trip.
Euro Cross Camp III ends after racers compete in Surhuisterveen, The Netherlands on January 4th.
Camp Riders
Juniors: Danny Summerhill, Bjorn Selander, Alex Howes, Chance Noble.
Espoirs: Jesse Anthony, Troy Wells, Morgan Schmitt, Brady Kappius, Dan Neyens, Mitch Peterson, Adam McGrath.
Elite Men : Ryan Trebon, Barry Wicks, Jeremy Powers, Eric Tonkin, Jon Baker.
Camp schedule
Diegem SuperPrestige (C1): Saturday 24 December*
Wachtebeke: Sunday 25 December* (juniors only)
Hofstade WCS (not World Cup for Jrs/Espoirs): Monday 26 December
Loenhout GVA C1: Wednesday 28 December*
Hooglede WCS: Saturday 31 December*
St Niklaas C2: Monday 2 January
Surhuisterveen (Holland) C2 Wednesday 4 January*
*junior schedule
Geoff Proctor's vitals:
Cyclocross: Learned the ropes in Europe in the early 90's racing cyclocross for GS Guerciotti based in Zurich; 3-time Team USA member for world cyclocross champs in Corva, IT (93), Koksijde, BE (94), and Montreuil-Paris (96); Bronze medalist this year in 45-49 Masters Nats Cyclocross in Providence, Rhode Island (Steve Tilford took gold)
Full-time job: English Teacher, Helena High School
Coaching: USAC elite level Coach; National Team Coach Zolder, BE (02), Monopoli, IT (03), St. Wendel (05)
Promoter and Organizer: Director-Euro Cross Camps I, II an III; Technical Director, U.S. Gran Prix of Cyclocross Series
Family: Happily married to Nadia with two boys, Atticus (10) and Andriy (7).