Recently on Cyclingnews.com
Special News Feature, March 8, 2004
TIAA-CREF/5280 unveiled
17-man development team raises $20,000 on opening night
By Kristy Scrymgeour
Greg LeMond with the TIAA-CREF/5280 team
Photo ©: Beth Seliga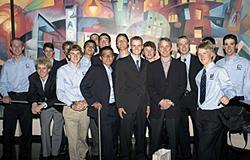 On Tuesday night, March 2, 2004, at the Adega restaurant in Denver, Colorado, the new espoir team on the US National racing circuit, TIAA-CREF presented by 5280 Magazine, welcomed sponsors and other members of the cycling community to officially launch the team and raise a few dollars for the season ahead. Stemming from the 5280-Subaru team of 2003, the team has grown in numbers and ambition with the help of their new title sponsor TIAA-CREF and, of course, team director Jonathan Vaughters, who's dived into the role following his retirement from professional cycling in 2003.
The former Credit-Agricole and Prime Alliance rider has lined up an extensive race calendar this year, with TIAA-CREF/5280 set to compete in 29 national-calibre events.
Up for grabs
Photo ©: CN

Greg LeMond
Photo ©: CN

The mystery rider - not JV!
Photo ©: CN

As well as presentations from Vaughters and team coach Colby Pearce, the night also included an address from cycling legend Greg LeMond (his company LeMond Fitness is a team sponsor in 2004, while the team will be riding on LeMond L'Alpe d'Huez aluminium frames).
LeMond said he was enthusaistic about being involved with a team that consists of riders all under the age of 23. The three-time Tour de France winner explained that he was fortunate enough to start his cycling career with good coaching at an early age, and believes teams like TIAA-CREF/5280 are extremely important in the development of young riders and the also development of the sport in the US. "When you are young, you have the talent and the ability to be able to race with the best - you just lack the experience," said LeMond. "Good coaching and direction is exactly what you need."
After Pearce presented the 17-team members, all kitted out in their new jerseys, guests viewed a slide show of the team camp in Arizona, compiled by team photographer Beth Seliga, before taking a look at the items up for big in the silent auction. The award-winning Adega restaurant (also a team sponsor) put on a three-course meal, which appropriately comprised of a choice between a Tour de France menu and a Giro d'Italia menu (the "Giro" dishes were delicious, and the "Tour" dishes looked equally as enticing).
By the evening's end, and after much fighting between guests to outbid each other for jerseys signed by Andy Hampsten, LeMond, George Hincapie, Tyler Hamilton and Vaughters, as well as bikes, exercise bikes and scooters, the team had raised over $20,000.
As for the team, all are currently attending university or high school and are excited to be part of a professional and well-supported team. Leading the team by example is track racer Colby Pearce, who is currently racing and training hard to make the US Olympic team for Athens. Pearce has already competed at the Moscow World cup this year, qualifying himself for the next World Cup in Mexico, where he will race the scratch and points race and will team up with Jame Carney to race the madison. Pearce coaches the young espoirs and has been instrumental creating the team along with Vaughters.
New to the team and brought on as road manager to help take the workload off Pearce in his Olympic year is Ben Turner. Turner is a successful cyclo-cross racer who has a Masters degree in Kinesiology and Applied Physiology, and works in a laboratory where his research is based on defining, predicting, and improving cycling performance. Turner also coaches for Cycle-Smart.
(Cyclingnews.com is also a Supporting Sponsor of the team.)
The members of the team are:
Brady Kappius - a seven-time Colorado State champion who also excels at cyclo-cross
Jay Ku - a 21 year-old who will spend racing his early season with his Harvard collegiate team
Craig Lewis - a North Carolinian who attended the 2003 Junior World Championships
Dan Bowman - 12th best rider in last year's Cascade cycling classic
Blake Caldwell - 11-time junior national champion
Sheldon Deeny - a stage winner at last year's Estes Park stage race
Ryan Luttrell - Ryan's due to complete his final year of high school this year
Ian McGregor - a former Alpine skier
Andrew Manart - who has already begun the season on a high note, placing sixth at the Valley of the Sun stage race
Timmy Duggan - who is aiming for a top five finish at the U23 world road championships this year
Zak Grabowski - seven-time junior national champion and number one U23 rider in the US in 2003
Alex Howes - at just 16 years old, Alex is a future hill-climb and cyclo-cross star
Nathan Mitchell - whose goal is to compete in the Tour de France
Agnetti Sheldrake - TIAA-CREF/5280 team diarist and entertainer, who won the division two category at the 2003 Tour of the Gila
Peter Stetina - current Colorado State criterium champion, who won the Div III category at Gila last year
Photography
Images by Kristy Scrymgeour/Cyclingnews
Images by Beth Seliga/www.3catsphoto.com