Tales from (outside) the peloton, October 10, 2004
Speed Demon: An interview with Mark Webber
From the racetrack to singletrack
Aussie F1 driver Mark Webber is paid handsomely to drive racing cars at 220 miles an hour. So why on earth does he love riding a bike through the mud in his spare time? Chipps Chippendale found out why.
Wrong helmet, mate!
Photo ©: Chipps Chippendale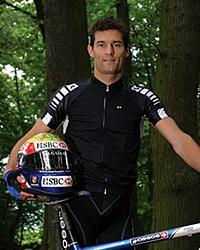 In case you didn't know, Mark Webber is the handsome young Australian guy who's making quite a name for himself on the glamorous, slick world of the Formula One circuit. What on earth, then, was he doing turning down a race at the Goodwood Festival of Speed, to race his mountain bike through a dark, wet, muddy night at England's Saab Salomon Mountain Mayhem 24 hour race?
For those who don't follow Formula One, Mark races for the Jaguar Team, having worked his way up from racing Mercedes sports cars and Formula 3000 to a drive with Minardi and then Jaguar. And he's not stopping there either: he's on to bigger and better things next year with Williams. One thing that's remained constant, though, ever since he moved to Europe in the late '90s, has been a love of cycling.
And not just road cycling in the sunshine - many racers in the handover area of this year's Mountain Mayhem found themselves next to a very approachable and very down to earth motor racing star. Indeed, we found him very approachable when we asked for an interview and found that, in person, he couldn't have been nicer, even making us a fine cuppa back at his house after the photo shoot.
A call to Mark Webber's house at 9am on a Wednesday morning elicits a puffed sounding Formula One star with an industrial hamster-wheel noise in the background...
Cyclingnews: Have we called at a bad time? Did you just run up the stairs?
Mark Webber: Nah, just getting a spin in on the exercise bike... [He continued to spin for the duration of the 20 minute phone interview while we sat there drinking coffee.]
CN: Mark, you have one of the most glamorous jobs in the world - you drive stupid fast cars for a living - what on earth makes you love the humble bicycle so much?
"[I've found] mountain bikers to be a good lot - they're certainly friendlier than the roadies. Roadies think they're all legends."
MW: I got into bikes after coming to Europe [in the late '90s]; I got interested in triathlon and road riding and soon got in to mountain bikes, too. I enjoy both road and mountain and do both when I get the chance.
They give a good variety to keeping in shape. I've got to be in good nick for this job and cycling is low impact, builds back strength and it's surprising just how many muscles it does work.
CN: You turned down the chance to drive a classic Jaguar E-Type at the Goodwood Festival of Speed to race at Mountain Mayhem this year. What possessed you to do that? And how did you enjoy the event. Several of our readers met you in the handover area and you seemed to be having fun...
MW: Yeah, it was fun. I wasn't so keen in the middle of the night, but we got through it and I did four laps and hopefully didn't hold my team back too much [He averaged 1hr 18min laps - Ed.]. The day after the race I hated the idea of doing another one, but I'm now looking forward to coming back and doing better next time.
CN: Does riding bikes benefit your racing? Wouldn't you be in trouble if you stacked it while playing on your bike? Or would Jaguar rather you were fit and enjoying yourself?
Mark riding the trails
Photo ©: Chipps Chippendale

MW: Cycling's good for me and enjoyable. The team are involved in bikes too, we've got some good riders here and we go riding together anyway. I don't push it on the descents too much, though. [I've found] mountain bikers to be a good lot - they're certainly friendlier than the roadies. Roadies think they're all legends.
CN: Have you done many road events?
MW: No, only the Polkadot Challenge [a 100 mile road race in England's Peak District - Ed.] - though a bunch of us made a wrong turn and ended up doing 120 miles instead of the 100. I'd like to do more racing - but it's a case of finding the time. I'm reasonably competitive [you don't say... Ed.], so I'd want to do well, but it's a case of finding the time to get fit enough to do well at it - hard when racing cars is 99.9 percent of my life.
CN: How was 24 hour racing at Mountain Mayhem?
MW: It was the first time I'd ridden at night. I've done a lot of endurance racing, but this was different because you're on the bike for a bit, then you're sitting around until your next lap, rather than going hard all the time. It was important to get good fuelling and do lots of stretching. It was different to other endurance races I've done. I'd like to come back and improve on it.
CN: Does racing at a million miles an hour benefit your bike riding at all? Do you get phased by high speed descents on a bike?
MW: Racing at 220mph is a bit of a different world, but I do know racing lines, I could improve technically a lot and you don't get up to very high speeds off road, but on the roads you can get up to high speeds and I enjoy descending - I know how the racing lines work and how to position the bike into a corner.
CN: Are you happy with your mountain bike skills? What do you reckon you need to improve?
MW: I'm not that good at descending - at trusting the front end on a mountain bike - so I have to work hard on the climbs to catch guys who might be of a similar fitness, but who can descend better than me. I might have to work on that, but the price of getting it wrong is high - I don't earn much sitting in hospital.
CN: Do any of the other Formula One drivers ride bikes? Should we get you all racing on slicks round Silverstone?
A trim and taut looking Mark Webber
Photo ©: Chipps Chippendale

MW: Heh, maybe we should! All the other drivers are very fit and some of them do have cycling in their fitness programme, but there aren't many that ride for fun, too.
CN: In the summer, you must be racing nearly every weekend, testing cars and stuff - and when you're not, you must be drinking champagne in Monaco with all the other drivers - just when and where do you get a chance to ride?
MW: I try and get some riding in between races, and also use the exercise bike when time is tight. But I put a bike on the truck with the team, so I can ride on the Thursday before a Grand Prix. There are some good riders on the Jaguar team, so we enjoy going out for a ride when we can.
CN: What places have you really enjoyed mountain biking? In the world and in the UK?
MW: Germany is good, but the hills behind Monaco are great - over to Nice and around there. I really enjoy the big Tour climbs in the Alps, too. I really enjoy climbing and it's amazing how much damage you can do to yourself in a couple of hours over there. I tend not to overdo it on the descents - and I really prefer climbing to descending.
In the UK, I like to get around and see the place. I did a trip in the Lakes last year and loved it, then there's Wales and the Peaks... Down here in Milton Keynes - well, it's not Wales, but I like to play around at places like Wendover and Aston Hill, they're a good laugh for a couple of hours. Lots of the Jaguar Racing guys ride bikes and the factory's a stone's throw from some good woods to play around in.
CN: Where would you like to ride that you've not been (yet)?
I'd love to do some riding in the States. I can take or leave America to be honest, but some of the riding there is so different that I'd like to see it; the Rockies and so on. I've ridden in Canada though, lots of gorgeous singletrack...
CN: You met Lance Armstrong recently (before the team time trial in the Tour), how was that? Do you have similar heroes in mountain biking?
"There are lots of parallels between Lance and Michael Schumacher"
MW: It was good. It was a bit short and sweet, he had his team time trial head on. It was good to meet them. There are lots of theories about how the Tour riders get to ride that hard for three weeks, but that's the same with lots of sports. There's such pressure for them to perform - and at a faster speed than a few years ago when we know that many riders were doping. It's asking for trouble - 'cos no one wants to see a sprinter do 10.5 for the hundred metres these days - and no one wants to see these bike riders going slower than last year.
I think Lance's story is special and an inspiration, though. I've even been to the hospital in Indianapolis [where Lance had his treatment] to thank them for their work. I don't know as much about the world of mountain biking, but I'm sure there are similar heroes there.
There are lots of parallels between Lance and Michael Schumacher, a driver I really admire. Michael is a great sportsman and the amount of sacrifice and dedication that he's put in to be the best is similar to the work that Lance puts in.
CN: On your website, your favourite possessions are listed as: Playstation2, mountain and road bikes, house, kayak in that order - what bikes do you ride for fun?
MW: I ride Avanti road and mountain bikes road bikes from Australia. I bring them over to the UK with me.
CN: What was the idea behind setting up the Mark Webber Challenge? Is it happening again this year? [Mark organised a ten day, multi-discipline race across Tasmania last year to raise money for charity - Ed.]
Vroooom!
Photo ©: Chipps Chippendale

MW: It was just to raise money for kids in Australia. We had some good sponsors interested and I just wanted to do something different. We even had some guys from the Australian SAS take part - and they were a bit dismissive of how hard it was going to be, but the 10 days across Tasmania was tough - lots of paddling, riding and some big walks,
It's not happening this year as I've not had time to organise anything, but there's a plan in with the government there for next year and to have the event for the next three years...
CN: I bet you wish that Formula One teams were all based in North Wales or the Peak District instead of Milton Keynes. How's the riding down there?
MW: Well, I'm the only stupid bastard on the circuit who lives in England. All the other drivers live abroad. [Partly for tax reasons, while Mark, an Australian, lives in the UK for similar reasons - Ed.] I like it here though, like being in the outdoors - enjoying the great British weather (smirk) and so on... Besides, I'm close to the factory and I love getting in there and working with the guys on the floor, the engineers and solving problems.
CN: Any plans for the future, on and off the track? Will we see you racing solo next year at Mayhem?
MW: After Mayhem, I didn't want to see another mountain bike again, and it's been sat in the shed unused for a couple of weeks, but now I want to get back there and do better next year.
For more info on Mark Webber, check out www.markwebber.com.