Recently on Cyclingnews.com
Tales from the velodrome, May 11, 2004
Back on track: A shot in the arm for US track cycling
For the last few years, US track cyclists have been disadvantaged by the lack of a permanent indoor track for training and racing. That situation is about to change with the completion due next month of a new velodrome in Los Angeles. Kristy Scrymgeour found out what the powers-that-be at USA Cycling hope this will mean for US track cycling.
It's very much a velodrome
Photo ©: Greg Page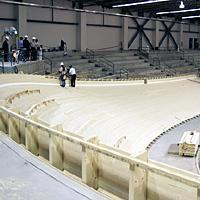 Track economics
In response to a question on his company's comment board for the ADT Event Center, the facility's architect Ralph Schuermann made some interesting points about the economics of velodromes. Tim Acquistapace made the point: "I am concerned that it is labeled on the site as an "Event Center" and not a permanent velodrome installation. ... I cannot help but feel slightly concerned that this project may be used as a velodrome at times when it benefits a cause (like bidding for another L.A. Olympics) and then be dismantled when its bureaucratic purpose is exhausted."
Herr Schuermann, whose firm has designed over a hundred tracks all over the world, and whose family has been involved in the velodrome business since 1926 replied:
"It is always kind of problematic to have a cycle track in a "multi-purpose" building. The cycle track rules the building, but track cycling does not make much money.
"Very often it happens that other events, which make money, occupy most of the user time in such a building and it would not be the first time, that the owners would consider after some years to de-install the track in order to gain more space to rent out.
"The [configuration] of the ADT Event Center is nevertheless not laid out to foster such developments. The layout is very concentrated on good conditions for track cycling and it will be up to the people who will run the hall, to open possibilities for cyclists to be on this track as often as possible.
"My personal feeling is, that there is a big pressure from cyclists from all over California and other states to use this cycle track, not only for competition, but also for training and leisure. Here in Europe we have examples, where tracks are used every day completely by different groups of people. By schools, by clubs, by teams, by private cyclists and alike. Training and leisure sessions offer the opportunity of some income, even if it is only to pay the electricity bill.
"I think, we all in track cycling agree, that the track is one of the best basic schools for cycling (also road) in general. Very often such permanent installed tracks offer the opportunity to create a real track cycling family in this area, a place to meet, to exchange experiences, to compete, to share a good time. And also very often such permanent track attract new cyclists, children, youngsters. I think that we all agree that it will be much better to have children experiencing track cycling than having them fooling around on the streets.
"The people in charge will have a big responsibility to create a real track cycling center in the ADT Center. I think the chances are very good and I guess that AEG will support this."
On June 1 of this year, if the final construction you see in these photographs is finished on time, US cycling will get a facility it has needed for years: a covered, indoor track close to a major centre of population. When it's finished the 250m-long track in the ADT Event Center in Dominguez Hills, California will provide a world-class facility for US track cyclists to train and race, within easy reach of the populations of Los Angeles and Orange County.
It's apparent that lack of a covered track has been one of the factors limiting the development of track cycling in the US. Dominance in track cycling and access to velodromes go hand in hand. Of the top track nations, Australia has five indoor tracks with another under construction; Germany has almost a dozen; France has six and Britain has five. Riders from those countries can train indoors during the northern hemisphere winter and come out flying for the World Cup track series, which usually fits into the first few months of the season. It's no wonder that US riders have been behind the eight-ball in the World Cups.
And as any track specialist will tell you, board tracks are different. There'll be about 35 miles of Siberian pine planking in the track at the ADT Center - the same surface as used in tracks such as Manchester and Sydney, which are considered among the fastest in the world. Having a covered board track will not only give US riders somewhere to train year-round, but increase their chances of setting Olympic and World Championships qualifying times.
Of course, having the facility is one thing, but there has to be the will among the sport's governing body to see that it's used and used well. USA Cycling has appointed a new director of track cycling in Pat McDonough and the push to use the ADT Center to move US track cycling into the 21st century is coming from the very top.
The top of the banking goes in.
Photo ©: Greg Page

First bike
Photo ©: Greg Page

If I had a hammer...
Photo ©: Greg Page

The inside lines
Photo ©: Greg Page

More planking
Photo ©: Greg Page

Workers and engineers
Photo ©: Greg Page

USA Cycling CEO Gerard Bisceglia sees the ADT Event Center velodrome as a golden chance for US track cycling. "This is probably the greatest opportunity to reassert ourselves in track cycling in the last twenty years," he said.
"The track is a facility of the highest quality and happens to be located in an area of the country that is populated by 15 million people. So we have the highest quality product to present to the largest possible population.
"It is incumbent on USA Cycling to use the opening of the Center as an opportunity to renew enthusiasm in the discipline of track cycling."
The track certainly won't be idle for long after its June completion. It will see the US Junior national championships, June 30 to July 3 and then the junior world championships July 28 - August 1.
Bisceglia is excited about these and other imminent events at the center. "The US has been granted a World Cup, which will be towards the end of the year [November 5-11], and we are also hosting at the Center the 2005 World Championships."
"Further, from an event standpoint, AEG [Anschutz Entertainment Group, the promotions company that manages the Center] have talked to us about a number of other opportunities involving international level competition in the lead up to the 2008 Olympics in Beijing."
As well as a venue for top-class international events, the ADT Event Center will provide a focal point for high-level track racing and training. Pat McDonough, USA Cycling's new director of track cycling was frank about the likely direction of the track program will build around the new velodrome. "In a nutshell we are going to steal ideas from programs that have been successful in other countries," he told Cyclingnews. "Of course we'll do that within our limitations. We don't have a National Lottery like the British do and we don't get government funding like the Australians and in terms of funding we are going to have to come up with a solution. Now at least we have the facility."
Bisceglia agrees that, "We need to get heavily involved in program development. We need to get young kids out there on the track, teach them and remove their fears. We want to use the track to create a situation where it will be used for residential athletes, either through the Home Depot Work Program or through the [California State University] in Dominguez Hills or simply for cyclists who decide to relocate to California to use the facilities."
And the quality of the riders that come out of other countries' track programs hasn't been lost on McDonough. "We are going tie our program in with the existing road teams," he said. "There are a number of American trade teams that we want to get involved. The track endurance program in Australia has worked really well as a feeder to European trade teams. We already have a good development program in Belgium for potential road racers, but we want to add to that and open up another way to do it through our track endurance program."
The first step, according to McDonough, is to rally the troops. "The first thing is to get the cycling community together and build up good relationships between the facility, the athletes, the teams and the coaches," he said. "One of the things with track cycling is that it is a very regional and local sport by nature. You can't just pick up a track and move it around. We want to work on that so that track cycling will be more widespread.
"One of the things I want to see is a junior program. This is always important, but at the same time I'm not discounting the British who have had a lot of success with their older riders.
"We will have the ability to bring some road riders into the program and some junior talent and I am very confident that we will see a big change in the level of track cycling in the US in the next few years."