Wanted: Bums on seats in velodromes
Part one: the problem
Despite its spectator friendliness and high quality facilities, Australian track cycling is having trouble attracting the spectators it needs to survive and grow. In the first of a three-part series, Karen Forman investigates why, and what's being done about it.
Fast and colourful
Photo: © Mike Gladu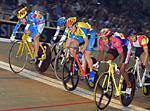 On paper, track cycling is one of the greatest spectator sports around. It's fast, exciting and dangerous... not so different in that vein to its crowd-drawing "big brothers" - Formula One and motorcycle Grand Prix.
Like its engine-powered siblings, it happens on short, steep tracks with adrenaline-pumping tactics and often devastating crashes. And it's an activity that requires great mental toughness and an even greater amount of sheer physical power.
It doesn't matter whether you've had any experience as a bike racer yourself or not. While knowing how it feels (ouch!) to be out there on the track helps, the nature of this sport is that it can be equally as attractive to armchair athletes.
With the after-market industry tuning into logos like "Campagnolo" and "Cannondale" just as surfing became trendy with the advent of "Billabong" and "Quicksilver", spectators can wear the gear, read the form guide to discuss competitors with their mates around the bar and easily become familiar with - not to mention passionate about - the different types of event.
And now that cycling has become more corporate in its approach, with worldwide moves to race on tracks inside indoor arenas with dedicated seating rather than the larger outdoor tracks of the past, track racing is becoming more crowd-pleasing than ever.
Or is it?
Although Australia now boasts five Olympic quality indoor velodromes - Vodafone in Melbourne, Dunc Gray in Sydney, Thunderdome in Adelaide, Silverdome in Launceston and Superdome in Perth - and a good many world, Olympic and Commonwealth champions to race on them, it appears track cycling isn't drawing the crowds it should be.
And it's not just the smaller events in the suburbs and small towns that are having trouble. Even the more high profile meetings, boasting Australia's international riders, are only attracting half-capacity crowds.
Take, for example international track cycling series run in Melbourne by non-profit promotional body Cyclists International.
The five-event season includes the famous Austral Wheelrace, which never fails to draw a capacity crowd, but the remaining four events - which attract exactly the same riders - are not getting the bums on seats Cyclists International needs to make the series serve its purpose, that is, to provide top notch racing for riders and spectators and thus further develop the sport.
With the third of those events - the Dimmys Forges Wheel Race - set down for this Saturday night February 8 at the 4800-capacity Vodafone Arena, Cyclists International is doing its utmost to get the crowds there.
But with the Melbourne Cup on Wheels on November 30 attracting just 2000 and the Australian Madison Championships on December 21 just 2500, the promoters are getting concerned that low numbers might be the flavour of yet another season.
Venues not the problem
Vodafone couldn't be a better venue. The track is 250 metres around, extremely fast, located on the inside of an impressive, new indoor arena in Melbourne's city centre, close to trains, trams, pubs and other facilities.
Cyclists International has been using it for the past two years, since its former venue, an outdoor track at Northcote around 20 minutes drive from the city centre, was closed to make way for a new indoor track being built by Victoria's governing body of cycling, CycleSport Victoria.
You would think that such a venue would attract huge crowds, as does football over the road and the tennis when it's on. But it isn't.
And while there are a number of reasons this could be so - regular competition at close proximity from those other sports, the cost of tickets ($15-20), the method of buying tickets (through Ticketek) and so on, the fact remains that promoters in other areas are experiencing the same difficulties.
Aussie star Sean Eadie
Photo: © Mike Gladu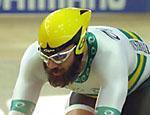 Sydney, for example, where the Dunc Gray Velodrome sprawls in parkland in suburban Bankstown, a good half hour or more out of the city, part of the Sydney 2000 Olympics facility.
Again, traditional events like the Sydney Cup, the Clarence St Cup and other international events like last year's World Cup, are only filling half of the 3000 seats. It's a not-so-happy trend being reported around Australia and in fact, the world.
The question of everyone's lips is why? Why, when track cycling as a sport has reached great heights in the past decade or so, particularly in Australia which has become one of the top cycling nations? And why, when we now boast the best facilities for racing in our cycling history?
Getting the word out
Does it come down to something as simple as promotion - something that costs a lot of money and is very difficult to achieve in a very competitive media advertising world?
It could. A quick survey of a Saturday morning bunch on Melbourne's most famous cycling strips - Beach Rd - last weekend netted a surprising number of: "I didn't even know there was a velodrome inside Vodafone Arenas".
Cyclists International spokesman Adam Murchie, a roadie who spends every other minute away from training and his job in the property investment game working to get CI's track cycling series some media attention, agrees.
"No-one appears to know there is a velodrome inside Vodafone," he says. "There seems to be a lot of complacency. People are happy to want a major event but when it comes down to it they don't want to pay $15 for a ticket."
"If we can't get people who are already into cycling there, how do we get the non-cyclists there?" he questioned.
The 2001-02 season went down among Cyclists International's worst. A lot of the problem seems to stem with the fact Cyclists International and CycleSport have to hire the velodrome from Olympic Park Trust for the five nights per year it uses it. It doesn't have its own facility to use. With that comes rules and regulations regarding ticket sales (by phone or at the door through Ticketek), ticket prices (enough to cover the costs of the track, the catering, the lighting) and so on. It's not, Murchie suggests, a problem with the events themselves.
"The prize money pool this season is over $60,000 for five events, which puts cycling up there with the other major sports," he said. "Cyclists International has handed out more than $2 million in prize money since it started promoting cycling 25 years ago."
He says rider numbers are fairly consistent, with a noticeable increase - particularly in the female ranks - in the past 12 months.
Best kept secret
Murchie says competition with other sports is becoming an increasing problem, both in crowd numbers and in the amount of money available for sports sponsorship.
"We still believe track cycling is the best kept sporting secret in Melbourne," he said. "I believe that once we get them in the door the first time, they will come back."
Atmosphere - or lack of it - could be a contributor.
As Murchie says, and long-time Cyclists International stalwart and operations coordinator Barry Langley agrees, large arenas such as Vodafone with tiered seating do tend to lack some of the atmosphere of the old outdoor tracks.
"Northcote had a real atmosphere," Murchie said. "People used to stand around at the top and talk, have a beer, wander from group to group. But at Vodafone you have to sit in your seat, although we have introduced an infield bar for people to meet at. People are saying that's fantastic."
Langley concedes the use of Vodafone has been somewhat controversial.
"We are losing money," he said. "We lost $10,000 on the Madison and $17,000 on the Melbourne Cup on Wheels. We haven't had a lot of success with Ticketek and we don't get much from ticket sales anyway, after everyone has been paid. Of the $21,000 we took at the gate at the Madison, we only got $4000 back.
"It's hard to convince the public that for all the comforts they have at Vodafone, they have a premium in the form of a more expensive ticket to pay than they did, say at Northcote. That said, Vodafone is a terrific venue in a great position. It's just getting the public to know it's there"
Cyclists International has tried hard to move with the times, bringing in the young 'uns like Murchie, marketing-advertising whiz Ash Sheard, and transport manager Troy Tyler to do the PR stuff.
"We have realised we need a more corporate image, to put the gloss on to get us into the public eye," Murchie says.
Pure speed
Pure speed
Photo: © mike Gladu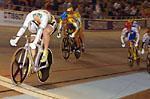 Murchie can't see why people don't go along. "It's just pure speed," he says. "Coming from a racer ... well it still scares me. It's like watching a horror movie, waiting for the falls. It's addictive, it's exciting. And it might sound horrible but it's true - people like to see danger, they like to see the crashes.
"There are a lot of people out there riding bikes - you see them on Beach Rd on the weekends and in the Around the Bay in a Day ride each year - we want them to start coming along to the track. At the end of the day, Cyclists International wants more people on seats - more people give us more money to promote the sport of cycling, which is all we want to do at the end of the day."
Things aren't all that different in Sydney. Mark Fulcher, the operations manager at Dunc Gray and a Cycling Australia board member, says they are doing it tough getting full houses for the major carnivals.
"In Sydney the NSW Cycling Federation promotes a lot of races; we are racing almost every weekend unlike at Vodafone where they are only doing the big events," he said. "However like Victoria, we are finding it hard to get capacity crowds.
"We usually get 1200-1500 max for the major events like the Sydney Cup, Clarence St Cup and international championships, charging $20 for adults. The old events like Clarence St Cup and the Austral in Melbourne do well, but the week in week out stuff is a bit of a struggle. Adelaide goes well, I think because it now doesn't run many big events now that its promoter Mike Turtur has turned full time to promoting the Tour Down Under."
"It's a problem that is worldwide and different people are doing all sorts of things to try to address it. This year for the first time the World Cup was moved to earlier in the year in European winter to try to find some vacant spots on TV. Traditionally track racing in Europe has been mainly the six-days and winter based.
"But holding them later in the year they are competing with the summer sports, such as F-1 and the Tour de France."
Fulcher says Australian cyclists have had some tremendous results and have received very good media coverage, especially during and immediately following Commonwealth and Olympic Games. However, interest then lulls for a couple of years, as it does with other minority sports.
"There is a perception that trying to cater for everyone from under 13s to Masters in a night is too much, so we tried, like at the Australian Cycling Awards night, to make programs shorter and more staged in a bid to attract crowds," Fulcher said. "But then we still have to cater for the development of the sport; we still have to cater for the young ones coming up through the ranks."
Fulcher cites examples like basketball, a former minority sport which morphed from old-time basketball stadiums staffed by volunteers from the parent ranks, to a major media attracting activity conducted in the State sports centre. "Our hope would be that cycling can get there too," he said. "Our competitor numbers are ok, although like most sports we do go through lulls and compete with a lot of other sports."
Synching the seasons
Fulcher says a blurring of the edges of the traditional seasons (April to November track and May through October road) has been necessary as more Australian riders head overseas to join professional road teams and haven't got a lot of time to spend on home soil.
An example is Scott McGrory. The 31 year old, originally from Wodonga on the Victorian-New South Wales border, has been living overseas since 1996 but says he would like to race at home more often.
"The trouble is that we are in the best condition in the middle of the European season, not when the events are on here," he told Cyclingnews in Bendigo last year.
None the less, he fully intends to return to Australia to live one day. He isn't all that happy with the domestic track scene, but would like to get involved in promotion when he retires... one day.
"We're in a bit of a rut. Bendigo is fantastic but the others ... I think a lot of people in cycling have a lot to answer for, because nothing new is happening," he said last year. "The six days in Europe are the pinnacle of tradition, but they change every year and they are getting bigger. There were 135,000 people at Bremen last year. I think people get stuck in their ways ... and we need to be looking at new ways of doing things to get cycling back on track in Australia again."
Brad McGee
Photo: © Mike Gladu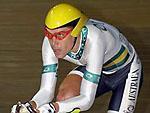 Meanwhile Brad McGee, a multiple Olympic and Commonwealth Games medallist, a Tour de France stage winner and recently, a senior world champion, is a cyclist trying hard to lift cycling's profile in Australia.
"Track cycling has got a lot of tradition, it's been going on for years and it's well supported by the Olympics. But it's the road that has a huge race calendar and teams built around these events." McGee can see some promise in plans being considered by the sport's governing body, the UCI. "I've heard that they are going to offer UCI points for track racing now. That may entice pro teams to include a couple of track riders in their line-up. If that happens, riders can take on track racing with a professional attitude just like on the road. And then the points come back to the team... that scenario could really boost track cycling because it involves the infrastructure of a pro scene which is really developed.
Exposure
In Tasmania, SCAT Secretary Rod Morris suggests high unemployment, lack of national television exposure and average weather could have a bearing of crowd numbers.
"The Tasmanian Christmas Carnivals are the obvious high point of our Tasmanian summer with tradition going back more than 115 years in the case of the Burnie Carnival and 106 years for the Latrobe Carnival," he said.
"Tasmania lacks greatly in national television exposure for the Christmas Carnivals, although the new SBS show "Cycling Weekly" did us a great service this season," Morris said.
"Tasmania has the worst unemployment (per capita) in Australia and that has a probable impact on our carnival attendances, as well as competitor numbers.
"Keeping spectator fees to a minimum, as well as lifting prize money is a priority for Tasmanian Carnival organisers - but it's not easy."
PART TWO COMING SOON - comments from Ron Webb, track builder, Phil Bates, promoter, and others