A special tribute from the peloton
March 14, 2003 (updated March 20)
Andrei Kivilev: September 21, 1973 - March 12, 2003
Andrei Kivilev: RIP
Photo: © Sirotti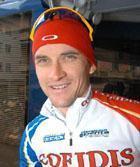 The tragic death of 29 year old Kazakh climber Andrei Kivilev, who died as a result of head injuries sustained during a crash in the second stage of this year's Paris-Nice, has touched us all. It reminds us that life can sometimes be cut short. It also reminds us that the sport of cycling - especially at the top level - is occasionally extremely dangerous, yet it is all part of the job of being a professional cyclist. While crashes are common, however, deaths are infrequent - which makes Andrei Kivilev's departure from this world so hard to take.
The following is a collection of some of the messages that have been sent in following the accident, as well as some related news items. Cyclingnews wishes to extend its condolencies and deepest sympathies to Andrei's family (Kivilev is survived by his wife Natalia and six month old son Leonardo), friends, teammates and those that knew him through cycling.
Read the news article following Kivilev's death.
Letters from Cyclingnews readers have been added at the foot of the page.
Lance Armstrong: "Our kind of guy"
The cycling community worldwide has reacted with shock and sadness to the news of Kivilev's death. In a posting to his website, four time Tour de France winner Lance Armstrong bade a fond farewell to Kivilev.
When Cyclingnews contacted Armstrong yesterday afternoon he referred us to the tribute on his website, adding simply, "We lost a good one." Armstrong's tribute, reproduced here in full, reads:
"Dear readers of LA.com,
"I want to tell you a little about Andrei Kivilev... I came to know Andrei quite well over the years and really admired him and his style. Andrei was unique you see - he was smart, he was perfectly fluent in English (which I suspect is not normal for a young Kazakh), and man was he aggressive. I loved to race with him because you knew when he was in the race, and when the road went uphill, he would lay it all out. Man, was he an attacker! He helped me more then he (or anyone) will ever know - and now he's gone.
"After a crash yesterday that seemed to be quite serious, he took a turn for the worst in the night and passed away this morning. I just got off the phone with Johan who told me the bad news, and I'm devastated. The other side to this is that I know exactly what his teammates and friends are feeling. Images and memories of Fabio Casartelli came rushing back. And of course, Andrei rode for Cofidis, a team which I have enough of a history with. But I can tell you that no matter how ugly it's been between them and myself, I would never in my life wish this on anyone. No way.
"We (Johan and I) tried like hell to get Andrei to come to the team a few years back when he was with Festina. We lost out on the bidding to AG2R and he slipped away from us. We still talk about him and wish we could have had him. He was our kind of man. Consistent, tough, hard working, and a very cool dude. Andrei, I'm gonna miss you my friend. I will look for you at the base of every hard climb I do now, and I will wish with all my heart that you were there to "light it up" or "open it up" like you have done so many times in the past. Rest in peace..."
Vale Andrei Kivilev
Australian race promoter Phill Bates AM has met countless up-and-coming riders over the years. A young Kazakh called Andrei was one of the most impressive, as he recalls in this tribute.
Andrei Kivilev wearing the yellow jersey on his way to winning the 1997 Commonwealth Bank Cycle Classic
Photo: © Phill Bates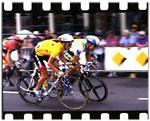 In 1992, as a 19 year old, Andrei Kivilev made his first appearance at a major international cycle tour when he represented Kazakhstan in the Commonwealth Bank Cycle Classic.
He was here to support his better known champions, Alexander Nadobenko and previous winner of the Classic, Valdimir Golushko.
I well remember meeting him at the airport, a pretty slight cyclist at well under half my weight and not speaking any English. It was not unusual for the Kazakhstan team with Manager Valentine Rekhert making up for the team's inability to speak our language.
Andrei however did most of his talking with his pedalling and after the finish of the tough nine days of racing, the young champion finished in fifth place overall, behind Mike Weissman of Germany but ahead of his more fancied team mates with Henk Vogels in sixth place, Nadobenko seventh, Thomas Liese eighth and the late Darren Smith ninth.
The Kazakhstan team did not go home empty handed winning the teams championship and Nadobenko the Mountain Championship.
I remember farewelling the team at the airport, I always wanted to make sure that Valentine was actually departing, and Andrei gave me a big hug and shed tears. He uttered his first English words and said "thankyou".
Andrei's 1997 victory
It was not until five years later that the Kazakhstan team made their reappearance in Australia and we were reunited with both Alex Nadobenko and Andrei.
The Kazakhstan-Bates Bikes team poses in front of some inevitable Sydney landmarks
Photo: © Phill Bates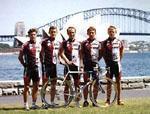 He met me in the same fashion that he departed, a big hug but this time tears of joy for being here once more. It certainly gave me great pride to think that the international cyclists loved visiting our country so much and competing in an event that had done much to enhance their careers. Andrei's English had also improved immensely during the past five years.
There were six Kazakhstan riders here and the five man team of Kazakhstan were riding for the first time in Bates Bikes attire. Andrei was not 100 percent, had a major knee problem and Valentin was keen to make changes with the team, putting Nadobenko (who was riding for a combined international team) into the Bates Bikes team and swapping with Andrei.
I stood firm, especially with the race program already finalised and then went about having our physiotherapist, Glen Cloaco work on Andrei to improve his condition. It was a morning ritual for me, picking Andrei up and taking him to Glen, and the treatment continued right through the entire length of the tour.
The 1,116 kilometre, nine-day race was a tough event with some big climbs introduced and you could imagine my delight when Andrei claimed the lead of the race after the fourth stage.
Andrei continued to defend his lead over the opposition and was so excited when he was able to survive a major attack from second place getter Jens Zemke into Nowra and maintain his lead.
Andrei claimed the win when the Cycle Classic reached its final destination in Canberra and he was able to follow Zemke and ensure victory in the race. He defeated some great cyclists including Matt White, Jay Sweet, Andreas Kloden, Thomas Liese, Julian Dean, Lillywhite, Hunt and Tanner and the likes of Raimondas Rumsas and the great Uwe Ampler.
It was a beaming smile at the presentation, some very well chosen words in his appreciative victory speech that remain deeply etched in my memory.
Also his departure from Sydney a few days later, when he once again showed his affection for Australia and mankind when he unashamedly cried.
Andrei was a thorough gentleman and the victory in the Cycle Classic was the emergence of a new star, securing a contract with Festina less than two weeks later and gooing on to star in many great events including a fourth place in the Tour de France.
He reacquainted himself with Jono Hall when with Festina and remained one of the most liked riders in the peloton.
There is little doubt that one of my great pleasures in life has been following the progress of the many stars that raced the Cycle Classic in their professional endeavours.
Today is an extremely sad day for the sport - Andrei Kivilev was a great champion and a wonderful person. It was indeed my privilege.
Johan Bruyneel remembers Andrei Kivilev
US Postal team director Johan Bruyneel was one of the many colleagues of Andrei Kivilev who was very moved by his death. In statements to Cyclingnews, Bruyneel paid the following tribute to the Kazakh climber.
"I cannot describe how I felt when I heard what happened to Andrei. I couldn't believe it. I had to read the news flash over and over again, until I realized that what I was reading was reality. I was shocked.
Of course, I knew about the accident, since I had talked to Dirk Demol the day before and he had told me about the crash, and he told me that he had a strange feeling when he passed with the car at the place of the crash. But crashes sometimes look a lot worse than they are, so I thought that he would be OK.
It was such a shock to hear that he didn't make it, that he had died. Especially because I had a good relationship with him. We had tried to get him to our team a few years ago, and finally things didn't work out, but he stayed one of the friendliest guys of the peloton. I remember Andrei as a person who had always a smiling hello and we always talked about how things were when he passed my car in the race. This is the image that I will keep of him, for sure."
Bruyneel also touched on the issue of compulsory helmet wearing in the peloton, which has been reopened after Kivilev's death. "Andrei not wearing a helmet brings up the whole issue again about making helmets mandatory. All I can say is the following: as a rider, I was wearing a helmet when I thought it was dangerous, in the beginning of the season, in nervous races, when it was not too hot, etc. When it was really hot in the summer, I did not.
Nowadays, I see that almost all riders wear a helmet when they can. On our team, a lot of riders even wear it in training. I think everybody should decide for himself whether he wears it or not. Most riders will decide to wear it. The fact that Andrei was not wearing a helmet made him one of the exceptions. But the question is, would he still be there if he had worn a helmet? I don't know the answer, nobody knows, but one way or the other, nothing will bring him back...
Therefore I wish to take the opportunity to express my most sincere condolences to all his family and friends. We will all miss you, Kivi."
Scott Sunderland calls for fewer "unnecessary risks"
Cyclingnews diarist Scott Sunderland and his wife Sabine were shocked by the death of one of their colleagues. "We could not put it out of our head since we saw the actual crash on Tuesday. We would like to express our deepest sympathy for his family and team mates," they said.
Echoing the comments of Chris Peers and Hein Verbruggen about rider safety, Scott Sunderland also voiced his concerns about this issue at the beginning of last year. He agrees that accidents are part of the job.
"In the peloton, we know that crashes are unavoidable sometimes, but the way the younger riders are taking unnecessary risks nowadays is crazy," he said. "I lost the whole of 2002 because of a crazy movement made by a younger rider in the Tour Down Under going for 25th place."
Scott has more to say on the issue of safety and the risks of the modern peloton in his diary entry following Kivilev's death.
Vinokourov more motivated than ever
By Chris Henry
Devastated by the loss of his long-time friend and countryman Andrei Kivilev, Telekom's Alexandre Vinokourov commented today on his sadness, and his new-found determination to defend his Paris-Nice title. Team Telekom spokesman Luuc Eisenga relayed Vinokourov's thoughts to Cyclingnews, explaining that despite the loss and a very emotional 24 hours, the Telekom leader wants to continue to race in Paris-Nice in honour of his friend.
"We were always there for each other," Vinokourov said of Kivilev. "We raced for the first time together in 1986, and took the same road through the national team to the 1996 Olympics in Atlanta. We turned pro at the same time, Andrei with Festina, me with Casino."
Kivilev's death was a shock to the entire peloton, and Vinokourov in particular, as both a friend and a compatriot. "To lose one of my best friends is really bad. We're such a strong gang; the Kazakhs are a strong family."
Vinokourov will remember Kivilev as many will, as a talented rider, a dedicated professional, and a true friend. "He was a great rider and was always there to help, like he did in the Sydney Olympics. He will always be there with me."
In Thursday's 16.5 km time trial, Vinokourov performed well, placing eighth behind stage winner Dario Frigo, losing only 24 seconds and holding onto second place in the overall standings. As defending Paris-Nice champion, Vino was already eager to challenge for the victory this year. Now he has an even more important reason. "I know that (Kivilev) wanted to win Paris-Nice. I thought about giving up, but now I have to win... for him. I'm more motivated than ever.
Hans-Michael Holczer: Not how Gerolsteiner wanted to defend jersey
Race leader Davide Rebellin's team manager, Hans-Michael Holczer, told Cyclingnews that, "Well I can confirm that our rider [Volker] Ordowski was behind Kivilev and in fact, he did a somersault over the crashed riders... and Rebellin just managed to avoid the crash as well. My riders told me that it was a real sprint for position in St. Chamond as the peloton hit the bottom of the hill."
"I can assure you that today [neutralised third stage] was not the way [Team Gerolsteiner] wanted to defend Rebellin's jersey. I understand this situation well, since last summer, my son had a bad crash like Kivilev's and had to have emergency surgery to relieve the swelling in his brain... luckily, now he's fine."
Laurent Biondi: "Cycling was his life"
Laurent Biondi, directeur sportif of Ag2r had Kivilev in his team for one year in 2000. He told Cyclingnews, "Andrei (Kivilev) was someone who was a real perfectionist with his equipment and his training. His way was to always try to be the best possible rider in whatever he did concerning the sport. Andrei was a guy who was always smiling and very nice... he was easy to work with and we were sorry to see him leave out team (for Cofidis). You know, cycling was his life... (Kivilev) will be missed in the peloton."
Jean-François Lamour: "brilliance"
French Minister for Sport Jean-François Lamour also paid tribute to Kivilev, extending his condolences to Kivilev's wife Natalia and the whole of the Cofidis team and praising, "the brilliance shown by this Kazakh cyclist who chose France for the course of his professional career."
Frank Vandenbroucke: "I'm thinking of his family"
Quick-Step Davitamon rider Frank Vandenbroucke was a training partner of Kivilev. "We rode the whole winter together on the Cote d'Azur. He was with his family in Saint Aygulf, and I was in Saint Raphaël, so we called each other often. He'd become a close friend," said Vandenbroucke.
"I was right next to [the crash]. I saw two Cofidis riders go down, but I didn't know it was Kivilev. It's a terrible thing that happened today, like what happened with Casartelli. I'm thinking of his family first of all, of his team, and of his friends."
Chris Peers: "a serious professional and a family man"
Belgian VRT commentator Michel Wuyts spoke to Kivilev's team mate Chris Peers during the broadcast of the neutralised third stage of Paris-Nice. Peers, himself out of action because of a serious injury sustained in Kuurne-Brussels-Kuurne, was very shaken:
"I have had a lot of bad luck in my career myself, but this is something that will mark all of us in the team, in the whole peloton," he explained. He said he knew Kivilev as a serious professional, a very responsible rider but also very much a family man who is leaving behind a lovely wife and a six month old baby son.
Chris Peers said that the whole team is in mourning because of the death of a dear teammate and friend. "We have had so much bad luck as a team this year, with accidents and illness. I only mentioned the other day that I hoped that it would stop and not escalate into something really bad... my words weren't cold yet," said a very emotional Peers.
Chris Peers, an experienced pro himself, also mentioned that the younger riders in the peloton, eager for success, are often very reckless, and because of that there are more serious crashes. "I don't want to point a finger at anyone, but a sort of a code of ethics in the peloton would not be a bad idea. Too many youngsters don't have enough experience of riding in the peloton and take too many risks. I myself am now injured again because of a similar situation."
Jean-Marie Leblanc thanks riders
The race organiser of Paris-Nice, Jean-Marie Leblanc, spoke on Eurosport TV about the death of Andrei Kivilev. "It was an emotional day, particularly before the start, when in arriving by car to the start the riders began to learn in a somewhat confused fashion, and then formally, about the death of Andrei Kivilev," he said.
"You can imagine that the ambience at the start in Le Puy-en-Velay became quite despondent. At that point, as is traditional in cycling, the riders began to reflect on how they could show their solidarity with Andrei Kivilev, and they did today what the peloton already did in 1995 for Fabio Casartelli, they decided to neutralize the stage. But they did this, and I thank them for this, in a very professional manner."
"There was first the human, spontaneous reaction; the heart always speaks. The solidarity between the riders always comes out after an accident."
Leblanc added that the riders were also considerate of the organisation, and rode at a relatively fast pace to arrive at the finish around the planned time.
On the inevitable helmet issue, Leblanc said that "I think it's necessary to put the issue back on the table, a problem which was put forth 12 years ago. At the time the UCI intervened and said they wanted to make helmets obligatory for riders' protection. However the idea was rejected at the time by the professionals, saying that helmets were heavy, annoying in the heat, etc. But, materials have evolved and now we have helmets that are lighter and better ventilated."
"In addition, there's a generation of riders who ten years ago were amateurs, and they were required to wear helmets. These young riders have turned professional, and they've all grown accustomed to wearing helmets, or almost all... 90 percent. And that's why the situation is better now to put the question back on the table to discuss the situation."
"It's a bit like highway safety and the imposition of a speed limit. There's a point at which personal liberties must take a back seat to the benefit of the public good. The situation now should be a bit more amenable to require professionals to wear helmets. Without doubt, Andrei might have been saved had he worn a helmet, that's what one could think today."
UCI extends condolences, calls for reconsideration of helmet issue
In a statement issued yesterday afternoon, the Union Cyclist International has offered its sympathy to Andrei Kivilev's family and team-mates, and suggested that the issue of mandatory helmet use in the pro peloton should be reopened.
The UCI's statement reads:
"Deeply shocked by the death of Kazakh rider Andrei Kivilev in the second stage of Paris-Nice, the International Cycling Union (UCI) would like to extend its sincere condolences to the family of the athlete, whose lives have been devastated by this tragic accident, and also its sympathy to his team and all the participants in the event, on such a sad day for the sport of cycling.
"The UCI would like to note that in 1991 a proposal to make the wearing of helmets obligatory was rejected by a large majority of professional riders [A protest was held during the 1991 Paris-Nice - Ed].
"This rule has in fact been applied in all other cycling disciplines, especially those involving young riders. The aim of this policy was to encourage those same riders to continue to wear their helmets once they became professional. Today, the great majority of professional cyclists do wear helmets.
"For the benefit of those who claim the right to make up their own minds when it comes to their own personal safety, the UCI has always maintained as a permanent reminder an explicit recommendation to wear a helmet, even during training.
"While wearing a helmet can never eliminate all the risks inherent in cycling, the UCI will be taking the initiative in the short term of asking all parties concerned to reconsider this issue."
Helmet debate heats up
In the wake of Andrei Kivilev's death from head injuries suffered in Paris-Nice, the fierce debate on whether or not helmets should be mandatory in the professional peloton has been rekindled. While many argue that helmets have come a long way in terms of weight and comfort, the issue of personal liberty remains as important now as it was in 1991 when the peloton last fought the UCI on mandatory helmet use. A number of riders, current and retired, have made their cases for or against such a rule.
Axel Merckx (Lotto-Domo):
"Even in training I wear the helmet when I have to descend a col. On the top of the climb I stop and put it on. Even if some of my own colleagues laugh about it. I don't let it get to me. I'm ok with the helmet being mandatory in racing; even if it's not certain that a helmet would have saved Kivilev's life. I know that my friend Piotr Wadecki thanked his life to his helmet in Tirreno-Adriatico last year. Casartelli was only wearing the soft strap helmet.
"My wife Jodi and daughter Axana motivate me to keep this habit going. I have a family, then you think twice. But cycling itself has become more dangerous these days. When I train on roads where I didn't meet anyone in previous years, I see a string of cars lined up."
Massimiliano Lelli (Cofidis):
"If he had his helmet on, I'm sure that nothing would have happened," Lelli told La Gazzetta dello Sport. "It's too bad he rarely used his helmet. I think it's incredible that helmets aren't obligatory."
Emmanuel Magnien (Brioches La Boulangère):
"I know I risk smashing my head but I just don't feel myself when I wear it. If I put it on it's because I'm already thinking about a possible fall, and that makes me feel unsafe in itself."
Laurent Fignon:
"In 1991 I was on the first line in the protest when the UCI wanted to make the helmet mandatory in pro racing. They have to leave the freedom of choice. A helmet might have helped Kivilev, but what happens when you fall sideways onto your face? Andrei is not the first victim and will unfortunately not be the last, with or without helmet.
"Unless you make it a full face helmet, like in F1, or wrap up a rider completely in a similar way. It is a dangerous profession. But what can you say about the guys in Paris-Dakar, or boxing, in which men of fifty are completely ga-ga because of the punches they took. Kivilev was very unlucky not being able to react, it is fate, he was very unlucky. But please stop the discussion about the helmet."
Ivan Basso in favour of helmets
Fassa Bortolo pro Ivan Basso is one of those riders in favour of mandatory helmets in pro racing. "Since I've been a pro I've had two really bad crashes and in both cases, the helmet has saved me from injury," he said to La Gazzetta dello Sport. "Two years at Giro del Mediterraneo and last year at Paris-Brussels. So because of those two crashes I've had a lot of experience, so I always wear my helmet in training or racing. I'm among the people who think that it should be mandatory."
Natalia Kivilev to stay in France
Following the tragic death of her husband Andrei in Paris-Nice, Natalia Kivilev has reportedly indicated a desire to continue living in France. Though she awaits the arrival of family members from Kazakhstan, Mrs. Kivilev will likely decide to bury her husband in Sorbiers, France. Wednesday morning, following news of Andrei Kivilev's passing, the Cofidis team management began to work with the French government to facilitate travel visas for Kivilev's family in Kazakhstan.
A tragic reminder for Clara Hughes
Canadian cyclist/speed skater Clara Hughes reflected on the death of Andrei Kivilev, recalling her own sentiments after the loss of Nicole Reinhart's in 2000. Hughes knows the roads of southern France well, having raced in the Tour de l'Aude. Currently preparing for the world speed skating championships, Hughes shared her thoughts in an article in Speed Skating Canada.
"As I watched [Wednesday's] stage of Paris-Nice, the neutralised procession of racers going the distance in unified sorrow, the teammates of the Cofidis rider riding just ahead of the peloton looking numb, I began to think of what Nicole's death has meant to me," Hughes said, "someone lucky enough to come out of some pretty horrific crashes bruised and battered, a girl fortunate enough to have had the opportunities of living her dreams."
Hughes reflected on her experience in the 2000 Olympics in Sydney, with an understanding of the scope of sporting achievements and how athletes come to see the bigger picture. "Sport is something that parallels the human struggle - the will to succeed, the agony of defeat, the hero path," she wrote. "I think humanity needs heroes for us to continue, and sport is something that has the potential to display excellence as a human being, not just glory and winning."
"Sport has taught me to live," Hughes added. "I mean really live each day to its fullest, to thrive in something that I love to do, to have a dream and have the courage to follow it. It has taught me to break down the barriers of limits, from within and others as well. It has shown me that if you truly believe, and do all within your power to work and prepare for what you want to do, that anything is possible. Anything."
Courtesy: Speed Skating Canada
Cyclingnews readers' Letters
A courageous rider
I was stunned to read about the untimely passing of Andre Kivilev a few days ago. The same feelings came to me when Ayrton Senna crashed at Imola nine years ago. Senna will always be remembered as a courageous driver, so we should also remember Kivilev as a courageous rider. Thoughts must now turn to the living: To Kivilev's widow and his son, and how to prevent history repeating itself. I understand the case for personal liberties, but even though wearing a helmet may be inconvenient - it is better than being permanently inconvenienced. I don't mean to harp on about helmets, so we'll remember you always Andre, and miss your talent. I wish your family as painless a grieving process as possible (if such a thing exists). Time is a great healer, but we shall never forget.
Paul Brown
Bournemouth, UK
Sunday, March 16 2003
My wishes are with his family
I didn't personally know Andre. I race in Florida as a Cat-2 rider. I told my wife of the tragedy when I got home and we just hugged for a while. As a human being working so hard to get where you want to be, whether it be cycling or anything else, it's sad to see it cut short. All I could think about was his family, other cyclists families and mine. My wishes are with his family.
Ralph Teten (Pres. of Red Hills Racing)
Monday, March 17 2003
Condolences
Just want to express my heartfelt condolences to Andrei's family - it's a tragedy - I thought that my life was tough - I work in the IT industry in the US and have been out of work for a year over the last 2 years and am currently going through a divorce - but I realize that this pales in comparison to what Andrei's wife and family must be feeling. I will say a prayer for them.
Ed Ayres
Monday, March 17 2003