A Cyclingnews Special Report, December 11, 2003
Out of order: Eating Disorders - Part 1
In Part 1 of a Cyclingnews special report, US correspondent and former Saturn rider Kristy Scrymgeour examines the issues that have led to eating disorders among professional women cyclists, speaking with former world champion, Cathy Marsal, World Cup champion Nicole Cooke, Anna Millward, Dotsie Cowden and renowned cycling coach Kendra Wenzel.
Part 2 of Out of order: Eating Disorders
Leontien Zijlaard-Van Moorsel suffered from anorexia earlier in her career
Photo: © Hennes Roth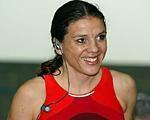 A FEW WEEKS AGO, FRENCH DOCTOR ARNAUD MÉGRET claimed that 30 percent of elite women and 10 percent of elite male cyclists in France showed some signs of disordered eating. With cycling being a sport where gravity is so often the main enemy, the pressure to lose weight in order to gain power, increase speed, and, ultimately win bike races, is enormous. Although problems such as anorexia, bulimia and osteoporosis are common to both men and women, it is females who have suffered most.
In the same week as Doctor Mégret made his claims on the prevalence of eating disorders within cycling, Leontien Zijlaard-Van Moorsel, having suffered from anorexia earlier in her career, announced that she is opening a halfway house for eating disorder sufferers. The new facility will give people with eating disorders the opportunity to come in for company and education, teaching people how to cook properly, not eat too many snacks but not feel guilty about eating sweets or chocolate.
The pressures from society to look good are already enormous, with children younger and younger falling victim to the eating disorders such as anorexia nervosa and bulimia. Research has shown that there are multiple reasons for people to develop eating disorders, the most common one being depression. Many people believe that they need to be skinny to have a better life or to be happy at all.
Cycling-specific research scarce
Not a lot of research has been done on eating disorders in cycling, but it is a common attitude when you are involved in an endurance sport that the skinnier you are, the better you will be. Of course it is true that a lean athlete with a high power to weight ratio will perform very well. The problem lies with how far athletes take this theory and where they draw the fine line between being lean and being too thin with no power and possible health issues.
Anne Yew, a masters candidate at the University of Victoria, Canada, is currently studying this very topic for her thesis and believes, "the problem with athletes in endurance sports, is that yes, to a certain extent performance does initially improve with weight loss. This then may lead athletes to the very unrealistic notion that the more weight they lose, the faster they will be."
Symptoms of anorexia nervosa
Abnormal weight loss
Fear of gaining weight
Refusal to eat, except for tiny portions
Distorted body image
Constant dieting
Compulsive exercise
Hair loss.
Symptoms of bulimia nervosa
Preoccupation with food, weight and body
Binge eating, usually in secret
Vomiting after bingeing
Abuse of laxatives, diuretics, diet pills or drugs to induce vomiting
Compulsive exercise
Broken blood vessels in the eyes
More information: (US residents) www.altrue.net/site/anadweb/
We are all guilty of believing this to some degree and there have been many athletes who have fallen over the line. Notably, the current three-time Olympic Champion and hour record holder Leontien Van Moorsel. In 1992 and 1993, Van Moorsel won the challenging women's Tour de France as well as becoming world champion in 1993, however at the end of 1993, she began to suffer health problems as a result of being too thin and was forced to retire from the sport at the peak of her success.
Van Moorsel has since come back from that challenging time in her life and proved that she can still be at the best in the sport without putting her body through that strain again, and is now actively helping other young people avoid the mistakes she made.
Problems not limited to anorexia
For other athletes it may not go that far, but restrictive diets can cause other health issues, especially, but not limited to women. Former world champion, Cathy Marsal, told Cyclingnews of her many years of dieting to become faster. Now Cathy suffers from osteoporosis and still has that obsession with dieting in the back of her head.
"When I was 18, I had an obsession to be as light as I could and the idea that I could fall into a problem with anorexia was far from my mind. I just wanted to BE LIGHT. But the line is very thin and you can cross it very easily - I think I did. Now as I suffer from osteoporosis problems, I wish somebody would have warned me of the dangers and those crazy "don't eat but ride as much as you can" diets! I have done diets like this for years and I am counting the points still now, even if osteoporosis is not irreversible, it's a real problem in women's cycling to be aware of. I was without anybody to advise me back then."
Internal and external pressures
T-Mobile rider Dotsie Cowden experienced anorexia in her pre-cycling career as a model
Photo: © Team T-Mobile/USA Cycling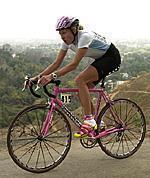 This is also a problem in cycling, especially women who start young, or are totally new to the sport and don't have the right people around them to help them make their decisions. Marsal started racing her bike at the age of 13 and by 19 she had won a world championship. She has had many coaches over the years, most of whom have left her to her own devices when it comes to eating, but she had one coach whose theories on eating may have affected her entire career.
"Losing weight was an obsession for him," said Marsal, "and the pressure he put on me was almost unbearable. His beliefs accentuated the thoughts I already had that I needed to be as light as possible!"
Other female riders in the peloton feel the same way about pressures from outside being very strong. World Cup champion, Nicole Cooke, believes that "cyclists left on their own would not have any big problems about losing weight, but without a doubt there is a lot of external pressure that seems to eat away at a lot of women, really affecting their eating habits. There are also so many pictures of men with crazy body fat levels that are unobtainable for women, but we feel that we have to look like our male counterparts to be taken seriously as cyclists."
Of course, it all depends on individual experience. Many athletes Cyclingnews spoke to say that the want to lose weight is more of an intrinsic force for them. Nicole Freedman says that for her it is "completely from within". She adds there is a real understanding among the riders that being "lean and light (i.e. below a comfortable set point) is the key to performance".
Another rider - who preferred to remain anonymous - agrees: "In my experience, this pressure comes mostly from within, it is difficult to hear the gossip and not let it affect you to some degree. It is a fine line and a delicate balance... we all hear about 'strength to weight ratio' and look for the obvious place where a change can be made, i.e. weight loss, but this isn't really always the logical thing to do."
In other words, the pressure comes from everywhere, from within you, from coaches from public pressure to perform and from society's perception of beauty. The general consensus however, is that the pressure is most definitely there, and for a large percentage of athletes it can lead to problems, mental and physical.
Winners aren't exempt, either
Anna Millward used common sense to guide her
Photo: © Gerard Knapp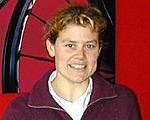 One comment made from Australian cyclist Anna Millward was that even those athletes who are winning major international races are led to be unhappy with their weight. She used Baden Cooke's success this year in winning the green jersey at the Tour de France. "Baden won multiple stages in the Tour and instead of heaping praise on him, someone will make the comment that if he just lost three kilos he would be up there on GC and "not just" winning stages. So even if you're starring in the sport you still get the impression that it's not good enough. It's only good enough to be winning if you are under five percent body fat."
Millward spent many years at the top of the sport winning the World Cup series twice and many other races. Now, since retiring due to a persistent injury she has taken up kayaking. She also believes that the pressure comes from all angles within the sport of cycling. "It has been interesting comparing the cycling approach to kayaking, where there is no pressure. Not that I am elite there, but I think in cycling you pick up on the pressure from very early on." Millward comments of the pressures she felt herself as a cyclist. "I felt pressure from the public and the institutes of sport to modify eating to attain lower body fat percentages. I think I managed to pull through relatively unscathed because I entered the sport later than most and wasn't quite as impressionable, and because I had a boyfriend [now her husband] who was sufficiently removed from the inside circle of cycling to be able to maintain a grip on reality."
Short-term gains = long-term damage
Cyclingnews also spoke to Kendra Wenzel, who raced on the international circuit for many years before starting up a coaching business with her husband Rene. As a coach, she says that you have to realize that cycling is a "gravity sport" and of course diet goals are a big part of an overall training program, but she suggests that "smart coaches encourage and support" and don't pressure. "After all, it's up to the athlete - most athletes are paying their own way to the races and buying their own food. I encouraged athletes to lose weight, yes, but only after their own acknowledgment that it's a goal. I never scold a rider or express disappointment when he or she breaks a diet commitment. I just remind the racer that it's his or her goal, and that they aren't doing it for me. Everything has a pay-off, and the athlete has to decide what the pay-off is in staying at the current weight versus the target weight, whether that pay-off is immediate gratification or more complicated."
Wenzel has had a bit of experience dealing with people with eating disorders, notably people she has raced with and explains how hard it is the help them. "The fact is that there are athletes out there who have made themselves unhealthily skinny or 'scary skinny' as I call it in coaching, and for some time they were able to maintain a noticeably higher level of racing performance, particularly in climbing. When a racer is super skinny, it's hard to reason with her while she's performing. But they have to understand that they are making a choice in their future health and may be doing damage to their bodies that they may never be able to undo. Some of these riders may seem just incredibly fit and seem to have admirable discipline and everything in order, but then they blow later, and beyond those who know them well, most outsiders don't even see it coming until the athlete actually melts down, takes a break and puts on more weight than she's ever raced with before or quits the sport altogether."
Dotsie Cowden is an athlete who has personally experienced anorexia and has built her way back up to be a strong athlete now riding on the US National team. In her case however, her eating disorder stemmed from modelling prior to cycling. "I come from a severe anorexia background when I was modelling in my early 20s followed by a year of bulimia," she explains. "It is kind of strange now competing in a sport where weight is an issue. I have learned though, through lots of trial and error what kinds of foods/fuel my body runs on best. My best advice is to search out what body type you are and what kinds of foods your body processes best. One key rule is NO deprivation. I know this is easier said than done, but if you can allow yourself to indulge when a craving arises, then you will never overeat."
Eating disorders are a problem in all walks of life. Cycling, due to its power to weight necessity accentuates the problem for some athletes. What must be learned from this is that anorexia is a very dangerous disease and can in fact kill you. It is important for athletes of all ages and sexes seek advice from coaches or nutritionists when trying to lose weight. Being lean and muscular is a healthy goal, but doing it in the right way is extremely important.
In Part 2 of Out of Order: Eating disorders (to be published next week), Cyclingnews speaks with a number of current and former professional women's cyclists, who each lend their words of wisdom. Some, like Catherine Marsal have learned the hard way, whereas former World Cup champion Anna Millward experimented safely to discover what was best for her.