Tales from the people's peloton
Ben Atkins' Gran Fondo Follies: Gran Fondo del Monte Grappa
If you find yourself in Italy on any weekend between February and September, chances are that there's a Gran Fondo happening not too far away. While some of these events like the GF Campagnolo, GF Pinarello and the Maratona di Dolomites are world famous, others are less well known, like the Gran Fondo del Monte Grappa. Despite a few organisational niggles last year, Ben Atkins decided to give it a second shot.
Beautiful Bassano
Photo ©: Ben Atkins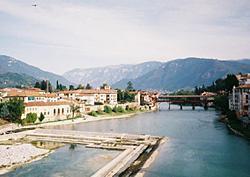 Organized in early September, and starting in the town of Bassano del Grappa, the Gran Fondo del Monte Grappa is based around the ascent of the awesome climb of Monte Grappa. I rode the first edition last year and really enjoyed myself despite some organisational problems, so I thought I'd come back and see if things had improved.
Another reason for riding is that I absolutely love the area. Having bought my made to measure Battaglin Vortex from the factory in nearby Marostica, and ridden the nearby Gran Fondo Campagnolo twice, I need very little excuse to return. As well, Bassano del Grappa is currently my favourite place in the world, nestled in the shadow of Monte Grappa the town has some spectacular architecture, a "Ponte Vecchio" (old bridge) and some of the best pizzerias and gelaterias I know.
Well, technically, Gran Fondos are races, even if most 'fondisti' are just riding to get round, so you may sometimes need a racing licence to enter, although not always. Gran Fondos generally cost around 25-40 euro depending on the size of the fondo and whether or not you enter in advance. For your entry you not only get your number and all the support around the route, but also get a timing chip to give you an individual time and various freebies from whoever is sponsoring the race. As I entered Gran Fondo del Monte Grappa just the day before, it cost 30 euro, and for that I got a can of chain lube, a jar of organic jam and a baseball cap with a German flag on it (which I'm going to give to Jan, my German club-mate). I also elected to pay an extra 10 euro for a souvenir jersey for my fast expanding collection.
Almost ready
Photo ©: Ben Atkins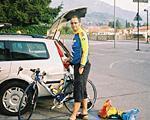 The first noticeable difference at the 2003 edition of Gran Fondo del Monte Grappa was that the course was 41 km longer than last year! The original course had 50 km of flat before climbing Monte Grappa, but this time we had a climb to Rifugio Marcesina - an old Austrian fort - to contend with first, making a total distance of 151 kilometres.
The race started at nine in the morning, which meant that I was up at about six-thirty for breakfast, so I could set my bike up and prepare myself as well as possible. Once the sun came up properly at around seven-thirty, it became obvious that it was going to be a hot one; there was barely a cloud in the sky, so no threat of rain would ruin the descents.
The first climb is a real beauty, parts of it were pretty tough, but for the most part, it was fairly steady and I managed to get a pretty good rhythm going and really enjoyed myself. It wasn't long before we passed the first drinks station - a criticism of last year's event was that there weren't enough of them - so I grabbed a bottle of water without stopping, from a girl holding it out to me, and continued upwards.
Fans of Italian cycling history will be interested to know that this was the climb where Fausto Coppi's career ended. Apparently he crashed on the way up (!) and broke his leg for the umpteenth time, forcing him to retire for good. Thankfully the road surface is considerably better these days, so there was no danger of this happening to me; the problem I had was to just keep moving on the steep sections, many of which were well over 10 per cent.
It's not really a race, but for some it is
Photo ©: Ben Atkins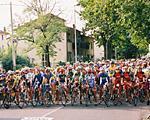 The plateau at Rifugio Marcesina is breathtakingly beautiful, adding to the feeling of my great satisfaction of having reached over 1300 metres under my own steam. Sadly though, I didn't have time to enjoy the view, so I filled up my bottles with Enervit, grabbed a couple of bananas and made my way up the last little climb before the descent proper began.
The descent from Rifugio Marcesina dropped around 1100 metres in about 15 km, so it was pretty steep; some of the top sections were pretty technical too, so I didn't break any speed records in the early part. After a while though, it changed to the faster form of long straights and hairpin bends, so I was able to let my Campag Record bearings and 80 kilos combine to fly me down the mountain.
At the bottom of the Marcesina descent, the course divided into the "Gran" and "Medio" fondo courses; the Medio Fondo followed a flattish, almost downhill route back to Bassano. The fit, brave and more stupid among us turned right, however - towards the slopes of Monte Grappa.
Before you get to Monte Grappa, there is a small climb up to the village of Fastro, a really nice climb which I remembered from last year. It winds up at a fairly gentle gradient with really nice hairpins, I got into a good rhythm and cruised up, and was almost disappointed when it all seemed to be over too soon. This short climb is followed by around 25 km of flat, on quite busy roads, until you reach the village of Seren del Grappa, this is where the real work starts.
Monte Grappa is one of those climbs that doesn't mess around with gentle beginnings or anything like that, as soon as the climb starts it's straight in with some really steep gradients, making you flounder for your lowest gear (in my case 39 x 26) straight away, and doesn't let up for quite a few km. As I was aiming for a finish time of around seven hours, and I'd already been riding for three, I estimated that I'd have around three hours to get to the top to make it. This may sound like a long time, but as the back or north side of Monte Grappa is 30 km long, at an average grade of about 6% it's comparable with about two Col du Galibier climbs.
Despite having an average of 6 per cent, the climb is rarely that easy. There are several sections where you find yourself going along the flat for a while, and there are even some quite steep descents, but when the road is sloping upwards, boy does it slope upwards! After one of the downhill sections, I found myself going from 50 kmh to less than 10 kmh in the space of a couple of hundred metres!
Eventually, after a couple of hours of slog through Grappa's forests, the road snakes into the open and I approached the top. As I mentioned earlier, it was a pretty hot day, and the sun was really baking down on the grassy slopes and bleached tarmac, I realised at this point how lucky we were to be climbing up the north side, as we'd enjoyed plenty of shade most of the way up, and to have done it exposed to the sun would have been twice as difficult.
Eventually, I found my way to where the road turned off to "Cima Grappa" [the highest point - Ed]. Last year I didn't go up this part as it's a dead end, but this year the organisers had arranged some cones on the road, so we climbed one side and descended the other. This part is really tough as you pass the right turn where the road snakes tantalisingly downwards, but you have to continue up to the very top.
Monte Grappa is considered a sacred site in Italy. In WW1 it was a pivotal point in the war against Austria, and in WW2 it was a refuge for the local partisans, so there are numerous memorials and monuments, including an ossuary containing the remains of nearly 23,000 war-dead Italians and Austro-Hungarians from WW1. Atop Cima Grappa, I was most pleased to see the man distributing hot tea and jam tarts, so I downed a couple of cups, filled up my bottles and made my way down the mountain.
At this point, I knew I was going to make it inside my target time of seven hours, which after just missing out on a silver medal in L'Etape du Tour [a Fondo of a stage of the Tour de France - Ed] - and taking eleven and a half hours to do the GF Campagnolo - it was a bit of a relief. From the top of Cima Grappa to the finish in Bassano, it was 25 kilometres of a steep descent followed by around 10 km of gentle descending.
Again the road was quite technical at the top, preventing any great speed, but as time went on, the road opened up and my speed went up. It had been quite cold at the top so I'd put my jacket on, but as the altitude got lower, the temperature went up and I stopped to take it off. The bottom part of the Monte Grappa descent is really beautiful, with long straights with wide hairpins, and a constant view over Bassano del Grappa below. As I flashed through the village of Romano d'Ezzelino and joined the flatter road to the finish, the blood had returned to my legs, and I found some power from somewhere and flashed past some slower riders in those last few kilometres.
And the winner is… me!
Photo ©: Ben Atkins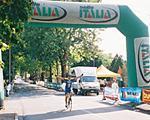 The very end of the course takes you through the streets of Bassano, sadly not into the beautiful old town, over the Ponte Nuovo (new bridge) and round to the finish line, which I crossed as if I'd won ( after finishing well under my target, finishing in 6'42'09" at an average speed of 22.53 km/h, I felt as though I had). My girlfriend, Liz, was on hand to record the moment and take me over to the pasta party to get something to eat.
Once I'd eaten, I went to the sports centre across the road to have a shower, which was to become my first criticism of the event: the water was freezing! No matter how long I ran it for, it refused to warm up. Still I suppose it probably did me good, and maybe it'll encourage me to finish a bit faster in future!
This was one of my favourite Gran Fondo's of 2003, as the organisers really seem to have solved the problems of last year, so this event should go from strength to strength. I can't wait for next year's version. Maybe I'll see you there.
Ben Atkins' Gran Fondo Follies: Gran Fondo Campagnolo