Recently on Cyclingnews.com
An interview with Amaël Moinard, August 9, 2008
Step by step: Amaël Moinard, France's next big Tour contender?
Even though this year's Tour de France was quite a successful one for French teams with three stage wins and a showing in the yellow jersey, the best Frenchmen in General Classification did not make it into the top 10. Sandy Casar was the best placed Frenchman at 14th, but just behind him was a newcomer to the Tour, Cofidis' Amaël Moinard. Never heard of him? That's why Cyclingnews' Hedwig Kröner sat down with him on the Tour's ultimate start in Etampes.
Amaël Moinard
Photo ©: Hedwig Kröner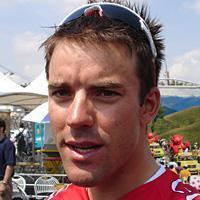 Before Casar passed Moinard on General Classification on stage 16 to Jausiers, the Cofidis rider had been 'best Frenchman' for five days. Part of a breakaway, he jumped from 37th to 25th position on stage 11 to Foix in the Pyrenees, and then just kept improving. In the end, Moinard wasn't unhappy to have lost his title to Casar.
"To finish best Frenchman doesn't mean anything to me," he shrugged. "That's only something for the media and the public - but it's never been one of my personal goals. To finish within the top 15 on my first Tour de France, on the other hand, is something that makes me very happy and proud. Nobody expected this of me, except of course [Cofidis manager] Eric Boyer and my trainer, who knew that I could perform this way."
The man from Cherbourg in the North of France that his whole season preparation this year was centred around the Tour de Franc, which could explain his good performances especially in the final week of the race. "Since last winter, I have been preparing and concentrating solely on the Tour. It was a bit risky, but it worked out! So I came here feeling fresh, and the more experienced people told me that that's what makes the difference in the last ten days," he explained.
"Even in the last time trial, I still had some energy. I'm surprised at myself, but at the same time, I think that all my preparation and work just pays off."
Moinard's career so far has been a steady build-up, a logical succession of improvement. The 26 year-old started out at Cofidis aged 23, in 2005. This year is thus his fourth year as a professional. While racing at amateur level, the Frenchman finished his studies of applied mathematics. In his final year as an Espoir rider, he nevertheless decided to really give it a go as a cyclist. "I told my parents, 'I want to ride the bike for six months flat out, to see if I can get a pro contract'. I had already been in the French national team the year before, but becoming a pro cyclist really was my dream. It helped that I already had my university degree," he continued.
Cofidis' Amaël Moinard on the podium of the 2007 Route du Sud
Photo ©: Régis Garnier

Cofidis manager Eric Boyer saw the talent of the young all-rounder and took him on. "I worked two years for the team, without any personal agenda. It was just about gaining experience and power on some bigger races like the Tour de Romandie, the Tours of Germany and Poland. Last year, I started getting some results: I won a stage at the Route du Sud, where there were four climbs in one day. I passed guys like Sevilla and Mancebo, so I started getting more and more confidence in my abilities."
Moinard then finished 11th overall in the Deutschland Tour and 14th in the Tour of Poland. "I was never center-stage, always in the second ranks, in the shadow of others. Still, I earned a spot in the national team for the World Championships."
Stage four winner Cyril Dessel (AG2R La Mondiale) led Moinard up the Col de la Salève in the Dauphiné
Photo ©: Roberto Bettini

In 2008, the Cofidis rider continued his progress into the top rankings. "Since the Dauphiné, I really got going: I finished third of stage four (from Vienne to Annemasse /road/2008/jun08/dauphinelibere08/?id=results/dauphinelibere084 ), and I was in front twice on the mountain stages. I felt good at the French Championships, and I was really at 100 percent on this Tour de France."
Even though he revealed his talents aged 'already' 26, Moinard wasn't worried about his age. "It's true that other riders mature earlier, say at 22 or 23 years for example," he admitted. "But everybody follows his own course. My trainer told me that it was important, in endurance sports, to come to maturity at one's own rhythm. He's been following me for 15 years, and has been watching out on my training sessions and number of competition days closely to build me up slowly, but steadily."
Also, Moinard's lifestyle in his early twenties did not focus solely on the sport - something which the Frenchman is rather happy about. "My trainer wanted a normal way of life for me, with some spare time to do other things, too. That way, it prevented me from getting tired of cycling too early. I had a normal teen life, finished school, went to university and didn't forget to party with my friends, while at the same time continuing cycling," he explained.
"I didn't jump any stages in my path. I just progressed evenly all the time, step by step. I'm really happy to have come so far, and I hope to progress some more."
This realistic and simple method is part of Moinard's philosophy which he shares with the few persons who supported him thus far. "I always trusted them, and this approach has not failed me. It's about combining cycling and life: biking and living for pleasure, not forgetting everything 'on the side'. Mental preparation, sophrology, nutrition - to me, these things are very important. As well as pursuing other hobbies and living an calm life in general."
Amaël Moinard tried everything in stage 11 of the Tour de France, but got caught before the finish
Photo ©: Roberto Bettini
Now, the Frenchman needs to confirm the hopes placed in him after this Tour de France. "I don't know where I will end up or what I'm capable of," he replied when asked about his future goals at the Grand Tours. "I don't think I've reached my peak yet. Take somebody like Stéphane Goubert, who I really appreciate. He's 37 years old, and always at about one or two minutes in front of me on the climbs. If I could attain his level in the mountains... combined with my good time trialling, maybe I could go for a top ten in the Tour de France. He's 11 years older than me, so I tell myself that I still have at least ten years of progress in front of me!"
In any case, Moinard has already achieved one of his biggest career goals. "My goal at this Tour was to finish within the top 30 and be part of at least one breakaway," he said. "I succeeded in jumping away with the right group and go for a stage win [in stage 11, won by Kurt-Asle Arvesen - ed.]. Unfortunately, I couldn't get the victory, but I finished 15th in Paris. For me, who was not very famous before the Tour, this is quite a performance."
Especially since it was his first Grande Boucle. Now that he has tasted the sweetness of success, motivation is high to come back even better. "The Tour is grandiose," he said of his first Tour impressions. "The media, the crowd, everything around it is just so big. It's an experience for any one - even for non-athletes. To hear people shout my name on the road was awesome. This new fame is a bit surreal to me but it's definitely a nice feeling..."