An interview with Katharine Carroll, May 24, 2007
A strong start to a stand-out career
The women's peloton in the USA is witnessing a profound evolution in recent years. Previously dominated by riders in their 30's, the podium is now being filled by a new crop of young women who have come up through the developmental ranks. Just two years into her professional racing career, 26 year-old Katharine Carroll has climbed up onto the top step of the prestigious Athens Twilight criterium and the Joe Martin stage race. Cyclingnews' Kirsten Robbins spoke with the modest all-rounder from Nashville, Tennessee who was fresh off of a winning streak.
Kat wins Joe Martin
Photo ©: Kurt Jambretz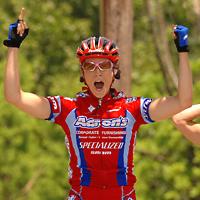 Katharine 'Kat' Carroll, a former Division I collegiate soccer player with Vanderbilt University, turned to road cycling in 2004 and after less than one year of racing, immersed herself in the National Calendar races with her first cycling team, the BMW-Bianchi Women's team based out of North Carolina. Carroll was baptized by fire with her first NRC event at the Athens Twilight criterium in 2005, where she nearly cracked the top ten, and then quickly moved forward to place fourth in the Joe Martin Classic that spring.
After two years of increased experience and fitness under the guidance of her coach, Michael Engleman, she has put her stamp on American racing this year, winning the two races that began her professional career - Athens Twilight and the Joe Martin Classic.
"When I started I didn't even know what NRC stood for," laughed Carroll. "I feel like I'm on a high right now because I was able to go back and compete in the first two races that started my career in cycling, and so to win them both two years later is an incredible feeling. Athens Twilight and Joe Martin both showed me what my cycling possibilities were and so winning them is huge for me. Our Aaron's sponsors were in Athens that night, and there was no better way to say thank you to them for supporting us."
"It's weird to think that in sixteen years I could still be doing this."
-With women nearing 40 in the pro peloton, Carroll could have a very long career
Carroll took the leader's jersey in the South East Crit Series after her win in the Athens Twilight. When she fell to third place by the end of the series, it made winning the first stage and last stages and the overall classification in the Joe Martin stage race one week later that much more sweet. "There was no leader's jersey at Joe Martin, but it was my first time being in the lead of a race and winning a stage race," said Carroll, who is now on a much deserved recovery week in her new home in Sausalito, California.
"As far as the team we all raced perfectly to get that team result. The girls were great helping me that week to be in good position, and Sarah Caravella gave me great lead outs - it couldn't have been any better. I think winning four titles in three weeks made it a very successful road trip."
From soccer to cycling
Katharine on the attack
Photo ©: Jon Devich

Growing up in Nashville, Tennessee gave Carroll a good opportunity to excel in her favourite sport, soccer. After starting at five years old, she was on the road competing in games across the country by the age of twelve. "I knew my goal would be to get a scholarship," said the former mid-center player. "I was on a regional team which was a feeder for the National team, and I had the chance to play in Europe and got a lot of exposure. I was strong enough and fast enough but not the strongest or fastest."
The women's U.S national team was arguably the best team in the world after they won the Olympic Gold medal in 1996 and the world cup in 1999. Carroll decided to focus on varsity soccer and took a soccer scholarship offered to her by Vanderbilt University. "Julie Foudy was my favourite player," Carroll said. "She had her own leadership style and was so calm when she was on the ball, and she had a good sense of humor when commentating for the men's games."
At the same time she was embracing soccer, Carroll also was being exposed to cycling as a sport. Her step-father, Lynn Greer, owned a bike store called the Grand Fondo, which is named after the rather long bike rides in Italy, which is where Carroll spent her time working and learning about bikes. Gradually she and her mother Vida Greer decide to start racing together with the help of a little push from the store's clients and co-workers.
Carroll was soon invited to a U.S women's cycling development camp and her own Foudy-esque personality became transmitted into the peloton. She has been matched well with her coach Michael Engleman, who had developed Carroll through his U.S Women's Cycling Development Program since 2005. "I've been lucky enough to be a part of it since the beginning," Carroll said. "The program gives opportunity to a lot of women that don't have connections. They get equipment and don't have to worry about anything details. Michael is the most selfless person in the sport, and there is no glory in it for him except to see the sport improve."
"As a coach, our riding styles are similar," Carroll added. "His approach is getting miles in your legs and time on the bike and less on specific times in specific zones. I'm just about getting time in and not sweating specific intervals."
After half a season with the BMW-Bianchi team in 2005, Carroll made the jump to the professional ranks with the Ford-Basis team, run by former U.S Olympian Nicole Freedman. By the year's end, she landed a contract with one of North America's recognized programs Victory Brewing. "Mike Tamayo had expressed interest in me and I decided to sign a contract with that team because it was nice to be on a team that had a combination of experience and different types of riders," Carroll remembered. "We were good at criterium and stage races plus I had a good opportunity to race a full season"
The Family connection
Proud mom, Vida Greer
Photo ©: Katharine Carroll

Carroll took to racing on the road while her mother Vida to the brevets - the long distance competition. "My Mom just did a four hundred kilometer ride in sixteen and half hours in Kentucky," Carroll said proudly. "She tries to do about five 200km each year."
Carroll admitted she was a bit more of an adrenaline junkie, but the pair found a way to meet in the middle after founding the Hope On Wheels ride in 2005, a ride for breast cancer awareness held in September. "She started the ride because breast cancer effects everyone," Carroll said. "She combined her passion for riding with the recognition of the absence for research and awareness for breast cancer in cycling. So she organized a great ride that ended up being a fantastic event."
The ride raised over $70,000 in the first year and over $100,000 last year. All proceeds are donated to the Minnie Pearl Cancer Foundation. Carroll comments on what it means to be a cyclist and a part of an event that raises vast awareness via cycling. "It's just nice to be involved in an event that is about other people, enjoying life and celebrating life on the bike," Carroll said. "It is a good way to get outside of the racing mentality where it can be so self-centered."
The future is near
The U.S national team has taken a notice in Carroll's success during her spring campaign, and has offered her a spot in a few European races in mid-summer. "I will do two stage races in Europe one in Spain and Italy this summer," said Carroll. "I think I am ready for this opportunity and I'm used to baptism by fire. I don't know if anyone is 100% ready for European racing, but I think I am strong enough. I think I can do just as well over there as the others that have gone over."
As far as the future is concerned, Carroll has ample time to consider her possibilities in the cycling world. "I would like to make an Olympic team at some point," Carroll pondered. "I'm twenty-six now and I look at the women that are dominating and they are in their late thirties to forties, so I feel like I have a really long time. I'm pushing myself enough right now, given the time I have to grow in the sport. It's weird to think that in sixteen years I could still be doing this."