An interview with Alejandro Borrajo, May 13, 2007
A link between two lives
At 27 years old, Alejandro Borrajo landed on the US domestic scene after joining the Rite Aid Cycling Team to confront the prospect of racing his bike and securing his future. Since arriving on the NRC circuit in March, the aspiring sprinter has notched up multiple wins and stood on the podium in nearly every race he's entered. Cyclingnews' Kirsten Robbins found out why he turned his back on European racing to start fresh in the USA.
Borrajo is well suited to the US racing style.
Photo ©: Bill McCarrick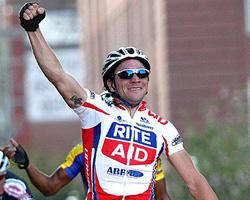 Life can be a struggle for some Argentinean families due to the nation's economic turbulence, but Alejandro Borrajo's family was hit with an additional hardship following the tragic death of his mother, Christina Borrajo, when he was just eleven years old.
Borrajo explained that the family brought her to hospital with what was thought to be a common cold from which she never recovered. "We don't know exactly what happened but it looked like my mother had an allergy to penicillin and that is what the doctors gave her to help with the cold," he remembered. "So she went to the hospital with a cold and that was it, she never came home."
His family of three other siblings, Armando, Adriana and Anibal, remained glued to one another under the guidance and perseverance of their father Armando Borrajo Sr., a top ranked police officer from the Buenos Aires. The close knit family continued to use cycling as a means of quality time together, something they had enjoyed their mother being a part of.
"There are two parts to my life," revealed Borrajo. "The first part is my life before my mother died and the second part is my life where my father and grandparents took care of us. But, both of my lives involved cycling and it was a big part of our lives when I was growing up"
"All I knew is that I didn't want to go back to Italy and I was ready to quit bike racing."
-Borrajo on his turbulent 2006 season with Italian team Miche
Armando, the oldest of the four, was the first to bring home the sport of cycling and introduced it to his younger brothers. Alejandro and Anibal are one year apart in age and formed a tight bond through racing. Borrajo regards himself as the most laid back of his siblings and had the least amount of drive to conform to the strict life of athletics in Argentina.
He took to the bike when he was six years old and raced until 12. And even at 12 he could recognize that he was being pushed too hard. So with no room for a child's life he took a break from cycling to play soccer, Argentina's beloved sport. "Where I am from people want their kids to be professional players even at ten years old," he explained. "Fathers get wild and crazy to have a champion in the family. So I played soccer for four years and then returned to cycling to take it seriously."
When Borrajo turned 18 he took to training full time and quickly noticed his talent amongst the older professional riders in Argentina. He moved from Buenos Aires to San Juan, a local hot spot for cycling, to spend several weeks training each year. "I started to be focussed on the road because I realised I was able to train longer and harder than everyone else was," he noted. "I joined the best Argentinean team called Toledo and I stayed with them for three years. In the third year I started to go to Europe to race in Europe a little and then I moved to Spain with my brother Anibal."
The European adventure
Tasting success at the Rund um den Henninger Turm
Photo ©: Andrea Hübner

It's not easy to land a professional contract on a European team unless you know someone or stand on the podium more times than you can count on your fingers. Borrajo spent three years racing for the Spanish amateur team Lion Costa De Almaria before the biggest offer in his career came knocking from the 2003 Panaria team based in Italy. "In my last year as an amateur I won six races plus a lot of podiums in the Spanish Cups," he said. "And because of these results I moved to Italy in 2003 and joined Panaria in the middle of the season. The following year they gave me a two-year contract."
Borrajo surprised his new team in 2004 when he sprinted into third place on stage 6 of the Giro d'Italia, followed by seven more top-10 finishes. However, a broken elbow kept him off the bike during the 2005 Giro and by the end of the year he was on the hunt for a new team. "The last year it was not too good and it was very hard for me," admitted Borrajo. "I changed teams to Miche and raced only two months, got sick and had to go back home."
Miche, an Italian Continental squad, offered Borrajo a contract for 2007 but after spending almost a full season away from the European circuit he was looking for a big change. "All I knew is that I didn't want to go back to Italy and I was ready to quit bike racing," he said candidly.
Crossing the Atlantic
With Erik Zabel
Photo ©: Andrea Hübner
Tired of European life and wanting to be at home or just away from continental racing left Borrajo with one final option - American racing. Five years ago US racing knew three Argentineans: Sebastian Alexandre, Gustavo Artacho and Juan Jose Haedo. Borrajo's amigos spoke to him about the possibility of racing stateside and encouraged him to make the switch. "All of the kids in our families grew up racing together and they told me a lot about their lives over the years after moving to the US. I can see that life here isn't that hard and cycling is really growing, it's a different way to live and I can be happy here." Borrajo acknowledged.
He was offered a contract with the Rite Aid Cycling Team after spending the winter toying with the idea of not signing a second season with Miche. "I like American racing because there are a good mix of criteriums and road races," Borrajo added. "The criteriums I have been doing here remind me of racing at home. There were a lot of people from the city watching the race and sitting on the side of the streets.
"Argentineans are used to racing criteriums all the time and with my experience in racing on the road in Europe, I think I have a good mix of success in both styles of racing in order to be successful here. I can sprint and climb so US racing is a good place for me to be - I'm built for this style of bike racing."
Following in Petacchi's wheels
Photo ©: Olympia Photo

It is not only US cycling that has impressed Borrajo and he explained how his first two months have drastically changed his idea of North American culture. "I had a different idea about what life was like in the US," Borrajo admitted. "I realize that there is actually very good cycling here and room for growth, plus I love the life style. In so many countries people think Americans are cold but the families I have met here have been very warm and have helped me a lot.
"The thing that surprised me the most was the host family and how they open their home for all the cyclists to stay during the racing in their city. That would never happen in Europe and the people are so welcoming and warm."
After ample success on the European circuit and the realisation that the US can provide the ideal lifestyle, Borrajo has arrived at a point in his life where his future is of increasing importance. "Now that I am here I want to race for a long time here," he said. "There is going to be a point where I start a family and I have to think of my future in that regard. If I can make a good salary here than I will keep racing as long as I can make a living because cycling is my life. But I am always thinking about my future possibilities."