Recently on Cyclingnews.com
Tales from the peloton, March 20, 2009
Glory on the via Roma
By Greg Johnson
Italy's beloved Spring Classic can be won in several ways, but as we've discovered over the years there are a couple of heart-breaking ways to lose it as well. As the cycling world gears up to celebrate the event's 100th birthday, we look at five of the many big moments that have earned Milano-Sanremo a special place in the hearts of riders and fans.
2004: Erik Zabel's pain, Oscar Freire's gain
Oscar Freire (Rabobank) comes round to beat Erik Zabel as he started to celebrate his victory prematurely
Photo ©: Sirotti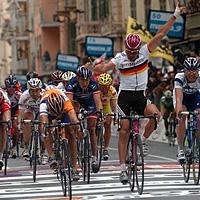 Then-double world champion Oscar Freire flew under the radar en route to his first Sanremo victory in 2004 - the first by a Spaniard since Miguel Poblet in 1959. Emulating Poblet's victory was a special moment for Freire, in part due to his respect for the rider but also because it cemented Freire as one of the world's top one day riders.
Freire's joy spelled heartbreak for Erik Zabel, however. One of the most successful German riders in Milano-Sanremo's history, Zabel thought he had moved one step closer to Eddy Merckx's virutally unbeatable tally of seven wins by claiming a fifth title.
It was to be a glorious mistake, rather than a glorious celebration. As Zabel, wearing the national champion's jersey, raised his arms high in celebration of a fifth victory, Freire threw for the line and snatched the win from the hands of defeat.
The winning margin? Just three centimetres.
"I realised my mistake right away when Freire passed me," said Zabel. "But I prefer to look on the bright side of things...People have said I'm on the decline but I beat Petacchi."
Zabel returned to Sanremo chasing number five for many years to come. He was regularly a contender, painfully having to watch Freire out-sprint him in a 2007 rematch, but the 2004 event was the last time Zabel raised his arms at the Sanremo finish line.
Still, the retired German's place in the race's history books is still impressive. His four victories came in two lots of two back-to-back victories, firstly in 1997 and '98 then again in 2000 and '01.
1964: Tom Simpson Vs. Raymond Poulidor
British cyclist Tom Simpson was the first
Photo ©: AFP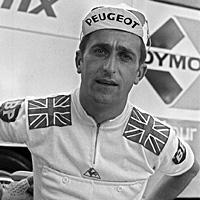 Tom Simpson's victory at Milano-Sanremo, the first by an English-speaking rider, came mid-way through the pointy end of his career. Simpson entered the race as the man to beat, having won Bordeaux-Paris the previous year and Ronde van Vlaanderen three years earlier.
While he admitted to being scared of the race after competing in 1960, Simpson was confident - as was everyone else - he could win in 1964. The rider was nonetheless disappointed by the skill range and quantity of riders allowed to start.
"In all 230 started, including the most hopeless lot of cowboys you could ever meet," he said.
Riding for Peugeot-BP-Englebert, Simpson picked the right four-man break when it left at Capo Berta, 32 kilometres from the finish. He faced a strong opponent in the move in 1961 winner Raymond Poulidor (Mercier-BP-Hutchinson).
The duo managed to drop one of the breakaway riders, while Willy Bocklandt, later to win Liege-Bastogne-Liege that year, was also unable to stay with the move. That left Simpson with the upper hand as the two rode away from the field, arriving on via Roma with a 1:01 minute lead over Bocklandt, while the peloton was a further eight seconds behind.
Poulidor, known as the 'Eternal Second', would live up to his nickname and be relegated to the lower step of the podium as Simpson comprehensively outsprinted him.
Simpson's career continued to blossom over the following three years, with victory at the worlds, Giro di Lombardia and Paris-Nice sitting nicely alongside a pair of Vuelta a España stage wins. The story of perhaps Great Britain's greatest rider would take a fatal turn in 1967, when Simpson died on Mont Ventoux during that year's Tour de France.
Having won his first Grand Tour stages at the Vuelta earlier in the year, Simpson passed away with a mix amphetamines, alcohol and a diuretic in his body. Had this talented rider's life not been cut short months shy of his 30th birthday, Britain may have tasted more success in Sanremo during the '60s.
1910: Snow, frostbite, cheating... it had the works
Riders in the 1910 edition
Photo ©: Public domain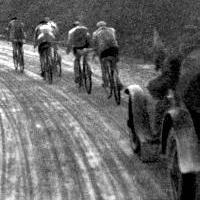 We've dusted off the Milano-Sanremo history books and found the fascinating story of the 1910 edition. It started in incredibly bad weather with a storm dropping 20cm of snow on parts of the route during the event. Bad weather was only part of the story however, as it also saw the event's first rider disqualification.
Of the 65 riders who started the event's fourth edition just five would finish - one of which was disqualified. Despite having only seen 30 kilometres of the route prior to race day, Eugenio Christophe claimed victory, but it came at a cost. Christophe spent the following month in hospital with frostbite and reportedly took two years to regain normal health.
"Not far from the summit I had to get off my bike because I started feeling bad," said Christophe. "My fingers were rigid, my feet numb, my legs stiff and I was shaking continuously. I began walking and running to get my circulation back, looking at the countryside.
"It was bleak and the wind made a low moaning noise," he added. "I'd have felt scared if I hadn't been used to bad weather in cyclo-crosses."
Luigi Ganna was the second rider to cross the line, however he was later disqualified after it emerged he covered the closing kilometres in a car. The rider from Varese had claimed the biggest finish of his career the previous year, when he won the inaugural Giro d'Italia.
At 12.5 hours the 1910 Milan-Sanremo is also the second only to the 1917 edition in terms of the slowest average speed, with the 289.3km covered in 23.3 km/h.
2002: Tears in 'Cipo's' year
Mario Cipollini (Acqua e Sapone) beats Fred Rodriguez (Domo)
Photo ©: Sirotti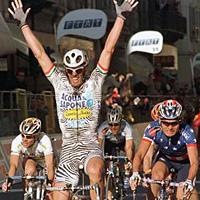 Like most Italian riders, Mario Cipollini's desire for a Sanremo crown stretched throughout his extensive career. Taking second at the 1994 edition only fuelled the rider's fire, but it would be another eight years before the acclaimed 'Lion King' finally climbed to the top of the podium.
Acqua e Sapone adopted a low profile throughout the race. Resplendant in those zebra stripes, the squad only signalled its intentions in the closing kilometre when the team train put Cipollini in place for the bunch kick.
"Cipollini, Cipollini, Cipollini," was the joyful cry of Italian TV commentators, as they audibly held back the tears. Cipollini's sport director Antonio Salutini got in on the act too. "This was the most beautiful race, the most beautiful win we've had together," said Salutini, doing little to hide his own emotions.
Cipollini's win was a straightforward bunch sprint victory, but its implications were much larger. It signalled a breakthrough in his career: the widely-regarded Italian's first major Classic victory on home soil.
Out-pacing Fred Rodriguez (Domo-Farm Frites) and Marcus Zberg (Rabobank) that day opened up the floodgates on what was a stellar season. A few weeks later he claimed another Gent-Wevelgem title and from there, the wins just kept coming: Vuelta a España and Giro d'Italia stage wins, points jersey at the latter, then finally on the streets of Zolder Cipollini claimed his UCI Road World Champion crown.
Cipollini returned to Milano-Sanremo for a further three years, but that 2002 triumph would be his only one.
1991: Claudio Chiappucci solos to ballsy win
Claudio Chiappucci demonstrated the aggression
Photo ©: AFP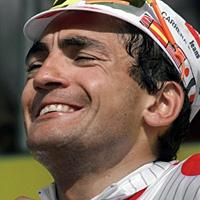 Claudio Chiappucci demonstrated the aggression required to claim a solo Classic win in 1991. Chiappucci had already made his name as a relentless rider, having pursued Greg LeMond at the previous year's Tour de France, where he eventually finished second.
Chiappucci's first attack came just 143 kilometres into the race, a move that stuck with the help of teammate Guido Bontempi. The six leaders pulled out a margin of 4.15 minutes before the peloton started to drastically cut the deficit, which at first looked like it would bring the breakaway's rider's day to a close.
Chiappucci had other ideas. He attacked his breakaway mates as their advantage narrowed to 40 seconds on the approach to Capo Mele. Rolf Sorensen (Ariostea), Charly Mottet (RMO) and Jelle Nijdam (Buckler) followed the move, but by kilometre 255 Mottet and Nijdam couldn't hold on any longer while a crash in the peloton aided the escaped rider's lead.
Phil Anderson (Motorola) launched a counterattack at the Poggio, inside the final 20 kilometres, but Chiappucci had already made his decisive move. He had dropped Sorenson and gained a 27-second margin by the climb's summit.
Over the closing six kilometres Chiappucci simply rode away. He added a further 18 seconds to his lead as he rolled across the finish line 45 seconds ahead of Sorenson. A relentless effort spanning an incredible 150 kilometres of the race distance paid dividends for Chiappucci, who went on to claim a stage win and the mountains and combative classification at that year's Tour de France.
Photography
For a thumbnail gallery of these images, click here
Images by Sirotti/www.sirotti.it
Images by AFP Photo
Images by Sirotti/www.sirotti.it
Images by AFP Photo
Images by Public domain
Images by AFP Photo