Tales from the peloton, January 17, 2008
Quick Step gets rolling in Spain
Towards the end of last year the Quick Step team got together in Marina di Bibbona, Italy, where riders collected their new kit for 2008 and posed for their official mugshots. It's now time for business in Benicàssim, just north of Valencia on the east coast of Spain. Cyclingnews' Ben Atkins checked in mid-camp on the rest day to see how the riders were getting on in their preparations for the new season.
Quick Step getting ready to roll into the 2008 season from its training camp in Benicàssim, Spain
Photo ©: Ben Atkins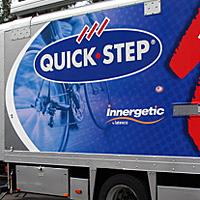 Unfortunately, due to the length of time it took me to get through extreme security procedures, I managed to miss my original flight, so I arrived in the Spanish Costa del Azahar resort of Benicàssim too late to join the Quick Stem team's two hour recovery ride and extended coffee stop.
It's been no holiday for these riders, despite the presence of the Mediterranean beaches just metres from their hotel rooms. This is a training camp. Before today, they have been subjected four and five hour rides and everyone has been working – hard.
While today's ride was short – and the coffee stop relaxed – this was to be no easy day. Today was the day when the world's (well, mostly Italy's and Belgium's) media were invited to descend. For many of the riders, particularly the big stars like Paolo Bettini and Tom Boonen, today was to be a seemingly endless day of photo shoots and interviews; a day of being positioned by the pool – even climbing trees – for the whims of photographers, and answering the same questions over and over again – in as many languages as they can manage.
Boonen poses by the pool
Photo ©: Ben Atkins

A necessary part of any team's public relations machine it may be, but you can bet most of them wish they were out on one of those punishing training rides.
The majority of the team's roster is present; the only ones missing are those that are currently in the southern hemisphere preparing for the Tour Down Under – the first ProTour event of the 2008 season. Those who are here are split broadly in half: one group around Tom Boonen and the other around World Champion Paolo Bettini. This is not done on nationality grounds, nor is it done on rider's ability or status, but merely by what time of year their season will be starting.
The riders in the Boonen group are preparing themselves for the Tour of Qatar at the end of the month, and so they are in an advanced state of form and fitness. The Bettini group is aiming to start its campaign later and so is riding at a lesser pace. Not that anyone in the Bettini group is putting in any less effort than Boonen's Qatar men. Everyone is working hard, but the riders starting their seasons later than the others are at a lower percentage of their maximum condition to avoid peaking too soon.
As well as a chance to speak to and photograph the Quick Step riders as they prepare for the year ahead, this media day also gives a chance to take a good look at its new racing strip for 2008 – ahead of the team's official presentation next week – and to snoop around its bikes to see what's new for this year. Paolo Bettini and Giovanni Visconti look pretty identical to when we last saw them: the former still clad in white with as many rainbows as is possible to squeeze onto one man, and the latter dressed up like the Italian tricolore. It's all change for everyone else though, as the almost entirely blue jersey of last year is replaced by one that is mostly white. Belgian champion Stijn Devolder is wearing similar colours to last year, but featuring a different sponsor. The former Discovery Channel rider still sports his nation's driekleur, but a new Quick Step version.
Tom Boonen's bike
Photo ©: Ben Atkins

While the riders were out there was work going on in the garage where their bikes were kept; it was clear that this was no rest day for the team's mechanics. In a few days the boys will be trying out their time trial bikes and working on their positions, so the mechanics had to build one for each rider. As the day wore on the rack of un-built Specialized Transition frames grew steadily smaller, as the rack of fully-built bikes grew.
After the riders returned, but while they were still showering and being massaged, I was also able to take a good look at their new road bikes. Specialized continues to supply the team with its Tarmac SL2 frames for 2008, but there are a few differences from last year's team frames. Working on feedback from their sponsored teams, Specialized has shortened the head tube of the Tarmac, thus lowering the front of the bike considerably. When they collected their new bikes at the previous camp in Bibbona, riders had headset spacers to replicate the position of their 2007 machines. Just a few weeks on, there was evidence that many – if not most – of them had moved a spacer or two above the stem, indicating that this move to give the frame a more aggressive position has gone down well.
Riders not in demand for interviews:
Photo ©: Ben Atkins

Unlike the team's new jersey, the 2008 bikes have very similar colours to those of 2007, having a few red go-faster racing stripes over the bare carbon fibre, but obviously there are certain riders who have managed to personalise theirs. Predictably, Bettini and Visconti have graphics to match their champion's jerseys (keep an eye on our Tech pages for more details here), but Boonen has gone one step further to be original. Eschewing the obvious Belgian and Flemish flags, the former World Champion has had his frame detailed in the same yellow colour of his Lamborghini Murciélago. (Cyclingnews pauses for a few seconds here to allow readers to add their own comments.) It should be added that, after the considerable efforts made to perfect Boonen's position last year, his frame geometry remains unchanged.
Duty done, the big stars returned to their rooms, and to join their less famous team-mates in front of laptops – surfing the net and watching DVDs. Tomorrow will be another tough day on the bike, but surely not as tough as today's media day.
Cyclingnews secured time with some of the Quick Step stars, look out for these interviews in the near future.
For the full roster, see the Cyclingnews teams database.
Photography
For a thumbnail gallery of these images, click here
Images by Ben Atkins/Cyclingnews.com