Recently on Cyclingnews.com
Tales from the peloton, December 8, 2008
A winning formula once again?
The legendary film The Blues Brothers was centred around 'getting the band back together'. With the addition of Lance Armstrong, Astana's 2009 squad could use this as its mantra. Procycling editor Peter Cossins headed to the Spanish island of Tenerife and discovered that next season's Astana isn't just Discovery Channel Version II.
The stars of the show
Photo ©: Luca Bettini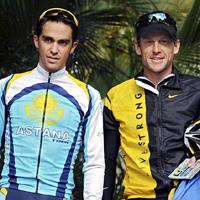 Although Lance Armstrong understandably garnered most of the media attention during the two days that Astana gave open access to its pre-season get-together this week in Tenerife, the Kazakh-backed team is a whole lot more than Discovery Channel mark two. Back in the not-so-distant days when Armstrong was dominating the Tour de France, Discovery (and previously US Postal) made no secret of the fact that almost all of their eggs were loaded into one Armstrong-bearing basket, and their success depended very much on what he achieved. But now that he's back, things look very different in his new squad.
More than Postal or Discovery, this team most resembles T-Mobile circa 2004. After a year with Team Coast, Jan Ullrich returned to what had been his long-time home to join an extremely illustrious group of riders, notably Alexandre Vinokourov, Andreas Klöden, Santiago Botero, Oscar Sevilla and Cadel Evans. Armstrong said himself that that team had "too many chiefs and not enough indians". So can the same label be applied to Astana going into 2009?
The answer is not a definite 'no', but it's close to it. Armstrong stated again and again in Tenerife that he had no problem working for other riders at the major tours this season, that events on the road will decide. However, he did admit that he thought "the strongest rider in the world at the moment", Alberto Contador, was having trouble coming to terms with the threat to his pre-eminence within the team. There have been indications that the Spaniard has been looking for a way out of the contract that binds him to Astana boss Johan Bruyneel to the end of 2010, but he's sticking where he is for now.
Primarily - and this was underscored by comments from several of Astana's big names - Contador is staying because he knows that Bruyneel, much more than any other team boss, is most likely to put him into position to achieve his main objective in 2009 - a second victory in the Tour de France. It is impossible to understate how important the Belgian manager is to this team. Bruyneel recognised as much when he confessed that he knows that he doesn't have to pay the very top wages to secure the riders he wants because he knows those riders will accept less for the opportunity to ride for him.
Armstrong and Bruyneel stated that when it comes down to making hard choices about who rides for who later in the season, "the road will decide". In fact, Armstrong said, "the road and Johan will decide", and, unlike T-Mobile in 2004, Astana is unlikely to go into the Tour - or indeed any major race - uncertain of its tactics and likely leader.
The year in review
Germany's Andreas Klöden has been in the shadows
Photo ©: Luca Bettini

Looking back at the past season, Bruyneel said that although his team missed out on selection for the Tour, he had received a huge amount of satisfaction from how he had turned things around after the Alexandre Vinokourov and Andrei Kashechkin doping scandals of 2007. Taking over the whole management structure of that tarnished team at the end of the season gave the Belgian an opportunity to do something he'd not faced before. Bruyneel admitted that putting the team's scandals well behind it and gaining a huge amount of success on the road at the same time was one of his proudest achievements in the sport.
The Tour may have been missed when Astana did not receive an invite from ASO, but Bruyneel pointed out that the squad had either won or been in contention at all of their other main race targets during 2008. Contador's victories in the Giro and Vuelta naturally stand out, but there were plenty more besides.
Levi Leipheimer won the Tour of California and finished third in the Dauphiné, Klöden won Romandie and was second in Switzerland, and Contador also crushed the riders - who later contended at the Tour de France - in the Tour of the Basque Country. This, remember, was with a roster of riders that Bruyneel mostly inherited rather than selected according to his own preference.
And for 2009?
Alberto Contador remains with Astana
Photo ©: Luca Bettini

Well, who knows? Armstrong readily admits he doesn't know how far his comeback will take him, even though he already looks strong in training and says his motivation is much higher than it was when he won his last two Tour titles. It will be fascinating to see him pitched up against another returning rider, Ivan Basso, at the Giro, and working out exactly who is working for who with Contador at the Tour.
Apart from Armstrong, who's not being paid by the team anyway but is riding as the ultimate freelancer, Bruyneel's two other major signings are guaranteed major tour performers. Yaroslav Popovych returns to the fold after a season at Silence-Lotto that doesn't seem to have worked out as anyone wanted, while Haimar Zubeldia comes in from Euskaltel to take the team's list of top-five Tour finishers to five. Both are hoping Bruyneel can get them back on track; this pair, plus Leipheimer and Klöden, are sure to be pointed towards helping Contador and/or Armstrong at the Tour.
Bruyneel is contractually committed to having between eight and 10 Kazakhs on the team, and he went over to their national championships mid-season to cast his eye over the talent. A couple of new younger riders have come in and a couple released, and he's hoping we might see a bit more from some of those Kazakhs soon. Clearly on the way up, though, are Slovenian Jani Brajkovic and Spaniard Dani Navarro, and they're sure to get opportunities when the big guns are elsewhere.
Armstrong and Popovych are reunited
Photo ©: Luca Bettini

As for Contador, he is still edging his way back towards full fitness after two recent operations. It was strange to see him struggling on some of the longer climbs on Tenerife, but he knows that, injury and form permitting, he can set his sights on beating all-comers in July this coming season rather than handing them regular beatings during other less crucial parts of the year.
Bruyneel says he will be happy even if Astana don't win the Tour. But, unlike T-Mobile in 2004, it's hard to see this line-up riding without apparently having a clear strategy. More easy to see is the prospect of them filling the Tour podium in Paris in July, and plenty of other major honours besides.
Astana's 2009 roster:
Lance Armstrong (USA), Assan Bazayev (Kaz), Jani Brajkovic (Slo), Alberto Contador (Spa), Valeriy Dmitriyev (Kaz), Alexandr Dyachenko (Kaz), Jesús Hernández (Spa), Chris Horner (USA), Maxim Iglinskiy (Kaz), Roman Kireyev (Kaz), Andreas Klöden (Ger), Berik Kupeshov (Kaz), Levi Leipheimer (USA), Steve Morabito (Swi), Dmitriy Muravyev (Kaz), Daniel Navarro (Spa), Benjamín Noval (Spa), Sérgio Paulinho (Por), Yaroslav Popovych (Ukr), Bolat Raimbekov (Kaz), Gregory Rast (Swi), Sergey Renev (Kaz), José Luis Rubiera (Spa), Michael Schär (Swi), Tomas Vaitkus (Lit), Andrey Zeits (Kaz), Haimar Zubeldia (Spa)
Photography
For a thumbnail gallery of these images, click here
Images by Luca Bettini/www.bettiniphoto.net