News feature, February 5, 2008
Astana: Cerberus reborn
Johan Bruyneel's new Astana team combines the powers of three Grand Tour stars, making it a formidable beast worthy of comparison to the mythical three-headed greek hellhound who guarded the gates of Hades, Cerberus. Cyclingnews' North American Editor Mark Zalewski was on hand for the team's North American training camp in Albuquerque, New Mexico, and reports on what is new.
Riders braved foul weather
Photo ©: Jon Devich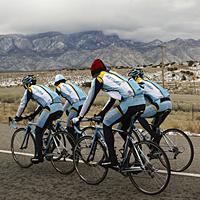 It would have been easy to understand if the sponsors of the Astana team, five petroleum companies in Kazakhstan, decided to pack it in following last season's embarrassing doping scandals - resulting in the team quitting the Tour de France. But instead of tucking tail and running, the sponsor decided to clean house, bringing in Johan Bruyneel to assume management control of the team and leaving only a few former riders from the 2007 squad.
Last week in the U.S. southwest city of Albuquerque, the team met for a training camp and presentation, where the hot topic was which Tour de France podium finisher would the team choose to lead this year, 2007 Tour winner Alberto Contador? Third placed Levi Leipheimer? Or twice runner-up Andreas Klöden?
This camp was one of the first chances for these three riders to train together along with the other refugees from the former Discovery Channel team, the remainder of the 2007 Astana team and outside acqusitions like Chris Horner, who came to the team after roller coaster negotiations with two other squads. Although the weather was hardly tropical, the altitude and community support made for good training combination.
Coming together
Levi Leipheimer
Photo ©: Jon Devich

As is widely known, coming along with Bruyneel are a number of key riders from the Discovery Channel team, including the 2007 Tour de France champion Alberto Contador and the third place finisher Levi Leipheimer. The two of them alone make this team a top contender to repeat and to win any other major stage race. But add in Andreas Klöden to the mix, and the chances improve exponentially.
For Leipheimer and Contador, the weeks following the dismantling of the Discovery Channel team were filled with uncertainty, so the chance to be with a team that is similar to last year's is a welcomed opportunity.
"Going back to last year when I knew Discovery was not going to continue, there were a couple of weeks there when I was looking for other teams," said Leipheimer. "I hadn't really counted on looking for one, so it took some time to wrap my head around it. As soon as Johan said this was in the works, there was no second thought. A brand new team, a chance to create something from the ground-up. More importantly, I am able to be around people that I work well with: Johan and Eki."
Alberto Contador had a similar experience. "I still had a contract with Discovery for another year, so I did not think about the fact that I would have to look for another team. I started to look around a little bit, but as soon as Johan called me, I put all my other options on hold. As soon as it was clear that it was going to happen I was happy that I could continue in a similar environment."
Dynamic duo, plus one
Contador & Leipheimer
Photo ©: Jon Devich

The pair of riders were in a unique situation last year, fighting along side each other for a Tour win, both with potential to close the deal, and it looks as if that could happen again this year. One could imagine that something like this could cause conflict within a team, but all involved say otherwise.
"I think you have a perfect example last year," said Bruyneel. "[Levi and Alberto] were first and third, at some points they were second and fourth, both with options of first defending their podium spots before even starting to think about overall victory, and then in the end they still both had the option of winning the Tour. It's a good feeling for a team and team director to have cards to play. Last year Levi sacrificed his chances on the Aubisque when he tried to get rid of Rasmussen."
"But ultimately it's the race that puts everyone in their place," said Bruyneel. "As a combination of the mountain stages and the time trials, Alberto was better. Levi was professional enough and a team player to put the team goal ahead of his personal ambitions. I don't see any reason why that would change in the future."
"I think what is going to be a weak point of the team this year is our team for the Classics."
-Bruyneel explains that the stage race-heavy squad may struggle in the one-day races...
"I don't see it as I made a big sacrifice," said Leipheimer about the 2007 Tour. "I see it as Alberto was the best and he was stronger than I was. I might have won the last time trial but it is a three week race, and certainly in the Alps he deserved to win. Johan is right, the race puts everyone in their place. It's not so simple to say that one had to hold back from the other, it just doesn't work like that."
As for what the boss thinks about this year's Tour team... "The three of them have been on the podium, but if we look at it in an objective way, we have Alberto, Levi and Andreas; there is only one of the three that has won the Tour. If you go off the paper, that should be the leader. And he is backed up by two guys who have been there before. It's a good feeling to have team-mates around you to first help you, or to finish the job if you can't."
Season goal
The ride starts to get serious.
Photo ©: Jon Devich

While the team does have a lot of firepower, especially for the grand tours, it is still only potential. "On paper it's a very strong team, but I am a little bit cautious with that," said Bruyneel. "I have been in situations where you look at a piece of paper and say that this team looks really scary, but it really has to work as a team. That is going to be a big challenge for us to make happen. We brought in riders we know and we took over riders we don't know. "
Also there is the case that there are only three Grand Tours, but a lot of important one-day races, such as the spring classics. Bruyneel admits that the haste at which the team was assembled in the eleventh hour comes as the expense of fielding strong teams for these races.
"I think what is going to be a weak point of the team this year is our team for the Classics. We have some strong riders, two riders that were in the top five of Flanders last year, Gusev and Viatkus; those two will be the leaders for the spring Classics. We are definitely going to miss Hincapie and Popovych. For next year it is something we will have to look at. We won't be as strong as Quickstep or [Lotto] but we will be there in the final with some guys."
For riders such as Contador and Leipheimer, the 2008 season will look a lot like 2007, ideally with similar results. "I have the same goals as last year," said Contador. "Paris-Nice was a big goal for me, it's a race that I like and that I tried to win for many years, and finally I won it. I'll do the same races but with a bigger focus on the Tour as I am a defending champion. A race like Paris-Nice I still want to do well in, but it's not as much pressure. The Tour is the big goal, along with the Olympics. This year in particular is a very hard event, so I would like to do well there."
One of the goals for Leipheimer will come very soon, the Tour of California. "The Tour of California has grown exponentially in the first two years, probably setting an unprecendented rate of growth... I've seen the effect it has had on my community, and it was a dream for me to win it last year. The only thing that could be as satisfying for me is to see a team-mate win. Astana is definitely sending a very strong team, and I've some hard training this year to be able to repeat, so we are ready."
Bruyneel confirmed most of the California squad working for Leipheimer's title defense as Chris Horner, Janez Brajkovic, Vladimir Gusev, José Luis Rubiera, Andrey Mizourov and Aaron Kemps.
The Duke City
Alberto Contador
Photo ©: Jon Devich

Sitting at an elevation of more than 1,600 meters, Albuquerque provided a good base for altitude training, though the weather that comes with that also played spoiler to ideal training conditions. The evening before the press conference, a freak winter storm dumped snow and ice across the area, shutting down the airport and interstate highways. This prevented the team from riding the next morning, and meant that training ride temperatures were floating around freezing.
"The training here has been great," said Leipheimer, who, despite the weather, enjoyed the rides which were escorted by the local police. "We have had unprecedented support from the city, especially the police department. They have kept us really safe and have impressed all the riders on the team. Obviously the high altitude is a factor we are looking for with training. It has been cold and we'll have cold races in Europe. The roads have been great with some climbs to come up, if the snow clears, so as far as I can tell we will be back!"
Contador himself was a little late showing up to the press conference, as he took the opportunity afforded to him by the weather to get some American shopping in up in the state's capital, Santa Fe. Bruyneel joked that he could have just as easily found the same stores in Albuquerque, the biggest city in the state. When asked if people recognize him as the Tour champion. "I went to Santa Fe, but I didn't have so much time to shop. It's completely different here. After the Tour in the European countries, everything changed - here it is more relaxed."
Photography
For a thumbnail gallery of these images, click here
Images by Jonathan Devich/