Book review: "Sex, Lies and Handlebar Tape" by Paul Howard, June 6, 2008
Love for bicycling and women
Jacques Anquetil was a man who didn't hesitate to do or take what he wanted – whether it was a bicycle race or a woman. His cycling palmarès alone would grant him a place in history, but it was his personal relationships which made him all the more remarkable. British journalist Paul Howard wrote a new biography of the French cycling star, "Sex, Lies and Handlebar Tape", and Cyclingnews' Susan Westemeyer took a look at it.
Jacques Anquetil couldn't resist the female gender
Photo ©: Mainstream Publishing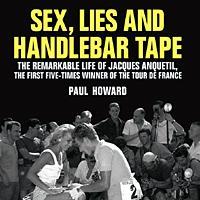 The book is a good read, an interesting look at the like of an extraordinary man. Howard reviewed Anquetil's life and cycling history in detail, and tops it off with personal interviews with his rivals, his friends and the (many) women in his life.
To put Anquetil's life in a nutshell: he won nearly everything there was to be won in his active pro career from 1951 to 1969. He made no bones about doping. And along the way he married the wife of his doctor and later fathered children by both his step-daughter and his daughter-in-law. He was loved by millions and the thousands attending his funeral included a former prime minister and such prominent cycling names as Eddy Merckx, Bernard Hinault, Raymond Poulidor and Rudi Altig.
Like a latter day multiple Tour de France winner, Anquetil decided to concentrate on that race which was the most important. Winning the Tour de France "would guarantee his prestige and his income," both of which were extremely important to him. He disliked one-day races not only because they were too difficult to control but also because they added little to his contract value.
Anquetil grew up on a strawberry farm in Normandy, a region where he was born in 1934 and which he loved dearly. But as early as his teenage years he looked to cycling as a way to improve not only his income but also his social standing. He first rode in the 1951 season, winning the fourth race that he started, followed by 14 more. The next year he won the French national amateur road title, the only national championship he ever won.
He started racing as a professional in 1953, and established his reputation that year. At the age of 19, he won the Grand Prix des Nations, "the most prestigious time trial in the world and a classic race in its own right." He rode the now-unthinkable 142-kilometre long time trial "like a rocket," overtaking riders who had started up to eight minutes ahead of him, winning by nearly seven minutes. The teen-ager had exploded onto the scene.
"You have to be an imbecile or a hypocrite to imagine that a professional cyclist ... can keep going without stimulants"
-Anquetil made no secret about his doping practices.
He repeated his victory in that race every year up to and including 1958, and also in 1961, 1965 and 1968. Mandatory military service in 1955 and 1956 didn't slow down his career. In fact, he set the world hour record (46.159 km) in 1956.
1957 was to be a major turning point in his career and his personal life. As Howard put it, "In less than a year, he'd found time to having a secret affair with his doctor's wife, rebuff the attempts to seduce him into marriage by a ballet dancer from the Opera d'Algiers and still have his best season yet as a cyclist: he rode and won his first Tour de France, won Paris-Nice for the first time, won his fifth consecutive Grand Prix des Nations and, just to demonstrate his extraordinary versatility, became the first rider to win the Paris Six Day in the same year as the Tour."
Anquetil had first met Jeanine "Nanou" Boeda , who was nearly seven years older than he, several years before, but in March of 1957 they started an affair. He then went on to win the first Tour de France he had ever ridden (by 15 minutes over the second-placed rider), taking four stages along the way.
Anquetil was a great time trialer
Photo ©: Mainstream Publishing

Jeanine finally left her husband and two children in 1958, to join Anquetil. He came under fire for his lifestyle, but couldn't help fanning the flames. Not only was his love life a subject of comment, but he purposefully provoked more, by saying things like "Here's the routine I'd advise for the evening before a race: a pheasant with chestnuts, a bottle of champagne and a woman." Jeanine eventually obtained a divorce from her husband and she and Anquetil married on December 22, 1958.
His goal in 1959 was to become the second man, after Fausto Coppi, to win both the Giro d'Italia and the Tour de France in one year. He ended up second in the Giro and third in the Tour. But he got his revenge in 1960, becoming the first Frenchman to win the Giro (and, incidentally, winning two time trials).
Anquetil was unable to repeat his Giro victory in 1961, finishing second. But he went on to win the Tour de France in a grand manner. Before the race he declared that he would take the yellow jersey on the first stage and not give it up again – and he made good on his promise. Again, he won two time trials and ending up winning the overall title by some 12 minutes.
At this point, however, he started losing some public popularity. He was very reserved, not showing his emotions publicly, which led to charges of his being arrogant. His desire to control things was said to be dictatorial.
In 1962 he started the Vuelta a España for the first time, hoping to become the first man ever to win all three Grand Tours. His team dominated the race, winning 12 of the first 17 stages, but it was his team-mate, the German Rudi Altig, who had the leader's jersey. Anquetil had come into the race with poor condition, and abandoned with two stages left, claiming that he had been betrayed by his team.
He went on to win the Tour de France that year, and for the first time went up against Raymond Poulidor, who was to become his greatest rival.
Anquetil and 'Nanou' with her children
Photo ©: Mainstream Publishing

All of his seasons to date paled in comparison to 1963. Perhaps he needed the competition from Poulidor and Altig. He won the Tour de France (with four stages), the Vuelta a España (with two stages, and wearing the leader's jersey from the first to the last day), Dauphiné Libéré (winning the time trial), Paris-Nice (winning the time trial), the Critérium National, the Ronde d'Auvergne and the Critérium des As.
1964 wasn't a bad year either. He became the first man to win the Tour de France five times (again winning four stages) and the second man ever to win both the Giro and the Tour in one year. But, as Howard points out, "once again, at the zenith of his career, he revealed a humility in victory that contradicts the public perception of his aloofness and arrogance" when he acknowledged that the pressure put upon him by Poulidor made this "the hardest Tour I've known."
Wondering how to top that year, Anquetil decided not to ride any of the three Grand Tours in 1965. What he decided to do sounded impossible: to race and win both the Dauphiné Libéré and Bordeaux-Paris. Why was this so difficult? Because "the 557-kilometre Bordeaux-Paris, the longest one-day race in the cycling calendar, was due to start in Bordeaux just seven hours after the Dauphiné was scheduled to finish nearly six hundred kilometres away in Avignon."
The Anquetil monument in Rouen
Photo ©: Mainstream Publishing

He won the Dauphiné (taking three stages along the way), then hopped into a loaned private plane, arriving in Bordeaux in the middle of the night. Because of the length of the race – which is now unimaginable – it had to start in the wee hours of the morning. "By 3:00 or 4:00, Jacques kept saying, 'I'm absolutely knackered. I'm about to fall asleep.', according to team-mate Vin Denson. He and Jean Stablinski somehow managed to keep Anquetil awake and on his saddle.
Needless to say, Anquetil managed to win the race, giving himself "a total of 2500 kilometres and two exceptional victories in ten days," leading many to call him the greatest cyclist of all time.
Those weren't his only wins that season, and he went on to other victories in the next four years before he retired after the 1969 season. He never again won a Grand Tour, but in 1966 he did win Liège-Bastogne-Liège, the only one of cycling's "five monuments" to his credit.
Things started going downhill in 1967, when he publicly admitted to having used doping. He basically said that he did it because everyone did it. The Frenchman was very open about it and not ashamed of it, and was therefore surprised that he "suddenly found himself a leper in the cycling world." That same year he set a new hour world record, but lost it immediately when he refused to give a urine sample for a doping test.
"If you want to accuse me of having doped, it's not difficult. All you have to to do is look at my thighs and buttocks – they're veritable pin cushions. You have to be an imbecile or a hypocrite to imagine that a professional cyclist who races 235 days a year in all weather can keep going without stimulants," Anquetil said bluntly.
Anquetil was the first to win the Tour de France five times
Photo ©: Mainstream Publishing

He finally took his leave of riding in 1969, at the age of 35 and turned his attention to his personal life. His greatest desire was to father a child. He had two stepchildren, Jeanine's son and daughter from her first marriage, and she could have no more. As Howard points out, "Anquetil, it should be clear by now, was never one to back away from a challenge, even when others would have balked at the potential solution." A surrogate mother was needed, and one was found: his 18 year-old stepdaughter, Annie.
The result was daughter Sophie. Anquetil stayed together with his wife, stepdaughter and daughter in one household for some 12 years. There was, as might be expected, much friction in the house, and matters weren't improved in 1977, when his stepson Alain brought his new wife Dominique home.
By 1983, things came to a head. Annie moved out, to be followed by Jeanine, when Anquetil and Dominique became lovers. They eventually had a son, Christopher, in April 1986.
He was not to enjoy his son long. In May 1987 Anquetil was diagnosed with advanced stomach cancer, and he lingered on, painfully, before dying in November of that year, at the age of 53.
In later years his Tour de France record has been broken, and the younger generation may know him more for his sexual escapades than for his cycling achievements. But as French journalist Pierre Chany told Sophie:
"The ancient Greeks used to admire the divinities, the titans, the demigods and other heroes, but not completely or without reserve: they knew them to be fallible. A hero is above all a man with superior powers to the rest of us mortals but who is nevertheless a man. That's exactly what your father was."
Photography
For a thumbnail gallery of these images, click here
Images by Mainstream Publishing
Sex, Lies and Handlebar Tape by Paul Howard was published at Mainstream Publishing (www.mainstreampublishing.com), ISBN: 9781845963019.