Tales from the peloton, April 29, 2007
The rise and fall of Hercules
If you go to London this summer to see the Tour, you may find yourself wandering the road that leads south from Euston station. And there you'll pass a hotel where Britain's dreams began of being a true cycling nation - only to die and never return. Les Woodland looks back at the rise and fall of the Hercules cycling team.
The 1955 Tour de France didn't exactly go according to plan for Hercules.
Photo ©: AFP Photo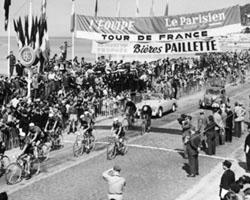 Bryan Wotton, who used to be the racing secretary of the British Cycling Federation, remembers holding committee meetings there. "It was a hole," he says. So why did the Cora come to be the cradle of dreams? Because 55 years ago, it was the only hotel a London bike rider had ever heard of.
"Funny, isn't it?" Derek Buttle says. "Britain had never had a proper professional team and now whether we got one depended on whether I could think of a hotel. But I was just a bike rider. All I could think of were cafés. That's all I ever went to. You couldn't take a businessman to a café, could you?"
Buttle used to ride as an independent - a class of semi-professional that vanished in the 1960s - for a bike shop called Dayton Cycles. There was hardly any money in it but on the other hand amateur races offered only tyres, cycling socks and trophies. It was because there wasn't much more in semi-professional racing that Buttle turned fully pro to ride a new track competition at Herne Hill in the south of the city.
In those days, the moment you took cash, you were stuck. There was no way for a professional to race again as an amateur. Buttle didn't like the track and realised he'd done the wrong thing. There weren't enough races. He and others looked to the Continent, a distant glimpsed only in old French cycling magazines but few did anything about it. Buttle was one of those few.
"We always believed in ourselves but to find suddenly that you were riding against Coppi and Rik van Steenbergen and Bartali, and I rode against all them, well, bloody hell, you suddenly realised what you'd done."
- Daunting times for Hercules rider Derek Buttle
"I used to get on well with this chap behind the Herne Hill races, and I said I was thinking about finding a sponsor for a road team. And he said 'Well, you may find Hercules are interested.' So I went to the library and I got out a book of all the companies in the country and I wrote to this chap McLachlan at Hercules Cycles. And to my surprise I got a reply to say he was interested and could we meet. That was when I was stuck. I couldn't think of anywhere. And then I remembered that the Tour of Britain had had a reception at a place called the Cora Hotel, which was near Euston station, so I suggested there."
McLachlan was in his 50s, grey-haired, immaculate, debonair. "A gentleman," says Buttle. British bike company executives were like that in those days. They acted swanky but they were powerless in the face of declining sales and roads filling with cars. The idea that McLachlan discussed that day was going to save the company. Or kill it with glory.
"We did the usual chatting and then he asked what I had in mind and it all happened as though he'd already made his mind up. He asked what we wanted and we settled on £500 a year plus bonuses. I met the footballer, Billy Wright, once. Remember him? He was at the top in those days. He asked what cyclists earned and I told him that with my bonuses I'd earned £851 that year and he looked impressed and said that was about what he was earning."
There were four in the original team: Buttle, Dave Bedwell, Dennis Talbot and Clive Parker. Talbot, who lives in a house owned by the Duke of Bedford, says: "There were only 20 pros in the whole of Britain then. We had amazing pride and ambition. When Mac asked me what made me think I was better than the rest, I said - and this sounds awful now - I said I was going to be world champion. And I genuinely believed it."
Guided by a former time-trial champion called Frank Southall, McLachlan outlined his plan: a year of racing in Britain with trips to the world championships, a year of British and international racing and in 1955 a year abroad to prepare for the Tour de France.
Buttle remembers: "We always believed in ourselves but to find suddenly that you were riding against Coppi and Rik van Steenbergen and Bartali, and I rode against all them, well, bloody hell, you suddenly realised what you'd done. And it was odd when people asked for your autograph. But we were bike riders; we lived in our own little world."
Talbot remembers a Paris-Nice stage that lasted nine hours. And he remembers being one of the best riders against the watch in Britain yet being beaten by 14 minutes over 50km of time-trialling with the pros. "I had to ask myself what was going on. I remember riding the world championship road race and getting dropped and this Dutchman came up and offered me a handful of pills. He was saying 'Vite, vite!' ('Make you go fast'). I knocked them out of his hand and he was so angry that he started hitting me with his pump."
In 1955 the team expanded to the potential Tour squad. The manager, brought in over Southall's head "because someone had a down on Frank at Hercules", was a former Manchester trackman called Syd Cozens. It is hard to find anyone with good words about him.
Buttle remembers: "We'd gone down to a training camp on the Riviera. My job was to get Bedwell to the line because he was our sprinter and I'd work like hell to do that. And I remember I was tired and I said to Cozens that I was quite prepared to ride the next race but if there was a chance of having a rest instead, that would be good for me and the team. Next day McLachlan paid us a visit and Cozens said 'This is Derek Buttle and he's pulled out of the next race' and that was the end of my hopes of riding the Tour."
The team were numbers 31 to 40 - Bedwell, Tony Hoar, Stan Jones, Fred Krebs, Bob Maitland, Ken Mitchell, Bernard Pusey, Brian Robinson, Ian Steel and Bev Wood, a mixture of Hercules and other teams. Robinson, by the way, described Cozens as "a bandit."
Pusey went on stage two, Wood on stage three with Bedwell. Jones quit on stage seven, Steel on stage eight, Maitland on stage nine, and Krebs and Mitchell in the mountains on stage 11. Just two got to Paris: Robinson 29th at 1:57:10 and Hoar as lanterne rouge at 6:6:01. Almost all were fired within weeks.
"There may be other versions of the story," says Talbot, "but my understanding is that Hercules were faced with enormous costs and not enough receipts to make the books right. And they'd already been in problems with the tax people before, I think, and they weren't going to do it again by running the team another year. They kept on four of us but then Mac came and told us were weren't staying either and he was such a gentleman that he cried as he told us."
Robinson left for the Continent and in 1958 became the first Briton to win a stage. Talbot decided there was "no way I was going abroad because of the drugs I'd seen" and called it a day. Buttle considered pressing on but, just married, the only worthwhile option was to race abroad "and I'd have spent all I earned just to survive." He just stopped cycling. The dream had ended.
In August 1992 a van mounted the pavement outside his house and the impact threw him over a wall. He was found unconscious in a tree. It took years of treatment to get him where he is now, which is pretty good except that every time he gets out of the chair he wobbles a bit and there are gaps in his memory.
He still rides a bike, though. A couple of years back, he went out with the local touring club. He rode in ordinary trousers and plimsolls. Someone told him he showed a lot of talent for a novice. The following week he was treated with more awe. Someone had realised who he was.