News feature, February 7, 2007
New look Irish continental team launched in Dublin
At the beginning of last season, Ireland's first Continental team was making news due to its close association with Sean Kelly, the former world number one lending both his name and his expertise to the Belgium-based setup. Cyclingnews' Shane Stokes talks about the squad and how it's changed going into 2007.
Kelly gets in centre-shot
Photo ©: Kenn Farrar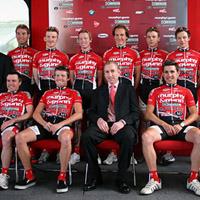 This time round, both Kelly and Stephen Roche were present at the team launch on Tuesday in Milltown and Dublin. The 2007 team has a new look, with bright red jerseys making the squad easily identifiable, and also a new name and different composition than before. Now entitled the Murphy and Gunn/Newlyn/M. Donnelly Sean Kelly team, it comprises 13 international riders and fuses the two Irish-registered Continental teams from last season, namely Sean Kelly ACLVB M. Donnelly and Murphy & Gunn/Newlyn Group.

In 2006, having two UCI-registered squads when the country previously had none was a big boost for Irish cycling but, given that several of the nation's top riders have contracts with other teams, there probably wasn't the strength in depth to justify two totally separate entities. Hence the amalgamation over the winter, and the unveiling of what should prove to be a collectively stronger squad.

Thirteen riders are currently part of the line-up, with the possibility of more being added later in the season. The eight Irishmen are national under 23 champion Paídi O'Brien, former national champion Morgan Fox, Paul Healion, John Dempsey, Simon Kelly, Tim Cassidy, Mark Cassidy and Stephen Gallagher. The team is completed by Belgians Christophe Beddegenoodts, Tim Meussen, Rieno Stofferis and Devi Vervaecke, plus the Dane Glenn Bak.

They will be based mainly at the Sean Kelly Cycling Academy in Merchtem, Belgium, with two amateur development/feeder teams attached. Team Murphy & Gunn / Newlyn will race mainly in Ireland while the Sean Kelly Cycling Academy Team will enable riders of varied ages to compete in Belgium.

The Continental team got their season off to a good start in the Tour o f Qatar last week. Healion and Bak both gained valuable television time by going clear in long-distance breakaways, while Stofferis finished eighth on the final stage. The team were also sixth in that stage classification, showing that they were finishing strong.

Given a lack of racing at this level in the past, it was a respectable showing against the ProTour teams in the race and the goal now is to continue building strength and experience as the season progresses.
Some reactions
Kelly is interviewed by RTE
Photo ©: Kenn Farrar

"This team is an extension of the Sean Kelly Academy, set up by Cycling Ireland to give young Irish cyclists a base from which to compete in Belgium," said former world number one Kelly, who will continue to work with directeur sportif Kurt Bogaerts this year. "The pro team is the next step up from that and is designed to give young Irish riders a programme of top international races that they would otherwise not have had. They will compete at a much higher level than they can in Ireland and hopefully from here they can progress to a higher level again and maybe get onto a ProTour team in the future."

He welcomed the fact that Irish backers were willing to get involved. "Of course to have Irish sponsors on board is magnificent. To get sponsors on board is not easy because a lot of our racing will be done outside of Ireland, so we are hugely indebted hugely to Murphy & Gunn, the Newlyn Group and Martin Donnelly because they are all Irish sponsors. The team itself will be based outside of Ireland, because it's very expensive to travel to Belgium or France for the quality races."

Roche also gave a clear thumbs up, saying "I think this team is a fantastic opportunity for young Irish cyclists. To have a team sponsored by Irish businesses and with Irish riders is something that myself and Sean could only imagine when we were racing. For us, going to the continent on our own was very difficult, the language, the culture, everything was new to us and it made it very tough at the beginning. Now with this Murphy & Gunn / Newlyn / M. Donnelly team Irish guys get to race abroad. They live together, eat together, train together, and it's a great advantage."

"This team is now a benchmark for young kids getting into the sport in Ireland. It's something to aim at and I think it's fantastic for the sport here."

Stephen Murphy of Murphy & Gunn motor details, Robert Kehoe of the Newlyn Group property developers and electrical tools distributor Martin Donnelly are the main backers and they all expressed confidence with their investment.

Roche and Kelly
Photo ©: Kenn Farrar

"Murphy & Gunn are delighted to be able to continue the development of Ireland's top cyclists," said Murphy. "This team is about giving young Irish guys a chance to develop to the best of their ability. Whilst we had a fantastic season in 2006, having two teams in Ireland last year probably defeated the purpose a little, as the pool of riders is not as big here as it would be in the likes of Belgium or France. This year we have joined forces with Sean Kelly's team and now have the experience and support of one of the world's best ever cyclists in our bid to help Irish riders progress to the highest levels in the sport." He added that Murphy & Gunn will continue to be a presence in Irish domestic cycling through their club team and the ongoing sponsorship of the Shay Elliott Memorial.

Kehoe and Donnelly also pointed to Kelly's involvement as an important factor. "Newlyn Group is again delighted to be able to assist Ireland's top young cyclists in 2007," stated the former. "Sean Kelly and Stephen Roche have already proved that Irish cyclists can be world-beaters given the right environment and with a bit of determination. You can't ask for better than to have Sean Kelly at the head of the team. He has done what most riders can only dream about and his knowledge and enthusiasm for the sport can only help these youngsters along the road to success."

Donnelly has been a major backer of Irish cycling for several years, and also puts money into other Irish sports such as Gaelic Games. He said that being involved in the setup is an extension of what he has done before.

"My involvement with this team is really a progression of my involvement with the Stamullen M. Donnelly club and the M. Donnelly Junior Tour of Ireland. Cycling is one of my favourite sports and I get out on the bike quite regularly, so I know how hard it is! While I only cycle for pleasure, it's a lot harder for these guys who are trying to break through to the big time and I'm delighted to be associated with this young squad.

"With Sean Kelly, one of the world's best ever cyclists behind them, they have already put in an impressive opening performance at the Tour of Qatar, against some of the very best teams in the world. It augers well for the future and maybe we can encourage more youngsters to take up cycling. We might even produce another Irish Tour winner or world champion in years to come."

Former Irish champion and Belgian-based pro Morgan Fox will act as team captain and is happy to be involved again this year. He also praised Kelly's involvement.. "This is the best organised team I have ever been on," he enthused. "The background staff are so professional and to have Sean Kelly on hand to give you advice is fantastic."

As mentioned previously, Kurt Bogaerts will act as Directeur Sportif, while the assistant DS' will be Georg Van Oudenhove and Michel Bogaerts. The team will use Specialized frames, helmets, shoes and glasses this season and use Mavic wheels and components.

For a complete team roster, please visit Cyclingnews' Team Database.
Photography
For a thumbnail gallery of these images, click here
Images by Ken Farrar/Freewheel magazine