Tales from the peloton, November 20, 2007
Understanding the meaning of "weekend warrior" at the K2
After years of racing as a professional and writing diary entries capturing those tales for Cyclingnews, John Lieswyn explains his adventures in New Zealand.
Former-professional Lieswyn
Photo ©: Michael David Murphy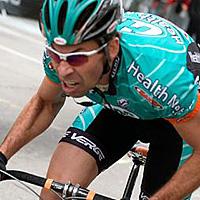 It's been two years since I hung up my wheels and submitted a final entry to Cyclingnews. My first diary entry was uploaded to a still nascent cyberspace in the age of dial-up modems, and when you needed a porter to carry your "laptop" through the airport terminal. After thirteen years of writing entries of varying quality "from the peloton" I retired from racing in 2005 and moved to New Zealand. However, I recently participated in an event so beautiful that I was inspired to write again.
These days I'm a transport planner and co-proprietor of Crank It Cycles. 700-kilometre training weeks have given way to the daily seven-kilometre commute to work and occasional ride with the local road or MTB club. I've entered a few road events but my spindly, hairy legs just don't keep pace with my still youthful enthusiasm for riding hard. The mind says "go now and I'll make the break!" but upon getting in a move there isn't a hope of taking a pull or even lasting the distance in the slipstream. You'd think twenty years of racing would leave me with some muscle memory, but honestly it only took about three months to go from pro to slow.
Getting the shop started was gruelling slave labour, but now it's humming along with great staff and loyal clientele so getting away for a weekend is doable. When Dee Dee announced she was going to Coromandel, New Zealand, for a veterinary ophthalmology conference and a bit of scuba diving, I began casting about for something to do. Despite having two prepaid glider lessons sitting in the wings, unsurprisingly the bicycle came first to my one-track mind. With zero forethought to such niceties as "training" I logged onto the K2 website and brought up the registration page. Hmm... "click this box for 'race' and this box for 'ride.'" The cursor blinked away on "ride," forefinger quivering over the clicker. Suddenly the cursor darted to "race" and before I knew it, the damn thing was ticked and sent. Argghh! What came over me? Last time I did K2, I was a fit professional rider.
Lieswyn knows how to struggle
Photo ©: Mark Zalewski

That time I was invited down by New Zealand star cyclist and former team-mate Glen Mitchell for the Southland Tour, and accompanied by my love, I alighted from the plane jet lagged and at the tail end of a three-week break from cycling. Glenno asked if I was up for a little fun ride. The name of the event should have tipped me off. The K2 is named after the town of Kuaotunu on the wild eastern coastline of the Coromandel Peninsula. In Maori, the name Kuaotunu means "to inspire fear in young animals." The "2" represents the almost 200 kilometres that the ride would cover. The spectacularly scenic ride is billed as the toughest one-day cycle challenge in the Southern Hemisphere and traverses tropical forest, pacific coastlines, rural farmland and the Pohutukawa coastline of the Hauraki Gulf. As is typical of amateur racing, we were out of the blocks like we were shot from a cannon, riding our bikes like they were stolen, chased by a road raging semi-truck driver, whatever.
After ten kilometres it was down to three guys from the same team: Glen, Scott Guyton and me. They had to wait for me as the punishing course exacted every iota of glycogen from my under trained muscles. With admirable team spirit, Glen and Scott decided that we would cross the finish line together and I still appreciate seeing my name along with these two top Kiwi riders in the record books. It was this memory that must have taken control of the cursor.
The screen refreshed with an entry confirmation. Next I thought of my last visit to the K2. In 2006 I was asked give a presentation for Polar heart rate monitors the night before the event. You can't drive twelve hours and not ride, I figured. With zip for training, Dee Dee and I tackled the K1 (100km) version on our tandem. It was as always a pleasure and even when we were beset by cramps and fatigue it was a real sense of accomplishment to get around the course without having to walk any of it. Certainly the tandem was severely underpowered compared to its maiden voyage on our honeymoon in Greece, just a few weeks after winning my first race in Europe and agreeing to ride for US Postal Service (but that's another story).
Read part two.
Photography
For a thumbnail gallery of these images, click here
Images by Michael David Murphy/www.whileseated.org/photo
Images by Mark Zalewski/Cyclingnews.com
Images by Matthew Moses/www.moses-images.com