News feature: February 13, 2007
An American 'cross revolution
The US Cyclo-cross team stunned the world by taking three silver medals at the world championships this year. While remarkable, the medals won in this year's 'cross worlds weren't the first big results for the US in cyclo-cross. In 1999, Matthew Kelly won the gold in the junior men's race and Tim Johnson took bronze in the Espoirs. The next year Walker Ferguson took silver in the juniors, and the women have been competitive for years - Alison Dunlap and Ann Knapp scored top ten finishes for several years. Does this year's haul signal a new era in American cyclo-cross? Racer and writer, Peter Hymas, explores the potential for a US 'cross explosion.
Racers under pristine New England weather.
Photo ©: Russ & Nancy Wright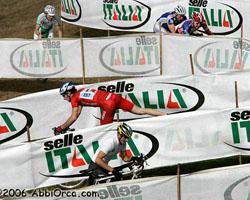 While the state of American professional cycling was arguably at its absolute nadir in the years following World War II, Frank Kramer, one of the sport's founding champions opined on what it would take to return the sport to its former state of grandeur. And what was Kramer's reply?

"Only one good American rider."

Approximately 2 weeks ago, in an unprecedented performance at Belgium's Hooglede-Gits hosted World Cyclocross Championships, not one, not two, but three good American riders earned a hat-trick of silver medals: Danny Summerhill, Katie Compton, and, perhaps most astonishingly, Jonathan Page.

Arguably, Greg LeMond and then Lance Armstrong fulfilled Kramer's prophetic statement regarding professional cycling on the road-side of the sport, but will the doubling America's overall cyclo-cross medal count in one 48 hour period of time in Belgium achieve a parallel influx of attention for American cyclo-cross?

Well, cyclo-cross is a different animal, and the recent outstanding world championship performances are no aberration, but the culmination of a steady decade's worth of incremental, organic growth in the United States.

Anchored in a few traditional powerhouse regions, and disseminated nation-wide via the incarnation of a national cyclo-cross series, increased communication, and a core group of promoters who in the words of Adam Myerson, "evangelize for cyclo-cross", the sport in the US is poised to reach the level of its road counterpart.
The Hooglede-Gits Affect?
Katie Compton
Photo ©: Mark Legg
Adam Myerson, an accomplished professional cyclist/coach/race promoter/advocate/UCI Cyclo-cross Commission member, is a name synonymous with New England cycling. Myerson saw first-hand the world championships in Belgium and offered his opinion on the potential influence Summerhill's, Compton's, and Page's medals may have on American cyclo-cross.
"I'm hopeful and also realistic," said Myerson. "One thing in particular won't make a huge difference, but it will have a tangential impact regarding putting 'cross on the radar with media coverage and 'cross riders getting more respect. I have a list of things that are going well, and this year's performance is a function of the positive direction the sport has taken and a commitment to future success."
Dave Towle, a fixture behind the microphone at major cycling events throughout the United States said, "The world championships in Belgium opened our eyes. It was an awesome confirmation. We've known [Danny] Summerhill in Colorado since he was 12, and of course we've been watching Katie Compton for years. The hard work is paying off - American racing has arrived."
"The Europeans are psyched for us", adds Myerson, "the Belgians in particular. It's a big deal that we've made a breakthrough."
Jonathan Page celebrates on the podium
Photo ©: AFP

Cyclo-cross is certainly on the way up in America, but it isn't to the level of Europe just yet, and any rider worth their salt must become an expatriate in order to have a career in the sport, and the riders who do get respect from the Europeans. "Jonathan Page is so popular [in Europe]. He's embraced cyclo-cross while other Americans haven't been willing to take a risk or make a switch to a European base for the season. He's said, 'I want to be a cyclo-cross rider' and is the first American to make a full-on commitment to Euro cyclo-cross.
"He doesn't get as much press as he deserves. It's important that he's continued getting results post-Worlds. It's a re-confirmation that he's world-class, and that his silver medal is not necessarily a flash in the pan."
The necessity of a European base was made apparent to the [other] big American hope for men's 'cross. "Next year, Ryan [Trebon] will be the next who's basing his whole season in Europe."
Origanisation leads to growth
Curtis White on white
Photo ©: Bill Hurley

According to Adam Myerson, the advent of a national cyclo-cross SuperCup series in the 1990's was instrumental in the evolution of cyclo-cross in the United States. "Prior to the SuperCup series, the only place you'd get the best riders in the country together was at Nationals. The national championships were an anomaly."

Regional differences frequently became an issue. Says Myerson of that particular generation of cyclo-cross, "People would come to nationals and bitch about courses. There was an attitude that their respective region, whether New England, Northern California, the Northwest, was the only region that mattered. And there was also this discussion about how we should emulate 'Euro 'cross', but there's no such thing as 'Euro 'cross'. In Europe, cyclo-cross varies by region just like in the US. Switzerland isn't Italy, Italy isn't Belgium."

Myerson continued, "Prior to the creation of the American SuperCup, if I needed another level of competition than I could find in New England I would go to Switzerland. I could follow in the footsteps of Paul Curley who laid the groundwork and provided an opportunity for us. The SuperCup meant the best guys are together every weekend and laid a strong foundation."

The creation of one series led to more, and this growth was key to the sport gaining momentum. "We asked ourselves 'why just the SuperCup?' Regional races transformed into national and international caliber events in emulation. An increased prize list, increased media attention produced a professional 'cross circuit."

Multiple high-profile events was the key to maintaining cyclo-cross' popularity. "The demise of the SuperCup would not leave the sport empty handed," said Myerson. "We [weren't] dependent on one series. Individual promoters gained experience which parlayed into UCI sanctioned events. Now with the USGP, there's a ProTour of cyclo-cross. It's basically an American World Cup on top of the NRC events."
Communication is key
Cyclo-cross gained popularity in the 'traditional'strongholds (New England, Northern California, Pacific Northwest) of the sport, but those regions couldn't be the only places for 'cross if the sport was to take hold in the US. It needed to spread across the country, and it did.
"The Internet has played a part with increased communication. There's been a sharing of resources and other parts of the country have seen what we're doing in New England. We've documented what we're doing for transparency."
Being able to see the sport in photos online was important, but the video revolution was also an important tool to get people hooked on the sport. "People have picked up videos. My company has a DVD that teaches 'cross, and is used by people without coaching resources. We've been doing the sport for decades in New England and there's a body of knowledge and experience which mass media is assisting in spreading nationwide. Earlier generations utilized the Simon Burney book [Cyclo-cross: Training and Techniques, 1990], but it's better to see something in motion."
But the sport seems to make its own fans. "Cyclo-cross has an innate appeal. Word spreads as people participate. Cyclo-cross speaks for itself and sells itself," concluded Myerson.
The internet continues to be a source for fans and racers alike with the advent of streaming video. "It's a great time to be a fan," said Dave Towle, "not just to see races in person but through the prevalence of YouTube clips. You can see what's going on nationally and internationally."
Regional rivalry fuels success
Steve Tilford in the midwest drink
Photo ©: Kurt Jambretz

As 'cross catches on nationwide, the inevitable regional rivalries creep in, but in 'cross, the competition is good-natured, and also essential to the future of the sport. Colorado based announcer Dave Towle says, "There's a friendly, yet competitive, rivalry with other regions of the country. Colorado has been dismissed, but two of the world championship medals were won by Colorado riders. If you look nationwide, more often than not there's a Colorado rider on the podium. People back East still try to claim riders such as Todd Wells and Marc Gullickson as their own, but they've been in Colorado for years."

"Every region has its heroes, such as the Northwest with Dale Knapp, [Barry] Wicks, Ann Knapp. The Northwest takes pride in its kookiness. In Boulder, Colorado it's more straight-up athletic..." But the competition ends at the finish line in most circles. "It's still a welcoming group with people who are willing to give you a wheel or even a bike at a race if necessary. It's like the old days of mountain biking. And we're not just producing racers, we're generating programs."

When asked about his favorite 'cross scenes nationwide Towle says, "I'm a fan of the underground. Places like Southern California, Georgia... the mid-Atlantic." And Towle is not alone in his fondness for the US scene. According to Towle, Danish professional Joachim Parbo, who spent some of his season racing in the U.S. said, "It's cooler over here [in the US], everyone gets it. I don't smell like cigarettes after racing. The quality of fan is different over here; they're more likely to race and understand what we're going through and appreciate our effort."
The future of American 'cross
Ryan Trebon loves mud
Photo ©: Marek Lazarski

Ryan Trebon has dominated races in the US, but hasn't felt the same level of success in Europe - yet. He's hoping that his teammates' medals will fuel the sport. "I hope it will have an impact. I certainly want the sport to grow more in the US. An increase in popularity means more races and more dollars coming into the sport."

"Cyclo-cross is my favorite discipline, but I don't have as much experience as my European counterparts. I haven't proved what I'm capable of yet; I need a couple more years to develop." Trebon will follow Jonathan Page's lead and make his base in Europe next season. "I'll likely have an apartment by myself in Belgium next season. Hopefully there will be less of a risk of getting sick."

News that there may be a World Cup round in Providence, Rhode Island this fall is another indication of the growth of 'cross in America. Trebon thinks this will give the Europeans a chance to experience the same challenges he's faced in the past two years. "It will be interesting for the Europeans to see how much it sucks to travel with as much shit as we do. The Europeans never fly with equipment. The riders fly to races, but the bikes and equipment are transported by truck."
Grass roots
Portland antics
Photo ©: Russ & Nancy Wright

The hotbeds of 'cross provide a huge base of talent for stars like Page, Compton and Summerhill to grow out of, and with both the Northwest and New England scenes getting racers in the hundreds - sometimes close to a thousand - these grassroots promoters are doing something right.

Racer Mandy Lozano got her start in the Portland scene, and explains why so many racers come out to play in the mud. "It's an incredibly friendly, nurturing environment. There's a different mentality - a sense that we're all in this together. The promoters of the Cross Crusade are so excited and magnetic. There's a belief that you can't afford to alienate anyone and that everyone's a winner."

"The Cross Crusade offers opportunities for everyone - whether it's the Elite level, the 'Gentle Lovers' (who are out of their gourds), people racing in animal suits. The Northwest is serious about not being serious."
But are the feds keeping up?
Three-man break
Photo ©: David Gray Mclean

With local 'cross races around the country drawing hundreds of competitors, UCI races cropping up like mushrooms, and a World Cup potentially on it's way to US soil, the numbers are coming close to hitting road racing figures. Yet, the American 'cross team had to pay their own way to the world championships - something unprecendented in European teams. "Europeans are absolutely amazed that our athletes are not funded by USA Cycling," said Myerson. "[Cyclo-cross] is important enough to European cycling federations that they spend the money."

But because USA Cycling is dependent on International Olympic Committe (IOC) funding, and cyclo-cross isn't an Olympic sport, the American federation's support has been limited and not nearly on par with the way the European federations support their athletes. "It's my opinion that we sell a lot of USA Cycling licenses for people who only race 'cross, or who focus their seasons on 'cross," explained Myerson.

"Cyclo-cross is generating revenue which should come back to the sport. USA Cycling has instituted categories for cyclo-cross, perhaps there should be a dedicated cyclo-cross license. It would provide a sense of the population who view cyclo-cross as a primary discipline and act as a means to trace funds coming into the sport. As a coach, I see more and more clients are coming aboard specifically for 'cross training."

British musician Brian Eno once remarked, "While only a few thousand people bought a Velvet Underground record upon their initial release, almost every single one of them was inspired to start a band." Quite similarly, cyclo-cross has an uncanny ability to evoke passion and transform that spirit into initiative and action. The early generation of American 'crossers such as Laurence Malone, Clark Natwick, and Joe Ryan sparked a movement in the 1970s, manifested approximately 30 years later a with a hat-trick of American silver medals at a single world championship weekend.