Tales from the peloton, May 22, 2007
The AIS in Italy - Grooming the future
Australian Institute of Sport coach Brian Stephens.
Photo ©: Cyclingnews.com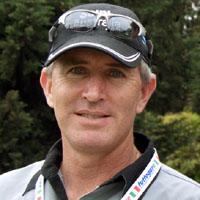 The European base of the Australian Institute of Sport's cycling program is in Italy and every year, the Aussies hold a get-together as a 'tune-up' for the season ahead. Steve Thomas reports.
Around this time of year there is an annual two-week "camp" at the Australian Institute of Sport (AIS) cycling base in Varese, Italy. Many of the top Australian professional cyclists based in Europe regularly show up for all-round check ups and catch up with riders they have known since they raced as juniors.
Many have gone on to race for the top teams in the world, but they always remember their roots, and being sociable animals, the chance to catch up is rarely missed, not to mention to take advantage of the knowledge base present at the AIS Europe HQ.
One of the key figures in the AIS cycling program is the experienced coach, Brian Stephens. "We used to just look after the AIS riders, but we have now extended things so that once a year, and at any other time - should they need it - we have the pro's in.
"We have the bio-mechanic and physio here, and basically check everything over and make sure everything is right with them. Most of the pro teams don't have such facilities readily available."
Racing pedigree
Brian Stephens (right) looks on as Rabobank's Graeme Brown (left)
Photo ©: Steve Thomas

Despite being the Europe-based sport director of the Southaustralia.com - AIS Continental team (see team site for more information), Stephens is also known as being the brother of Neil Stephens, the former professional who raced for squads like ONCE and Festina.
However, Brian Stephens has something of a racing pedigree himself. "I raced pro for a few years in Australia. I also spent some time in Europe, and raced as a guest for a while in Spain with Paternina with Neil. I rode four World Championships, too."
In the latter part of his career he's been working with Cycling Australia and the AIS. "I had been working with the (Australian Cycling) federation, coaching with Heiko (Salzwedel). In '92-93 the opportunity of a coaching scholarship and diploma came up. I jumped at it, and have been full time since '94."
Matthew Goss (Team SouthAustralia.com) signs in
Photo ©: Cyclingnews.com

It was somewhere around that time that the whole Australian program in Europe started to take off. "We had a mixed nationality team in Germany, sponsored by Giant, and assisted by Cycling Australia; we even had Jens Voigt with us, and won the first Tour de Langkawi with Damien MacDonald.
"At the same time Shayne Bannan was doing his thing in Italy with the young group, and there were woman's programs running too. He asked me if I wanted to join him, and it made sense to bring everything under the same umbrella."
Over the next few years the system developed to become one of the finest in the world, and highly regarded among other cycling nations, due in no small part to its former alumni who've now gone on to considerable results at the top level of the sport.
Brian Stephens (left) with brother Neil,
Photo ©: Steve Thomas

"From Tuscany we moved north for a while, and are now based in Varese (north of Milan). In the beginning we were something of a novelty, but over the years we've evolved and are now generally well accepted as a team in Europe."
Currently, there are seven full-time men's road team members as well as the woman's road team, the MTB team, and several "transient" riders based at the 'house' the AIS leases in Italy, expressly for the riders.
"The idea is that it's more or less like a school, teaching the riders not only how to race and ride bikes, but life skills. It's amazing how many come here and have no idea how to look after themselves. They get a small salary and have to survive for themselves and make their own decisions - even learn to cook. When they go to a pro team they will have no choice, our aim is to groom them."
Australian Matthew Lloyd (South Australia.com-AIS) wins a
Photo ©: Cyclingnews.com

Last year, the SA.com - AIS squad 'lost' two riders to the ProTour: Matthew Goss joined Team CSC, while Matthew Lloyd went to Predictor-Lotto. Both have been competing in ProTour events all season, and Lloyd is currently racing in the Giro d'Italia. The two 'Matts' have followed a trend of the AIS U23 program producing some of the world's best cyclists who've now become team leaders, such as three-time world ITT champion, Michael Rogers, who's expected to be the main GC rider for T-Mobile in this year's Tour de France.
In recent years the Aussie peloton population has grown rapidly, and a lot of this is down to this system. "Our aim is to teach the riders and to help them get in to pro teams. In turn this really helps build cycling and it's popularity in Australia. The more 'Robbie's' we have winning races, getting on TV and in the media, the more young riders want to take up the sport, and the more people want to ride bikes in general - and it works."
With so many successes over the past decade, is there still a personal kick out of the job? "Every time I watch TV and Robbie wins a sprint, or another of the Aussies wins - I punch the air. It is really satisfying, and every time I see a young rider getting in to a pro team it's great, it's all worthwhile!"