Training camp report for January 25, 2005
Floyd Landis training camp
Riding with Floyd in SoCal
By Mitch Friedman
Floyd Landis
Photo ©: Mitch Friedman/CN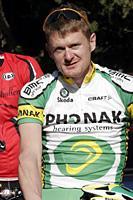 Phonak's new recruit Floyd Landis put on his first camp this month with 20 riders signing up to ride with him and get tips on how he goes about his training, and to learn about the equipment he uses. The camp is being held between January 21-28 in Temecula in the Southern California wine region in the USA.
After a quick lessson on how to use the PowerTap, followed by a group photo, it was time to hit the road for a day of riding. Floyd, the 20 riders plus staff were joined by Pro GP Motocross star Ryan "Ryno" Hughes who lives near Floyd and rides with him as much as he can.With the rain of the previous weeks backing off, it was a beautiful day for the 55 mile ride through the flat and rolling terrain of the Californian vinyards.
After the ride I asked Floyd about how this all came about. Mainly, he said, the purpose of the camp is for him to ride in the sun and have a group of riders to ride with, as well as having people learning about the CycleOps PowerTap. After his Phonak camps in Europe, Floyd has time to relax a little and help other riders learn. He is definitely keen on doing it again, and said that perhaps next year, he might ask Phonak to have a camp for their rides here as well.
The Floyd Landis training camp was sponsored by CycleOps, Speedplay, Zipp, BMC, Clif Bar, Specialized, Endurox/Accelerade, Giordana, and the Trek store San Diego, as well as the Temecula Creek Inn playing host hotel.
See an interview with Floyd from the camp.
Photography
For a thumbnail gallery of these images, click here
Images by Jonathan Decich/www.epicimages.us
Images by Mitch Friedman/Cyclingnews.com