Fixed gear madness
You call that spinning? Try riding two track bikes across Asia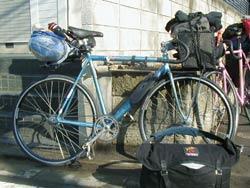 Mortimer's Bike
Photo: © Mortimer Steinke
Taking the fixed gear training regime to a suitable extreme are two likely lads who are cycle-touring across Asia on fixed gear track bikes with no brakes and knee-killing seat tube angles. But they love their chosen form of cycling and as bike couriers/messengers and occasional racers, they are committed to the purest form of cycling.
The intrepid adventurers/cyclists are Mortimer Steinke from Berlin, Germany, and Dustin Nordus, a Canadian from Vancouver, BC.
The riders started the trip in Tokyo during the northern winter in January this year and then headed off to China, rode down the coast and then cycling into Hanoi in Vietnam, Saigon and then across to Cambodia.
Along with their colleague Mandi, they are updating a beautiful site which details their travels across Asia (www.2bikesinasia.com).
Cyclingnews caught up with Mortimer when they had hit Phnom Penh, the capital of Cambodia.
CN: How did you come to be doing this? Did you lose a bet?
MS: I don't know really what do you mean about that we've lost a bet ?
CN: I'm being flippant. Why are you doing this trip?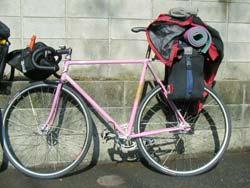 Dustin's Bike
Photo: © Mortimer Steinke
MS: One of the reasons for the trip is indeed to strengthen our community, because as you know every year there is a cycle messenger champs and there's never been cyclists from Asia there, except Japan and at the CMCW 94, '95 & '96 and some Afghan amputee cyclists. We tried to get sponsors for "couriers" from Asian countries. They might be not like us - a modern messenger with a message - they might have a chicken, but at the end it's the same job.
The other reasons are holidays and interest in Asian culture. And also it's affordable to travel six months with not much worrying about the money.
CN: Why track bikes?
MS: Track Bikes, hmmm we both use them for work, they're light, only 10kg with a basket, bags, etc.
I have a flip flop hub, so i can change from 46-16 to 46-19 (both are fixed - Mortimer's bike has no brakes).
Also, did you ever hear about someone doing it on a track bike? NOOOOOOOOO!
Only those two German guys who cycled from Beijing to Constantinople, which was in 1890. No other reason I guess.
CN: How are the knees? You're using regular track frames with steep seat angles.
MS: Knees are all right so far. My theory is that you get used to that gear you always push, but it kind of pushes you too, so you just pedal and you don't feel it, once you get into that mood.
CN: What do you do on hills? Have you had to get off and walk much? And descending?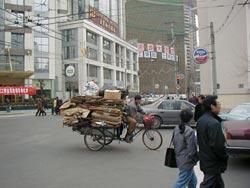 Shanghai couriers cope with enormous loads
Photo: © Mortimer Steinke
MS: A lot of walking I'm telling you. So far we were really lucky with hills, because there were not much of them. In China every road goes around the hill. Once we went down a hill at 65km/h and almost lost control, you can imagine how much you have to pedal with a 46-16! I miss those goddamn brakes once in a while.
In those countries they have those old Russian and East German trucks, so if you want to go up a hill you just hitch a ride, messenger-style (ie, hang on to the side), and the truckers kind of like it.
CN: Best and worse experiences so far?
MS: Best: it's been great every day with a lot of learning experiences.
The worst: don't mess with Vietnamese truckers.
In the last four months I know of too many crashes of friends of mine. Yac in the second official Monster track, Kevin (Squid) in Colombus (Ohio), and Dustin two days ago.
We wanted to leave for Siem Reap but he went into a pothole and his bike is dead! [A replacement has now been arranged].
Cambodia is like riding Paris-Roubaix, with more potholes and way more spectators; just don't listen or reply to them, concentrate always on those potholes!
I don't know why we've all have crashes we have had lately, we never (knock on wood) had crashes that much before. We figured out that we need a bike-sponsor, because this is Dustin's second bike, and bikes are not that cheap!
And don't you think after seeing a guy carrying 21 empty oil barrels that he should enter a messenger cargo-race? Is it so difficult to get some airplane-tickets out to those companies?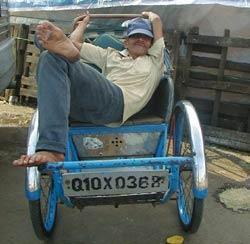 A local chilling in a cyclo in Vietnam
Photo: © Mortimer Steinke
CN:. Congratulations on a very rich site - it looks great. I take it you're updating from the road? How is this being achieved?
MS: I have a tiny Sony Vaio laptop with a 8.5 inch screen and a Olympus digital still camera, Dustin is writing in his book, we get together and write in some freestyle way together and send it to our friend Mandi (salome@erika.sixgirls.org), she then puts everything on the website together.
CN: Anyone you would like to thank or say hello to?
MS: The worldwide messenger community which is like a family but it's easier to get along with them.
NYC and Berlin - you rule! The kids from London and Tokyo and of course (sponsors) Bagjack, Phil Wood, Schwalbe and Elite-Couriers (NYC).