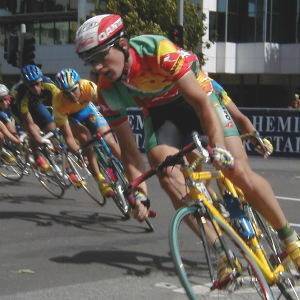 Franky van Haesebroucke leads Gorazd Stangelj
Copyright 1999: Knapp Communications
As race commentator Stuart Doyle says, "We've come down to the business end of the bike race". Could Raimondas Rumsas close the 18 second deficit to Gorazd Stangelj by winning the stage, or could an Australia finally pick up a stage win in the Nation's Capital? One more 36 km criterium would decide whether either of these events were possible. While a possible Rumsas win seemed unlikely, it was certainly possible that one of the Aussies, in particular the local Canberra boys, could psych themselves up to steal one from the foreigners.
The wind was strong for the 32 lap race, and when combined with the tight course created a likely scenario for a break to succeed. Within the first 10 laps, a big move came from Michael Rogers and Dennis Mungovern (Casino Canberra), and Dutch rider Harm Jansen (QANTAS One World). These three were then joined by two more Australians, Steve Williams (Caravello) and Baden Burke (NSW Sport & Recreation), along with Festina's Andre Korrf (Ger). The six worked well together, especially the two Casino riders who were trying desperately to make the break succeed. The other Canberra rider, Burke was also highly motivated, although he nearly came to grief when he broke a chain with about 15 laps to go, and had to borrow a juvenile spectator's bike to complete the race.
The gap was steadily growing and it looked sure that they would stay away, possibly giving Australia it's first and only stage win of the Classic. Raimondas Rumsas (MROZ) basically saw his chances of overall victory slip away with this move, and was concentrating on hanging onto Gorazd Stangelj's wheel. A group of three - Julian Winn (DuPont), Dan Smith (Sportscover) and Daniel Spence (Bates Bikes) broke the Slovenians' shackles in an ultimately fruitless attempt to catch the six escapees.
With two laps to go, Mungovern attacked but was countered by Jansen. So too did Mick Rogers but they only managed to get rid of Korrf. Five riders, four Aussies and a good sprinter in Baden Burke - could they do it?
Rogers led out the sprint into the headwind but Jansen was there and came by early. Baden Burke tried to squeeze by on the inside on his "kiddies bike", but faded at the end and the experienced Jansen won by nearly a bike length from Rogers. Not since 1990 has an Aussie missed out on a stage win, which says something about the strength and desire to race of the foreign element of this field.
"I am very happy for winning the last race. I have not done much training since my peak in June and so was really fresh for this race, although it hurt me a lot. I knew I had a better kick than the others and just needed to hold their wheels when they attacked," said the ecstatic Jansen, who found the best way to end his season.
Although there was only an outside chance of Rumsas winning, yellow jersey holder Stangelj admitted afterwards that he was very nervous today, both before the time trial and the criterium. He seemed more relaxed and happier than a couple of days ago when he suffered, but hung on over the hills of Jamberoo Pass and Cambewarra Mountain. He considered Rumsas to be his main threat, as the two Aussies were never close enough to get within striking distance, unless he cracked.
The 26 year old Slovenian described the win as the "biggest of my career", although he has won several big European races this year. Next year, he will be riding for the Italian second division Liquigas team, with the aim of competing in the Giro and possibly the Tour. He also is aiming to make the Slovenian Olympic team, and took the opportunity to ride the road race course in Sydney. Thoughts? "A very selective course, with a lot of turns. It will be important to always maintain good position always."
Finally, there was some Australian success with Scott Sunderland (QANTAS) taking out the Coca Cola King of the Mountains jersey. He described the race as very hard, but was more than happy with his result, coming after so many problems last year. His back though is still a problem, especially with a lot of sprinting out of corners during the criteriums. "I just came here to try and win a stage, but that was not to be in the end. But, it's good to wear the KOM jersey and the team has had a couple of wins."
The teams competition went to Slovenia by a clear margin, while the GIANT Sprint King stayed with Jans Koerts from the Websdale team. The Dutch were certainly the best performers in the Classic, winning 6 of a possible 15 stages, and they will certainly be back next year.
For Complete Results
Stage 15, Canberra Criterium, 36 kms:

1  Harm Jansen (Ned) Qantas One World       	     52.17
2  Michael Rogers (Aus) Casino Canberra
3  Baden Burke (Aus) NSW Sport & Recreation
4  Steve Williams (Aus) Caravello
5  Dennis Mungovern (Aus) Casino Canberra
6  Andre Korff (Swi) Festina                	      0.25
7  Julian Winn (GBr) DuPont                 	      0.30
8  Daniel Spence (SAf) Bates Bikes
9  Dan Smith (GBr) Sportscover World
10 Raimondas Rumsas (Lit) MROZ              	      0.44

Final General Classification:

1  Gorazd Stangelj (Slv) Slovenia                 23.41.49
2  Raimondas Rumsas (Lit) MROZ                        0.18
3  Jonathan Hall (Aus) Festina                        1.20
4  Scott Sunderland (Aus) Qantas One World            2.16
5  Zbigniew Piatek (Pol) MROZ                         2.27
6  Bart Hickson (Aus) Caravello                       2.30
7  Max Van Heeswijk (Ned) Websdale Netherlands        3.07
8  Heiko Szonn (Ger) Casino Canberra                  3.37
9  Kam Po Wong (HKg) Sportscover World                4.35
10 Tiaan Kannemeyer (SAf) Bates Bikes                 5.30