Recently on Cyclingnews.com
British Cycling National Trophy Cyclocross Series #2 - C2
Cheltenham, UK, October 17, 2004
Crawforth makes it look easy
By Patrick Alexander
Elite competitors find the going hard.
Photo ©: Patrick Alexander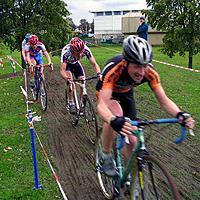 Racing commenced at 10:30 am on a course that was quite heavy going due to several weeks of mostly wet weather, but which on the day relented into a cloud and cold, but nevertheless dry climate. The slippery conditions meant that it took good bike handling skills to make the fastest laps of the 2.5km course, which in the Elite men's race right at the end of the day would be just over 5 minutes. But it was the youths who got the Cheltenham Cycles sponsored event off to a flying start with Adam Turner (Tunstall Wheelers) who made it a one horse race for the boys, finishing with a time of 28:12 and a lead over 2nd placed Jonathan Mc Evoy (Liverpool Century) of 47 seconds. David Williams made the podium as well, a further 14 seconds in arrears. Amy Thompson (GB cycles) led home the youth girls in a time of 33:39, almost 2 minutes ahead of Marie Stuart (VC Cumbria). Annie Last (Matlock CC) did better than her surname would suggest, taking third at 57 second to Stuart. In the under 14 boys category, there was a similar cakewalk for Michael Butler (VC Deal) who finished in 31:28, 1:56 up on Jordan Hook (South Pennine) and 3:18 up on Joseph Perret (Lee Valley Youth CC). The Cheltenham and County CC contingent in the event had a baptism of fire, finding it tough going in their first serious competition, especially on the National stage. Nevertheless they all bravely battled on to finish: Matt Browning 47th, Will Brammer 51st and Sam Cooper 52nd. Christy Davidson-Stearn of Cirencester finished 50th. Rebecca Thompson (GB cycles) beat Penny Rowson (Sheffield Phoenix) in the U14 girls section. During the prize presentation ceremony after their races, all the youngsters were star struck in cycling terms when they received their awards from the winner of this year's 102nd edition of Paris - Roubaix, Magnus Backstedt, the Swedish Alessio-Bianchi rider.
Bikes don't always get carried
Photo ©: Patrick Alexander

Next event went to the opposite end of the age range, the Veteran class which was split into two sub-categories: male 40 to 49 & male 50+. The women veterans race as part of the women's event later in the day. Andy Key (MI Racing) rode a masterful race, initially part of a large group of eight leaders which circulated in close company, but attacked hard later on to pull out a gap of 1:22 on Terry Tiffen (Cestria CC) and finish in 40:08. It's Key's second victory in a row in this year's series and if he can maintain this form he could easily win it. The fight for third was a very close and exciting sprint contested by two riders, with Andrew Shaw (Exeter Wheelers) getting the verdict of half a wheel over David Stevens (Leeds Premier). The sole Cheltenham rider in this was Ian Langdon (Cheltenham Cycles) who was 31st at 5:58 on the winner, a very creditable performance for a rider who doesn't compete a great deal in this discipline, being more of a cross-country mountainbiker at heart and which demands as much technical skill as fitness. The over 50s was a clear victory for Dave Smith (Derby Mercury) in 43:43, Graham Edwards (Abergavenny RC) being 1:01 down at the end, but he had to pull out a fierce sprint effort in the final 50 metres as a group of five riders all crossed the line at virtually the same time. Andrew Roberts (Evans Cycles RT) also contested that group finish, to be third in the 50+ category. That turned the series placings upside down, Smith on 66 points, but just 2 clear of Edwards.
The under 12s rode a shortened course for just 10 minutes, but that was plenty of time for these tremendously enthusiastic youngsters to enjoy themselves, rolling up and down the many dips and rises of the municipal park. Halesowen ACC showed strength in depth, with Josh Papworth and Jason Dingley taking a 1-2 the boys race and Leanne Talbot the girls event. Cheltenham & County's Nick Browning finished third in the boy's race, a great debut performance for that youngster.
Leboucher takes a cautious line
Photo ©: Patrick Alexander

After the brief lunch break, the undoubted highlight of the day happened when a reigning World Champion graced one of Cheltenham's most beautiful parkland settings. The entry into the Women's race of Laurence Leboucher (Team Leboucher MTB72 / Conseil General Sarth), of Alencon, France, came as a complete surprise to the event organisation but in a nevertheless a deserved reward for having striven to promote the event for the past five seasons. Her presence undoubtedly contributed to the excellent spectator turnout, estimated at well over 500 people, through the day's activities. It was a further surprise that she didn't turn it into a "one horse" race too, because the British women rose spectacularly well to the challenge, in particular Victoria Wilkinson (Science in Sport.com) and Helen Wyman (Team Bottecchia), who between them led her for most of the race and attempted several times to shake her off with some spirited attacking riding. Louise Robinson (Stourbridge CC), who took a Silver medal at the cyclo-cross World Championships just four years previously, clawed her way back to this leading trio mid way through the race, making it even more of an uncertain outcome at that stage. But her challenge petered out in the latter stages, as did Wyman's. But Wilkinson was buoyed up by a supportive crowd and showed immense confidence against the undoubted psychological pressure that racing with a world champion in her slipstream would have brought. The last three laps saw them circulating in tandem, having first dropped Robinson on the difficult, slippery climb next to the BMX ramps at the Evesham Road end and then shortly after, Wyman on the flowing wooded section next to the Recreation Centre. The spectators were surprised not to see Leboucher launch a surge ahead of any real significance, perhaps aware of Wilkinson's ability in the past few seasons of international events in both cyclo-cross and mountainbiking. That meant the two came into the finishing straight together, Leboucher having used here experience to force Wilkinson the lead out the sprint for the line. But Wilkinson refused to lie down and be beaten and over the 50 metres to the finish managed to keep her bike just ahead of the Frenchwoman's to claim what, thus far, must surely be her career's best ever result. Race time 41:33 for the pair, it was that close. Wyman came in at 55 second, just 5 seconds in front of Robinson.
The Junior event was run concurrently with the Women's race and this was a convincing 36:04 win for Alex Atkins (Evans Cycles), from Mark Thwaites (Science in Sport.com) at 1:39 and Will Thompson (Pacific RT) at 3:12. Atkins leads the Series overall.
Then onto the final race of the day, the Elite and under 23 men, was by no means an anti-climax after such an exciting women's event. The early pattern of the race was a select group of eight of the UK's finest riders circulating together at impressive speeds, last year's winner at Cheltenham Matt Ellis (Planet X / On One) and last round winner at Matlock, Nicky Craig (Team Persil) amongst them. The pace was starting to really tell mid way through, after 30 minutes had passed, by which time it was quite a surprise to see Ellis forced to let his closest rivals creep gradually ahead. Continued probing attacks by several of the leaders, most notably Simon Richardson (Ace RT), the most promising of the under 23 riders, continued to thin that group, but it was Richardson who also succumbed later on, possibly a little too overconfident in his ability at this level. Jody Crawforth (Evans Cycles), however, has both confidence and ability. Not overawed either by the mountainbiking World Cup and Olympic pedigree of young Liam Killeen (Subaru / Gary Fisher) or the vast experience of Nicky Craig - who has campaigned at a similar stratospheric level for many more years - Crawforth put in a telling extra effort in the final quarter of the hour long struggle for supremacy. He took Killeen with him, but wasn't phased at all, finding more speed in the last three laps to detach him as well and came home with 32 second to spare, in a time of 1:2:47. Craig didn't have it all his own way for third, having to fend off the attentions of former Tour de France racer Adrian Timmis (Pinarello RT), who was 4 second in arrears across the line, Craig 32 seconds down on second place.
That result made it a close run thing for the series, Crawforth and Craig on equal points at the top, but Crawforth given the leader's yellow jersey due to his greater winning margin here. Timmis lies third overall. The Under 23 podium contained Richardson on top, then Ian Bibby (Science in Sport.com) and Ian Field (San Fairy Ann CC). Cheltenham's contingent faired reasonably well, with Ben Davies (Cheltenham Cycles) in 31st place and Nic Burridge (Cheltenham & County CC) in 42nd. They were cheered on by their vocal Cheltenham support, particularly by the many volunteers from Cheltenham and County Cycling Club who had assisted with the running of the event throughout the day. Many of these people have become great enthusiasts for helping this event every year since it's first inception some five years ago, sparking one of them, Tim Sluman, to describe the event as something akin to the film "Groundhog Day".
Photography
Images by Patrick Alexander
Results
Men 
 
1 Jody Crawforth (GBr) Evans Cycles RT                      1.02.15
2 Liam Killeen (GBr) Subaru/Gary Fisher                        0.32
3 Nick Craig (GBr) Team Persil                                 1.04
4 Adrian Timmis (GBr) Pinarello RT                             1.08
5 Simon Richardson (GBr) Ace RT/Farmers/Impsport/Dolan         1.22
6 Daniel Alexander (GBr) Matlock CC/Wards /Impsport/Farmers    2.12
7 Jim Bryan (GBr) Ace RT/Farmers/Impsport/Dolan                2.36
8 Matt Ellis (GBr) Planet X/On One                             3.12
9 Philip Dixon (GBr) Ace RT/Farmers/Impsport/Dolan             3.30
10 Geoff Beetham (GBr) Eastern Region Velo/Bianchi             3.46
11 Noel Clough (GBr) Middridge CRT/Northern Foils              3.59
12 Ian Wilkinson (GBr) Giant Racing                            4.30
13 Rob Jebb (GBr) Wheelbase/Ron Hill                           4.38
14 Stuart Bowers (GBr) Hargroves Cycles/Trant/Next             4.40
15 Keith Murray (GBr) Team MBUK/Scott                          5.06
16 David Collins (GBr) Science in Sport.com                    5.52
17 Paul Oldham (GBr) Giant Racing                              6.03
 
One lap behind
 
18 Ben Eedy (GBr) South Pennine RC                                 
19 Ian Bibby (GBr) Science in Sport.com                            
20 Steve Knight (GBr) MI Racing/Fuji/Thule/Sports Tours            
21 Jamie Norfolk (GBr) Giant Racing                                
22 Shaun Snodden (GBr) Recycling.co.uk/MGX-Power                   
23 Ian Field (GBr) San Fairy Ann CC                                
24 Scott Rose (GBr) Science in Sport.com                           
25 Andrew Naylor (GBr) Ashfield RC                                 
26 Greg Simcock (GBr) Elmy Cycles/X RT                             
27 Ross Adams (GBr) Red Kite Cycles                                
28 William Bjergfelt (GBr) Team Saracen                            
29 Pat Foley (GBr) Individual Member                               
30 Carl Thompson (GBr) Elmy Cycles/X RT                            
31 Ben Davies (GBr) Cheltenham & County CC                         
32 Jason Hawkins (GBr) Individual Member                           
33 Matthew Kipling (GBr) Alpine Rootz.com                          
34 Richard Lister (GBr) VC Lincoln/TMS/Impsport/Listers            
35 Mark Leyland (GBr) Horwich CC                                   
36 Roy Smith (GBr) Team Training FX/Bike-Cellar.com                
37 James Furniss (GBr) Matlock CC/Wards /Impsport/Farmers          
38 Grant Kier (GBr) St Ives CC/Richardson Cycles                   
39 Anthony Morris (GBr) Individual Member                          
40 Richard Bowen (GBr) Gateway RT                                  
41 Ben Oliver (GBr) Cycle Inn/Bianchi                              
42 Nic Burridge (GBr) Cheltenham & County CC                       
43 Stuart Reid (GBr) Wheelbase/Ron Hill                            
44 Matthew Gallagher (GBr) Glendene CC/Bike Trax                   
45 Pete Yates (GBr) Bromsgrove Olympique CC                        
46 Matthew Smart (GBr) Coventry RC                                 
47 Eric Neely (GBr) Individual Member                              
 
Women
 
1 Victoria Wilkinson (GBr) Science in Sport.com               41.33
2 Laurence Leboucher (Fra) France                                  
3 Helen Wyman (GBr) Team Bottecchia/Fat Birds Don't Fly        0.55
4 Louise Robinson (GBr) Stourbridge CC                         1.00
5 Gabriella Day (GBr) Team Bottecchia/Fat Birds Don't Fly      2.21
6 Isla Rowntree (GBr) Stourbridge CC                           2.41
7 Nikki Harris (GBr) Pearce Cycles RT                          3.00
8 Michelle Bergstrand (GBr) Eastern Region Velo/Bianchi        3.31
9 Claire Lines (GBr) Gateway RT                                5.28
10 Jenny Copnall (GBr) Berghaus/Bianchi                        5.53
 
One lap behind
 
11 Viv Cox (GBr) Cyclo-cross.com                                   
 
Two laps behind
 
12 Penelope Neely (GBr) Individual Member                          
13 Lorna Marlow (GBr) Welland Valley CC                            
 
Veterans
 
1 Andy Key (GBr) MI Racing/Fuji/Thule/Sports Tours            40.08
2 Terry Tiffen (GBr) Cestria CC                                1.22
3 Andrew Shaw (GBr) Exeter Wheelers                            2.25
4 David Stevens (GBr) Leeds Premier ATR                            
5 Andy Cosgrove (GBr) Teesdale CRC                             2.39
6 Nigel Hay (GBr) De Montfort Rage On                          2.47
7 Martin Eadon (GBr) Evans Cycles RT                           2.53
8 Andy Barnard (GBr) VC Lincoln/TMS/Impsport/Listers           2.58
9 Mick Bell (GBr) London Fire Brigade CC                       3.21
10 David Smith (GBr) Derby Mercury RC                          3.35
11 Ian Wright (GBr) Pearce Cycles RT                           3.40
12 Shaun Hammond (GBr) Wolverhampton Wheelers CC                   
13 Mick Rowson (GBr) Rutland CC                                3.43
14 Adge Last (GBr) Matlock CC/Wards/Impsport/Farm.                 
15 Nick Kinsey (GBr) Tri-UK/Gatorade                           3.51
16 Graham Clark (GBr) VC Lincoln/TMS/Impsport/Listers          3.55
17 Peter Wilkin (GBr) Cleveland Wheelers                       4.28
18 Graham Edwards (GBr) Abergavenny RC/Bike Base/Govilon       4.36
19 Martin Booth (GBr) Kingsnorth International Whs.                
20 Andrew Roberts (GBr) Evans Cycles RT                            
21 Vic Barnett (GBr) Welland Valley CC                             
22 Roy Hunt (GBr) Rock Lobster                                     
23 Steve Jolley (GBr) Warrington RC                            5.02
24 Barry Kipling (GBr) Science in Sport.com                        
25 Carl McDonagh (GBr) Brixton Cycles                              
26 John Blackledge (GBr) WebstersCycles.co.uk                  5.06
27 Mark Garrett (GBr) Coventry RC                              5.11
28 Duncan Stuart (GBr) Keswick MTB                             5.25
29 Stuart Gough (GBr) Portswood Cycles RT                      5.52
30 Mark Gill (GBr) Bradford RCC/Lynn Motors                    5.58
31 Ian Langdon (GBr) Cheltenham Cycles                             
32 David Garrett (GBr) Rugby Velo                              6.06
33 Peter Hargroves (GBr) Hargroves Cycles/Trant/Next           6.10
34 Peter Harris (GBr) Pearce Cycles RT                         6.13
35 Peter Mooney (GBr) Rugby Velo                               6.20
36 Robert Wood-Anderson (GBr) Individual Member                6.33
37 Gary Hipwell (GBr) Rugby Velo                               6.36
38 Adrian Elson (GBr) Coventry RC                              6.42
39 Philip Roach (GBr) Rugby Velo                               6.51
40 Michael Webb (GBr) Royal Sutton CC                          6.59
41 Barrie Mitchell (GBr) MI Racing/Fuji/Thule/Sports Tours         
42 Bob Pisolkar (GBr) Finsbury Park CC                         7.09
 
One lap behind
 
43 Tony Wilkins (GBr) Individual Member                            
44 Robert Burns (GBr) Wolverhampton Wheelers CC                    
45 Joseph Rowe (GBr) Wyre Forest CC                                
46 Martyn Dymond (GBr) Hargroves Cycles/Trant/Next                 
47 Mick Ives (GBr) MI Racing/Fuji/Thule/Sports Tours               
48 Roger Broughton (GBr) Alford Wheelers                           
49 Phil Bibby (GBr) Science in Sport.com                           
50 Geoff Booker (GBr) Oxonian CC                                   
51 Peter Parkes (GBr) Coventry RC                                  
52 Martin Hackley (GBr) MI Racing/Fuji/Thule/Sports Tours          
53 Mark Meacock (GBr) Freerider RT                                 
54 Gavin Shaw (GBr) Freerider RT                                   
55 Peter Bromwich (GBr) West Midlands Cyclo-X League               
56 Paul Dalton (GBr) Matlock CC/Wards/Impsport/Farm.               
57 Geoff Bores (GBr) Lee Valley Youth CC                           
58 Robert Smith (GBr) Ipswich BC                                   
59 John Ginley (GBr) Condor RC                                     
60 Anthony Hayman (GBr) Hinckley CRC                               
61 Mike Adams (GBr) Red Kite Cycles                                
62 Stuart Hocknell (GBr) St Ives CC/Richardsons                    
63 John Miroslaw (GBr) De Montfort Rage On                         
 
Juniors
 
1 Alex Atkins (GBr) Evans Cycles RT                           36.04
2 Mark Thwaites (GBr) Science in Sport.com                     1.39
3 William Thompson (GBr) Pacific RT                            3.12
4 Paul Cox (GBr) WebstersCycles.co.uk                          3.47
5 Tom Last (GBr) Matlock CC/Wards/Impsport                         
6 Stephen Adams (GBr) Sherwood CC                              4.45
7 Philip Gough (GBr) Portswood Cycles RT                       5.06
8 Darren Tiffen (GBr) Cestria CC                               5.30
9 Tim Baldwin (GBr) Paul Milnes RT                             5.50
10 Ralph Connolly (GBr) Fox's Cycles RT                        6.13
 
One lap behind
 
12 Martin Beech (GBr) VC Lincoln/TMS/Impsport/Listers              
13 Jamie Harris (GBr) Pearce Cycles RT                             
14 Stuart Jones (GBr) Wolverhampton Wheelers CC                    
15 Tom Hooper (GBr) Regal RRT                                      
17 Robert Whenman (GBr) Team Darenth                               
19 Ross Dingley (GBr) Halesowen A & CC                             
20 Lewis Harris (GBr) Rugby Velo                                   
21 James Jackson (GBr) Lee Valley Youth CC                         
22 Joe Dodd (GBr) Bikes 51 RT                                      
 
Youth
 
1 Adam Turner (GBr) Newark Castle CC/Sherwood Pines           28.12
2 Jonathan McEvoy (GBr) Liverpool Century RC                   0.47
3 David Williams (GBr) Individual Member                       1.01
4 Andrew Griffiths (GBr) Lee Valley Youth CC                   1.28
5 Tom Smart (GBr) VC Deal                                      2.10
6 Luke Allen (GBr) Racing All Terrain Squad                    2.35
7 Ben Plain (GBr) Chapel Tri-Stars                             2.46
8 Leigh Andrews (GBr) VC Lincoln/TMS/Impsport/Listers          3.04
9 Luke Marlow (GBr) Welland Valley CC                          3.13
10 Michael Butler (GBr) VC Deal                                3.16
11 William Penn (GBr) Lichfield City CC                        3.32
12 Matthew Toplis (GBr) Shokwave                               3.41
13 George Bate (GBr) Bromsgrove Olympique CC                   4.01
14 Alex Paton (GBr) VC Deal                                    4.15
15 Robert Burns (GBr) Wolverhampton Wheelers CC                4.30
16 Ben Roach (GBr) Rugby Velo                                  4.32
17 Thomas Butt (GBr) Chapel Tri-Stars                          4.37
18 Billy-Joe Whenman (GBr) Team Darenth                        5.06
19 Jordan Hook (GBr) South Pennine RC                          5.12
20 Tom Price (GBr) Chippenham & Disttrict Whs                  5.23
21 Jonathan Harris (GBr) Brereton Wheelers                     5.25
22 Amy Thompson (GBr) GB Cycles.co.uk                          5.27
23 Lawrence Frost (GBr) Ashfield RC                            5.36
24 Oliver Graham (GBr) Halesowen ACC                           6.05
25 Thomas Hibberd (GBr) Halesowen ACC                          6.23
26 Joseph Perrett (GBr) Lee Valley Youth CC                    6.34
27 Luke Gray (GBr) Dorset Rough Riders                         6.42
28 Adriano Staiano (GBr) Racing All Terrain Squad              6.43
29 Marie Stuart (GBr) VC Cumbria/Lakeland Sprinters            7.06
30 Carl Harris (GBr) Eastern Region Velo/Bianchi               7.15
31 Alexander Tinsley (GBr) Halesowen A & CC                    7.26
32 Peter Dibben (GBr) Chapel Tri-Stars                         7.55
33 Annie Last (GBr) Matlock CC/Wards/Impsport/Farmers          8.09
 
One lap behind
 
34 Helen Clayton (GBr) Lichfield City CC                           
35 Craig Talbot (GBr) Halesowen A & CC                             
36 Timothy Rowson (GBr) Sheffield Phoenix CC                       
37 William Verney (GBr) Shokwave                                   
38 Jessica Allen (GBr) Abergavenny RC/Bike Base/Govilon            
39 Matthew Hayman (GBr) Hinckley CRC                               
40 Laura Reynolds (GBr) Brereton Wheelers                          
41 Rebecca Thompson (GBr) GB Cycles.co.uk                          
42 James Wade (GBr) VC Deal                                        
43 Stuart Clayton (GBr) Lichfield City CC                          
44 Oliver Claydon (GBr) Halesowen A & CC                           
45 Dale Jackson (GBr) Lee Valley Youth CC                          
46 Penny Rowson (GBr) Sheffield Phoenix CC                         
47 Matt Browning (GBr) Cheltenham & County CC                      
48 Bruce Dalton (GBr) Matlock CC/Wards/Impsport/Farmers            
49 Thomas Gregory (GBr) Halesowen A & CC                           
 
Two laps behind
 
50 Christy Davidson-Stearn (GBr) Individual Member                 
51 William Brammar (GBr) Cheltenham & County CC                    
52 Samuel Cooper (GBr) Cheltenham & County CC                      
 
Under 12 boys
 
1 Josh Papworth (GBr) Halesowen ACC                                
2 Jason Dingley (GBr) Halesowen ACC                                
3 Nick Browning (GBr) Cheltenham & County CC                       
 
Under 12 girls
 
1 Leanne Talbot (GBr) Halesowen ACC                                
2 Stephanie Higgs (GBr)