Cyclo-Cross World Cup #9 - CDM
Milan, Italy, January 25, 2009
Main Page Results Overall standings Next Race
Race 1 - January 25: Elite Women, 40 minutes
Van Den Brand defeats World Champ
By Peter Hymas
Daphny van den Brand (ZZPR.nl-Destil-Merida) wins the World Cup round in Milan.
Photo ©: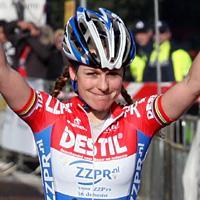 Daphny Van Den Brand held off World Champion Hanka Kupfernagel to win the final round of the World Cup in Milan. Van Den Brand controlled the race from start to finish with only Kupfernagel able to match the power and bike handling skills of Van Den Brand on the quick, technical circuit. French Champion Maryline Salvetat kept the leading duo in check, but was unable to make contact and finished in third place.
Christel Ferrier-Bruneau matched the pace of Van Den Brand and Kupfernagel on the opening laps but couldn't maintain their tempo and left her compatriot Salvetat to take up the chase. Ferrier-Bruneau recovered from her early effort and finished fourth in a tight finish against Rachel Lloyd, Marianne Vos and Mirjam Melchers-Van Poppel.
Van Den Brand separated herself from the field early in the first lap and set the tempo nearly the entire race. Kupfernagel was slower to start, but joined the surging Van Den Brand on the second lap. Kupfernagel tested Van Den Brand on the brief sections of pavement, but found herself fighting to maintain Van Den Brand's wheel on the punchy climbs and twisting, technical sections that dominated the circuit. Van Den Brand led Kupfernagel for virtually the entire last lap and made sure she arrived first out of the last corner with a slight gap in order to neutralize Kupfernagel's sprint on the short finishing stretch.
Hanka Kupfernagel already wrapped up the overall World Cup title the previous weekend in Roubaix, France and entered today's final event with an unassailable lead. Kupfernagel maintained her World Cup streak of never finishing worse than second with a second place finish to conclude her World Cup campaign. Daphny Van Den Brand secured second place overall in the World Cup with her second victory of the series in Milan. Katie Compton did not compete in Milan, choosing to remain in Belgium to train for the upcoming world championships, but had acquired enough points to guarantee a third place overall finish without racing the final round.
Photography
For a thumbnail gallery of these images, click here
Images by Riccardo Scanferla
Images by Dave McElwaine/www.trailwatch.net
Images by Davide Tricarico/ladiescycling.net
Results
1 Daphny van den Brand (Ned) ZZPR.nl-Destil-Merida              43.13
2 Hanka Kupfernagel (Ger) Itera-Stevens                          0.02
3 Maryline Salvetat (Fra) VSLL Castres                           0.29
4 Christel Ferrier-Bruneau (Fra)                                 1.05
5 Rachel Lloyd (USA) California Giant Cycling Team               1.06
6 Marianne Vos (Ned) DSB Bank Ladies Cycling-Team - VVHP         1.08
7 Mirjam Melchers-Van Poppel (Ned)                               1.09
8 Helen Wyman (GBr) Vision                                       1.50
9 Sanne Cant (Bel) A.D.S. Selle Italia Guerciotti                2.07
10 Sanne van Paassen (Ned) ZZPR.nl-Destil-Merida                 2.15
11 Pavla Havlikova (Cze) KC Kooperativa SG Jablonec              2.27
12 Caroline Mani (Fra) Vienne Futuroscope                        2.40
13 Nadia Triquet-Claude (Fra)                                        
14 Wendy Simms (Can) Kona Cyclocross Team                            
15 Joyce Vanderbeken (Bel) J&G Cycling Team                      2.47
16 Katrin Leumann (Swi) goldwurst-power Sputnik                  2.56
17 Reza Hormes (Ned) Team ZZPR.nl-Destil-Merida                  3.06
18 Eva Lechner (Ita) C.S. Esercito - Colnago Cap                 3.26
19 Saskia Elemans (Ned) Team Flexpoint                           3.30
20 Lucie Lefevre (Fra) CC Etupes le Doubs pays de Montbéliard    3.38
21 Susan Butler (USA) MonaVieCannondale.com                      4.02
22 Francesca Cucciniello (Ita) Selle Italia Guerciotti A.S.D.    4.36
23 Gabriella Day (GBr) Vision                                        
24 Natasha Elliott (Can) EMD Serono-Stevens                      4.37
25 Milena Cavani (Ita) Marchiol Ima Famila                       5.21
26 Evelyn Staffler (Ita)                                         5.48
27 Veronica Alessio (Ita) Team Colnago Arreghini                 6.44
 
One lap behind
28 Nicoletta Bresciani (Ita) Team Colnago Cap Arreghini              
29 Daniela Bresciani (Ita) Team Colnago Cap Arreghini                
30 Elisabetta Borgia (Ita) Selle Italia Guerciotti A.S.D.            
DNF Veerle Ingels (Bel) AVB - Cycling Team                           
DNF Suzie Godart (Lux) CCI Differdange                               
DNS Lise-Marie Henzelin (Swi) Campione Celeste                       
 
Final World Cup standings
 
1 Hanka Kupfernagel (Ger) Itera-Stevens                           420 pts
2 Daphny van den Brand (Ned) ZZPR.nl-Destil-Merida                365
3 Katherine Compton (USA) Spike                                   270
4 Maryline Salvetat (Fra) VSLL Castres                            244
5 Christel Ferrier-Bruneau (Fra)                                  235
6 Pavla Havlikova (Cze) KC Kooperativa SG Jablonec                229
7 Helen Wyman (GBr) Vision                                        206
8 Sanne van Paassen (Ned) ZZPR.nl-Destil-Merida                   195
9 Saskia Elemans (Ned) Team Flexpoint                             180
10 Nadia Triquet-Claude (Fra)                                     163
11 Marianne Vos (Ned) DSB Bank Ladies Cycling-Team - VVHP         158
12 Sanne Cant (Bel) A.D.S. Selle Italia Guerciotti                152
13 Caroline Mani (Fra) Vienne Futuroscope                         145
14 Wendy Simms (Can) Kona Cyclocross Team                         144
15 Rachel Lloyd (USA) California Giant Cycling Team               117
16 Joyce Vanderbeken (Bel) J&G Cycling Team                       112
17 Veerle Ingels (Bel) AVB - Cycling Team                         109
18 Reza Hormes (Ned) Team ZZPR.nl-Destil-Merida                    89
19 Gabriella Day (GBr) Vision                                      88
20 Mirjam Melchers-Van Poppel (Ned)                                81
21 Arenda Grimberg (Ned) Team Ton Van Bemmelen Sports-Merida       68
22 Georgia Gould (USA)                                             67
23 Eva Lechner (Ita) C.S. Esercito - Colnago Cap                   61
24 Jana Kyptova (Cze) Johnson Controls AS MB                       50
25 Katerina Nash (Cze)                                             45
26 Abke Francissen (Ned) Team Brabant 2000                         43
27 Veronica Alessio (Ita) Team Colnago Arreghini                   42
28 Susan Butler (USA) MonaVieCannondale.com                        41
29 Nikki Harris (GBr) Sprinters Malderen                           34
30 Linda Van Rijen (Ned)                                           32
31 Loes Gunnewijk (Ned) RTC De Stofwolk                            31
32 Katrin Leumann (Swi) goldwurst-power Sputnik                    27
33 Natasha Elliott (Can) EMD Serono-Stevens                        25
34 Mika Ogishima (Jpn)                                             25
35 Birgit Hollmann (Ger) BRC Zugvogel Berlin                       22
36 Elke Riedl (Aut) Team Vorarlberg Corratec                       19
37 Daniela Bresciani (Ita) Team Colnago Cap Arreghini              19
38 Loes Sels (Bel) Topsport Vlaanderen-Thompson Lad                16
39 Laura Van Gilder (USA)                                          15
40 Gertie Willems (Bel) Wielerclub De Sprinters Malderen           13
41 Jitka Skarnitzlova (Cze)                                        12
42 Lise Müller (Swi) BMC-Seppey-Teker-Hottinger                    12
43 Lucie Lefevre (Fra) CC Etupes le Doubs pays de Montbéliard      11
44 Deidre Winfield (USA)                                           10
45 Francesca Cucciniello (Ita) Selle Italia Guerciotti A.S.D.       9
46 Christine Vardaros (USA)                                         9
47 Nicolle De Bie-Leyten (Bel) AVB - Cycling Team                   9
48 Nancy Bober (Bel) Casa Verde Race Factory                        8
49 Susanne Juranek (Ger) RSC Oldenburg v. 196                       8
50 Milena Cavani (Ita) Marchiol Ima Famila                          6
51 Sabrina Schweizer (Ger) Rad-Union 191                            6
52 Pauline Ferrand Prevot (Fra) AC Bazancourt Reims                 6
53 Jennifer Sagesser (Swi)                                          6
54 Evelyn Staffler (Ita)                                            5
55 Zuzana Vojtasova (Svk)                                           5
56 Tessa Van Nieuwpoort (Ned) Team Flexpoint                        5
57 Martina Zwick (Ger)                                              4
58 Maureen Guichardot (Fra)                                         4
59 Marzena Wasiuk (Pol) Primus Lódz                                 4
60 Anne Arnouts (Bel) Redsun Cycling Team                           4
61 Nicoletta Bresciani (Ita) Team Colnago Cap Arreghini             3
62 Francis Keizer (Ned)                                             3
63 Jana Süß (Ger) 1a-crossteam                                      2
64 Elisabetta Borgia (Ita) Selle Italia Guerciotti A.S.D.           1
65 Katrien Pauwels (Bel) Empella Czech Team                         1