Cyclo-Cross World Cup #8 - CDM
Roubaix, France, January 18, 2009
Main Page Results Overall standings Next Race
Race 1 - January 18: Junior Men, 40 minutes
Eising out-powers competition in mud clash
US Champion McDonald cracks podium
By Brecht Decaluwé in Roubaix, France
Tijmen Eising continued his domination in the junior races in Roubaix
Photo ©: Mitch Clinton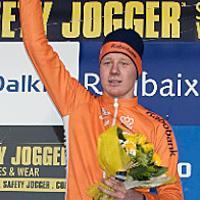 World Cup leader Tijmen Eising claimed his third World Cup win of the season in the mud around the legendary Roubaix velodrome in Northern France. The Dutchman held off Belgian champion Wietse Bosmans during the Junior men's final World Cup round. Behind the two protagonists, US champion Zach McDonald surprised many by claiming the last podium spot ahead of Dutchman Lars Van Der Haar.
Sean De Bie, winner of the previous World Cup, started strong and got away together with his compatriot Bosmans and Eising. De Bie couldn't maintain the pace and dropped away while the other two riders were able to keep the tempo. The rest of the field followed at half a minute to the leaders.
It didn't take too long before Eising gapped Bosmans and those positions remained until the end of the race. Eising simply out-classed the competition and didn't seem to have any trouble beating Bosmans. The giant Dutchman threw his fist in the air while crossing the line; he was happy to see that he almost unbeatable on challenging courses.
"The frozen courses weren't my cup of tea, but today it was 'cross again," Eising said.
Bosmans was happy with his second place behind the strong Dutchman. "Tijmen was stronger than me and that was it. I'm happy with this result, especially because the World Championships aren't too far off now. My form is still improving and there's room for even more improvement ahead of the championships," Bosmans said.
Half a minute behind the two Dutch-speaking riders US champion Zach McDonald narrowly held off his Dutch and Italian rivals. McDonald had a nice gap when arriving on the track, but when the duo behind the American started sprinting it looked bad. With a last effort the US champion managed to hold off both riders to finish on top of the World Cup podium for the first time in his career.
"I'm super happy," McDonald said. "I thought I could do well here because it was finally muddy. I only flew in on Thursday but still I was hoping for the podium to improve my start position ahead of the Worlds."
During the penultimate lap it was clear that tiny McDonald was no match for Van Der Haar and Braidot on the track. "I'm so slow in the sprint so I tried to gap them in the last lap. I had thirty feet at the pit and I heard yelling that I had to go for it," McDonald said.
"In Zolder [previous World Cup round], I got smoked in the sprint and finished sixth. Today, I wanted to prove that I can do it."
Photography
For a thumbnail gallery of these images, click here
Images by Mitch Clinton/www.clintonphoto.com
Images by Fabrice Lambert
Results
1 Tijmen Eising (Netherlands)                                   42.24
2 Wietse Bosmans (Belgium)                                       0.12
3 Zach Mc Donald (United States Of America)                      0.48
4 Luca Braidot (Italy)                                           0.49
5 Lars Van Der Haar (Netherlands)                                    
6 Michiel Van Der Heijden (Netherlands)                          1.04
7 Sean De Bie (Belgium)                                          1.07
8 Daniele Braidot (Italy)                                            
9 Corne Van Kessel (Netherlands)                                 1.42
10 Emilien Viennet (France)                                      1.45
11 Bart De Vocht (Belgium)                                           
12 Irwin Gras (France)                                           1.59
13 David Van Der Poel (Netherlands)                              2.00
14 Luke Keough (United States Of America)                            
15 Jan Nesvadba (Czech Republic)                                 2.08
16 Valentin Hadoux (France)                                      2.11
17 Pierre Garson (France)                                        2.13
18 Gianni Vermeersch (Belgium)                                       
19 Vinnie Braet (Belgium)                                        2.16
20 Jimmy Turgis (France)                                         2.17
21 Matthias Bossuyt (Belgium)                                    2.20
22 Alexandre Billon (France)                                     2.21
23 Karel Hnik (Czech Republic)                                   2.50
24 Radek Polnicky (Czech Republic)                               2.54
25 Flavien Dassonville (France)                                  3.11
26 Yannick Mayer (Germany)                                       3.26
27 Dario Stauble (Switzerland)                                   4.54
28 Daniele Dall'oste (Italy)                                     3.44
29 Mike Teunissen (Netherlands)                                  3.47
30 Jeremy Cornu (France)                                         3.50
31 Tomas Paprstka (Czech Republic)                               3.55
32 David Menut (France)                                          4.02
33 Bryan Falaschi (Italy)                                        4.07
34 Bob Jungels (Luxembourg)                                      4.13
35 Toni Bretschneider (Germany)                                  4.16
36 Enno Quast (Germany)                                          4.37
37 Michele Tatto (Italy)                                         4.40
38 Michael Boros (Czech Republic)                                4.51
39 Jayson Valade (France)                                        4.54
40 Jannick Geisler (Germany)                                         
41 Anthony Grand (Switzerland)                                   3.37
42 Rudy Lorenzon (Italy)                                         5.08
43 Alexis Caresmel (France)                                      5.13
44 Matej Medved (Slovakia)                                       5.23
45 Dimitri Corriette (France)                                    5.24
46 Michael (Jr) Schweizer (Germany)                              5.52
47 Eric Emsky (United States Of America)                         6.09
 
One lap behind
48 Alex Kirsch (Luxembourg)                                      
 
Two laps behind    
49 Adam Trnka (Slovakia)                                             


Final World Cup standings
 
1 Tijmen Eising (Netherlands)                 225 pts
2 Lars Van Der Haar (Netherlands)             175
3 Wietse Bosmans (Belgium)                    163
4 Sean De Bie (Belgium)                       138
5 Luca Braidot (Italy)                         96
6 Michiel Van Der Heijden (Netherlands)        94
7 Daniele Braidot (Italy)                      83
8 Radek Polnicky (Czech Republic)              79
9 Zach Mc Donald (United States Of America)    75
10 Luke Keough (United States Of America)      72
11 Valentin Hadoux (France)                    69
12 Karel Hnik (Czech Republic)                 67
13 Corne Van Kessel (Netherlands)              60
14 Matej Lasak (Czech Republic)                57
15 Jan Nesvadba (Czech Republic)               56
16 Bart De Vocht (Belgium)                     55
17 Pierre Garson (France)                      52
18 David Van Der Poel (Netherlands)            50
19 Michael Boros (Czech Republic)              48
20 Matthias Bossuyt (Belgium)                  47
21 Emilien Viennet (France)                    41
22 Vinnie Braet (Belgium)                      38
23 Bryan Falaschi (Italy)                      35
24 Tomas Paprstka (Czech Republic)             31
25 Gianni Vermeersch (Belgium)                 28
26 Ritchie Denolf (Belgium)                    22
27 Jimmy Turgis (France)                       22
28 Mike Teunissen (Netherlands)                20
29 Irwin Gras (France)                         19
30 Lukas Müller (Switzerland)                  18
31 Zeb Veestraeten (Belgium)                   16
32 Daan Meijers (Netherlands)                  15
33 Toni Bretschneider (Germany)                14
34 Emilien Barben (Switzerland)                14
35 Zico Waeytens (Belgium)                     12
36 Michele Tatto (Italy)                       12
37 Milan Van Den Ende (Netherlands)            11
38 Angelo De Clercq (Belgium)                  11
39 Michael (Jr) Schweizer (Germany)            10
40 Gert-Jan Bosman (Netherlands)               10
41 Michal Simerle (Czech Republic)             10
42 Yannick Mayer (Germany)                     10
43 Alexandre Billon (France)                    9
44 Jelle Lugten (Netherlands)                   9
45 Rudy Lorenzon (Italy)                        8
46 David Dvorsky (Czech Republic)               8
47 Ruben Scheire (Belgium)                      7
48 Flavien Dassonville (France)                 6
49 Xandro Meurisse (Belgium)                    6
50 Jannick Geisler (Germany)                    6
51 Anthony Grand (Switzerland)                  6
52 Daniele Dall'oste (Italy)                    6
53 Milan Svoboda (Czech Republic)               5
54 Enno Quast (Germany)                         5
55 Dario Stauble (Switzerland)                  4
56 Valentijn Van De Velde (Belgium)             4
57 Fabio Alfonso Todaro (Italy)                 4
58 Michael Cerny (Czech Republic)               3
59 Bas Krauwel (Netherlands)                    2
60 Jeremy Cornu (France)                        1
61 Matej Medved (Slovakia)                      1