Cyclo-Cross World Cup #4 - CDM
Koksijde, Belgium, November 29, 2008
Main Page Results Overall standings Previous Race
Race 4 - November 29: Elite men,
Vervecken reasserts his power
By Brecht Decaluwé in Koksijde, Belgium
Former World Champion Erwin Vervecken (Fidea Cycling Team)
Photo Š: Cyclingnews.com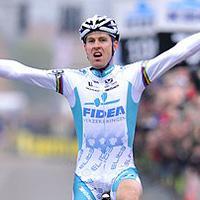 Erwin Vervecken (Fidea Cycling Team) surprised many, including himself, by winning the fourth race of the UCI Cyclo-cross World Cup. The Belgian was among the four Fidea riders who joined Belgian Champion Sven Nys (Landbouwkrediet-Tönissteiner) in front of the race in the ultimate lap.
Nys hit the finishing straight with a good-sized lead over Vervecken, but the headwind and Vervecken's character proved to be too much. Vervecken managed to overtake Nys on the line and took a record fifth victory in Koksijde.
"I didn't think that I could still win a World Cup race," said the 36-year-old Belgian. That opinion wasn't shared by Nys who said, "As long as Vervecken is riding he will cause trouble."
Thanks to his second place in Koksijde, Nys strengthened his lead in the World Cup.
The rather foggy and cold weather didn't cause much reduction in the riders' visibility, nor was it slippery. Nevertheless, the start of the men's race was spoiled by a crash and as a result, Thijs Al (AA Drink - BeOne), Simon Zahner (Bürgis Cycling Team), young Philip Walsleben (Palmans - Cras) and the somewhat older Richard Groenendaal (AA Drink - BeOne) were faced with the prospect of a comeback-type of race. Pre-race favorite Bart Wellens (Fidea Cycling Team) didn't fare too well, either, and was riding initially well outside the top-10.
The start
Photo ©: Cyclingnews.com

In front, Klaas Vantornout (Sunweb Projob Cycling Team), Zdenek Stybar (Fidea Cycling Team), Gerben De Knegt (Rabobank) and Nys got away, attacking the race. Despite their efforts, no gaps were created and by the end of the opening lap, a group of eleven riders was leading the race.
The situation didn't change until the third lap when Nys accelerated. The Belgian champion was followed by Vantornout, Sven Vanthourenhout (Sunweb Projob Cycling Team) and Stybar. Behind the four leaders, the Fidea team was trying to organize the pursuit, and it was Kevin Pauwels (Fidea Cycling Team) who brought everyone back by the end of the fourth lap.
One lap later, Nys jumped away from the nine men lead group on the finishing straight. Surprisingly, nobody reacted despite the fact that the Fidea team had four riders in this group.
During this sixth lap Wellens tried to bridge up to Nys together with Vervecken, a quadruple winner in Koksijde. Nys worked hard to keep his lead, but eventually he had to surrender to the Fidea four-man team pursuit including Wellens, Vervecken, Pauwels and Stybar.
Belgian Champ Sven Nys (Landbouwkrediet-Tönissteiner)
Photo ©: Cyclingnews.com

"My luck today was that we worked well together in order to bring Sven back. Probably Sven used a lot of his energy then," Vervecken said. During the penultimate lap, Wellens led his two teammates and Nys on the steep dune. Wellens stumbled and nearly fell right before reaching the top, and as if imitating him, Nys did the same, but he did end up going into the fence with his bike.
Wellens didn't get away though, and in the last lap the four leaders were also joined by Vantornout and Pauwels. Stybar seemed to ride away on his own for a moment but Nys closed the gap. On one of the last technical sections, the Belgian champion managed to create a small gap on the others, but that gap proved to be a little too small to keep Vervecken from coming back and overtaking him on the line.
"It felt like a very long sprint, not only for Sven, and I think I relaunched my sprint three times," Vervecken said. "First I focused on keeping Stybar at a distance, but then I noticed that Sven was still within my reach," Vervecken said.
Belgian Bart Wellens (Fidea Cycling Team)
Photo ©: Cyclingnews.com

Czech champion Stybar was delighted with his podium finish and was surprised to find out that he was currently second in the World Cup standings. "I've been struggling lately and I didn't have good memories to this race; last year I finished sixteenth which was my worst result. Erwin Vervecken and Paul Herijgers turned my bad dreams about sand into a love for sand, and now I end up third; talking about making progression," said Stybar, beaming with joy.
"I'm happy for Vervecken, especially because he proved that he's not ready for the cyclo-cross museum just yet," Stybar joked.
Vervecken was happy to see his teammates' progression and he promised he would buy the cake during training next week. "This is the race where it all started for me with my victory in 1993, and later my first podium finish in the World Championships. Now I'm winning this race for the fifth time, a record, but since Sven Nys is four years younger than me, I bet I'm not going to keep the record forever," Vervecken said.
Runner-up Nys wasn't disappointed about losing the sprint against Vervecken and said he had had a super day. "I couldn't win, but I had great fun combined and felt great and that's also important once in a while," Nys said. "If I could've ridden up that last dune, I would've had the five metres that I lacked when entering the finishing straight. Erwin had a target and he probably noticed I was struggling against the wind, still he deserved the win today."
The next World Cup race will be held in Igorre, Spain on December 7.
Photography
For a thumbnail gallery of these images, click here
Images by Cyclingnews.com
Results
1 Erwin Vervecken (Bel) Fidea Cycling Team                      1.05.51 (26.19 km/h)
2 Sven Nys (Bel) Landbouwkrediet-Tönissteiner                      0.01
3 Zdenek Stybar (Cze) Fidea Cycling Team                           0.02
4 Bart Wellens (Bel) Fidea Cycling Team                            0.04
5 Kevin Pauwels (Bel) Fidea Cycling Team                           0.08
6 Klaas Vantornout (Bel) Sunweb Projob Cycling Team                0.10
7 Gerben de Knegt (Ned) Rabobank                                   0.49
8 Bart Aernouts (Bel) Rabobank                                     0.59
9 Petr Dlask (Cze) Fidea Cycling Team                              1.11
10 Sven Vanthourenhout (Bel) Sunweb Projob Cycling Team            1.48
11 Thijs Al (Ned) AA Drink - BeOne                                     
12 Radomír Šimunek (Cze) Palmans - Cras                            1.50
13 Christian Heule (Swi) Rendementhypo Cycling Team                1.51
14 Marco Bianco (Ita) L´Arcobaleno Carraro Team                    1.57
15 Wilant van Gils (Ned) Pro Cycling Team ZZPR.nl-Destil-Merida    2.51
16 Nicolas Bazin (Fra) Differdange Apiflo Vacances                 2.58
17 Rob Peeters (Bel) Landbouwkrediet - Tönissteiner                2.59
18 Martin Zlámalík (Cze) Prodoli Racing Team                       3.08
19 Philipp Walsleben (Ger) Palmans - Cras                          3.13
20 Richard Groenendaal (Ned) AA Drink - Be One                     3.53
21 Martin Bína (Cze) Cyklo Team Budvar Tábor                       4.04
22 Eddy van IJzendoorn (Ned) AA Drink - BeOne                      4.15
23 Marco Aurelio Fontana (Ita) Selle Italia Guerciotti Elite       4.16
24 Paul Voss (Ger) Team 3C-Gruppe                                  4.17
25 Kamil Ausbuher (Cze) Exe Jeans                                  4.38
26 Thijs Van Amerongen (Ned) Van Vliet EBH Elshof                  4.51
27 Steve Chainel (Fra) Auber 93                                    4.59
28 Vaclav Metlicka (Svk) Team Kral R.C. Pfeil Hof E.V              5.03
29 Mariusz Gil (Pol)                                               5.06
30 Fabio Ursi (Ita) Centro Sportivo Esercito                       5.08
31 Johannes Sickmueller (Ger)                                      6.29
32 David Kášek (Cze) Cyklo Team Budvar Tábor                       6.37
33 Ian Field (GBr) Hargroves Cycles                                6.42
34 Patrick Van Leeuwen (Ned) Het Snelle Wiel                       6.46
35 Alessandro Gambino (Ita) Gruppo Sportivo Esercito               6.55
36 Vladimír Kyzivát (Cze) Johnson Controls AŠ MB                   7.07

Behind one lap
37 Roy Van Heeswijk (Ned)                                              
38 Gusty Bausch (Lux) VC Diekirch                                      

Behind two laps
39 Joachim Parbo (Den) CCV Cyclo Cross Team                            

Behind three laps
40 René Birkenfeld (Ger) Stevens Racing Team                           

Behind four laps
41 Jody Crawforth (GBr) Arctic Premier                                 

Behind five laps
42 Andre Sutton (Can) Hardcore Cycling Club                            
DNF Jempy Drucker (Lux) Fidea Cycling Team                             
DNF Rafael Visinelli (Ita) Gruppo Sportivo Forestale                   
DNF Jonathan Page (USA) Planet Bike                                    
DNF Simon Zahner (Swi) Bürgis Cycling Team                             
DNF Peter Presslauer (Aut) Volksbank - Corratec                        
 
World cup standings after four rounds
 
1 Sven Nys (Bel) Landbouwkrediet-Tönissteiner                       275 pts
2 Zdenek Stybar (Cze) Fidea Cycling Team                            223
3 Niels Albert (Bel) Palmans - Cras                                 220
4 Bart Wellens (Bel) Fidea Cycling Team                             219
5 Kevin Pauwels (Bel) Fidea Cycling Team                            218
6 Radomír Šimunek (Cze) Palmans - Cras                              178
7 Klaas Vantornout (Bel) Sunweb Projob Cycling Team                 173
8 Bart Aernouts (Bel) Rabobank                                      171
9 Lars Boom (Ned) Rabobank                                          166
10 Martin Bína (Cze) Cyklo Team Budvar Tábor                        157
11 Thijs Al (Ned) AA Drink - BeOne                                  157
12 Gerben de Knegt (Ned) Rabobank                                   153
13 Erwin Vervecken (Bel) Fidea Cycling Team                         147
14 Richard Groenendaal (Ned) AA Drink - Be One                      147
15 Christian Heule (Swi) Rendementhypo Cycling Team                 136
16 Sven Vanthourenhout (Bel) Sunweb Projob Cycling Team             132
17 Francis Mourey (Fra) Française Des Jeux                          132
18 Rob Peeters (Bel) Landbouwkrediet - Tönissteiner                 121
19 Petr Dlask (Cze) Fidea Cycling Team                              120
20 Wilant van Gils (Ned) Pro Cycling Team ZZPR.nl-Destil-Merida     116
21 Simon Zahner (Swi) Bürgis Cycling Team                           108
22 Eddy van IJzendoorn (Ned) AA Drink - BeOne                        98
23 Nicolas Bazin (Fra) Differdange Apiflo Vacances                   97
24 Martin Zlámalík (Cze) Prodoli Racing Team                         96
25 Kamil Ausbuher (Cze) Exe Jeans                                    94
26 Marco Bianco (Ita) L´Arcobaleno Carraro Team                      86
27 Mariusz Gil (Pol)                                                 81
28 Enrico Franzoi (Ita) Liquigas                                     79
29 Johannes Sickmueller (Ger)                                        73
30 Dieter Vanthourenhout (Bel) Palmans - Cras                        71
31 Jaroslav Kulhavý (Cze) Michelin - Specialized MTB Team            70
32 Fabio Ursi (Ita) Centro Sportivo Esercito                         67
33 Thijs Van Amerongen (Ned) Van Vliet EBH Elshof                    65
34 Vaclav Metlicka (Svk) Team Kral R.C. Pfeil Hof E.V                61
35 Jonathan Lopez (Fra) V.C.La Pomme Marseille                       57
36 Marco Aurelio Fontana (Ita) Selle Italia Guerciotti Elite         55
37 Vladimír Kyzivát (Cze) Johnson Controls AŠ MB                     54
38 Marcel Wildhaber (Swi) Tower Sports - VC Eschenbach               53
39 Jonathan Page (USA) Planet Bike                                   44
40 Joachim Parbo (Den) CCV Cyclo Cross Team                          42
41 Roy Van Heeswijk (Ned)                                            41
42 Rafael Visinelli (Ita) Gruppo Sportivo Forestale                  39
43 Milan Barenyi (Svk) CK ŽP Šport As                                37
44 Patrick Van Leeuwen (Ned) Het Snelle Wiel                         37
45 Pirmin Lang (Swi) Delta Elite Team                                36
46 Gusty Bausch (Lux) VC Diekirch                                    36
47 Philipp Walsleben (Ger) Palmans - Cras                            32
48 Ian Field (GBr) Hargroves Cycles                                  32
49 David Kášek (Cze) Cyklo Team Budvar Tábor                         31
50 Geoffrey Clochez (Fra) Bleus de France                            28
51 Paul Voss (Ger) Team 3C-Gruppe                                    27
52 Aurelien Duval (Fra) Française Des Jeux                           25
53 René Birkenfeld (Ger) Stevens Racing Team                         25
54 Steve Chainel (Fra) Auber 93                                      24
55 David Derepas (Fra) Groupe Gobert.Com.Ct                          23
56 Constantino Zaballa Gutierrez (Spa) Povoa Cycling Club            21
57 Jempy Drucker (Lux) Fidea Cycling Team                            20
58 Robert Glajza (Svk) CK ŽP Šport A.S. Podbrezová                   20
59 Magnus Darvell (Swe) Rietumu Bank-Riga                            18
60 Alessandro Gambino (Ita) Gruppo Sportivo Esercito                 16
61 LukᚠKloucek (Cze) Sunweb Projob Cycling Team                    15
62 Oscar Vazquez Crespo (Spa) Aquagest Club Ciclista                 15
63 Florian Le Corre (Fra) Super Sport 35 ACNC                        13
64 Andre Sutton (Can) Hardcore Cycling Club                          13
65 Jody Crawforth (GBr) Arctic Premier                               10
66 Peter Presslauer (Aut) Volksbank - Corratec                       10
67 Martin Haring (Svk) Ck Žp Šport Podbrezová                         8
68 Gerald Hauer (Aut)                                                 6
69 Adam Myerson (USA) Time Pro Cycling                                5
70 Thomas Puhmer (Aut) Team Sport Nora                                3
71 Stefano Boggia (Ita) GS Daccordi                                   2
72 Julien Laidoun (Fra) SCO Dijon                                     1