2006 Cyclocross World Championships - CM
Zeddam, Netherlands, January 28-29, 2006
Fast, freezing and tacky - a fast course for the 2006 'Cross World's
By Steve Medcroft in Zeddam
2005 men's champion Sven Nys (Belgium)
Photo ©: AFP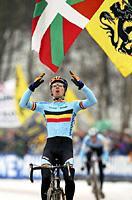 The cyclo-cross season comes to a head in the Dutch hamlet of Zeddam this weekend. In four competitions over two days, the UCI World Champion Elite Junior, Espoir, Woman and Man will be crowned.
Course planners have been building bridges and wooden steps in and around the hills of tiny Zeddam for several weeks, and the final course has been open for practice all week. The weather has been mild for a Northern Europe winter; the ground is devoid of snow and the temperatures have hovered around and above freezing enough that the course promises to be tacky and fast.
A tacky and fast course, as if any advantage is needed, plays to Sunday's elite men's race favourite, defending World Champion Sven Nys (Bel). He's had a season of success, leading the World Cup and SuperPrestige standings, having won eight of ten World Cups and the Belgian National Championships (among other victories).
So does anyone else have a hope of winning on Sunday? It's possible. At the final World Cup race of the season, in Hoogerheide, Netherlands, January 22nd, Nys came a miserable (for him) eighth place (Erwin Vervecken (Bel) won). He defended his performance in the post-race press conference saying "I was riding a nervous race, with some serious attacks and some defensive racing in the back of the bunch. We made contact with the race leaders in the last lap. But then I had a flat tyre. If you encounter such problems in the last lap, there is nothing you can do."
What, me worry?
Photo ©: Luc Claessen

2003-2004 champion Bart Wellens (Bel) has been the first man in Nys' wake most of this season and looks likely to either challenge Nys or be ready to take advantage of any bad luck on the current World Champion's part. Wellens has seemed frustrated in his inability to bring down his countryman in a World Cup though, and risks pushing himself too far at times; he was even disqualified from a win when kicking out at a heckler while on the bike during the December 18 World Cup in Overijse (Belgium).
2002 World Champion Erwin Vervecken seems on form after the win in Hoogerheide. "This first big victory of the season is in fact quite logical," Vervecken said after last week's race. "Because I am the number two on the UCI rankings. The last few weeks, most of the time, I finished second, so I knew that my stamina was alright. Next week (in Zeddam) will be more selective than today, but in a tactical race I will have my chance. Nys is no longer the untouchable rider of November when he could win without an effort."
But Nys would have us remember he posted a bad result in Igorre, Spain on December 11 but was able to come back and sweep most of the rest of the season. So even with signs that he may be beatable, Nys says he's mentally fresh and ready to take on the challenge and plans an aggressive, ride-in-the-clear approach to the race.
Last year's winner Hanka Kupfernagel (Germany)
Photo ©: AFP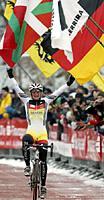 In women's World Cups, the 2005/2006 season story has written by Daphny van den Brand (Ned) and Hanka Kupfernagel (Ger). The pair of former World Champions (Van den Brand in 2003 and Kupfernagel in 2001) went one-two at the final World Cup in a sprint that shows they are well balanced and equally prepared to battle head-to-head just one week before World's. The edge goes to Van Den Brand comes though; she won that battle last week, took the World Cup overall and every other time the two racers faced each other in a World Cup this season, Van Den Brand has come out on top.
Other favourites for the women's race include Marianne Vos (Ned), who, although inconsistent, has been strong in several World Cups and Canadian Lyne Bessette, who only began a World Cup campaign after the U.S. Prix of Cyclocross ended in December. Since racing in Europe, Bessette has stood on a World Cup podium twice in just four races.
Competition begins at 11:30am Saturday local time with the Elite Junior Competition, followed by the Espoir race at 2:30. The women race Sunday at 11:30, the men at 2:30. Check back on Cyclingnews for results, pictures and race reports from Zeddam.
Photography
For a thumbnail gallery of these images, click here
Images by Luc Claessen/www.actiefotos.be