US Cyclo-cross Championships - CN
Providence, RI, USA, December 15-17, 2006
Main Page Results Live report Previous Race Next Race
Race 8 - December 16: Elite Men (US Title)
Trebon makes it look easy
By Steve Medcroft in Providence
Ryan Trebon
Photo ©: Russ & Nancy Wright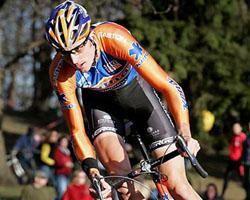 Ryan Trebon (Kona) surged off the front in the first lap of the men's elite race at the California Giant Berry USA Cycling Cyclocross National Championships and never looked back. Hunted by a chase group containing three-time national champion Jonathan Page (Cervelo/Hot Tubes), two-time national champion Todd Wells (GT/Hyundai), seven-time national champion Tim Johnson (Cannondale/Cyclocrossworld.com), Jeremy Powers (Jelly Belly) and Barry Wicks (Kona), Trebon built his lead to more than 30 seconds by the final lap and safely collected his second national championship jersey of the season (Trebon earned the US MTB National Championships in Sonoma, California earlier this year in similar fashion).
Trebon led the 133 elite riders from the start. "The day was perfect," he said at the awards ceremony. "There were a lot of (spectators), the weather was great, the course was in really good shape. I didn't think I would get a gap that fast. I just kept seeing (the other riders) floating away."
As Trebon floated away from chasers Mark McCormack (Clif Bar), Ben Jacques Maynes (Cyclocrossworld.com/SRAM), Barry Wicks (Kona), Jeremy Powers (Jelly Belly) and Jonathan Page (Cervelo/Hot Tubes), mishaps in the pack were upsetting a couple of the pre-race favorites. "Jonathan Baker slid out in front of me and I got caught up and lost a few positions," said 2005 winner Todd Wells. "The start is so crucial. If you get off the course, it's so hard to get back in the line and I had a little ground to make up."
Tim Johnson (Cannondale/Cyclocrossworld.com), who once placed third in the UCI Cyclo-cross World Championships as a junior, also struggled to rejoin the front of the race after flatting on the first lap. "I rode the whole half lap with that flat," he said.
Wells and Johnson connected and worked together. "But by the time we got back to the leaders," Wells said, "Trebon was gone. And he is riding so fast that you can't give him that kind of space - it's one thing to hang on (to his wheel) but to have to make up ground and then go around him is a tall order."
Tim Johnson
Photo ©: Russ & Nancy Wright

With Trebon over thirty seconds ahead at three laps to go, the now five-rider chase group (McCormack and Jaques-Maynes had dropped off) settled into a the rhythm of a lead group; a true race for second. "We were chasing hard," Wells said. "Jonathan was taking really big pulls; riding amazing considering he hasn't been able to race much in the last couple of months (Page has been sidelined with a shoulder injury most of the 2006 'cross season)."
Wicks, Trebon's teammate, sat second wheel in the chase group until the last lap when surges by Page and Johnson finally took him out of podium contention. All that was left was for the four chasers to sort the order of the podium. Page and Johnson had the better legs, taking second and third respectively. Wells and Powers settled for fourth and fifth.
"I've been second three times at nationals so it's nice to have everything come together and win one," Trebon said at the finish line, adding that he wants to switch to 'cross full time. "I like racing mountain bikes and road in the summer but 'cross is by far my favorite season. This is really what I want to do. This is what I want to make my career out of."
The next step in Trebon's evolution as a mountain biker to a full-time 'cross racer is a return to the killing fields of Europe. "I'm headed back on Tuesday for three really tough weeks of racing; the whole Christmas series is kind of an overload training period. In six weeks, I have Worlds." From there, Trebon says he'll transition into his road and mountain-bike season later than normal and set himself up for a full European campaign in 2007.
Read the complete live report.
Photography
For a thumbnail gallery of these images, click here
Images by Russ & Nancy Wright/www.wAbbiOrca.com
Images by Ed Collier/www.cyclingpix.net
Images by Dave McElwaine/www.trailwatch.net
Images by Tim Brennan/servicecourseimages.smugmug.com
Results - Preliminary
Elite Men

1 Ryan Trebon (Kona)                                                     59.37
2 Jonathan Page (Cervelo)                                                 0.33
3 Tim Johnson (Cannondale/cyclocrossworld.com)                            0.34
4 Todd Wells (Team GT)                                                    0.36
5 Jeremy Powers (Jelly Belly)                                             0.37
6 Barry Wicks (Kona)                                                      1.04
7 Ben Jacques-Maynes (cyclocrossworld.com/SRAM)                           1.43
8 Matt White (FiordiFrutta)                                               2.05
9 Mark Mccormack (Clif Bar)                                               2.21
10 Andy Jacques-Maynes (California Giant Strawberries/Specialized)        2.25
11 Jonathan Baker (Harshman Wealth Management / Primus Mootry)            2.27
12 Steve Tilford (Verge/Shimano)                                          2.48
13 Justin Spinelli (RGM Watches - Richard Sachs - Rex Chiu)               2.49
14 Erik Tonkin (Kona)                                                     2.50
15 Tristan Schouten (Trek/VW/Michelin)                                    2.53
16 Adam Myerson (Nerac-OutdoorLights.com Pro Cycling)                     3.04
17 Taylor Carrington (Turin - Powerbar)                                   3.18
18 Stuart Gillespie (TIAA-CREF/CLIF BAR)                                  3.29
19 Brent Prenzlow (Celo Pacific/Salsa)                                    3.31
20 Jon Hamblen (RGM WATCHES - RICHARD SACHS - REX CHIU)                   3.36
21 Matt Kraus (Alan Factory Team)                                         3.43
22 Molly Cameron (Vanilla bicycles!)                                      4.05
23 Kevin Bradford-Parish (REDLINE FACTORY TEAM)                           4.12
24 Matt Pacocha (VELONEWS)                                                4.13
25 Christopher Horner (Specialized)                                       4.26
26 Charles Pendry (Inland Construction - BTD)                             4.30
27 Troy Wells (TIAA-CREF/CLIF BAR)                                        4.44
28 Shannon Skerritt (VANILLA BICYCLES)                                    4.50
29 Tyler Wren (Colavita Olive Oil / Sutter Home)                          5.05
30 Sam Krieg (I.C.E Rocky Mountain Surgery Center)                        5.17
31 Michael Gallagher (U S Armed Forces)                                   5.25
32 Brandon Dwight (Boulder Cycle Sport)                                   5.29
33 Eneas Freyre (TARGETRAINING)                                           5.33
34 Nathan Rice (Big Shark Racing/Ridley)                                  5.46
35 Doug Swanson (Grandstay Suites)                                        6.03
36 Ryan Iddings (Redline Factory Team)                                    6.08
37 Daniel Coady (NCC / BikeReg.com)                                       6.09
38 Weston Schempf (FORT Factory Team)                                     6.11
39 Johannes Huseby (FiordiFrutta Elite Cycling Team)                      6.16
40 Kurt Refsnider (All9Yards.com Cylcing Team)                            6.17
41 Ian Brown (River City/Tonic Fab)                                       6.26
42 Christopher Pietrzak (Porcupine/Specialized)                           6.28
43 Kyle Jacobson (Team Beans and Barley)                                  6.47
44 Adam Snyder (team devo)                                                6.49
45 (Unidentified rider)                                                   6.51
46 Andy Applegate (Sonic / Kona)                                          7.01
47 Sean Groom (Squadra Coppi/IM Saab)                                     7.04
48 Mike Easter (Nonstop Ciclismo)                                         7.06
49 Justin Robinson (California Giant Strawberries/Specialized)            7.09
50 Gunnar Shogren (FORT Factory Team)                                     7.09
51 Ryan Leech (Meredith Group-GPOA-Cannondale)                            7.13
52 Joshua Snead (HRS-Rock Lobster)                                        7.16
53 Robert Foshag (Cane Creek)                                             7.18
54 Richard Mcclung (Hagens-Berman LLP Cycling)                            7.32
55 Jonathan Bruno (Independent Fabrication/Channel Cafe)                  7.41
56 John Behrens (Celo Pacific/ProBikeSupport.com)                         7.43
57 Troy Barry (CA Giant Strawberry)                                       7.54
58 Christopher Case (Mystic Velo)                                         8.09
59 Bryan Smith (TIAA-CREF/CLIF BAR)                                       8.14
60 Tim Barrett (Team Myogenesis)                                          8.32
61 Ryan O'connor (1K2GO.com/S&W SPORTS CYCLING TEAM)                      8.34
62 Nathanael Wyatt                                                            
63 Anthony Wilhelm (Trek/ VW midwest MRRC)                                    
64 Joshua Johnson (Big Shark Racing)                                          
65 Andrew Wulfkuhle (ADG/Joe's Bike Shop/C3)                                  
66 Stephen Weller (Cycle-Smart)                                               
67 Shawn Harshman (Harshman Wealth / Primus Mootry)                           
68 Shawn Adams (Alan Factory)                                                 
69 Scott Carlile (Sunnyside Sports)                                           
70 John Degele (Inland Construction / BTD)                                    
71 Stan Jurga (Independent Fabrication/Channel Cafe)                          
72 Jeffrey Craddock (CCB/Volkswagon)                                          
 
One lap down
73 Ernesto Marenchin (Asylum Cycles)                                          
74 Peter Rubijono (Harris Cyclery/Igleheart Frames)                           
75 Alistair Sponsel (Colavita Racing)                                         
76 Jeff Weinert (Cane Creek/ride blue)                                        
77 Robert Giannini (CRCA/Sakonnet Technology U25)                             
78 Josh Stevens (Franklin St. Cycles)                                         
79 Noah Taylor (RGM WATCHES-RICHARD SACHS -REX CHIU)                          
80 Damian Schmitt (Hagens Berman Cycling LLP)                                 
81 Corey Carlson (Rocky Mounts - Izze)                                        
82 Peter Ozolins (Colavita Racing)                                            
83 John Meehan (Iowa City Cycling Club)                                       
84 Adam St. Germain (Caster's/Majik Coffee Presented By Apex Technologies)    
85 Adam Sullivan (Caster's Majik Coffee p/b Apex Tech Group)                  
86 Dan Dombroski (CU Cycling)                                                 
87 J.p. Partland (High Gear Cyclery/Watchung Wheelmen)                        
88 Lawrence Leonard (NonStop Ciclismo)                                        
89 Ryan Myers (Team Chiropower)                                               
90 Jason White (ATA Cycle / Giant)