US Cyclo-cross Championships - CN
Providence, RI, USA, December 15-17, 2006
Main Page Results Live report Previous Race Next Race
Race 13 - December 17: Elite Women
By Steve Medcroft in Providence
Katie Compton on the waterside,
Photo ©: Chris Gardner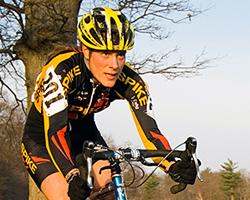 Katie Compton (Spike/Primus Mootry) won her third consecutive cyclo-cross national championship jersey after a dominating solo effort on Sunday. Compton took an immediate lead of the women's California Giant Berry Farms USA Cyclocross National Championships in Providence, Rhode Island and left a string of talented, powerful women racers in her wake. Only 2006 US MTB national champion Georgia Gould (Luna Chix) had an answer for Compton's pace, dangling thirty seconds behind the former track national champion and Paralympics gold medalist on her own for most of the race.
Although the way she won mirrored her last two 'cross nationals efforts (2004, 2005), Compton credits the mild weather and pristine course conditions for her success. "I won't say (the course conditions) made it easy," she said at the finish, "but they made it less hard. It was nice to have an open course. I was able to pick my lines and ride my pace."
Every woman in the field had to know Compton would apply immediate and devastating pressure. Yet only Gould was able to stay on Compton's wheel in the first lap of the race. "I had a good start," Gould said at the podium presentation. "I got the hole shot. But I just didn't have the legs I was hoping for."
Georgia Gould
Photo ©: Bill Hurley

Behind Gould, a large chase group, containing MTB rising star Kerry Barnholt (Tokyo Joe's/Maxxis), Master's 30-34 national champion Dee Dee Winfield (Velo Bella Kona), Rhonda Mazza (Team S&M/Vanilla Bicycles), Christine Vardaros (Lotto-Belisol Ladiesteam), Ann Knapp (Kona), Rebecca Wellons (Gearworks/Spinarts) and Mandy Lozano (Cheerwine Cycling) formed.
By the time there were three laps remaining in the 40-minute contest, Barnholt and Winfield had slipped free of the rest. Mazza hung in the gap between groups and the rest rode together. Until, with Compton 35-seconds ahead of Gould and Gould safely ahead of Mazza, the chase fell apart with two laps to go: Barnholt attacked Winfield and Knapp struck away from the larger chase group and caught Mazza.
On the final straight, Compton rode safely to victory. Gould followed, her head down. Barnholt managed to sprint ahead of Winfield and Knapp attacked Mazza far enough away from the finish to take the final podium spot without challenge.
Calculated risks
The women's elite podium
Photo ©: Chris Gardner

At the beginning of the 2006 'cross season, Compton said publicly that she has put an end to her Paralympic career (as pilot on a tandem track-racing team with a blind athlete) and freed herself from Paralympic restrctions on UCI-sanctioned racing to accept the automatic nomination to the US 'cross Worlds team she earned with the nationals win.
The elite Carmichael Training Systems coach says she'll head back to Colorado to prepare for Worlds. "I need to recover from the travel and from nationals," she said, "then I'll build up again." Why not head for Europe to gain experience and the additional UCI points she'll need for a better start position at Worlds? "It is a calcultaed risk," she said. "I am going to go over a week before Worlds and do one World Cup but the training in Colorado is better - why train in Belgium where the weather might keep you off the bike? I'd rather be on form."
MTB National Champion Georgia Gould, on the other hand, won't accept her Worlds invitation. "I'm really new to the back-to-back mountain-bike and cyclo-cross seasons," she said on Sunday. "There's an Olympic year coming up and mountain-biking is still my focus and the focus of my team - my program next year is much more intense and I'll be travaling more and doing World Cups - so I don't want jeopardize that."
Also see Sunday's live coverage.
Photography
For a thumbnail gallery of these images, click here
Images by Chris Gardner/cadencephoto.com
Images by Bill Hurley/www.fastshotsphoto.com
Images by Nancy Wright/www.abbiorca.com
Images by Ed Collier/www.cyclingpix.net
Images by Dave McElwaine/www.trailwatch.net
Images by Mark Legg/http://web.mac.com/markuslegg
Results
1 Katie Compton (Spike Professional/Primus Mootry)                                     41.34
2 Georgia Gould (Luna Women's MTB Team)                                                 0.02
3 Kerry Barnholt (Tokyo Joes / Maxxis)                                                  1.22
4 Deidre Winfield (Velo Bella-Kona)                                                     1.24
5 Ann Knapp (KONA)                                                                      1.58
6 Rhonda Mazza (Team S&M/Vanilla Bicycles)                                              2.01
7 Christine Vardaros (Lotto-Belisol Ladiesteam)                                         2.28
8 Shelley Olds (HRS/Rock Lobster)                                                       2.30
9 Mandy Lozano (Cheerwine Cycling)                                                      2.31
10 Wendy Williams (River City Bicycles)                                                 2.35
11 Melissa Thomas (Team Maxxis)                                                         2.47
12 Sue Butler (River City Bicycles)                                                     2.49
13 Rebecca Wellons (Gearworks/Spin Arts Cycling)                                        3.00
14 Maureen Bruno Roy (Independent Fabrication/Wheelworks)                               3.09
15 Kristi Berg (Team Group Health)                                                      3.17
16 Sarah Kerlin (Velo Bella - Kona)                                                     3.26
17 Anna Milkowski (Velo Bella-Kona)                                                     3.27
18 Megan Monroe (Sports Garage-BMC)                                                     3.30
19 Melanie Swartz (Velo Bella - Kona)                                                   3.44
20 Josie Beggs (California Giant Strawberries/Specialized)                              3.49
21 Amy Wallace (RGM WATCHES - RICHARD SACHS - REX CHIU)                                 4.09
22 Brigette Stoick (River City Bicycles)                                                4.14
23 Erin Kassoy (Velo Bella-Kona)                                                        4.34
24 Cris Rothfuss (NEBC/Cycle Loft)                                                      4.37
25 Linda Sone (Hollywood Racing/Silver Cycling)                                         4.38
26 Catherine Walberg (Team Kenda Tire)                                                  4.48
27 Sami Fournier (Organic Athlete/Sunnyside Sports)                                     5.07
28 Jennifer Tilley (Velo Bella/Kona)                                                    5.12
29 Cara Mccauley (Cheerwine Cycling)                                                    5.16
30 Dorothy Wong (Figueroa Farms-Redline-MS Society (TeamRedFig.com))                    5.28
31 Erica Yozell (FORT Factory Team)                                                     5.38
32 Rachel Steele (Saturn of Toledo/Shell)                                               5.45
33 Lauren Costantini (Sycip Racing)                                                     5.52
34 Catherine Johnson (Pro Peloton Racing)                                                   
35 Anne Schwartz (Flying Rhino Cycling Club)                                            5.54
36 Jennifer Gersbach (Tokyo Joe's)                                                      5.55
37 Marci Titus Hall (DeSalvo Custom Cycles)                                             6.13
38 Kathy Sarvary (Gearworks/Spin Arts Cycling Team)                                     6.19
39 Kim Blodgett (International Bicycle Center)                                          6.21
40 Sara Cushman (Gear Works/Spin Arts)                                                  6.33
41 Megan Elliott (Specialized)                                                          6.38
42 Beth Mason (C3/ADG/Joe's)                                                            6.43
43 Pamela Hinton (Columbia Bike Club)                                                       
44 Melody Chase (NHCC, Rhino Bike Works)                                                6.46
45 Alicia Hamblen (RGM WATCHES-RICHARD SACHS-REX CHIU)                                  6.55
46 Kim Sawyer (travelgirl Magazine)                                                     6.56
47 Kristine Church (Human Zoom/ Pabst Blue Ribbon)                                      6.57
48 Lisa Most (Wissahickon)                                                              6.58
49 Bryna Nestor (North Atlantic Velo)                                                       
50 Heidi Von Teitenberg (C3/ADG/Joe's)                                                  7.08
51 Callie Mcdowell (Velo Bella-Kona)                                                    7.24
52 Valerie Dumond (Blue Sky Velo)                                                       7.32
53 Alie Kenzer (Team International Bike/NERAC)                                          7.46
54 Catherine Dudley (Putney/West Hill)                                                  8.00
55 Betsy Shogren (FORT Factory Team)                                                    8.02
56 Linda Cooper (Great Plains Cycling Club)                                             8.05
57 Tela Crane (Sonic U23)                                                               8.15
58 Kathryne Carr                                                                        8.43
59 Samantha Schneider (ENDEAVOUR)                                                       9.15
60 Monique Hein (Lees-McRae college)                                                   10.32
61 Jessica Hill (Trails End Cycling Co)                                                     
62 Amy Dombroski (Excel Sports)                                                             
DQ Katie Monahan (Blue Sky Cycles)