Recently on Cyclingnews.com
An interview with Rob Jebb, January 23, 2008
Rob Jebb: Peak performer
British cyclo-cross expert Rob Jebb is one of the sport's unsung heroes. Able to achieve the highest level of several sports all while holding a full-time job takes determination, dedication and a strong passion for sport, as Steve Thomas finds out.
Jebb practices his running
Photo ©: Steve Thomas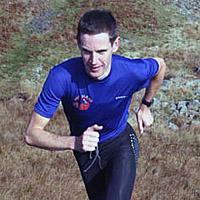 Another dark and cold winter's night sets in to the Lake District in Northern England as Rob Jebb tests his lights and pulls on his rain cape and gloves. "I don't mind it (training in the dark of winter). I start work pretty early and finish just as it starts to get dark. I get out on the road in the dark some nights, extend my rides to work some days, and do the dreaded turbo trainer sessions when it's too bad outside."
It's the epitome of amateur sport, something seemingly long forgotten in modern day cycling, but despite holding down a full time engineering job with British Telecom, Rob Jebb's sporting performances are anything but amateur, be them on a bike or on foot.
To most readers, Rob is known as a cyclo-cross racer and a multiple champion of the infamous Three Peaks Cyclo Cross race, which is revered as the toughest cyclo-cross in the world. "I started cycling because my mates and dad did it. I was always a fell runner, but figured cycling suited me more, and so gave the Peaks a go – they have the fell running version too, and runners always do well in the cross. Plus it was just down the road from home."
It was in his late teens that he first tackled the 'Peaks'. "I finished well down the field, but really started to get the bug. I really enjoyed it." Within a few years Rob had progressed towards the podium, and in 2000 he took the first of his record equalling six Peaks titles (Tim Gould also had six wins). "It's always a major thing for me, my years main cycling goal." This year the race did not take place due to potential foot and mouth disease fears, which also halted the 2001 race – arguably preventing Rob taking a staggering eight consecutive victories; "It was disappointing, but understandable – if something did break out it would mean the end of the race for ever."
"I just tend to go out and race as hard as I can, I figure that most of the time in a cyclo-cross the strongest rider will win."
-Jebb's racing strategy is anything but subtle..
With his main target for the season withdrawn he received an invite to go to Pennsylvania to compete in the Iron Cross race, an event supposedly modelled on the Three Peaks, but almost twice as long. "It was a great experience. They really helped us out (Rob and other British riders). It was close to where [Floyd] Landis was from, quite bizarre. The race was nothing like the Peaks in reality – lots of fire road and fast riding." Quite humbly he fails to mention that he won the race, typical of this rider who even buys his own tyres.
With numerous international selections and British Cyclo-cross Championship medals to his credit, this past season's focus has shifted to a good overall placing in he National Points Series, where finished second to Paul Oldham. "I wanted a good overall position, and maybe world's selection. I'm pretty crap on the bike really – technically, but I keep improving every year. It took me a while to get used to things, but the other riders are really friendly and helpful. I just tend to go out and race as hard as I can, I figure that most of the time in a cyclo-cross the strongest rider will win, so I go with that approach."
Rob Jebb practices
Photo ©: Steve Thomas

This completely down to earth approach runs right through everything Rob does in sporting terms. "I had a go at road racing one year. I'd never raced on the road, but got into a big stage race. I turned up as green as could be, on an old steel bike with cables and stuff. It started with a time trial. Jamie Burrow caught me for several minutes on his US Postal super bike. Next day I just got hammered out of the back. The next stage I thought I'm not going to let that happen again and went off the front, with a bunch of top British riders and we stayed away and I finished high up overall, weird."
Rob's road career was somewhat short lived, however, as it conflicted with his first love, fell running. "I was doing ok, and guys like Keith Lambert (Ex pro rider) really helped me out; but the problem is that I really like my fell racing too, and that's during the summer months. I also had a go at mountain biking, and figure that I could be good in marathon events, but prefer not to do something unless I can fully concentrate on it and do it well."
On weekends, a training session in the sunshine is welcome
Photo ©: Steve Thomas

Sure enough, it's tough to hold down a full time job and train at the same time, especially if you're riding at a high level but Rob is one of a few athletes who manage to do this successfully year round; including regular international trips, both cyclo-cross and to running events. In fact, two years ago he was the Buff Skyrunner World Champion. "I use my holidays to add a day on here and there, but try and fit things around weekends."
With cyclo-cross this is not too difficult, but with he Sky Running it can mean racing in far flung places such Japan and Borneo. "Ideally for the real high altitude and tropical races you could do with acclimatisation time, but there isn't much chance for that. I missed the series last year, and didn't have real good year of running, so am concentrating on the series and British Championships again this season."
With his tea cup empty and bacon butty done, the great northern whippet heads out into the night, without so much as a second thought; a man who truly lives for his sport, and doesn't expect it make a living for him.
Photography
For a thumbnail gallery of these images, click here
Images by Steve Thomas