An interview with Enrico Franzoi, January 25, 2008
Back on track for the Worlds
An untimely ankle injury in November forced Italian cyclo-cross specialist Enrico Franzoi off the winter World Cup circuit and unable to defend his national title in his home city of Venice. Healed of all injuries and with the World Championships just days away, Franzoi spoke with Cyclingnews' Kirsten Robbins about the prospect of racing in front of 20,000 screaming fans in Treviso.
Franzoi enjoys a promising early season victory
Photo ©: Niels De Wit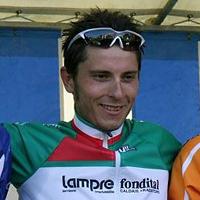 Recognised as the next generation of Italian cyclo-cross in his junior years, Enrico Franzoi found himself on the podium in nearly every international race he entered. But his career reached new heights when he beat former world 'cross champion Daniele Pontoni and Superprestige winner Luca Bramati to win his first elite national championship in 2003 whilst still under 23 years of age. That same year, Franzoi took the under 23 world title in Monopoli, Italy.
"I was considered the next generation after I started to win races against our country's best cyclo-cross riders," remembered Franzoi. "But, on the road I was a good rider too. I joined the national team to do the 2002 World Championships in Zolder for the time trial on the road. I was a reserve on the 2004 Verona world championships on the road and also won four or five road races each year, along with my successes in cyclo-cross, these things are what helped me to turn professional and sign a contract for both disciplines."
It's hard to believe that the now 25 year-old has been involved in competitive cycling for 19 years; with two years as a junior, four years as an under 23 and an additional four years as an elite professional. "After I won the under 23 World Championship in Monopoli, I started to have my first contact with a professional team," said Franzoi of his early contract with the former Saeco turned Lampre squad. "But the definitive contact to be professional was after I won the 2003 cyclo-cross national championships in Rovato. I had a verbal agreement that I would sign with Saeco in October of 2004 when I finished my under 23 years."
"I realise that for a non-Belgian rider it isn't possible to focus only on the cyclo-cross season."
-Franzoi has always juggled cyclo-cross aspirations with team commitments on the road
A verbal agreement with Saeco was made official and continued for two years, followed by an additional two seasons where Lampre had taken over as title sponsor. Franzoi found a suitable home with his former Italian squad because each year they were able to come to an agreement where cyclo-cross was incorporated into the team's lengthy road schedule. But according to Franzoi, the team's decreased budget for 2008 left little space for cyclo-cross and he had to look elsewhere. "I was with Lampre for many years but this year I found a better opportunity with Liquigas where their offer was much better to be able to support both road and cyclo-cross."
Until now, Franzoi has been a team worker, transitioning from the cyclo-cross season to the beginning of the road season in peak fitness to perform well in the Spring Classics. "I had a good performance in my dream race, the Paris-Roubaix, last year," he said. "I think that my injury happening in November has forced me to sit out and rest a little bit, which might mean that I will perform even better in the Classics because I will arrive a little more fresh."
Riding to bronze at the 2007 World Championships
Photo ©: Russ and Nancy Wright

Handling two cycling disciplines at opposite times of the year means less off-season relaxation, but a supportive team structure makes the task more bearable. "It's not easy to ride with a professional team because the principal objectives are the road rsaces," said Franzoi. "Lampre and Liquigas are good for me because they have been teams that believe in cyclo-cross and they were both interested to show their name, even in the winter months. In the season that preceded turning professional, I structured my training and racing schedule to continue with cyclo-cross so it was an easy decision to continue with the winter sport.
"But being a road professional means I can't prepare specifically for cyclo-cross," he continued. "So I need to select my objectives and goals in the winter, to compete well in one or two important events. For example, I target specific one race goals because it's not possible to prepare for the caliber of an overall series like the World Cup or Superprestige while racing on the road."
The untimely injury
Franzoi was prevented from competing in the Italian national championships because of his ankle injury that worsened during the November World Cup in Koksjide. "If I was only a cross rider I would have risked doing the nationals and the worlds with my injury," he said with disappointment. "But because I have other commitments I needed to take the time to recover. I have to be able to go into the 2008 road season without problems and ready to race in the Spring Classics and to be selected as one of the Tour de France riders for Liquigas.
"Truthfully, trying to win the national championships was a personal goal, not a team goal, and something I cared about because for a professional team it's more important to win an international race, especially if the team sponsor is a multi-national company, because it's the best way to show you sponsor internationally. The race was in my home town where I grew up for 23 years and I would have loved to have competed, even if it was not the national championships, on a course that was perfectly suited for me."
A crash at the Koksijde World Cup worsened Franzoi's ankle injury
Photo ©: Mark Legg

The only certainty of Franzoi's imminent future is that he will line up as the Italian favourite to start the Treviso cyclo-cross world championships, ready to compete in a fierce battle for the overall victory against the likes of the UCI World Cup leader Sven Nys and team-mate Lars Boom, defending World Champion Erwin Vervecken and Bart Wellens to name a few. "My specialist said that my ankle would heal in approximately 20 days," he said optimistically. "During my injury I was not able to do any cyclo-cross specific workouts but that didn't stop me from training very hard on the road. The only problem I suffered with during that time was not being able to run."
With last year's bronze medal under his belt, Franzoi insists that, injured or not, he will do everything he can to walk away with the rainbow jersey on Sunday. "My third position at the worlds last year was a very good result for me," he said. "And yes I was thinking for a moment to prepare for only cyclo-cross this year because there was a good chance for me to try to be the world champion. But, I realise that for a non-Belgian rider it isn't possible to focus only on the cyclo-cross season because if you want to make some money you need to race in both seasons. So I do my best knowing I can't focus 100 percent in 'cross."