An interview with Hanka Kupfernagel, January 27, 2007
Kupfernagel aims for fourth title
She may well already be a triple cyclo-cross world champion, but Hanka Kupfernagel is out to add one more accolade to the collection. Kupfernagel candidly spoke to Cyclingnews' Brecht Decaluwé on the eve of tomorrow's UCI Cyclo-cross World Championships.
Hanka Kupfernagel (Ger)
Photo ©: Frank Bodenmuller / PhotoSport International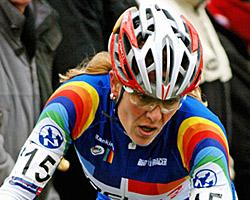 Everybody who's into cycling has already heard of Hanka Kupfernagel, but few people will be able to provide you any details about the German. Kupfernagel has an impressive resume, with excellent results in almost every part of cycling. She won the silver medal in the women's road race during the 2000 Olympics in Sydney, and led the UCI road rankings from 1997 through to 1999.
For the past few years Kupfernagel has been focusing on cyclo-cross, in which she has become a triple world champion with victories in 2000, 2001 and 2005. Kupfernagel is the current leader in the UCI cyclo-cross rankings, having won four World Cup races, her national championships, and podium finishes in nearly every race this season.
Cyclingnews caught up with Kupfernagel and her trainer, coach and friend, Mike Kluge, the former cyclo-cross world champion from 1992.
Cyclingnews: How has your season been so far?

Hanka Kupfernagel: I started my cross season by the end of October and enjoyed a very good season. I have seven victories so far and two second places. I'm feeling quite good now after I did some MTB races in May, July last year. I did some road races as well so I think that was all a good preparation,"
CN: At last year's world championships you lost to Marianne Vos, can you run us through what happened?

HK: Ah, it was a very fast race with fast corners and climbs that were not that hard. I was a bit disappointed about myself because I was not so technical. So Marianne and Daphny [Van Den Brand] could follow me and leave me behind after the corners. In the end…in the last lap I realised that if I would go to the finish with Marianne she would win.

Mike Kluge: Maybe!

HK (smiling): I knew this, but I didn't see a possibility to drop her. You start thinking, at which point you could drop her.
MK: Now you know how to do it… but it's too late.

HK: When I saw her again at the road championships, I said 'okay'. I also knew before that she was very fast. Much later I saw her going into the last two kilometres of the world championship's race in Austria; I said 'who else can win than Marianne?' because the others didn't care about her.
CN: This year Vos hasn't been dominating the cyclo-cross races so far. What do you think about her?

HK: Maybe she did a little bit too much. She still studying and I heard that she trains only eight hours a week. I do a little bit more (laughs).

MK: It's probably difficult for a girl of that age to handle those big wins. It takes time before you know what obligations are really needed and which aren't.
Hanka Kupfernagel
Photo ©: Luc Claessen

CN: Mike, as her coach you must have a good view on Hanka, her technical skills. She said that this is her weak point. Is she still lacking the technical skills that allow her to follow Vos and Van Den Brand?

MK: She had a technical disadvantage in the past, but by doing MTB training sessions we worked a lot on that. She certainly won't suffer the same problems again like she had in the past. With her power, and her current technical level, she's the strongest rider around.
CN: Hanka, who would you pick as other favourites for the world title?
HK: Daphny Van den Brand, she had a good race in Pijnacker, and she won last year in Hooglede-Gits. Marianne as well, of course, although she isn't performing that well lately. Birgit Holman is strong on the climbs if she has a good day. Helen Wyman has become stronger in every race. Anyway, during the race I'll certainly check the other girls, and I'll listen to the mechanics and Mike to hear how they're doing.
CN: What can you tell us about the course, does it complement your style?

HK: We raced there last year and I remember that it is a difficult course. One day before it was snow and icy, the next day it was warmer and there was nothing but mud left. Hopefully the organisers keep that in mind because it was just too much. Riding around with a speed of only 6 km/h isn't really what I like about cyclo-cross. I do it more for the speed and the action, with such slow speeds it's more a technical thing. How long can your bike handle the mud?
MK: It wouldn't be good for the spectators and TV as well with such slow speeds. They would see the girls only three or four times passing by. I think it will be one of the hardest courses ever if the temperatures will be above zero degrees.

HK: I can understand some people like those muddy races but if you want to introduce the sport in Germany then it is not the right way to do it. It's a really great sport with a lot of magnificent races: like Hofstade, there you can see what cyclo-cross is all about.
"The worst thing is that for the overall UCI-ranking there's no price money for the girls, but the men's winner would get about 30,000 Euro."
-Kupfernagel speaks frankly about differences between men's and women's racing
CN: For some men it is possible to make a good living from cyclo-cross, Sven Nys and Erwin Vervecken are picking up 5000 Euro to start in a race. In women's cyclo-cross things are slightly different how do you make a living?

MK: She has a good manager!
HK: That's one reason (laughs). Another reason is that I have good sponsors who pay every month. From only the prize money it's not possible to live from the sport. I also receive a bit of starting money, but at the World Cups it's a losing business because I earn less than at a normal race. Sometimes you receive the start money more than a year after the actual race. It gets even worse when the money is sent to the federation, as they, for some reason, take a part away from it.
MK: Even I am still receiving money, although I have stopped racing for many years now.

HK: In Italy you get your money immediately but minus 30 per cent tax. So from 300-350 you get only 220 or something like that. The worst thing is that for the overall UCI-ranking there's no prize money for the girls, but the men's winner would get about 30,000 Euro. Peter Van den Abeele is doing a good job, he said it wasn't possible this year but next year it will be alright. Even a symbolic amount of money would do it for me, there's such a big difference between the men and women.
CN: Although those inequalities and slow payments hurt the sport, it seems that cyclo-cross is gaining in popularity, also in Germany?

HK: Yes, it's definitely growing. For instance, if you want to buy a cyclo-cross bike right now then you'll notice that all shops are sold out. You would need to buy one from a magazine if you want to have the top brands. It's getting more popular in Germany. Every year there are new faces at the start of the women's races so that's good.
CN: People in Germany seem to only know about Jan Ullrich, it's a complaint that we hear from a lot of German riders. Do you get some recognition for your performances?

HK: Because I was so many years at the top, many people know me - not like Ullrich and Zabel of course. After the national championships the camera team from ZDF did an interview with me following the race for their popular program Das Aktuelle Sportstudio; 2.5 million people have seen this, which is great!
Kupfernagel is the first to greet the finish line
Photo ©: PhotoSport International

CN: We notice you're still wearing your German champion's jersey, did you have some opposition there?

HK: Hmm, it was cold out there and I was very nervous for that race. I didn't go very well but Holman had a really bad day. I wasn't healthy either but I could be glad with the final result, another title. I'm a 25-times national champion so you can't afford to lose, although every year it is getting harder with the pressure increasing each time.
CN: At the age of 32, Kupfernagel is not at the end of her career, although the years are starting to count down. How long will you continue with cycling?

HK: My next goal is the time trial at the world championships in Stuttgart - I want to perform well in front of my home crowd. Then I'll focus on the 2008 Olympics in Beijng, but anyway I'll continue to race as long as I have fun and manage decent results. All that counts now are the World Road Championships in Stuttgart and after the Olympics we'll decide on what to do next.
For now, the German is focusing on tomorrow's Cyclo-cross World Championships in Belgium.