Cyclo-cross news & racing roundup for October 30
Edited by Les Clarke
Welcome to our regular roundup of what's happening in cyclo-cross. Feel free to send feedback, news and releases to mtb@cyclingnews.com.
Albert wins first ever World Cup
By Brecht Decaluwé
Niels Albert (Palmans-Cras) gets his first elite World Cup
Photo ©: Photopress.be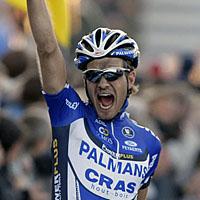 Niels Albert won the second World Cup race of the season in Tabor, Czech Republic where next year's world championships will be held. For the 22 year-old Belgian it is the first World Cup victory of his career. Thanks to his second place in Kalmthout last week, Albert takes over the World Cup leader's jersey from compatriot Sven Nys who finished fourth in Tabor.
Albert had a slow start, but lap after lap he moved up to the front. He joined the front of the race in the sixth out of nine laps, before jumping away one lap later. Right behind him World Cup leader Sven Nys crashed when he rode into Francis Mourey's back wheel. Albert pulled out no more than fifteen seconds on a chasing group with Czech champion Zdenek Stybar, his compatriot Martin Bina and Nys. Nevertheless, Albert held his lead to win solo with Stybar grabbing the second place before an impressive Bina, who pulled off his first ever podium result in a World Cup race. Nys was fourth ahead of the Fidea duo Bart Wellens and Kevin Pauwels.
"I'm super happy," said Albert, who was denied his first World Cup win in a tight sprint against Nys in last week's World Cup. "This is the confirmation from my performance in Kalmthout." Today Albert didn't dominate as he was forced to come back after a poor start. "I started to get into the rhythm with three laps to go after encountering bad luck in the first lap. I attacked very fast and created a gap. Once I had more than ten seconds I knew the others wouldn't be coming back, not on this course," Albert said.
For full coverage from Tabor, click here.
Belgian reaction after Tabor
Could we finally be witnessing the arrival of a cyclo-cross star with the ability to break beat Sven Nys' stranglehold on the scene? After the performance of young Belgian Niels Albert in Tabor last weekend, some of the sport's best have indicated that this may be the case. Judging by the reactions of Alberts' countrymen Nys and Wellens, the 2008-09 season may be the Palmans rider's to lose.
Niels Albert: "This is really my breakthrough"
Niels Albert (Palmans-Cras) leads the World Cup
Photo ©: Photopress.be

Niels Albert spoke to Belgian press agency Belga after the biggest win of his career, and explained that, "The writing is now on the wall and I can ride the the rest of the season without too much stress. Yet it didn't all go smoothly. After the start Thijs Al fell behind me. His bars became stuck in my back wheel and I was forced to run, which dropped me back six or seven places.
"It took until halfway through the race before I really came to the front. With just under three laps 'til the end I felt my time had come. I still felt fresh enough to attack and I immediately hit a gap of 10 or 15 seconds. That's when I knew the prize was mine. To make up 15 seconds on this fast track is a nigh impossible task. At last I took a victory after my results from the Superprestige and the Gazet van Antwerpen Trophy. It's a really great victory because I also beat three strong Czechs in their own country. This is really my breakthrough."
Sven Nys: "I got the chance to tackle Alberts from behind"
"I felt that Niels Albert would get a good start and I was ready to jump on his wheel, but I was never given a chance," said Nys. "Françis Mourey was difficult – I knew this after I had passed the stairs. Precisely at the time that I wanted to pass him, he unclipped from his pedals, lost balance and I fell against him. Immediately the race was over for me while it all still had yet to begin. I proved that I was [physically] ready by moving up from ninth to fourth position. But it was not to be. Fortunately, this is not a disaster. After such a setback I was still fourth and only ten points down in the World Cup on Niels Albert, so it is not so bad. It could be worse."
Bart Wellens
"I had a good start, but suddenly the pack moved to the wrong side and I was swarmed," said Wellens. "Several riders came down around Niels Albert and I was involved. I think that my fight back shows that I'm okay. Had there been another lap, I may have even got onto the podium. I can safely say that Niels Albert was the strongest man there. He has the ability to go for the kill, something I don't. I hope that he isn't as strong riding during the rest of the winter otherwise we are seriously in trouble."
Anthony, Nash lead USGP series
By Mark Zalewski, North American Editor
Katerina Nash (Luna) wins
Photo ©: Trish Albert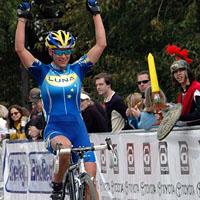 Jesse Anthony (Jamis) and Katerina Nash (Luna) came out of the Derby City Cup in Louisville, Kentucky as leaders of the US Grand Prix of Cyclo-cross with consistent finishes in the two UCI C2 races. Anthony finished second each day while Nash took the first day while finishing second to her teammate Georgia Gould on the second.
For Anthony, the leader's jersey is a sign that his time off the bike from a broken wrist in July, which cut short his road season, has not affected his 'cross season.
"I've been out there suffering and I've put the work in," he told Cyclingnews. "I have been being coached by Gord Fraser and he has gotten me in shape for this stuff. Some of it I wasn't quite sure what he was doing, even when he explained it to me. But I followed it and no no arguments from me! I am going to do what he tells me to!"
Along with getting back into racing shape, he thinks that this year could be a turning point for him. "Every year I jump up another step but I think from last year to this year I've jumped up two steps. I know I have more in me, and I feel really good at these races. But I know my suffering point and where my legs are at, and I am not quite at the full suffering point... I know I have more fitness to dig out before it comes down to how deep I can dig."
Jesse Anthony (Jamis)
Photo ©: Dave McElwaine

As for the series lead, he acknowledged that he was surprised he came out of the weekend with it. "I am going to give it my best shot to hang onto it. A leader's jersey often makes the wearer ride like two men, so I am hoping."
A Luna rider in the leader's jersey was less of a surprise, except for maybe which one it would be. Both Katerina Nash and Georgia Gould won a race at the Derby City Cup, pounding the entire field into submission. It was only Gould's misstep near the end of the first race that cost her the chance at a top two place that would have tied her teammate. But still the jersey is in the family, with each ready to defend it from attacks as well as push each other just as hard.
"We are teammates, but we don't cut each other any slack... we race hard!" said Gould. Both riders are planning on racing the entire series, with the overall an obvious goal. "I'm doing all the races so I would love to keep it to the end," said Nash.
For complete 2008 USA Cycling Cyclo-cross National Calendar standings, visit the Cyclo-cross National Calendar page www.usacycling.org/cnc
Meeusen goes pro with Fidea
Just as one Belgian has announced his presence as one of the best in cyclo-cross, another promises to follow a similar trajectory. Fidea has signed 19-year-old Belgian Tom Meeusen to a three-year contract. The national espoirs 'cross champion finished third in the U23 race at last weekend's world cup event in Tabor, Czech Republic, and looks set to enjoy a strong 2008-09 season.
Hofstade world cup moves to Heusden-Zolder
The world cup round held in Hofstade, Belgium, on December 26 will move venues for this year's edition. Heusden-Zolder, home of the famous motor racing circuit and scene of the 2002 road world championships, will host this popular event.
The move has caused friction between the event's organising committee and BLOSO (Commissariaat-Generaal ter Bevordering van de Lichamelijke Ontwikkeling, de Sport en de Openluchtrecreatie), the Belgian Flemish sports and recreation agency. The issue has been debated in the Flemish parliament, with Sports Minister Bert Anciaux explaining he has no control over the decisions of BLOSO.
Pro Cyling, the non-profit organisers of the Hofstade event, has been accused of incompetence by BLOSO, a statement which naturally upset that organisation. The latter group outlined the fact that its races, held in Hofstade since 2001, have attracted up to 20,000 spectators during the festive season while enjoying live broadcast on Eurosport.
GNC returns as a major sponsor for the Toronto 'cross
Midweek Cycling Club recently announced that GNC has returned as a major sponsor of the Toronto International Cyclo-cross UCI C1 race weekend, November 8-9, in Toronto, Ontario. GNC joins the growing list of sponsors, including Clearview Marketing Communications, Amino Vital, Specialized Canada, 3Rox Racing/Scott and Nissan.
Gilles Houde, President and CEO of GNC Canada, appreciates the virtues of cyclo-cross and the values that tie in with those of his company, which prompted him to support the sport. "We get great satisfaction in helping athletes reach their goals," said Houde. "Our research and development of sports nutrition in Canada is cutting edge in its innovation. And our products are available at 160 retail stores."
New for 2008 is the GNC 'Live Well' zone. The Live Well zone gives non-cyclo-cross riders a chance to try the sport on a mini racecourse aboard a new Specialized Tricross. A different zone will be set up each day and will be open from 10am till 1pm, with elite riders on hand to show charges the ropes. It will be available to everyone at no charge, although non-licensed riders will be required to purchase single-day event insurance for $5.
For information on the Toronto International Cyclo-cross UCI C1 race weekend, see www.torontoCyclo-cross.com.
MAC and MABRA 'cross this weekend
MAC and MABRA will host a joint weekend of racing in Maryland to start proceedings in November. The MAC Powered by SRAM kicks it off this Saturday, November 1 with the Wayne Scott Xross in Fair Hill. On Sunday, the BikeReg.com MABRAcross Series continues with the Kelly Benefit Strategies Cyclo-cross at Rockburn, held at Rockburn Branch Park in Elkridge Maryland.
Saturday's event at Fair Hill features the 'heckle hut', an indoor portion of the track with barriers, a live DJ, southern-style barbecue and beverages where those not racing may comfortably heckle those who are. Sunday's race is co-promoted by the Howard County Parks and Recreation Department, the first governmental agency in the US to be actively involved in the production of a cyclo-cross race.
Wes Schempf sits atop the leaderboards of both the MAC Powered by SRAM and BikeReg.com MABRAcross season point standings. Schempf's C3-Sollay.com teammate Laura Van Gilder leads the MAC standings after winning 3 of the first four races.
The MAC Powered by SRAM continues to be a leading proponent of gender equality in cyclo-cross. Saturday's Wayne Scott Xross will pay the men's and women's winners equally. Meanwhile, the Whitmore's Landscaping Super Cross Cup scheduled for November 22 and 23 has become the latest UCI event to announce that it is paying women according to the 'Gould Formula' proposed last year by Georgia Gould.
The two-day event in The Hamptons of Long Island New York will pay the top five women each day according to the UCI minimum men's prize list. As both races have a UCI C1 category, the increase in the purse is substantial and makes Whitmore's one of the richest women's cyclo-cross weekends in the world.
Young Canadian 'crossers in the Netherlands
Two Under-23 riders from Canada and their coach – racer Tim Heemskerk – will be joining Dutch team, Team Jan Terpstra, for part of this season as a project to encourage young Canadian racers coming through the ranks. Brian Robinson and Andrew Thomas, two riders within TTP (Tim's Training Program), will travel with Tim Heemskerk to the Netherlands and race in the lead up to the World Championships in Hoogerheide.
The idea of this project started about a year ago between Team Jan Terpstra and Tim Heemskerk and will officially commence this December until February 2009. "Canada House in Holland" will provide these Canadian cyclo-crossers with all the required facilities, technical guidance, race equipment (Ridley Bikes) and rider development and experience of racing 'cross at the highest level in international 'cross races in the Netherlands and Belgium.
Enter and win at Whitmore's
Myles Romanow, promoter of the Whitmore's Landscaping Super Cross Cup, (rounds eight and nine of the MAC Powered by SRAM Cyclo-cross series, announced this week that one lucky entrant to his races in the Hamptons of Long Island will receive an otherwise unobtainable, made-to-measure Richard Sachs Cyclo-cross team bike, completely outfitted with SRAM Parts and Mavic Wheels.
Every non-UCI entry at the Whitmore's Landscaping Super Cross Cup on November 22 and 23 will receive a raffle ticket towards the draw for the Richard Sachs cyclo-cross bike. Riders who enter two races at Whitmore's get two raffle tickets, those who enters four races in The Hamptons will receive four – simple.
Richard Sachs currently has a seven year backlog for his Signature road frames, and is not currently taking orders from new clients. But this bike, which will be made to measure specifically for the winner of the contest, will be built along with next year's RGM Watches - Richard Sachs - Boathouse Inc pro team bikes.
To enter the raffle, simply register for the Whitmore's Landscaping Super Cross Cup at BikeReg.com, the official on-line pre-registration service of the MAC Powered by SRAM Cyclo-cross Series.
Recent UCI races

25      USGP of Cyclo-cross #1 - Derby City Cup, Louisville, KY                           (USA) C2  ME/WE
26      Internationales Radquer Steinmaur, Steinmaur                                     (Swi) C2  ME/WE
26      USGP of Cyclo-cross #2 - Derby City Cup, Louisville, KY                           (USA) C2  ME/WE
26      National Trophy Round 3, Chantry Park, Ipswich                                   (GBr) C2  ME
26      Grand Prix de la Commune de Contern, Contern                                     (Lux) C2  ME/MU/MJ/WE
26      Coupe du Monde UCI / UCI World Cup, Tabor                                        (Cze) CDM ME/MU/MJ/WE
28      Velka cena skupiny CEZ, Podborany                                                (Cze) C2  ME
Upcoming UCI races

1       Internationale Veldritten op de Koppenberg - Oudenaarde, Oudenaarde              (Bel) C1  ME/MU/MJ/WE
1       The Cycle-Smart International 1, Northampton, Massachusetts                      (USA) C2  ME/WE
1       N. American Trophy # 5, Boulder C2, Boulder, Colorado                            (USA) C2  ME/MU/WE
1       Cyclo-cross international de Marle, Marle                                        (Fra) C2  ME
1       Internationales Radcross Magstadt, Magstadt                                      (Ger) C2  ME/WE
1       Fai Hill Cyclo-cross, Maryland                                                   (USA) NE
2       N. American Trophy #6, Boulder Cup, Boulder, Colorado                            (USA) C1  ME/WE
2       Superprestige Veghel-Eerde, Veghel-Eerde                                         (Ned) C1  ME
2       The Cycle-Smart International 2, Northampton, Massachusetts                      (USA) C2  ME/WE
2       Int. Radquer Hittnau, Hittnau                                                    (Swi) C2  ME
2       Grand Prix Lostice, Lostice                                                      (Cze) C2  ME
2       Championnats d'Europe, Liévin                                                    (Fra) CC  MU/MJ/WE
(All rights reserved/Copyright Future Publishing (Overseas) Limited 2007)