Cyclo-cross news & racing roundup for October 24
Edited by Laura Weislo
Welcome to our regular roundup of what's happening in cyclo-cross. Feel free to send feedback, news and releases to mtb@cyclingnews.com.
USGP series kicks off in Louisville
By Mark Zalewski, North American Editor
Jeremy Powers took last year's opener in Louisville.
Photo ©: Mitch Clinton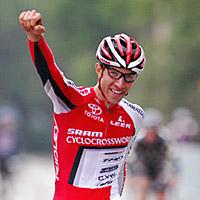 In its third year, the US Grand Prix of Cyclo-cross returns as one of the highlights of the North American 'cross schedule, with three weekends of six UCI races – three of which are rated C1. The first stop is this weekend in Louisville, Kentucky on the site of an old golf course in the city's Champion's Park that makes for a challenging and spectator-friendly course. The festivities begin on Friday with an elite rider number pick-up ceremony as well as a kids' cyclo-cross clinic with riders from Team Clif Bar.
Last year's men's winners in Louisville, teammates Jeremy Powers and Tim Johnson (Cyclocrossworld-Cannondale) will be back to defend, but the series' defending champion Ryan Trebon (Kona) is rolling this season with a number of top wins. The first round of UCI points released this week, show that Powers has only a narrow lead on Trebon, with each taking wins last weekend in Delaware and Pennsylvania. These three have established themselves on top of the North American scene so far this season.
On the women's side, many of the top riders have shifted over to Europe for the UCI world cup series, with another race this weekend. The top UCI women from North America includes the top UCI rider overall – the now four-time Canadian champion Wendy Simms (Kona.) A pleasant surprise this season is Sue Butler (Monavie-Cannondale), who is the top American in ninth place. Outside of the top ten, and definitely not starting this weekend, is US champion Katie Compton (Spike) who pulled out of last weekend's world cup in the first lap with a leg injury.
As such, the top riders staying in North America include defending USGP Champion and local favorite Georgia Gould will be racing along with her Luna Chix teammate Katerina Nash as well as last weekend's winners Laura Van Gilder (C3 Sollay.com) and Deidre Winfield (Velo Bella-Kona).
Regardless of which riders start, the course is definitely a highlight of the weekend. The remnants of the former golf course are used within the course design, including the smooth and fast fairways countered with treacherous sand bunkers. There are also several run-ups and a fly-over. But making things even more interesting is the weather forecast, which is calling for rain.
Schedule:
8:00 am - Cat 4 Men
8:45 am - Junior 10-16, Cat 3/4 Women
9:30 am - Cat 2/3 Men
10:30 am- Masters 45+ / 55+
11:30 am - USGP Juniors 17-18
12:30 pm - USGP Masters 35+ (Cat. 1-3)
1:45 pm - USGP Elite Women (UCI Cat.2)
3:00 pm - USGP Elite Men (UCI Cat. 2)
Stay tuned for Cyclingnews' full coverage of the USGP opener.
Simms tops world ranking
By Kirsten Robbins
Wendy Simms (Kona)
Photo ©: Mark Zalewski

Canadian national champion, Wendy Simms (Kona) topped the UCI cyclo-cross world ranking after the Kalmthout World Cup held in Belgium. However, Simms won't get the honour of wearing the dark blue leader's jersey as the UCI has scrapped that in favour of the traditional white World Cup jersey instead.
"I never really considered the UCI ranking as a goal of mine especially after they announced they weren't doing a leaders jersey for UCI points this year," Simms told Cyclingnews. She leads the rankings thanks to her country's October 11th championship, which earned her 120 points for the win. She backed that up with a solid 8th place in Kalmthout to push her into the lead by 9 points over Dutch woman Daphny Van den Brand.
"Having the North American season and Canadian nationals so early was the edge I had over the world-cup leader [Van den Brand]," she said, but is realistic that her lead may not last through this weekend's World Cup in the Czech Republic. "I'm not going to lie, it was pretty cool to see my name up there. I will milk it for a week. They will likely catch up soon enough!"
Simms began accumulating early-season point winning the Rad Racing GP followed by a second place in the Lakewood and a seventh place in Cross Vegas. She then went on to win her second consecutive national title in mid-October in Edmonton, Alberta..
The Canadian federation schedules its cyclo-cross championship months before any other country and this year's championship arrived almost a month earlier than last year's. "It's really difficult having our nationals so early," said Simms. "You just can't 'peak' for a race in October if you are trying to ramp up for worlds in early February. You don't have anything to build it on."
Simms thinks early championships is detrimental to the sport in Canada. "A lot of the racers who are not going to worlds call it quits after nationals so the 'cross scene tends to fizzle in Canada early," she said, adding that Canadian 'cross riders tend to miss out on the 'best part of 'cross' - the typical cold conditions combined with wet snow, ice and mud.
"I would rather have nationals later in the season and hopefully see 'cross grow in Canada. Rather that than see my name on the top of the UCI rankings because we happen to race nationals, which has a lot of points, three months earlier than everyone else."
Simms will hope to keep a high placing through the next two World Cups in Tabor, Czech Republic and Pijnacker, Netherlands. She will then return to America for USGP Mercer Cup and Portland before returning to Europe for the remaining World Cup events in mid-December. "I need to be racing in Europe to be ready for worlds," said Simms who will return to a teaching position in February in her home province of British Columbia. "They are different courses, super aggressive fields and a completely different physiological and mental effort than racing in North America."
"The schedule I set up had me doing no complete series but enough of each to make everyone happy," she continued. "KONA can see me racing on US and Canadian soil and I also get my Euro experience, all with minimal travel. I'm hoping it sets me up for a good worlds result."
Page unlucky in Kalmthout
By Brecht Decaluwé
Jonathan Page had a disappointing first World Cup in Kalmthout after strong start to the season which included four straight wins in Michigan and Wisconsin and a second place at the Kermiscross Ardooie. Page abandoned the race after eight laps. Before the race Page explained that he was feeling a bit ill.
His luck went sour during the first lap when a French rider crashed and took Page down with him. Despite a good third lap, Page ended up riding on his own between two big groups, and his coach and mechanic Franky Van Haesebroucke told him to abandon the race. "Page is ill and he wasn't performing like he should be able to. He trained well and he's form is much better than the 31st position that he was riding in reflected.
"At such a moment I think it doesn't make sense to make a fool of yourself and continue in a race where you're not going forward but backwards," Van Haesebroucke said. The few UCI points he could have picked up for finishing weren't worth it. "Page has about the most UCI-points of all right now, thanks to the races he did in the US and Switzerland, and the good results in Ardooie and Lebbeke."
Bishop takes on cyclo-cross
By Kirsten Robbins
Jeremiah Bishop (Trek/VW)
Photo ©: Todd Leister

Jeremiah Bishop, double US national mountain bike champion in the short track and the marathon, has added cyclo-cross into his off-season fitness program. While he has yet to win a race, the Trek/VW rider has captured a podium placing in nearly every UCI race he started, giving riders like Jeremy Powers, Tim Johnson and Ryan Trebon a run for their money.
"I have a lot of fun with this," said Bishop who does not train specifically for cyclo-cross, but said his summer training program for short track mountain biking carries over well. "I'm well put together this year and I've been working on my aerobic capacity more. I've developed into a better rider in the shorter distances. It's been a lot of fun jumping into 'cross and being able to ride with the top guys - really fun."
Bishop made his 'cross debut at the Cincinnati 'cross festival, a three-race weekend in Ohio where he placed second in the two UCI C1 featured events, behind Powers. "It was an eye opener for me to be going up against Powers in Ohio," said Bishop. "I broke my chain on one of the days and I really thought I had him."
The Harrisonburg, Virginia native is adding a fresh dynamic to the regular group of front row riders in the US. Last weekend, he placed just off the podium after a duel with Johnson for third in Granogue and took third place in the following day's Wissahickon Cross.
"I've known Bishop from his mountain biking," said Johnson, the reigning US national cyclo-cross champion. "He's really strong and it's nice to have a new player in the lead group. When you are dealing with only a couple of teams playing against each other, it's nice to have an independent rider in there to keep things honest."
Bishop has reevaluated his initial decision to compete in the early 'cross season for fun and has since decided to take the sport more seriously. "I'd like to talk to my coach this week and give 'cross a real chance," said Bishop. "I like to tangle with the front riders and I think it might be fun to give it a go - I'm getting the bug and it's real exciting."
Fontana kicks off season at GvA round one
By Kirsten Robbins
Reigning Italian cyclo-cross champion, Marco Aurelio Fontana will compete in his green, white and red barred jersey for the first time on November 1 at the Koppenbergcross. The Belgian event is round one of the Gazet van Antwerpen Trofee (GvA) held near Oudenaarde, Belgium.
"There are some events that I must do with my national team, but I will race this year mainly for Guercotti," said the 23-year-old, who is in his fourth year with the team. "For me, Paolo Guercotti is the Enzo Ferrari of cyclo-cross. He is the history of this sport here in Italy. He is very passionate and a real fan of cyclo-cross - I'm proud to race under this jersey."
His 2008-09 'cross schedule includes a select number of GvA events along with five world-cups and five Superprestige events. Ultimately, his focus is on winning a second elite national title in Modena, Italy and on performing well at the World-Championships held in Hoogerheide, Netherlands.
After several junior and U23 national titles in cyclo-cross and mountain biking, Fontana won his first elite cyclo-cross championship held in Scorze in January of this year. After winning the national title, Fontana continued to add to his resume capturing a 6th place at the 2009 Treviso World Championships followed by a 5th place at the Beijing Olympic Games in the mountain bike race.
The young rider frequently stood on the podium beside the three-time former national champion Enrico Franzoi. However, when news circulated that Franzoi was unable to start the 2008 championship event due to a foot injury, it seemed natural that Fontana would be the next rider to take his place.
"Winning the national championship was an incredible sensation because it makes you feel like you are the strongest rider in Italy," said Fontana. "All the other titles have no value anymore. Now people see me as a national champion and no longer as the kid who used to bunny hop barriers and pop wheelies at the finish line."
After his success in 'cross and his high finish in the Olympic mountain bike race, Fontana will tailor his 'cross races towards preparation for a successful 2009 mountain bike season and future 'cross titles. "I will only do fifteen races, my nationals and the world championships," said dual talent. "I want to be on the top level performance in January," he continued. "My goals for 'cross are to win a world cup race and then maybe in the next few years the world championships."
North American briefs
Sucker Brook 'Cross Donates $5,500 to Auburn Teen
An Auburn, New Hampshire teen fighting cancer was the biggest winner of the 4th annual Sucker Brook 'Cross, a cyclo-cross race held at Auburn Village School. Race Director Jack Chapman, with his wife Barbara, recently presented Sean Levesque, 16, with a check for $5,500 to help with medical expenses.
"The donation is thanks to our generous sponsors and racers," Chapman said this week. "Everyone who raced, sponsored or volunteered at the race should be proud of their contribution. The support of local individuals as well as local and regional businesses and organizations has been simply awesome!"
Sean was diagnosed with Stage IV Lymphoma in February, 2008 and will undergo weekly chemotherapy until the Spring of 2010.
The Sucker Brook 'Cross, held Sept. 21, is one of the fastest growing cyclo-cross races in New England. In its fourth year, the event registered 322 racers and has established a tradition of raising money to benefit local residents with cancer or other life threatening diseases. Chapman noted that since 2005 the event has raised a total of $18,000 to aid Auburn cancer victims.
"As cyclo-cross becomes more popular in New England, and as our race continues to grow, we look forward to continuing to help local residents who are in need," Chapman said.
De Stad Series Heads to Cyclo-cross Paradise
The De Stad Cyclo-cross Van Kansas Series presented by Paceline Products is proud to present the Smithville Cyclo-cross Festival Oct. 25th and Oct. 26th. This years festival has moved to what will soon be known has Cyclo-cross Paradise' in the small town of Paradise, Missouri (just 25 minutes North of Kansas City).
A well balanced course has been designed by the Cross Guru for the Smithville Cyclo-cross Festival. The course features 158 feet of climbing per 1.5 mile lap with plenty of pavement, flowing turns, a few off camber turns, a natural steep run up (one the Guru is famous for) and the return of Harter's Horseshoe V2 along the shores of Smithville Lake.
Racing at Sailboat Cove begins Saturday at 10:30 a.m. with the Category 3 / 4 men going off first. The KCA is sponsoring the Category 4 women by supplementing entries, so beginner women race for just $5. Races continue throughout the day with the Category Men 1/2/3 racing at 1:30 p.m. and the finale at 2:45 with the Juniors, Cat. 4 Women, and Masters B.
Visit http://www.kansascitycross.com for all the details.
Upcoming UCI races
October 25: USGP of Cyclo-cross #1 - Derby City Cup, Louisville, KY (USA) C2 ME/WE
October 26: Internationales Radquer Steinmaur, Steinmaur (Swi) C2 ME/WE
October 26: USGP of Cyclocross #2 - Derby City Cup, Louisville, KY (USA) C2 ME/WE
October 26: National Trophy Round 3, Chantry Park, Ipswich (GBr) C2 ME
October 26: Grand Prix de la Commune de Contern, Contern (Lux) C2 ME/MU/MJ/WE
October 26: Coupe du Monde UCI / UCI World Cup, Tabor (Cze) CDM ME/MU/MJ/WE
October 28: Velka cena skupiny CEZ, Podborany (Cze) C2 ME
(All rights reserved/Copyright Future Publishing (Overseas) Limited 2007)