Cyclo-cross news & racing roundup for October 16
Edited by Les Clarke
Welcome to our regular roundup of what's happening in cyclo-cross. Feel free to send feedback, news and releases to mtb@cyclingnews.com.
Europe gets ready for the muddy cyclo-cross World Cup
Sven Nys is the dominant factor in cyclo-cross
Photo ©: Isosport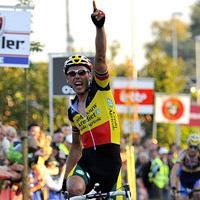 While most of the road cyclists are slowly getting tired both physically and mentally by the end of the summer when there's only the Giro di Lombardia and foul weather left, some cyclists seem to be fresh and keen on riding some races. It's that time of the year again for cyclo-cross. Cyclingnews' Brecht Decaluwé will guide you through this rather mysterious discipline.
The World Cup – which is more of a European Cup – has ten events of which three are in Belgium, two each in The Netherlands and France, one in the Czech Republic and one in Italy. In Spain there's only a men's race. The last couple of years there has been a lot of talking about a World Cup in the USA and it seems like Cross Vegas has the biggest chance of gaining a spot on the World Cup calendar in 2009. For now the World Cup stays in Europe and the first stop is in Kalmthout, Belgium, on Sunday October 19, 2008.
Peter Van den Abeele, a Belgian former professional rider who is the cyclo-cross coordinator for the UCI, is on a mission to internationalise the sport. Last year he managed to introduce a name sponsor, resulting in a changed name: the UCI World Cup presented by Safety Jogger. This year Van den Abeele managed to sell the TV-rights to more than twenty channels who will be showing a race report of 26 minutes in the United States, South Africa and countries in Asia. In Flanders, the northern part of Belgium, where veldrijden is unbelievably popular all World Cup events will be shown live on TV.
Van den Abeele opted to stop the confusion that existed around the World Cup and the UCI-ranking during previous years. Until last year there was a blue jersey for the leader in the UCI-ranking, which included all UCI-races and not only the World Cup events. The World Cup on the other hand didn't have an overall ranking.
This year the leader's jersey of the UCI-ranking has disappeared. The blue jersey has been swapped with a white jersey for the leader in the World Cup. The start money riders receive at the World Cup races is decided by this World Cup ranking as well. But the UCI-ranking remains extremely important as well since it decides the starting position in all UCI-races around the world, including the world championships.
Click here to read the full feature.
Belgian team for World Cup #1
Belgian national Coach Rudy De Bie has announced his selection for the opening world cup race on Sunday in Kalmthout. It's a formidable lineup as De Bie selected the first nine Belgians from the Superprestige round in Ruddervoorde last Sunday, including winner Sven Nys and in-form Niels Albert. Missing is injured rider Sven Vanthourenhout, although De Bie explained to the Gazet van Antwerpen that, "I can cover Sven Vanthourenhout's injury. But as soon Sven's level comes back, he'll be fighting for a place again for sure."
Belgium's squad for Kalmthout: Sven Nys, Bart Wellens, Niels Albert, Klaas Vantornout, Rob Peeters, Kevin Pauwels, Erwin Vervecken, Bart Aernout, Dieter Vanthourenhout
De Bie analyses Fidea's performance
In last weekend's Superprestige #1 in Ruddervoorde, Fidea missed out on the spoils of the podium. Kevin Pauwels took fifth place while team leader Bart Wellens finished sixth. Wellens spent most of the race chasing the leaders however, after missing the early moves which saw Nys establish himself at the front of proceedings.
Fidea manager Danny De Bie told sporza.be after the race that, "Bart Wellens had a disastrous start. And this is how it was throughout his long chase." De Bie wanted to see more aggression in Wellen's riding, saying, "The TV images I saw showed that he was too 'friendly' to the competition early [in the race]."
"He let other riders go and fell back... Bart should claim his spot! Some people would call it ggressive riding."
De Bie, who also announced the Belgian selection for this weekend's first world cup event, said that, "Erwin Vervecken is on schedule. Eighth in such conditions is good. The Czechs were not good, however. It was lights out for Stybar after the first lap"
He was happy with Kevin Pauwels. "He has surprised me positively. He spent the whole race in front and rode attentively. Finally," said De Bie on the team's website. "Kevin has finally delivered on the promise he has shown in the past; he has started to take the initiative, but there must be even more work. Kevin can be even more than what he has shown."
Boom comments on worlds course and preparation
Reigning world cyclo-cross champion Lars Boom has taken a spin around the course for this season's world championships in Hoogerheide, The Netherlands. He's optimistic about his chances of success despite just starting his 'cross season. "Last year I said that I wanted to become world champion in Hoogerheide and I have already reached that goal. I think that this time it will be easier for me to prepare for it mentally; not easy, but certainly easier. I know that I can handle myself there, so there's certainly not more pressure."
Held on January 31-February 1 next year, it's highly likely that the weather will be less than ideal for spectators but perfect for a tough cyclo-cross event. Add to this a tough circuit and Boom believes that, "The track is pretty selective. A lot of differences in height and changes and quite some running parts. It is a great track for me anyhow, because it is good for breaking away from other riders. It does not really contain any very long parts, which means that you cannot always see your opponent, and that's good."
The world cup race in Milan will be Boom's last test before Hoogerheide, after which he'll rest ahead of the world title race. "Especially in the weeks leading up to the race, resting well, taking care of yourself and training well is the most important thing." And like last year, in late November/early December the Dutchman will go to Lanzarote for two weeks of training to get, "Something else on your mind, some nice weather and good training."
Powers and Dombrowski top standings
After 15 rounds of the USA Cycling Cyclo-cross National Calendar, Jeremy Powers and Amy Dombrowski find themselves on top of the points rankings.
Powers and Ryan Trebon have been the two dominant male riders thus far in the series, with only 15 points separating the duo. Despite taking wins in the Cyclo Stampede, Java Johnny's and Bio Wheels races last weekend, Compton remains 12 points adrift of women's series leader Amy Dombrowski. Dombrowski has shown sensational form of late, with victories in both races at last weekend's Gran Prix of Gloucester.
Rounds 16 and 17 of the series take place this weekend, with the 'SRAM Royal Weekend' - Granogue and Wissahickon events - in Wilmington and Philadelphia respectively.

Top five standings after 15 rounds
 
Elite men
 
1 Jeremy Powers      175 pts
2 Ryan Trebon        160
3 Jonathan Page      145
4 Tim Johnson        133
5 Jamey Driscoll     117

Elite women
 
1 Amy Dombrowski      92 pts
2 Katie Compton       80
2 Natasha Elliott     80
4 Sue Butler          74
5 Devon Haskell       67

For full details of USA Cycling's Cyclo-cross calendar and standings, see www.usacycling.org.
Swedish 'cross moves forward
Swedes who want to have fun on a 'cross bike this fall will be pleased with the national series, the Northwave CX Cup, featuring eight races plus the national championship.
The first leg of the series was held in Norberg, with Jens Westergren (Falu CK) winning ahead of club mate Magnus Darwell. Fredrik Ericsson (Team Cykelcity) took third. Fredrik won the series last year but might not have quite adapted from his fine road season yet, having finished 20th in the world championship time trial.
The women's field had no less than 13 participants and ended with Kajsa Snihs (IK Jarl) road pro Sara Mustionen (CK Valhall) and Hannah Myerscough (Trosa Vagnhärad) on the podium. Last year's series winner Alexandra Engen (Jönköpings CK) punctured right after the pits and had a long way to run to get a new bike, finishing in sixth place.
More classes of racing are likely as the interest in the Swedish cross scenes has risen rapidly. This fall there will be a 'prestige' class for men and women, aimed at those riders that want to compete against the elite. For those with more humble ambitions, but still love their 'cross, there are the senior and veteran men's categories in addition to a sports class for men and women wanting to try 'cross on any type of bike. Most events will also have youth classes. [ Courtesy Tomas Nilsson]
Recent UCI Cyclo-cross results:
10      The Cyclo-Stampede, Burlington, Kentucky                                         (USA) C2  ME/WE
11      Grand Prix de la région wallonne, Dottignies                                     (Bel) C2  ME
11      TOI TOI CUP, Louny                                                               (Cze) C2  ME
11      N. American Trophy #3, Gran Prix of Gloucester, Gloucester, MA                   (USA) C2  ME/WE
11      Java Johnny's Cross, Middletown, Ohio                                            (USA) C2  ME/WE
12      Bio Wheels / United Dairy Farmers UCI Harbin Park, Cincinnati, Ohio              (USA) C1  ME/WE
12      Superprestige Ruddervoorde, Ruddervoorde                                         (Bel) C1  ME/MU/MJ
12      N. American Trophy #4, Gran Prix of Gloucester 2, Gloucester, MA                 (USA) C2  ME/WE
12      Jim Horner Cyclocross Grand Prix, Edmonton, Alberta                              (Can) C2  ME/MJ/WE
12      Challenge de la France Cycliste 1, Montrevel                                     (Fra) C2  ME/MU/WE
12      TOI TOI CUP, Ceska Lipa                                                          (Cze) C2  ME

Upcoming UCI races:

16      Kermiscross, Ardooie                                                             (Bel) C2  ME
18      Granogue Cross, Wilmington                                                       (USA) C1  ME/WE
18      Kleicross Lebbeke, Lebbeke                                                       (Bel) C2  ME/MJ/WE
18      VI Ciclocross de Medina de Pomar, Medina de Pomar (Burgos)                       (Spa) C2  ME/MU/MJ
19      VI Ciclocross de Villarcayo, Villarcayo (Burgos)                                 (Spa) C2  ME/MU/MJ
19      Wissahickon Cross, Philadelphia, PA                                              (USA) C2  ME/WE
19      Coupe du Monde UCI / UCI World Cup, Kalmthout                                    (Bel) CDM ME/WE
21      Nacht van Woerden, Woerden                                                       (Ned) C2  ME 
Previous News Next News
(All rights reserved/Copyright Future Publishing (Overseas) Limited 2007)