Cyclo-cross news & racing roundup for September 19
Edited by Laura Weislo and Paul Verkuylen
Welcome to our regular roundup of what's happening in cyclo-cross. Feel free to send feedback, news and releases to mtb@cyclingnews.com.
Albert clinches win in season's first cross
By Brecht Decaluwé in Erpe-Mere
Niels Albert (Palmans)
Photo ©: Brecht Decaluwé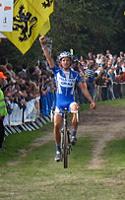 The first international cyclo-cross of the season in Erpe-Mere, Belgium was a test case for the big guns in this so-called winter sport. With warm weather and a dry course there were unusual conditions but only the riders complained about this while the large crowd enjoyed the sun (and their beers).
In a tactical race that was dominated by the two biggest cyclo-cross teams, Rabobank and Fidea, the flowers were eventually captured by Niels Albert (Palmans). The blonde youngster didn't react when Zdenek Stybar and Klaas Vantornout (Fidea) tried to make the selection, saving his energy for the final lap.
"I wanted to be riding in the top two when entering the last lap," Albert explained to Cyclingnews after the finish. "Suddenly I had a gap although I didn't really attack." Asked if he was exploiting the rivalry between Rabobank and Fidea, the 21 year-old replied: "I was riding very strong in that last lap and I guess nobody could really come back on me. I was suffering when there were some accelerations, so I guess I still have a physical deficit on the others."
"Nevertheless," he continued, "I managed to pull off a two-on-two this year [Albert also won a national race in Dudzele last week], knowing that I only won four races last year you can tell I am a happy man."
So far, it has been close but no cigar for Klaas Vantornout, just like last week in the national race at Dudzele he was confronted with a smart Niels Albert. "I tried a couple of times, just like Stybar and when he attacked I dropped a gap to make the Rabobank team work a bit," explained Vantornout of the Fidea tactics, which ultimately didn't pay off as Albert profited from the rivalry.
"Nys allowed Niels [Albert] to ride away, he was probably frustrated about our tactics," Vantornout smiled. "Anyway, I was already feeling very well before today and now I'm feeling even better. Halfway through October I should be at my best but I'm already very strong now."
Full results, report and photos.
Van der Linden signs with SunWeb-Projob
Former U23 World Championship runner-up Wesley Van der Linden will ride with the 'elite without contract' division of the SunWeb Projob team for the 2007-2008 'cross season. The 2003 silver medallist rode for the Chocolade Jacques professional road team for the past two years, but will now focus his attentions on cyclo-cross.
Team manager Mario de Clerc told sporza.be that he has long known of Van der Linden's talents, and wishes to give him a chance to prove himself and to possibly move up to the elite category. Van der Linden hopes to make his debut with the team on the weekend of October 20 in Belgium.
Three Peaks Cyclo-cross race cancelled
The Three Peaks cyclo-cross race scheduled to take place on September 30 has been cancelled due to the ongoing foot and mouth crisis in southern England. The Three Peaks passes through some of Yorkshire's prime grazing lands and with thousands of sheep still on the hills, organiser John Rawnsley has taken the difficult decision to cancel the event, following lengthy consultations which local landowners and farmers
Riders were expected from all four corners of Britain as well as overseas, including Surrey, the current focal point of the crisis, the risk of spreading the disease was deemed too great to be acceptable. All the riders who have entries for the 2007 race will have their entries carried over to the 2008 event, subject their confirming their intention to ride.
"Canceling the event is the last thing we'd want to do, and we regret the disappointment this will cause amongst the riders who have entered. Unfortunately it's a risk we simply can't afford to take if the event is to maintain the local goodwill it has built up over many years. I have spoken to local landowners and tenant farmers and the consensus was that we should cancel the race. The race's future depended on us making the right decision," a disappointed Rawnsley said.
US Gran Prix returns
The sport of cyclo-cross in the US has been booming over the past four years with the help of the US Gran Prix of cyclo-cross, and the country's most prestigious series returns with a six race series. The best riders from across North America will be competing for the series overall championship and an automatic USA Cycling world championship berth for the winner.
The 2007 USGP will see many familiar sponsors returning along with Crank Brothers, who have been sponsoring the series since its inception four years ago. SRAM returns as the official neutral support provider as well as the sponsor of the SRAM Most Aggressive Rider at each event in the elite men and women races according to specific criteria and, to make it interesting, a crowd vote.
Clif Bar will continue their venue sustainability program enabling the US Gran Prix to leave each venue in as good, if not better, condition then when it arrived, and will also host a kid's 'cross clinics at each venue. Held the Friday prior to each weekend series, the Clif Bar Kid's clinics will feature riders Ben Turner, Danny Summerhill, and US national cyclo-cross team coach Geoff Proctor.
Louisville-based Papa John's has signed on as title sponsor of the USGP Derby City Cup presented by Toyota to be held October 27-28 in Louisville, Kentucky. The event represent the first ever UCI sanctioned cyclo-cross event in the state of Kentucky and forms part of the US national team selection series, as the first and second event in the six race series.
The 2007 US Gran Prix of cyclo-cross :
October 27 - 28 - Louisville, Kentucky
November 17-18 - Trenton, West Windsor, NJ
December 1-2 - Portland, Oregon
Registration on BikeReg.com opens on September 15th for all categories. Pre registration is mandatory for Elite men / U23 race and the Elite women.
Kona YourKey.com announces line up
Ryan Trebon is set to lead the Kona team once again.
Photo ©: John Pierce/PhotoSport International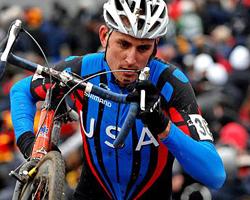 The Kona YourKey.com cyclo-cross team has announced it's line-up for the upcoming winter race season as well as the signing of new co-title sponsor, YourKey Mortgage, a privately held residential mortgage lending company based in Clearwater FL.
Defending US National and US Grand Prix Champion Ryan Trebon will headline the team which has dominated the North American 'cross scene for the past three years, along with returning team-mates: Barry Wicks, Wendy Simms, Dale Knapp and Erik Tonkin.
This year Trebon will be dividing his time between the US and Europe, staying stateside to defend his title in the US Gran Prix title and then heading to Europe where he'll try to crack the top five at either a Super Prestige or a World Cup race, a goal he feels that he is capable of after a 10th place finish in a Super Prestige race last year.
Wicks is looking forward to a new cross season in the US after returning from the MTB world's in Fort William and will be hoping to pull off a big win for the team. "I'm really stoked for this season and my legs feel great, except for the hole in my right leg from the mountain bike World Champs in Fort Bill. But since I'm going to back off on the European 'cross scene this year I'm as fired up about racing 'cross this season as I have been in a long time," remarked Wicks.
Wendy Simms is ready to lead the women's contingent of the team after dominating the open mixed class at the Trans Rockies mountain bike race along with her husband, Normon Thibault. "I felt last year like I could hang with the top girls for three quarters of the race but would just fade in the end. This year it's going to be different," Simms declared.
Velo Bella - Kona announces women's elite team
Barb Howe.
Photo ©: Steve Medcroft/Cyclingnews.com

The Velo Bella - Kona women's team returns this season for another year of racing across the United States and Europe. Now in its fourth year of existence, the all female cyclo-cross team will be racing the Crank Brother's US Grand Prix of cyclo-cross, US cyclo-cross Nationals and over 92 local races. The team will also be sending a select squad to Belgium this December to contest some of the bigger women's cross events.
"Velo Bella is dedicated to providing a place for women to ride their bikes, race their bikes, and above all, have fun getting muddy and cold in a skinsuit," said Team Co Founder, Sabine Dukes. "Our membership continues to grow with nearly 400 women in 28 states climbing up the category ranks in every major cycling discipline. Velo Bella - Kona professional teams exist to mentor and inspire our members wherever they are. Therefore, we are proud to announce the largest elite cyclo-cross team in the world with 19 athletes competing at the highest level in every corner of the country.
Velo Bella - Kona 2007: Barb Howe, Natasha Perry, Ann Fitzsimmons, Marian Jamison, Shannon Holden, Kari Studley, Melanie Swartz, Jennifer Bodine, Anna Milkowski, Stephanie White, Melody Chase, Kathy Sherwin, Jennifer Tilley, Amy Dombroski, Monique Hein, Natasha Cowie, Shannon Gibson, Kristin Danielson, Maria Stewart
Scott-Ritchey-SRAM team line-up announced
Scott USA has announced it's sponsorship of the Ritchey cyclo-cross team, co-sponsored by SRAM. The company will provide framesets for the squad, which will race in both men's elite and men's masters classes with their main focus being the northern California 'cross series with a few stops at national events during the season.
Equipped with the new Scott cyclo-cross team frameset and SRAM Force and high-end Ritchey components, team members will be able to take advantage of one for the lightest bikes on the circuit in their quest to win races. "Ritchey is an industry partner of ours on so many levels, and they really have a passion for cyclo-cross racing, so it just made sense to get involved with this team," remarked Adrian Montgomery. "We look forward to an excellent season and some important product feedback."
Scott-Ritchey-SRAM 2007: Keith Defiebre, Tim Granshaw, Nick Hanni, Cody Klasna, Jesse Mayberry, Nate Shaw.
'Cross clinics east and west
The National Capital Velo Club of Washington DC will be hosting a cyclo-cross clinic in scenic Buckeystown, MD, taught by Velosports Performance Center's Andy Applegate and local star Dee Dee Winfield. The clinic will provide hands-on instruction in training and technique for cyclo-cross, under a watchful 1:5 coach:rider ratio.
This clinic is open to all levels of riders and the small groups will allow each rider to get personalized instruction and attention throughout the day. Registration includes entrance to the Ed Sander Cyclocross race on Sept. 30.
The Rocky Mountain set will have their opportunity to take part in a free clinic hosted by Colorado Premier Training on October 1. CPT Senior Coach, Matt Shriver will hold the clinic at 5:30pm at the Fort Lewis College Amphitheater in Durango, Colorado. All levels of ability are welcome.
Both clinics will cover beginner and advanced techniques for: mounting, dismounting, carrying/shouldering, off-cambers, starts, equipment, tactics and race prep.
More information: NCVC clinic, CPT clinic.
Upcoming UCI Cyclo-cross races
September 22: Kinetic Systems - Tailwind Cyclo-cross 1, Michigan (USA) C2
September 22: Star-crossed, Redmond (USA) C2
September 23: GP Neerpelt Wisselbeker Eric Vanderaerden, Neerpelt (Bel) C2
September 23: Kinetic Systems - Tailwind Cyclo-cross 2, Michigan (USA) C2
September 23: Rad Racing GP, Lakewood (USA) C2
September 26: Cross Vegas, Las Vegas, Nevada (USA) C2
September 28: National Cyclo-cross Cup, Louny (Cze) C2
September 29: Hanover Grand Prix, Hanover, New Hampshire (USA) C2
September 29: Int. Openingsveldrit Harderwijk om de Grote Prijs Shimano, Harderwijk (Ned) C2
September 29: National Cyclo-cross Cup, Plzen (Cze) C2
September 30: Catamount Grand Prix, Williston, Vermont (USA) C2
September 30: Wedgewood Cross Classic, Vancouver (Can) C2
(All rights reserved/Copyright Future Publishing (Overseas) Limited 2007)