Cyclo-cross news & racing round-up for September 5
Edited by Laura Weislo and Paul Verkuylen with assistance from Brecht Decaluwé
Welcome to our regular roundup of what's happening in cyclo-cross. Feel free to send feedback, news and releases to mtb@cyclingnews.com.
'Cross season 2007 to kick off in Belgium
Vervacken wins in Hofstade
Photo ©: Frank Bodenmuller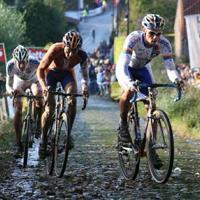 September is here, and while the road season is still in full swing with the Vuelta a España followed by the World Championships, Tour of Lombardy and Zurich ProTour races, there is a smaller, tight-knit band of brothers and sisters who have been changing over to knobbies and hitting the trails in preparation for cyclo-cross season. The UCI 'cross season officially opens on September 16 with the traditional first race of the season, the Steenbergcross in Erpe-Mere, hometown of 1976 Tour de France winner Lucien Van Impe. The race has kicked off 'cross since 2002, and was won last year by Sven Nys ahead of Zdenek Stybar and world champion Erwin Vervecken.
Reigning World Champion Erwin Vervecken will hit that first race again in the rainbow stripes. His Belgian Fidea team just wound up a two-week training camp in Sankt-Moritz, Switzerland. Vervecken and his team-mates Bart Wellens and Klaas Vantornout are led by Dutchman Hans Van Kasteren and besides their top quality Belgian riders they also have two strong Czech riders Petr Dlask and Zdenek Stybar.
A new face in the team is Belgian espoir Quentin Bertholet who also joined the team in Sankt-Moritz. During the training camp Bart Wellens suffered a minor problem on his ankle while world champion Vervecken only joined the team after a week.
In the USA, the 'cross season kicks off early with a string of UCI races in the Northern locales. The Tailwind 'cross races in Michigan will see Worlds silver medalist Jonathan Page warm up his legs for the upcoming season, while Washington state will host two classic 'cross events in Redmond and Lakewood.
Vanthourenhout better after surgery
Sven Vanthourenhout (Rabobank)
Photo ©: Tricarico Davide

Sven Vanthourenhout (Sunweb-Projob), who underwent surgery on a thickened artery in his left leg on July 3, should see a marked improvement in his abilities thanks to increased blood flow to the leg. Doctors estimate that the operation will increase his capacities by at least 25%.
Vanthourenhout raced quite successfully with the ailment, but suffered some mysterious symptoms. "After a crash two years ago I felt a sleeping feeling in my left leg for the first time in the Tour of Slovenia. Apparently a crash one week earlier tilted my pelvis a little. The problem never got solved completely with a chiropractor, and in June I felt it again.
"We decided with the team doctor to make a new thorough examination and the diagnosis of the thicker artery was a relief for me," Vanthourenhout explained on his website. The diagnosis pointed out that Vanthourenhout has been riding at only 75% of his capacities for two years and that was also a relief for team manager Jurgen Mettepenningen. "We're twice as lucky. First of all our team leader gets rid of his physical problem, so we can expect more from him in the field."
Sunweb looks for new beginning
The young Sunweb-Projob team held a family-day in August, and the two Directeur Sportif's from the team talked about their first season in cyclo-cross on the team's website. "The organization was perfect right from the start. If you see that every rider had their mobile home then you know we did a fine job," Hans De Clercq talked about the team's organization.
His colleague Mario De Clercq - former cyclo-cross world champion but no relation - explained that the sportive side wasn't as good as expected. "The start of our team was less spectacular. Our team leaders were not doing well in January and February. We know the reason for that with Sven Vanthourenhout and with Tom Vannoppen we knew he had a bad end of the year 2006," Mario De Clercq explained.
After a troublesome first season the pair explained the team is starting for real this season. "Riders had to adapt to the new bike while we didn't have any influence on their preparation for the season. That's all different now and I'm counting on victory in a big race this season, that means a win in the World Cup, GvA or Superprestige Series," Hans De Clercq expressed his hope for the team's first big win.
"Jonathan Page joined our team in July and David Willemsens is now focusing 100% on cyclo-cross. Together with Jan Verstraeten that means we have now a block of five riders at the start," Mario De Clercq marked the improved strength of the Belgian team.
In pursuit of a passion
Jonathan Page celebrating his silver at the worlds
Photo ©: AFP

He's finished second in the World Championships, but one figure stood undisturbed by the crowds at the NRC criterium in North Carolina: Cyclo-crosser Jonathan Page. Page escaped notice from all except the most hardened 'cross fans, preferring instead to take a back seat to the criterium stars. Cyclingnews' Laura Weislo talked to the understated, mellow family man in between the global travels which he takes in pursuit of his passion - cyclo-cross.
As the road season winds down, most of the racers are a bit worn out, haggard, or burnt out. There aren't as many smiles in the peloton, and the edginess of a long season of racing brings out anger or just plain orneriness in the best of riders. But one face in the crowd at the recent criteriums in North Carolina beamed with a relaxed, happy-go-lucky attitude that stood out amongst the adrenaline junkies: that of Cyclo-cross Worlds silver medalist Jonathan Page.
Traveling with his wife Cory and youngest child, Page certainly didn't look like someone who'd been jetting back and forth across the Atlantic many times per year for the past several years - he appeared rested, relaxed and fresh. However, in between meeting his new team and doing a few road races in Belgium as part of the team bonding experience, and the beginning of the upcoming 'cross season, Page was back in the USA to get some speed work in the short, intense NRC crits that fill up the late season North American calendar.
Page laid out his itinerary after the North Carolina races. "I go to Chicago [for Elk Grove], then to water parks in Wisconsin to have fun with Cory's sister, then we go back to Europe at the end of August. Then I come back to do the Michigan [cross] race weekend [9/22-23] and ['cross'] Vegas."
The criteriums are part of his tune-up for 'cross season, and Page was fairly aggressive in the Hanes Park criterium, launching a late-race attack that pulled away a promising group. But Page denies that he had any illusions of winning the criterium. "I was just trying to stay out of the way. Sometimes it's a little too scary for my liking with guys diving here and there... I was just trying to stay safe."
to read to full interview click here.
Cross Vegas while at Interbike
After the first day of the Interbike trade show on September 26, attendees are invited to the Excel Sports Cross Vegas, a UCI category 2 cyclocross race in the city of sin. The course will be a fully-lit grass and path combination at the Desert Breeze Soccer Complex in western Las Vegas 6 miles from the "Vegas Strip."
Top American world championship performers such as Jonathan Page (Sunweb-ProJob), Katie Compton (Spike Shooter) and Danny Summerhill (Clif Bar) are all expected to attend. Joining them are fellow Americans Todd Wells (GT), his brother Troy Wells (Clif Bar) as well as Mark McCormack (Clif Bar). International riders will also be racing, such as Joachim Parbo (Danish National Champion), Italian Davide Frattini (Colavita-Sutter Home) and Jim Bryan of the British National Team.
Fully lighted, the park features grassy slopes and paved paths that will make for a challenging course. Racing categories and schedules are Elite Women at 7:30 pm and Elite Men at 9:00 pm. Excel Sports CrossVegas will be taped for broadcast on Altitude Sports and Entertainment Network later in the fall in 10 Midwestern and western states. Initial airdate is Saturday November 10 at 3:00 MST.
Racing categories and schedules are Elite Women at 7:30 pm and Elite Men at 9:00 pm. More information is available at: crossvegas.com.
Chicago Cyclo-cross Cup back for fourth year
By Mark Zalewski, North American Editor in Chicago
Cross racing is alive and well in the American midwest, and the Chicago Cyclocross Cup is one of those reasons. While not yet hosting a UCI race, the five race series offers a variety of categories and a chance to race twice in the City of Chicago, including the final race right on the shores of Lake Michigan in mid-December.
The racing begins September 23 in Chicago's Jackson Park, with three races around the greater Chicago area in October and November, before returning to the city for the Illinois State Cyclocross Championship race at Montrose Park. More information and race flyers are available at: chicrosscup.com.
Learn cross from Jonathan Page
Herriott Sports Performance and Cascade Bicycle Studio are hosting a cyclocross weekend with American Cyclocross star Jonathan Page (Sunweb-ProJob) and former American cross champion Frank McCormack. Jonathan Page, the most successful American cyclocross racer in history, solidified this title with his silver medal performance at the UCI world championships last season; in addition to his 6 US national championships. Veteran US cross-racer, Frank McCormack, won the elite US Championship in 1997 at South SeaTac in Seattle and first introduced Jonathan to the sport of cyclocross.
The weekend will include a presentation on Friday evening, two three hour clinics on Saturday and a fundraiser dinner with a silent auction to raise money for Washington State athletes attending the Cyclocross World Championships. The dinner will be held at Brouwer's Belgian Cafe in Seattle. To the winning bidders at Saturday's auction, Jonathan will hold two private cyclocross skills clinic on Sunday, each 90 minutes in length. Other items up are up for auction. More information is available at: herriottsportsperformance.com.
No MTB for Nys
Nys in front of Vervecken
Photo ©: Emory Ball

Despite a serious preparation for the MTB-season Sven Nys decided halfway through June to stop chasing his Olympic dream. After tests in Leuven, Belgium, it became clear that his body can't deal with the extreme temperatures that are to expect in the Olympic MTB-race. "For me it's clear now," said Nys, "my body is more than 100% fit for cyclo-cross and I'm going to orient myself on that completely."
Nevertheless the Belgian continued his MTB program and managed to extend his national MTB-title in Ottignies on July 22. In that race he preceded former Olympic silver medallist Filip Meirhaeghe, while Belgium's best MTB'er Roel Paulissen didn't start. Nys was still planning to participate at the MTB world championships in Fort William, Scotland on September 9 before preparing for the cyclo-cross season.
Set back for Albert
Young Belgian 'cross champion Niels Albert didn't enjoy the best build-up to the cyclo-cross season, suffering two setbacks this summer which will leave him chasing after his early season 'cross form. On July 5 he crashed against a post during a road race in Melle - his collarbone was shattered by the blow and he had a 1.5cm deep head wound. The post was even worse off - there was only 10cm left it's original one metre height!
While Niels Albert (Palmans) was crashing against posts, his rival Lars Boom (Rabobank Continental Team) won the Dutch national TT championships. Despite the success on the road, the espoir world champion decided in August that he would focus more than ever on cyclo-cross. "I decided to fully focus on cyclo-cross during the next couple of seasons, mainly because cycling on the road has a much bigger impact on your body.
"In the summer I will keep racing on the road to become stronger and build up my stamina," Boom said in an interview with the Heusdense Courant. The Dutchman will focus on the cyclo-cross world championship in Treviso. "There I want to be a serious threat for Bart Wellens and Sven Nys, with a top-10 result I will not be satisfied," the self-assured 21 year-old from the Rabobank Continental team said.
The Dutch team has recruited two new cyclo-cross riders to make up for the loss of Sven Vanthourenhout and Richard Groenendaal. The new riders, Joeri Adams and Ramon Sinkeldam, come from an impressive junior pedigree. Adams is the junior world champion, while Dutch junior champion Sinkeldam finished 4th at the worlds.
Former world champion Groenendaal (36) left the Rabobank squad, and will ride as an independent rider in the AA Drink Cycling Team. After welcoming his second daughter, Mies, Groenendaal decided to finally work on his persistant stomach troubles. "I always used medication to control it, but since the surgery became less radical with a new technique I decided to get rid of it. Hopefully I can profit from it in the latter stages of my career," Groenendaal said on his website. The 36 year-old underwent surgery on his abdomen during the summer months.
Rad Racing returns
Ryan Trebon at a Radcup last year
Photo ©: Mitch Clinton

September 23 will see the return of the Rad Racing GP which will feature over 400 competitors from all over the country as well as a host of europeans. The event sponsored by Redline and Fig Newtons will be taking place at Fort Steilacoom Park in Lakewood, Washington, with 2006 US National champion Ryan Trebon (Team Kona) and Danish National Champion Joachim Parbo being among the starters.
The Rad Racing Cup of Cyclocross will be hosted by Rad Racing NW, a group dedicated to teaching young people life lessons through the sport of cycling and to developing top regional, national and international junior cyclists. One hundred percent of proceeds from the race will go directly to the Rad Racing NW Junior Development Cycling Team.
"It's important to keep a Washington event on the UCI calendar", said Jim Brown, Event Promoter and Director of Rad Racing, "With Redline and Fig Newton's major support we can do that, and benefit the riders of Rad Racing at the same time, it's a win/win situation for our program and for our sponsors." Redline a long time sponsor of the event also sees the importance of the event, Tim Rutledge, Redlines Marketing man sees the event as positive step for the sport "We are very excited about continuing to promote the Northwest's young riders, they are the future of our sport" he said.
Juniors race free in MAC
Thanks to increased sponsorship, the U19 Junior category will be able to race free of charge if they pre-enter MAC events in 2007. The sponsorship of supaFan.com is providing extra incentive for juniors to take to the dirt. "We want to have more courageous kids put down their video games and come out to see what 'cross is all about," says MAC Technical Director Kelly Cline. "We want kids to feel the cameraderie, meet skilled racers, get dirty -- and have fun!"
Any U19 Junior rider, male and female, who pre-enters the specific "supaFan.com Junior class" at any 2007 MAC race will have their entry fee paid by supa-Fan.com. Juniors who wait to register on race day will, however, still be responsible for the standard $10 late registration surcharge. According to J.D. Bilodeau, owner of supaFan's parent company Pioneer Event Productions, "Hopefully, eliminating the entry fee removes one more obstacle in getting riders to come out to the races. And, because the MAC has some of the most supportive racers and exciting racing in the country, we hope that once juniors try 'cross, they'll be hooked."
For more information on the supaFan.com - MAC Junior Incentive Program, contact MAC through its Media Director at kenmacpr@yahoo.com.
New fields for MAC
Big changes are on tap for the 2007 BikeReg.com MABRAcross series as the burgeoning Masters class will be split in two and the Elite Women will be racing for roughly the same prize money as the Elite Men "In 2006, the BikeReg.com MABRAcross Series had top women competitors like Dee Dee Winfield, Georgia Gould, Melanie Swartz and Lisa Vible, who won last year's championship," said MABRAcross Series Coordinator Chip Sovek.
We want to build on that and develop an even bigger women's presence in cyclo-cross generally, and in MABRAcross specifically, by establishing parity in the Men's and Women's purses," Sovek continued. "While several races within the series have already been exceeding the minimum payout for women, the additional assistance we are receiving from BikeReg.com will allow all the races to bump up to this level."
On the men's side, the competition for that prize money will be tougher than ever, thanks to the new 'Double M' format. At the MABRA promoter's meeting in February, it was agreed to split the Masters class in two based on the new USAC license categories, with the elite-level 35+ racers competing head-to-head with the open-class elites in the Men's Feature race.
Like the Under 23 riders in many UCI races, the Elite Masters will be racing as a subset of the Open Elite feature race, not as a separate class, and will be competing against the Open Elite 'young guns' for the same purse at every race. Conversely, now that the elite racers are racing in the feature, the non-elite masters will now have the class to themselves. Under the old system, a recently-retired World Champion, like Lance Armstrong or Marty Nothstein, could have come out of retirement and beat up on the weekend warriors in the Masters class instead of racing with other elite-level competition. "We've closed that loophole," says BikeReg.com MABRAcross Coordinator Chip Sovek. "Yes, the Cat 1,2,3 masters will have to race one or two additional laps, but for the Cat 3,4 masters this will open the competition up for them!"
With these changes, the BikeReg.com MABRAcross series expects to maintain its leadership as the fastest growing cycling series in America. For more information on the 2007 BikeReg.com MABRAcross Series, see www.mabra.org.
Ridley Factory team roster
The Ridley Factory Team, based in Minneapolis, MN announces its final rosters and sponsor lineup for the 2007/08 Cyclocross Season. Based out of Minneapolis, MN but covering multiple regions around the USA, the team will be led by elite team riders with grassroots development programs in each of the regions. The Ridley Factory Team will appear at USGP CX races, Vegas Cross, National Championships and other races across the US.
2007/2008 Team: Nick Weighall, Kevin Hankens, Rebecca Wellons, Paul Schoening (director), Bjorn Selander, Jerome Townsend, Dag Selander (manager), Michael Lappin, Ali Goulet, Rebecca Much, David Hackworthy, Linda Sone, Jeff Winkler, Rob Kramer, and Steve McNammee.
Upcoming UCI Cyclo-cross races
September 16: Steenbergcross, Erpe-Mere (Bel) C2
September 22: Kinetic Systems - Tailwind Cyclo-cross 1, Springfield Township, Michigan (USA) C2
September 22: Star-crossed, Redmond (USA) C2
September 23: GP Neerpelt Wisselbeker Eric Vanderaerden, Neerpelt (Bel) C2
September 23: Kinetic Systems - Tailwind Cyclo-cross 2, Springfield Township, Michigan (USA) C2
September 23: Rad Racing GP, Lakewood (USA) C2
September 26: Cross Vegas, Las Vegas, Nevada (USA) C2
(All rights reserved/Copyright Knapp Communications Pty Limited 2005)