Cyclo-cross news & racing roundup for October 25
Edited by Paul Verkuylen
Welcome to our regular roundup of what's happening in cyclo-cross. Feel free to send feedback, news and releases to mtb@cyclingnews.com.
Czech riders ready for World Cup on home soil
By Brecht Decaluwé
Zdenek Stybar of Fidea
Photo ©: Isosport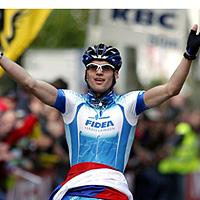 With Italy's Giro di Lombardia bringing the European road season to a close, the cyclo-cross circus is ready to take centre stage this weekend as the action moves from Flanders to the Czech Republic for the second World Cup event in Tabor. Last Sunday heralded the season's first World Cup in Kalmthout, Belgium and from now on the important 'crosses follow one after another at a ferocious pace.
After a tremendous effort in Kalmthout, there's no doubt Fidea's Zdenek Stybar will be the man to watch. The young Czech professional, a surprise winner of last weekend's World Cup, expects to have significant boost in motivation this weekend when racing at home.
"I lived in Kalmthout for two years so that's a special race for me," said Stybar. "Racing in Tabor is very special too because it's one of the few imes that the Czech people who follow me can actually see me racing. There is also the national championships, but that is different. Motivation is everything, so you can expect all the Czech riders near the front on Saturday."
Given his current form Stybar is expected to be the best Czech rider come Saturday, despite being cautious about his own chances. "For now, I don't know [what] the course will be like," he said. "I heard it is currently covered with snow but it should become warmer during the week. Last year [Czech rider Radomír] Simunek won and that was very nice for him, I hope to follow in his footsteps."
The 21 year-old Stybar is a two-time U23 world champion and this year decided to move to Belgium and turn professional. "I decided to live here all year long," he said. "In the past I stayed here with [Petr] Dlask during the winter only, but you should be here in the summer as well to find your way, to meet people. Right now I'm doing Dutch language training.
"I try," he laughed, when asked how his Dutch was progressing. "It's fun, you're between people although I must admit that I'm skipping lessons quite often these days, with the busy program we have."
Another motivation to become a flandrien is Flemish girlfriend Ine. "We decided to live together, although we didn't have anything to start with," he explained. "We just had the apartment in Essen, near Kalmthout. It's good to be on our own, we can do what we want."
The 21 year-old doesn't have any problems with the responsibilities that come with living away from home at a young age. "When I was 15 I was already travelling on my own between the races, it isn't something new for me."
Considering the manner of his victory last weekend, riding clear of the field on lap two and not being seen again, Stybar is likely to be a marked man in Tabor. "It was a fast course and that was to my advantage," admitted Stybar of the Kalmthout circuit. "Still, every race is different and we will see what happens. Right now I'm good in fast races but I hope to develop into a rider with more power so I can do well in the tougher races too."
Fellow Czech Petr Dlask turned 31 on Saturday and is thus a full 10 years older than his young compatriot. The five-time Czech champion has always promised a great future in international cyclo-cross, but injuries have plagued him throughout his career and it has been a while since Dlask captured a major win. This year his build-up was hampered again by a knee problem, but Dlask says things are progressing well. "My knee is getting better all the time," said Dlask. "There's no more oil between the bones and an injection should help me with that."
Last weekend in Kalmthout, Dlask didn't fare well, riding to an anonymous 27th place in the woods near Antwerp. Nevertheless the Czech giant is expected to ride near the front in Tabor, especially given that the rider has marked his home World Cup as a special event. "Next week is very important for me. The Belgians are always riding in front of their home crowds; we only have one big race," said Dlask, mindful that besides the Tabor World Cup, there are no major UCI cross events in the Czech Republic.
Last year's winner Radomir Simunek Jr is another local boy whose dream came true after winning his first World Cup race in front of friends in Tabor. "It's at home, so that's why it is my favourite race," he said. Home isn't exactly the right word since Simunek grew up in Bergen, near the Czech capital Prague, but nevertheless there's a connection with Tabor for the 24 year-old who currently resides in Rotselaar, Belgium during the cross season. "Before I turned pro I was riding for the Tabor cycling team, so I know the course very well."
Compared to last year, the son of 1991 world champion Radomir Simunek Sr isn't going as hard as he would like. "In September I crashed in a criterium, I was out for a week and that's why my form isn't like it should be," he explained. "Since my top form still has to come the world championships are the big target of this season. I want to do well in Treviso, that means I want to ride in the picture, hopefully the result can be a medal."
Perennial World Cup favourite and current world number two Sven Nys (Rabobank) was clearly strong in Kalmthout, but doesn't fancy his chances for Tabor. "Just like Kalmthout it is extremely fast so you can't make any mistakes," said the Belgian. "If I'm right, there's not even a corner on that course. Does it snow there? Well, I hope it stays like that because I prefer snow instead of a hard and fast subsoil."
There are no junior, women, or Under 23 races in Tabor this weekend, but Cyclingnews will provide full coverage from Saturday's action in the men's race which kicks off at 2pm local time.
Trebon and Compton headline Boulder Cup weekend
Ryan Trebon leads world champion
Photo ©: cyclingnews

US national champions Ryan Trebon (Kona-YourKey) and Katie Compton (Spike Shooter) will be among the main protagonists at the second annual Boulder Cup weekend from November 3-4 in Boulder, Colorado, with both riders returning from early season trips to the European 'cross circuit. The 2007 edition has been extended to include an additional day of racing after the resounding success of last year when thousands of spectators converged on Boulder to see the best US riders first hand.
With Saturday's C2-ranked Redline Cup at the Boulder Reservoir followed by the weekend's highlight, the category 1 Boulder Cup at Harlow Platts Park on Sunday, valuable UCI points are at stake.
Other top contenders in the men's field include 1999 US champion Tim Johnson (Cannondale/Cyclocrossworld.com), 2006 Boulder Cup winner Barry Wicks (Kona-YourKey) and Predictor-Lotto road professional Chris Horner. The women's event will feature Georgia Gould (Luna Chicks), US national under 23 champion Amy Dombrowski (Velo Bella) and local rider Melissa Thomas (Team Maxxis) all trying to challenge Compton after her impressive second place at the opening UCI World Cup in Kalmthout.
Saturday's elite race kicks of at 1.25pm for women, followed by the men's event at 2.15pm. On Sunday the elite women start at 1.30pm, followed by the elite men at 2.30pm. For more information on both events visit: www.dbcevents.com
Stybar leads Nys in rankings
A Belgian is not leading the UCI standings in cyclo-cross, for the first time in what seems like forever. After winning the first round of the World Cup last weekend in Kalmthout, Zdenek Stybar has leap-froged the Belgian Sven Nys to take over the lead in the UCI classification, albeit by only three points. Third place in the rankings is held by Frenchman Francis Mourey, who was also third in Kalmthout.
A consolation for Belgium is that Niels Albert is leading the Under 23 classification who has 60 points, 10 more than the Swiss rider, Julien Taramarcaz with Slovenian, Robert Gavenda.
Rankings as at October 23

Elite
 
1 Zdenek Stybar (Cze) Fidea Cycling Team       434 pts
2 Sven Nys (Bel) Rabobank Continental Team     431
3 Francis Mourey (Fra) Française des Jeux      270
4 Bart Wellens (Bel) Fidea Cycling Team        255
5 Christian Heule (Swi) Stevens Racing Team    240
6 Sven Vanthourenhout (Bel) Sunweb Projob      226
7 Niels Albert (Bel) Palmans-Cras              225
8 Klaas Vantornout (Bel) Fidea Cycling Team    222
9 Barry Wicks (USA) Kona-YourKey               190
10 Jonathan Page (USA) Sunweb Projob           176
 
Under 23
 
1 Niels Albert (Bel) Palmans-Cras               60 pts
2 Julien Taramarcaz (Swi)                       50
3 Robert Gavenda (Slo)                          45
4 Jonathan Lopez (Fra)                          40
5 Tom Meeusen (Bel) Fidea Cycling Team          35
6 Aurelien Duval (Fra)                          30
7 Lukes Kloucek (Cze)                           28
8 Ramon Sinkeldam (Ned)                         26
9 Thijs Van Amerongen (Ned)                     24
10 Philipp Walsleben (Ger)                      22

UCI cyclo-cross complete rankings.
Belgian selection for Tabor and European Championships
After some confusion earlier in the week over the amount of riders it was allowed to take to the World Cup round in the Czech Republic's Tabor, Belgium's national coach Rudy De Bie has announced the nation's complete line up for the event. The Belgians thought they were only allowed to bring nine riders to the event after the Czech Republic's Zdenek Stybar won the series' opening round, and took the lead in the UCI standings, but were later told that they were allowed 10 as they won the individual overall standing last season.
Following the first round of the World Cup on Sunday, De Bie calculated that he could select nine riders for the second round in Tabor, as the UCI was yet to release the updated points table. "If I tabulate the points from the race yesterday, I come to the conclusion that Zdenek Stybar has a few more points than Sven Nys," he told Sport.be. "Yesterday 10 riders were allowed to start, as the leader of the UCI ranking and the World Champion are automatically allowed to start."
Prior to the first World Cup round, where Stybar took the cyclo-cross points lead, Belgian Sven Nys (Rabobank) was leading the UCI rankings while compatriot Erwin Vervecken (Fidea) is the current world champion, allowing De Bie 10 entrants for Tabor. Since De Bie's decision to field nine riders on Monday, the UCI announced that the winner of last year's UCI World Cup was also an automatic start for all series' rounds in the following year, which allowed the re-instatement of Rob Peters to the line-up, meaning the team is unchanged since the last round.
De Bie also announced his selection for the up coming European championships being held in Hittnau, Switzerland. The team will be spearheaded by Under 23 World Cup leader and last year's winner Niels Albert.
Albert has expressed his disappointment with his selection for the event, as he originally decided that he would skip it in order to concentrate on the Super Prestige series. "The letter from the BK (the Belgian federation) was clear. No Euros means no selection for the Worlds," the Palmans rider told Gazet van Antwerpen. "Do you know what that will cost me? Because of my selection for the European champs I can't ride in Hamme-Zogge and that means I won't be able to achieve a good overall result in the super prestige series."
On November 4, De Bie will descend on the Swiss town with 19 riders, eight juniors, three women and eight under 23 riders.
Belgian team for Tabor World Cup: Erwin Vervecken (Fidea), Sven Nys (Rabobank), Bart Wellens (Fidea), Bart Aernouts (Rabobank), Klaas Vantornout (Fidea), Sven Vanthourenhout (Sunweb Pro Job), Kevin Pauwels (Fidea), Dieter Vanthourenhout (Easypay), Jan Verstraeten (Sunweb Pro Job), Rob Peeters (Landbouwkrediet - Tonissteiner)
Belgian squad for European championships:
Juniors: Stef Boden, Ruben Veestraeten, Wietse Bosmans, Vinnie Braet, Matthias Bossuyt, Gerry Druyts, Sven Beelen, Dany Lacroix
Under 23: Niels Albert, Tom Meeusen, Maxim De Busschere, Wim Leemans, Vincent Baestaens, Kenneth Van Compernolle, Stijn Huys, Quentin Bertholet
Women: Sanne Cant, Veerle Ingels, Katrien Pauwels
Dutch and Czech selections for Tabor
Dutch champion Lars Boom lines up.
Photo ©: Brecht Decaluwé

The Netherlands and the Czech Republic have also announced their squads for this Saturday's World Cup in Tabor, with the Czech Republic allowed to have one extra starter for their home event due to Stybars first round win and subsequent lead in the competition.
After Richard Groenendaal once again delivered the best result for the Dutch squad in Kalmthout (ninth), national coach Johan Lammerts opted to send an experienced team of riders to Tabor. Lammerts is hoping their experience and knowledge will see the riders finish higher than last week when four riders, Thijs Al, Gerben De Knegt, Lars Boom and Wilant Van Gils, finished together in 16th-19th places. Notably missing from the start sheet this weekend is the American squad.
The Dutch and Czech squads for the Tabor World Cup are:
The Netherlands: Gerben De Knegt, Thijs Al, Richard Groenendaal, Maarten Nijland, Lars Boom, Wilant Van Gils, Camiel Van Den Bergh, Jean-Pierre Leijten
Czech Republic: Petr Dlask, Kamil Ausbuher, Zdenek Stybar, Radomir Simunek, Zdenek Mlynar, Lukas Kloucek, Ondrej Bambula, Vladimir Kyzivat
Safety Jogger announced as World Cup sponsor
The UCI announced this week that Belgian safety and outdoor shoe manufacturer Safety Jogger will be the new presenting sponsor of the UCI Cyclo-cross World Cup. The new agreement between the UCI and Safety Jogger will cover the next Cyclo-cross World Cup season.
"We are very happy to have Safety Jogger on board as presenting sponsor for the upcoming UCI Cyclo-cross World Cup season. This will bring additional support to cyclo-cross, a sport with a magnificent history, and will help develop cyclo-cross outside the countries, where it has been traditionally popular" said UCI President Pat McQuaid.
The first leg of the 2007-2008 UCI Cyclo-cross World Cup, was be held in Belgium in October. The Netherlands will host the ninth and final leg of the 2007-2008 season in January.
US Gran Prix of Cyclo-cross kicks off this weekend
With a world class field of athletes scheduled to race and rain falling in Louisville this week, the excitement could not be greater for the first weekend of the US Gran Prix of cyclo-cross presented by Crank Brothers - Papa John's Derby City Cup presented by Toyota. "We have been completely blown away by the tremendous support and excitement shown by Papa John's, the local cycling community and the Greater Louisville Sports Commission in kicking-off the USGP series in Kentucky," said Bruce Fina, Executive Director, US Gran Prix of cyclo-cross. "We can't wait to bring some of the cyclo-cross athletes in the world to Louisville this weekend."

With rain interspersed throughout the week, spectators and athletes alike should anticipate a soft and muddy course which will definitely favor the more technical riders and should make for an exiting & spectator-friendly weekend of 'cross action.
The Elite men's races will feature two-time and defending USGP champion Ryan Trebon returning from a recent European swing to defend his title. Also lining up will be former USGP champ Barry Wicks - currently the top ranked US rider in the latest UCI ranking (ninth), Jeremy Powers, Jesse Anthony, Troy Wells and Tim Johnson. Joachim Parbo, the reigning Danish National Champion, will also race this weekend in Louisville.
In the Elite Women's field, the USGP will feature number one UCI ranked rider in the world and reigning world championship silver medalist Katie Compton who has been riding well in the early part of the season. Defending USGP champion Lynne Bessette will be back to defend her title in a strong women's field which also includes perennial contenders Kerry Barnholt, newly crowned Canadian Champ Wendy Simms, Georgia Gould and Katerina Nash.
The weekend kicks off with the Friday afternoon Clif Bar Kids' Cross Clinic with world championship silver medalist Danny Summerhill, Team Clif Bar's Ben Turner and USGP Technical Director Geoff Proctor at the Race Venue - registration is free and limited to the first 30 kids ages 10-16 on BikeReg.com.
For more information on the USGP, visit www.usgpcyclocross.com.
Upcoming UCI Cyclo-cross races
October 27: Coupe du Monde UCI / UCI World Cup, Tabor (Cze) CDM
October 27: USGP of Cyclocross - Louisville, Louisville (USA) C2
October 28: G.P. Commune Niederanven et GP Comat, Contern (Lux) C2
October 28: Herdenkingscross Etienne Bleukx, Zonhoven (Bel) C2
October 28: Intern. Radquer Steinmaur, Steinmaur (Swi) C2
October 28: National Trophy Series 2, Chantry Park, Ipswich (GBr) C2
October 28: Sint-Michielsgestel, Sint-Michielsgestel (Ned) NE
October 28: USGP of Cyclocross - Louisville, Louisville (USA) C2
November 1: Cyclo-cross international de Marle, Marle (Fra) C2
November 1: Internationales Radcross, Magstadt (Ger) C2
November 1: Koppenbergcross, Oudenaarde (Bel) C1
November 3: Chainbiter 9.0, Farmington (USA) C2
November 3: Vlaamse Houtlandcross, Eernegem (Bel) C2
November 3: Redline North American Cross, Colorado (USA) C2
(All rights reserved/Copyright Future Publishing (Overseas) Limited 2007)