Cyclo-cross news & racing roundup for November 13
Edited by Laura Weislo and Paul Verkuylen
Welcome to our regular roundup of what's happening in cyclo-cross. Feel free to send feedback, news and releases to mtb@cyclingnews.com.
Two first time World Cup winners in Pijnacker
Boom rumbles through the mud
Lars Boom (Rabobank)
Photo ©: Isosport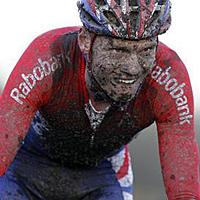 Round three of the UCI Cyclo-cross World Cup in Pijnacker, the Neteherlands, produced two first time winners at the World Cup level. In the men's race, young Dutchman, Lars Boom took the biggest win of his career in his own backyard in one of the toughest races so far this season.
After days of teeming rain, the course, which had favoured UCI leader Sven Nys for the past three years, became a mucky bog which was un-rideable in several sections. The tough conditions relegated Nys to limiting his losses in fifth, while his young team-mate rode to mud-spattered glory.
Boom's win underscored that importance of the under 23 time trial world champion's decision to focus on cyclo-cross for the coming seasons.
"I made the right choice," Boom said. "This weekend was one to remember. Up there with the strongest on two of the hardest races is super. To be able to win one of those makes it doubly so. It is for me confirmation that I made the right choice in choosing cyclo-cross," he told HLN.be.
"The week's rest that I had after Koppenberg had the right effect. This weekend, I wanted to be in good form for the first world cup in front of my own people. I dreamed of a podium place and it became more. When I was riding on my own in the lead, I expected Bart Wellens to come back. I actually let him catch me in order to spare strength for the last lap. It had to happen then and it did. The first world cup win of my career and to do it in my home country is just super," Boom explained.
Compton takes first 'cross World Cup win
By Brecht Decaluwé
Katie Compton (Spike Shooter) warms up the UCI leader kit in Colorado
Photo ©: Mitchell Clinton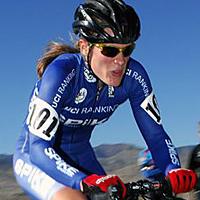 In only her third ever World Cup race, American Katie Compton (Spike Shooter) took her first victory on the cyclo-cross World Cup circuit. The 29 year-old UCI leader totally dominated the women's race in Pijnacker, Netherlands where local Dutch riders had hoped to continue their domination from previous rounds.
Thirty-four women started the second World Cup race of the season, and the big favourite was newly crowned European champion Daphny Van Den Brand (ZZPR.nl) who had won the previous World Cup race in Kalmthout. Compton decided things would be different this time and dropped everybody including Van Den Brand on the first lap.
A chasing group gathered behind the American including Belgian Sanne Cant (ASD Selle Italia Guerciotti) who had a good start, but the 17 year-old couldn't maintain her tempo and eventually finished eighth. While Compton worked hard to build her lead, a group of three women formed behind her. Van Den Brand and compatriot Rheza Hormes Ravenstein were joined by Birgit Hollmann (Team Getränke-Hoffmann) and going into the final laps it was clear they would battle for second place.
Compton cruised to grab her first ever World Cup win while Van Den Brand dropped her rivals to grab second place. The experienced Hormes Ravenstein claimed third place, accompanying her compatriot Van Den Brand on the podium.
See full coverage of the Pijnacker round of the cyclo-cross World Cup here.
Riders reactions after Pijnacker
Bart Wellens
Bart Wellens (Fidea)
Photo ©: Isosport

Bart Wellens finished the Dutch round of the World Cup in second, but explained that he didn't feel as good as Saturday when he won in Neil. "Definitely in the first half hour I didn't have the legs that I had on Saturday," Wellens told HLN.be.
"I gained morale because the others never gained more time on me even though I felt like I was not going anywhere myself. I was never more than a hundred meters behind. When I came back, I had the bad luck that Boom had calculated that that was the time to attack. I was able to hang on but the best was already gone. Each time I tried to overtake him, but I was never able to come around him and I then realised that I couldn't win."
That Wellens fought the entire weekend against Boom and not Nys came as no surprise. "Sven is just a man of flesh and blood," he said. "On top of that I have seen over the past few weeks that he is not as untouchable as in recent years. He remains the best rider of our generation but the top has now just become a lot broader. That Boom wins should not surprise us at all. We saw last winter already that he would quickly become a rival, just like Zdenek Stybar and Klaas Vantornout."
Klaas Vantornout
After a non start on Saturday due to sickness, Belgian Klaas Vantornout lined up on Sunday with the aim of salvaging a few World Cup points, yet ended up going home with a podium place. "My world fell apart on Friday night," Vantornout said. "I woke up with a swollen throat and had to take pain killers. Saturday morning I went to the doctors who told me that I had a swollen glands and a throat infection.
"That afternoon I feel asleep while watching the race in Niel on TV before leaving for Pijnacker that evening. I wanted to race in Pijnacker because a 17th place in a World Cup is still good for 60 points. You have to win a first category race for that. I had a good nights sleep and it has gone better than I had dared hoped for. The sickness is not yet set in properly I guess."
Van Amerongen dominates in Pijnacker
Although Pijnacker didn't feature as a world cup for the under 23 riders, the organisations still saw fit to hold a race for the category with many nationalities still represented in the field.
Dutch under 23 champion Thijs van Amerongen dominated the event going on to easily win in front of a huge Dutch crowd.
The Belgian duo of Bart Verschueren and Kevin Cant spent the entire race in a battle for the minor podium places with the German Hans Becking and Dutchman Ramon Sinkeldam. In the final phases of the event the duo lost contact with the Dutch/German pair and were even passed in the final lap by Jiri Polnicky who took fourth place.
Old school mud fight in Niel
By Brecht Decaluwé
Bart Wellens (Fidea)
Photo ©: Isosport

It was an old-fashioned cyclo-cross course in Niel where the weather gods decided that riders would run rather than ride on the flooded course. "Only one rider can ride behind the dyke, the rest need to run, it's too narrow there," complained Richard Groenendaal before the race. "There's not much I can do besides move the posts myself," the experienced Dutchman joked.
Eventually Groenendaal didn't have to move the posts himself since his request was heard by the organisers, and an hour before the elite men's race the 3km long course was broadened on the Rupel-dyke. What followed was a great spectacle between the cyclo-cross champions from the so-called Low Countries - Belgium and Holland - featuring experienced Bart Wellens (Fidea) against the young and talented Lars Boom (Rabobank).
After an epic 'cross where the race situation turned around dramatically in the final laps, Wellens emerged from the mud as winner in Niel, repeating last year's success where he benefited from Sven Nys' misfortune. By winning the second GvA-race, Wellens becomes the new leader in the GvA-trophy with a seven-point gap to UCI leader Nys.
With one lap to go it seemed like Dutch all-rounder Lars Boom would spoil the Belgians' party in Niel, but a flat tyre for Boom and the 'grinta' from Wellens turned things around. "This is my most beautiful win ever in Niel," four-time winner Wellens told Sporza TV. His win today was reminiscent of last year's Belgian championships in Hamme-Zogge, where he captured the national title in similar conditions, albeit without much competition.
"It was very hard today and Lars [Boom] was a very strong opponent," said Wellens of his Dutch rival - even though the two had been teasing each other this week in the Flemish press. The flamboyant Belgian then explained what happened in the penultimate lap. "Accelerating half a lap resulted in a blow during the other half of the lap, and I had just ran along when Boom attacked. I didn't panic and suddenly I noticed he was without speed on the bridge," said Wellens. "It was hard to stay focused since we were all worn out, but you had to focus to avoid mistakes and that's what I did; I think we were both equally tired."
Runner-up Boom explained why he couldn't continue his winning move on the last lap. "I lost speed due to a flat tyre," a disappointed Boom said. "Of course Wellens noticed this and that's how he could get away." The U23 time trial world champion wasn't as excited about the course as one hour earlier, when he showed a big smile before smashing into the mud. "It's still a nice course," he smiled. "This performance is nice. After the Koppenbergcross I knew that I wasn't in perfect condition. I didn't race this week and it worked well for me."
See full coverage of the Jaarmarktcross Niel here.
British women score top finishes
Helen Wyman
Photo ©: Global Racing Team

Two British women from the Global Racing Team had unprecedented successes in the Pijnacker World Cup. Gabby Day recovered from a heavy crash the previous weekend in order to line up with Helen Wyman for the mud bath that would follow.
Wyman was hampered by an early mechanical problem which forced her to run to the first pit, putting her 30 seconds behind the last rider, but after a bike change, set out in determined pursuit. At the end of lap three, she had nearly caught the tenth rider, and at the end scored her highest World Cup finish in sixth.
Gabby Day in Pijnacker
Photo ©: Global Racing Team

Day fought her way into the top ten from a third row starting position, and held her own in the slick, leg-sapping conditions to finish ninth, just behind 17 year old Belgian sensation Sanne Cant. Following her top ten finish at the recent Koppenberg Cross, Day showed she is a real contender for a top ten, and a talent for the future.
The Global Racing riders are now preparing for the next round of the Women's World Cup in Koksijde, Belgium where they will be hoping to continue their good form.
New course for Chicago 'Cross Cup #5
On Sunday, November 18 the Chicago Cyclo-cross Cup heads to Lan Oak Park in Lansing, Illinois for round five of the series. Lan Oak Park 'Cross will be hosted by the South Chicago Wheelmen and supported by City Cyclery, Trek Bicycle Store of Schererville, and Chicago Dough Company.
Lan Oak Park Cross is a new course nestled in a park-like setting featuring open fields, mature trees, and mixture of turf, asphalt, pavers and a sandpit, in a fast and flat course.
Points will be awarded to the top 30 places within eight group categories with the winner receiving an Overall Series Winner jersey. Additional prizes will also be awarded to other top performers.
The series will end with round six on Sunday, December 9 with the Illinois State Cyclo-cross Championship at Montrose Park in the City of Chicago.
Further information about the series can be found by visiting www.chicrosscup.com
Upcoming UCI Cyclo-cross races
November 17: GP Stad Hasselt, Hasselt (Bel) C2
November 17: North Carolina Grand Prix 1, Hendersonville (USA) C2
November 17: USGP of Cyclocross - Mercer Park, West Windsor, New Jersey (USA) C2
November 18: Cyclo-cross International Aigle, Aigle (Swi) C1
November 18: GP Città di Verbania, Paco Donati, Verbania (Ita) C2
November 18: National Trophy Series 3, Mallory Park, Leicestershire (GBr) C2
November 18: North Carolina Grand Prix 2, Hendersonville (USA) C2
November 18: Superprestige, Gavere (Bel) C1
November 18: USGP of Cyclocross - Mercer Park, West Windsor, New Jersey (USA) C2
(All rights reserved/Copyright Future Publishing (Overseas) Limited 2007)