Latest Cycling News for January 24, 2007
Edited by Hedwig Kröner with assistance from Susan Westemeyer
Tinkoff presents 2007 team
By Gregor Brown in Rome
Tyler Hamilton
Photo ©: Roberto Bettini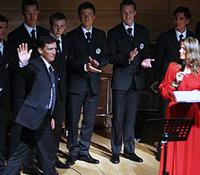 Tinkoff Credit Systems held its 2007 team presentation last night in the Eternal City of Rome. The Italy-based team, backed by Russian bike enthusiast and businessman Oleg Tinkoff, was on display at a swanky jazz club amongst celebrities, including two Formula One drivers and two AS Roma footballers, but more important were the cycling dignitaries.
The team is only a Professional Continental team and will have to rely on wild card invitations to the big races. Its goal will be the Giro d'Italia, with other Italian ProTour races almost guaranteed. A very good signal for the team was the presence of Italian national DS Franco Ballerini, president of the Italian cycling federation (FCI) Renato Di Rocco and Director of the Giro d'Italia Angelo Zomegnan; the last being the key to Tinkoff's invite to the Corsa Rosa in May.
"We will have 18 ProTour teams and four wild cards," said Zomegnan to Cyclingnews Tuesday night. This means that two ProTour teams will be left at home, while opening the doors for more Pro-Conti teams that have a strong desire to race the Giro, like Tinkoff Credit Systems.
One of its biggest signings over the off-season was American Tyler Hamilton. "It is exciting to start with such a group of young riders [the majority of the Russians - ed.] that are eager to learn," explained Hamilton, who, along with Danilo Hondo and Salvatore Commesso, will be the team's experienced rider and act as a guide for the younger members.
The team was looking tan and ready to race, after a gorgeous week in Toscana for training. German Hondo will have to wait longer to start, until the end of March, due to a decision by the Swiss courts. He will miss out on his favourite race, the Milano-Sanremo, but perhaps it will provide greater motivation for later events.
"Everyone is hungry of competition," explained the German to Cyclingnews, who is based in Switzerland, near Lugano. "Look, I will miss the races in March, like Sanremo, but I have worked for two years and two more months won't be much. Maybe it will be even better overall; I will be ready for the following races, while some of the riders might already be tiring."
Part of the team will start 2007 in the Tour de Langkawi, February 2 - 11, while a second group will head to France for the GP d'Ouverture La Marseillaise on February 6. A complete team presentation report will follow soon on Cyclingnews.
Team riders for 2007: Tyler Hamilton (USA), Elio Aggiano (Ita), Pavel Brutt (Rus), Ilya Chernetsky (Rus), Salvatore Commesso (Ita), Daniele Contrini (Ita), Danilo Hondo (Ger), Sergey Klimov (Rus), Mikhail Ignatiev (Rus), Ruggero Marzoli (Ita), Anton Mindlin (Rus), Evgeni Petrov (Rus), Ivan Rovny (Rus), Alexander Serov (Rus), Ricardo Serrano (Spa), Nikolai Trussov (Rus), Steffen Weigold (Ger) and Vasil Kiryienka (Blr).
A full listing of the team can be found on the Cyclingnews teams database.
Big ambitions for Kash
An interview with Andrey Kashechkin
Andrey Kashechkin of Astana holds aloft the trophy
Photo ©: AFP

Confidence boosted by his stage win and third place overall in last year's Vuelta a España, Kazakh rider Andrey Kashechkin is hoping to go even better in 2007. Cyclingnews' Shane Stokes heard what he has to say.
2006 was a breakthrough season for Astana rider Andrey Kashechkin. Winning a mountain stage and finishing on the podium of the Vuelta was undoubtedly the highlight, but there were other results which confirmed that he had stepped up a level as regards his pro career. A stage win in Paris-Nice, victory in the national road race championships, third in the Tour of Germany, third in the Clasica San Sebastian and fifth overall in the ProTour marked him out as a big threat in both stage races and one day events. Now the increasingly confident 26-year-old is heading into the new season with bigger personal and team ambitions.
"If I participate in a race, it is to try to win it," he said at the recent team training camp in Mallorca. "The Astana cycling team's objective is to win the Grand Tours. And for me, the goal is the Vuelta.
"In 2007, I will work for Vinokourov in the Tour de France and then go for personal victory in the Tour of Spain. I know that I can achieve a top result in a race of three weeks. Riding well in the 2006 Vuelta meant that I am now more confident in myself, and I hope to have an even better season this year."
Kashechkin's determination is undoubtedly boosted by what happened four months ago in Spain. He and Vinokourov gained form as the Vuelta progressed, winning a total of four stages between them and placing first and third on the podium. It was the first ever Grand Tour victory for Vino, and the best ever result in a three week stage race for Kash.
For the full feature on Andrei Kashechkin, please click here.
Pound pleads for "greater unity" in the fight against doping
Pereiro in the maillot jaune at the 2006 TdF
Photo ©: Sirotti

The president of the World Anti-Doping Agency, Richard Pound, has called for "greater unity" of the sports' institutions in the fight against doping. Speaking yesterday from Madrid, Spain, where he met with Sports Minister Jaime Lissavetzky in preparation of the World Anti-Doping Conference to be held in the Spanish capital from November 15-17, 2007, Pound was asked for comment on the use of salbutamol, an asthma drug, by Tour de France runner-up Oscar Pereiro (see previous story).
"I'm very interested in the outcome of the Pereiro case. All of this is very confusing," Pound told Spanish media. "If it's a case of Therapeutic Use Exemption (TUE), it shouldn't have come out to the media." French paper Le Monde had made the story on the supposedly missing justification of Pereiro's asthma drug use at the Tour de France public. Meanwhile, the Spanish rider has sent the documents to the French Anti-Doping Agency AFLD, who had requested them despite the rider's TUE clearance from the UCI. Currently studying the medical files, the Agency is expected to come to conclusions on Thursday.
"We have to work together," continued Pound, speaking of the different institutions controlling the sports' ethics. "Try to harmonise our efforts so that the national agencies don't go on one way and the international ones on another. We have to be united in zero tolerance against doping."
Meanwhile, Caisse d'Epargne rider Oscar Pereiro has asked for Le Monde to rectify the story. "The Spanish government should take legal action against the paper," he told AS. "I want them to correct their information and to do this using the same amount of space in their pages, saying that they made a mistake."
The 2006 Tour de France runner-up, who could still become the official winner of the French Grand Tour if Floyd Landis is ruled guilty of doping by the American Anti-Doping Agency this spring, thinks that there is currently "a big interest fight in the world of cycling. Sometimes I have doubts on my continuing as a cyclist, but I feel good about what I do and I still have three years. It would be stupid to stop now."
Still, Pereiro acknowledged that cycling had a major problem. "I don't know if the anti-doping detection methods are reliable to a 100 percent," he added. "They improve the tests every day, but sometimes there is this small percentage of an error margin that produces false positives. Landis defends himself, and I want to believe that he didn't dope. I've never seen anyone do anything, but we are still all guilty - if there are doping cases it's because it does exist."
Australia and Mapei back in business in Langkawi
By Jean-Francois Quénet
For the first time since 1998, an Australian team will feature in Le Tour de Langkawi from February 2-11, in the form of a promising bunch from the SouthAustralia.com-AIS continental team, which is sponsored by Mapei, a name synonymous with cycling.
With the inclusion of the start list of Southaustralia.com-AIS, Le Tour de Langkawi goes back to its roots, since the early success of the Malaysian event had been set internationally by Australian riders and the Singapore-based Italian chemical brand Mapei, whose name appeared on the team of the 1990s which raised the level of the Tour back then.
Australia produced the first winner ever of Le Tour de Langkawi with Damian McDonald in 1996, the first sprinting star in the record books being Jay Sweet who later became a Tour de France rider and a Commonwealth Games champion, beating Malaysia's Nor Effandy Rosli in Kuala Lumpur in 1998.
It was also 11 years ago, in 1996 the year of the inaugural Le Tour de Langkawi, that the winning team Giant was the first internationally recognised professional cycling team from Australia. It wasn't a private business. The squad was backed by the government and founded by the famous Australian Institute of Sport (AIS).
Although road cycling wasn't really existing Down Under 15 years ago, apart from the presence in Europe of pioneers such as Phil Anderson, Allan Peiper, Neil Stephens and Scott Sunderland, the AIS has produced many champions since. The likes of Robbie McEwen, Stuart O'Grady, Henk Vogels, Bradley McGee, Baden Cooke and Cadel Evans, just to name a few, have all come from the different cycling sections (road, track, MTB) of the AIS.
Under the name of Southaustralia.com-AIS, Australia makes its return to Le Tour de Langkawi with riders in their development program for the first time since 1998. This squad has raced in the Tour Down Under and now Le Tour de Langkawi will be their final race before heading to Europe where they will set up base for the whole season.
"We didn't want to come back until we had the team capable of doing it well," coach Brian Stephens explained. "This year, our young guys have the level for getting results in Malaysia. Having done the Tour Down Under, they are in good shape for Le Tour de Langkawi. We also want to give them more exposure by racing against the ProTour teams. For that reason we are happy to come back."
Gene Bates
Photo ©: Shane Goss

Southaustralia.com-AIS will be led by Gene Bates, who came close to winning a stage in Tampin last year while he rode for Italian team LPR, but he came second in the sprint behind his breakaway companion Laurent Mangel from AG2R. It will be interesting to see the spectacular improvement of the recently crowned U23 Australian champion Wesley Sulzberger. "Our sprinter will be Nic Sanderson," Stephens announced.
Sanderson, a silver medalist at the World Junior Championships in Zolder, Belgium, in 2002, has shared the experience of racing with Malaysian Ng Yong Li in the under-23 team of Liberty Seguros in Spain in 2005. "We spent three months together and became good friends," Sanderson said. "I was impressed to see how much he improved during that time. He lost a lot of weight as well. I'll be happy to see him in the same bunch again at Le Tour de Langkawi." Southaustralia.com/AIS line up for Le Tour de Langkawi (Feb. 2-11): Gene Bates, Jonathan Clarke, William Ford, Shaun Higgerson, Nic Sanderson and Wesley Sulzberger (all Australians).
Bouyer without a team
French pro riders support Bouyer at the 2006 Cholet-Pays De Loire: "An innocent man pays for the cheaters"
Photo ©: Régis Garnier

French pro rider Franck Bouyer did not get his contract renewed for the 2007 season. The former Bouygues Telecom rider, who is suffering from narcolepsy (uncontrollable sleep attacks) has not raced for nearly two years, and his employer Jean-René Bernaudeau did not have a choice but to let him go. Bouyer is not allowed to compete since he needs to take forbidden substance modafinil in order to treat his illness.
"I wasn't happy doing it, but we had been paying him for two years even if he couldn't race," explained Bouygues Telecom manager Bernaudeau to L'Equipe. "He will continue his fight, which is right, and we will not let him down. As soon as his situation is regulated, he'll get his place back."
The UCI prohibited Bouyer to race in March 2004, after his condition was revealed. While the World Anti-Doping Agency WADA allowed him to race in August 2005, the UCI appealed the decision, and Bouyer appeared in front of the Court of Arbitration for Sport in January 2006. He was then again prohibited to compete in March 2006, and has been continuing his fight to obtain a TUE (Therapeutic Use Exemption) ever since.
Bouyer will give his file to a civil court before the end of this month. "It was entirely examined by sports doctor Michèle Potiron, who integrated all the tests that I underwent these past two years," Bouyer said. "She concluded that the use of modafinil didn't enhance my performances, but actually decreased them."
If the judge considers the file to be valid - the investigation is expected to last about three months - then Bouyer will have an argument to apply for a TUE at the UCI. He also has an appointment with French sports minister Jean-Francois Lamour, the new WADA vice-president, in February. "I think it is important that he understands the details of this affair," Bouyer added.
More team line-ups for Qatar
Gerolsteiner
Team Gerolsteiner is sending its sparkling-water boys to the desert. The sprinters will have the upper hand in the Tour of Qatar, starting this coming Sunday: Giro and Vuelta stage winner Robert Förster will lead the team, which also features Sven Krauss, Volker Ordowski and Peter Wrolich, as well as the three neo-pros, Johannes Fröhlinger, Tom Stamsnijder and Oscar Gatto. Raimund Dietzen and Theo Maucher will direct the team.
Rabobank
Three newcomers to Team Rabobank will make their debut at the Tour of Qatar. Leon van Bon, Sebastian Langeveld and Rick Flens will ride for the team for the first time in the Middle East. They will be joined by Jan Boven, Graeme Brown, Matthew Hayman, Gerben Löwik and Thorwald Veneberg, and directed by Frans Maassen.
Kelly Team
By Shane Stokes
Launched last year as the Sean Kelly racing team, the newly renamed Murphy & Gunn/M. Donnelly Sean Kelly squad has announced its line-up for the Tour of Qatar. Getting an invite to the race is a major boost for the Continental team, which is hoping to amass more experience and results this season. The squad is part-funded by Irish sponsors, the Irish Sports Council and Cycling Ireland but is based in Merchtem in Belgium.
Irish under 23 champion Paídi O'Brien, compatriots Paul Healion, Stephen Gallagher and Mark Cassidy plus Belgians Tim Meussen, Rieno Stofferis and Christophe Beddegenoots and Dane Glen Bak will all line out in the prestigious 2.1 ranked early-season opener. The race runs from this Sunday, January 28, until Friday March 2, and many of the world's top teams are scheduled to take part.
The official launch of the squad will take place on Tuesday February 6 at the Murphy & Gunn showrooms in Milltown, Dublin. The team have just returned from a training camp in Mallorca.
Valverde, Boonen, Freire and Zabel in Mallorca
By Antonio J. Salmerón
The Spaniards Alejandro Valverde (Caisse d'Epargne-Illes Balears) and Oscar Freire (Rabobank), as well as the Belgian Tom Boonen (Quick Step) will be the main protagonists of the 16th Cycling Challenge de Mallorca, scheduled to take place from February 11-15. A total of 19 squads from many nationalities will participate; including ten Spanish ones. Further big names also taking part are Erik Zabel (Team Milram), Gilberto Simoni (Saunier Duval) and Francisco Mancebo (Relax-Gam).
The Challenge de Mallorca will as usual be divided into five stages, which add up to a total of 733 kilometres. The first stage will start on Sunday, February 11, in Palma de Mallorca. The Challenge will then continue from Cove Millor to Cala Bona (159.7 km), Pollença to Isla Colomer (161.4 km), and from Sóller to Port de Sóller, before starting for the last time in Magalluf. The first race of the Spanish 2007 calendar will then finish in Palmanova, on Thursday 15.
The Challenge de Mallorca will be broadcast by Teledeporte (TVE) during the week, and by La 2 of TVE on the weekend, in addition to a local television. The negotiations for coverage between the Spanish Race Organisers Association and the public national television, TVE, thus continue in search of reaching a satisfactory agreement.
Post-Tour Criterium in Karlsruhe
There will be a new post-Tour de France criterium on the German circuit. It will be held in Karlsruhe on August 1, and the Sports Director will be former rider Jens Heppner, now Sports Director for Team Wiesenhof-Felt. The race will be held on a 1,2 kilometre long city course, and organisers hope to attract the top names from the Tour de France.
"I find the timing really great, so soon after the Tour, when cycling is really living," Heppner said. "I have organised something like this in Hannover, and there we had 40,000 people on an 800 meter course. It was like a festival."
The criterium was announced Tuesday in conjunction with the team's presentation.
A son for Popovych
Yaroslav Popovych missed his flight for the Discovery Channel training camp and won't be there on time, but no doubt the team will forgive him. Instead of flying to California, he chose to stay home for the birth of his son, Jason, who arrived Tuesday evening.
Previous News Next News
(All rights reserved/Copyright Knapp Communications Pty Limited 2007)