Cyclocross news & racing round-up for January 28, 2006
Edited by Steve Medcroft and Jeff Jones
Welcome to our regular roundup of what's happening in MTB and Cyclo-cross. Feel free to send feedback, news and gossip to mtb@cyclingnews.com
Fast, freezing and tacky - a fast course for the 2006 'cross world's
By Steve Medcroft in Zeddam
2005 men's champion Sven Nys (Belgium)
Photo ©: AFP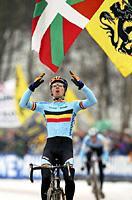 The cyclo-cross season comes to a head in the Dutch hamlet of Zeddam this weekend. In four competitions over two days, the UCI World Champion Elite Junior, Espoir, Woman and Man will be crowned. Course planners have been building bridges and wooden steps in and around the hills of tiny Zeddam for several weeks, and the final course has been open for practice all week.
The weather has been mild for a Northern Europe winter; the ground is devoid of snow and the temperatures have hovered around and above freezing enough that the course promises to be tacky and fast. A tacky and fast course, as if any advantage is needed, plays to Sunday's elite men's race favourite, defending World Champion Sven Nys (Bel). He's had a season of success, leading the World Cup and SuperPrestige standings, having won eight of ten World Cups and the Belgian National Championships (among other victories). (continued)
Cyclingnews will provide full coverage of the 2006 Cyclo-Cross World Championships this weekend. Also see: Full preview, Start list, Schedule & results, Map, History.
Vervecken ready for World's
By Brecht Decaluwé
The last World Cup race before the World Championships has been won by Erwin Vervecken of the Fidea team. In the Dutch town of in Hoogerheide, he finished alone ahead of John Gadret (Ag2R) and Enrico Franzoi (Franzoi). Bart Wellens (Fidea) had a good attacking race and finished fourth.
Talking with Belgian Sporza radio, Vervecken explained how took this victory. "Immediately, there were 25 men together, so the race was difficult to control. Bart attacked and I helped him by dropping a small gap. Sven Nys (Rabobank) and Gadret (AG2R) did not spare their efforts when trying to close down the gap with Wellens and Simunek (Palmans). Gadret and Franzoi (Lampre) could follow me when I attacked. On a climbing part of the circuit, I used my turbo to make the difference. Bart Wellens could help me in the final lap by letting a gap go in the downhill part.
"This first big victory of the season is in fact quite logical because I am the number two on the UCI rankings. The last weeks, most of the time, I finished second, so I knew that my stamina was alright. Next week will be more selective than today, but in a tactical race I will have my chance. Nys is no longer the untouchable ride of November when he could win without an effort, but he's still the best."
The biggest surprise today was the eighth place of Sven Nys, after winning eight of the nine stages of the World cup. "I was riding a nervous race, with some serious attacks and some defensive racing in the back of the bunch," he said. "We made contact with the race leaders in the last lap. But then I had a flat tyre. If you encounter such problems in the last lap, there is nothing you can do.
"In a very calm week, with only one race, I gained back my mental freshness. Next week, I'll race more in the offensive, because I don't want to take any risks. All Belgians want to become World Champion, so we don't race as a team. I'll ride for myself, and nobody else."
Bart Wellens was riding in front for most of the race. "In the past two weeks, I trained a lot. After the Belgian Championships, I wanted to get 10 percent better for the World's. Today, I only wanted to get a good feeling in the race. I could ride away on a easy part of the circuit and only Simunek was following. The young guy did a lot of work, but in the last three laps he was out of gas. He did a nice race.
"Nys will always remain the top favourite for the World's, but I want to be his main rival. My team mate Vervecken and also Gadret will make sure it will be a good race. Next week, I want nothing else than the world title."
Read the entire Hoogerheide World Cup race report and results here.
Belgian 'Cross Worlds team announced
Belgian coach Rudy de Bie has announced the Belgian teams for the World's in Zeddam.
Elite
Klaas Vantornout
Sven Nys
Bart Wellens
Erwin Vervecken
Bart Aernouts
Tom Vannoppen
Sven Vanthourenhout
Reserve
Jan Verstraeten
Wim Jacobs
Espoirs
Niels Albert
Kevin Pauwels
Rob Peeters
Jan Soetens
Dieter Vanthourenhout
Women
Kathy Ingels
Veerle Ingels
Anja Nobus
Joyce Vanderbeken
Juniors
Joeri Adams
Dries Govaerts
Tom Meeusen
Kenneth van Compernolle
Dennis Vanendert
The adventure continues; The Barbara Howe Diary
This week I've learned a bit of English cooking. Three out of the five residents (Canadian Dave went home) hail from Great Britain and are keen on sharing their culinary traditions.
The smurf house
Photo ©: Helen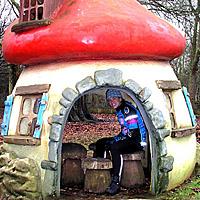 To celebrate the mingling of cultures we invited Harry, Amelia, and Joscelin over for a proper English dinner. Dinner or tea (the English term) started with a trip to the grocery store to stock up on potatoes and winter root veggies. The meal plan was to have cheese on toast, followed by cottage pie finishing off with trifle. For those that don't know what cottage pie or trifle is (like myself before this week) here's the lowdown on English peasant food. Cottage pie is browned ground meat and onions with beef stock, carrots, parsnips, and turnips topped with mashed potatoes and baked. I made my own pie without beef or beef stock. It had carrots, onions, parsnips, turnips, mushrooms, peas, and hot peppers (a deviation from traditionally bland meals) topped with mashed potatoes. Trifle is a beautiful layered dessert that will haunt my dreams for years to come. You start with sponge cake (500g) on the bottom of large bowl, dump a can of fruit cocktail (1 litre) on top mixed with red liquid jello (2 litres). This is chilled until set than layered with vanilla pudding (2 litres) and whipped cream (1 litre). The whipped cream is decorated with multicolored sprinkles and one maraschino cherry.
The grocery store didn't have flavoured jello so we settled for fruit juice and gelatin. Cherries were only available in large tubs so we skipped those. Helen started the trifle Monday night so the jello had time to set. Tuesday afternoon we started on the rest of the meal, beginning with peeling 10 lbs of potatoes while watching TV. The stove here has a few quirks. It is incapable of boiling large pots of water. Even if you put boiling water into the pot it stops boiling and will never achieve that state again. The potatoes went into three separate pots. Harry and Ameila showed up as the pies went into the oven. The cheese on toast is just that, cheese on bread popped into the broiler until it bubbles - top with black pepper and soy sauce or ketchup. We had intended to server Guiness with the meal but Keirin forgot to buy any and so we had to settle for wine instead. The pies were delicious, even though the veggies in mine were closer to fresh than overdone. Dessert was delicious - I thought it would be overly sweet but was actually quite enjoyable. The trifle's tremendous size provided several nights of leftovers.
Reas the rest of the Barbara Howe diary here.
Bikes of 'Cross Nationals, part 3
By Steve Medcroft
Bundled up against the cold

Howe runs Zipp 303 Paves

Barb's custom 'cross race bike

In this third and final instalment of our look at the independent builders of U.S. Cyclo-cross Nationals, we take a look at Barbara Howe's Velo Bella team-issue Rock Lobster.
The women of the Velo Bella racing team stand out in any race they attend. Not only because they hammer on the bike but because they have a penchant for sparkly pink hair and lipstick while racing. When frame builder Paul Sadoff was challenged with the opportunity to provide bikes to the flashy and femme Velo Bella elite 'cross racer Barbara Howe, he answered with a stocky, purple racing steed.
Who is Rock Lobster
Sadoff says Rock Lobster's history is rooted in two truths present in his life in 1978. "I was an obsessed bicycle mechanic, curious about how frames were built," he says. "And I was too broke to buy the shiny blue Bob Jackson Messina 56cm road frame I wanted."
Sadoff worked at a bike shop owned by the father of framebuilder Dean Covey. "Dean had a bunch of tubing to sell and was willing to give advice to anyone on the crew who wanted to learn." Sadoff built his first frame under Covery's tutelage and followed it up with nine more. In 1988, after a decade as a hobbyist focusing on racing frames, Sadoff went full time. Producing mostly mountain-bikes at first, Sadoff, a musician who had given up membership in a gig band to pursue frame building, named his company after the B-52's new wave anthem, Rock Lobster.
Today, Sadoff, along with an assistant, builds about 100 steel, aluminium, Scandium and carbon frames a year. About a third of them go to racers and are given at no or little cost to the rider. "I learn things from racers I couldn't learn from my own riding," Sadoff says. "Class riders like Barb are great for my product research and reputation. If she likes the bikes, it's naturally a good thing. If she doesn't it is still good as will get valuable humbling and feedback. You have to keep improving in this business."
Read the entire Barb Howe Rock Lobster pro bike article here.
Luna switches to Orbea for 2006
The Luna women's mountain bike and triathlon teams will ride Orbea bikes for 2006 and 2007, Orbea USA has announced. The deal will see the team aboard Orbea's Alma and Oiz mountain bikes, Orca road bikes and Ordu TT bikes. The team formerly rode Santa Cruz bikes.
"This is the perfect partnership for us," said Tony Karklins, Orbea USA's managing director.
Shonny Vanlandingham, Katarina Hanusova, Jimena Florit and Georgia Gould will defend their NORBA National titles and race selected World Cup and X-Terra events in 2006. Alison Dunlap will attend events conducting women's rides & clinics. She will also provide coaching advice to LUNA's pro athletes and ambassadors. Marla Streb will preserve the gravity aspect of the program as she continues serving as LUNA's one-woman PR machine and part-time racer.
(All rights reserved/Copyright Knapp Communications Pty Limited 2006)