Cyclocross news & racing round-up for February 4, 2006
Edited by Steve Medcroft
Welcome to our regular roundup of what's happening in Cyclocross. Feel free to send feedback, news and gossip to mtb@cyclingnews.com
Cyclocross World Championships Wrap-Up
By Steve Medcroft
Boy Van Poppel (Ned) wins
Photo ©: Luc Claessen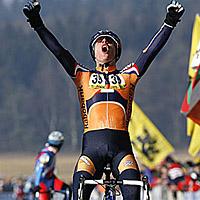 Zeddam turned out to be a kind venue in which to hold the 2006 Cyclocross World Championships. The skies stayed clear and dry all weekend but the temperature never stayed above freezing so the race was run on a dry, clean course with a super-firm, super fast surface.
Which was a set-up for favourites to be favourites and meant that riders like Sven Nys (Bel) and Daphny Van Den Brand (Ned), who have essentially dominated the elite versions of the sport this season, should have powered their way to the top steps of the podium.
But cruel fate decided to lend a hand in the outcome and although we saw strong, fast racing, the favourite were serendipitously bumped off their high horses with the most minor of uncontrollable accidents; a flat tire for Van Den Brand and a nasty spill Nys.
When fate handed them an opportunity, Marianne Vos (Ned) and Erwin Vervecken (Bel) took advantage. In the women's race, Vos had been shadowing leaders Hanka Kupfernagel (Ger) and team-mate Van Den Brand the entire race. Kupfernagel threw on the gas when Van Den Brand flatted, knocking the World Cup leader out of contention and leaving only Vos on her wheel. "I knew Marianne wouldn't take the lead, though " Kupfernagel said after the race about the fact that Vos, with no incentive to work at the front while there was still a chance her team-mate could catch back on, rode in Kupfernagel's slipstream the entire last lap, "but I figured it would be better to have to fight only one Dutch woman and not two."
Vos, who is (unbelievably) only eighteen years old, waited for the final straight to make her move. "When I looked at the U23 race (held the day before and won in the final straight by Zdnek Stybar (Czech Republic) with a slim margin over Lars Boom (Ned), I knew that even ten meters was a sure loss so I had to be as close as possible out of the last turn."
Vos timed her come-around perfectly and added an elite cyclocross world championship to her 2004 junior road world championship, 2005 European cyclocross championship, Dutch elite cyclocross, and Dutch junior road and mountain bike championships. Before that, she won the junior road World Championship.
In the men's race, a compact lead group had struggled to form all day but when it did it contained only four riders; Nys, Vervecken, Bart Wellens (Bel) and Francis Mourey (Fra). When Nys crashed, he was sitting fourth behind Mourey. Vervecken, on the front at the time, managed to build a small gap and won fifty meters ahead of Wellens (who outsprinted Mourey for second). Nys never finished.
The win was Vervecken's second World Championship; he earned the first in 2001. "With a half lap to go," he said after the race, "I knew I could win. In the last corners, everything was like a dream. This world title was far more emotional than my first one in Tabor."
See also: U23 full results & report, Juniors full results & report, Main, Schedule & results, Map, History, Start List, Photos
Cracked hip for Nys
Sven Nys (Belgium)
Photo ©: Luc Claessen

Sven Nys' crash in the Cyclocross World's last Sunday has resulted in a small crack in his hip bone, which may jeopardise the rest of his season. Nys was examined by doctors in Herentals, Belgium, on Tuesday, and was given the OK to continue training and racing, despite the crack. "Apparently, cycling holds no risk," he told Sportwereld.be. "In the next few days, I'll try to keep training as normal. On Friday I'll decided whether I'll start in Lille on Saturday."
With rounds of the Gazet van Antwerpen Trofee and Superprestige series this weekend in Lille and Hoogstraten, Nys risks losing his position at the top of the standings. "If I don't start, then I can forget the classification. Even if I still rode in Vorselaar and Oostmalle within two weeks.
"To think about it is frustrating. I see something that I've worked for for the whole year slip through my fingers because of a stupid crash."
English-speaking results at Worlds
By Steve Medcroft
Bjorn Selander (USA) works hard
Photo ©: Luc Claessen

There were a number of English, Canadian and American riders at Cyclocross Worlds in Zeddam last weekend. Enthusiasm and participation in the traditional Dutch and Belgian cycling discipline has grown exponentially in English-speaking countries in recent years. With a full contingent of Americans, nine Brits, and five Canadians, there were plenty of results to go on about.
The best male effort of the weekend goes to Bjorn Selander (USA). The Alan Factory Team rider's seventh place in the elite junior event doesn't speak adequately to his performance. Through much of the race, a small lead group held a slight advantage over the rest of the pack. Containing the ultimate first, second and third place finishers, these leaders set the pace. Only one rider was able to stay right on their wheel; Selander. The Hudson, Wisconsin high school senior was so close that it was in fact a four-man lead group for most of the race. And if it wasn't for an untimely collision with a course-side tree on the final lap, we may have seen the first American junior on the World Cyclocross podium since Matt Kelley's gold in 1999 and Walker Ferguson's silver in 2000.
Troy Wells took a beating
Photo ©: Joscelin

In Saturday's U23 race, it seems like a disproportionate number of English speakers got stacked up behind a starting-straight crash. Britain's Ian Field pulled off the best result of the group at twenty-first. The guy to have the worst time of it though was U.S. U23 National Champion Troy Wells. In the crash, Wells went head first into a barrier and (amazingly) rode the entire race bleeding from the face and in the haze of a concussion.
There were eight North Americans and three British women in Sunday's fifty-four-rider women's race. The best result of the group was put up by Helen Wyman (GBR) who finished just behind fourth-placed Mirjam Melchers-Van Poppel. The top American result came at the hands of veteran Ann Knapp; a not-bad ninth place for the 'retired,' non-serious rider from the Pacific Northwest. Canadian Lyne Bessette is a strong enough rider that with a better starting position, she might have picked up third place when Van Den Brand lost time to her flat, but considering she had been chasing away a flu for a week and started mid-pack start on a course that absolutely favoured good starting positions, her tenth place shows real promise.
In the elite men's race, the English-speakers struggled a little bit. Except one; American Jonathan Page put up a stiff fight. Thorough much of the first half of the race, he remained in the lead group. Even when things broke up (and despite a shoulder into a tree on his final lap as well), Page fought well enough to earn tenth place - the best American finish and the only English-speaker to crack the top half of the results. With his placing, he once again proved that he is the top American competing in cyclocross
The internationalisation of Cyclocross
By Brecht Decaluwé
Year after year, Belgian cyclists have dominated the world of cyclocross Even at Zeddam the Belgian elites were out in force, but we didn't see the Belgian youth as much is the spotlight as in years past. Only junior Tom Meeusen (who took bronze) and espoir Niels Albert (also third) showed the talent we've come to expect from Belgium.
Belgian national team coach Rudy De Bie says the lack of youth results is not a sign that Belgian's young riders were blown away but is more a sign that cyclocross is becoming an international game.
"In the juniors race, I saw a leading group of nine riders," he said by phone on Monday. "They were all from a different nation. To me, it says everything about the internationalisation of the sport."
Which means De Bie wasn't disturbed at all by the relatively soft Belgian results in the junior events. "The world championship is one race," he said. "Bad luck and the track can play part in some poor results. Dennis Vanendert for example, was riding very strong in the juniors race. He had a flat tire and got a bad result. Without these material problems, he would have been fighting for the medals. Lucky for those guys, there are world cup races to prove that they are talented riders."
De Bie also says that dominance in youth races isn't the focus of his program anyway: "Current top riders Sven Nys and Bart Wellens didn't take medals in their youth period. They were always in contest for more, but somehow they didn't take the best results." The question, he says, is whether youth success means elite success. And elite success is the ultimate goal. "There are lots of talented young foreign riders who have won medals but can't grow into a top pro-rider afterwards. This proves for me that taking a medal in a youth championship is not a guarantee for success as a pro."
Asked about the performance of the American riders, De Bie answered swiftly: "They are performing very well, taking into account that most of them don't often race in Europe."
The Greatest Show on Earth; the Barb Howe 'Cross Worlds diary
Barb (l) and Ann Knapp
Photo ©: Barb Howe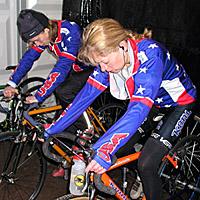 Monday morning. Joscelin once again hired herself out and drove Mike, Greg, and myself to Zeddam. I'm staying with Team Canada until Wednesday when the US team arrives. Canada has two little bungalows in a resort 3km from the course.
The weather has taken changed again; last week was warm and rainy, this week is very cold and clear. The temperature does not go above freezing even in the sun (this is reminiscent of last year at St Wendel minus the snow). Greg and I went for a ride and found the course along with several of his German team-mates. Two laps on the course were enough for me to decide that things will be best if the temperature stays cold. If the weather was to get warm the race will be a death trudge on muddy grass.
Internet and Bowling
This resort has everything including wireless Internet, a swimming pool, air hockey and bowling lanes. Monday night was the first league night of the cross season. In Canada vs USA, Stu Thorne brought home the glory with a winning score of - well I shouldn't mention it because we'll all be embarrassed by own pitiful scores.
On Tuesday I went for a road ride through S' Heerenberg, a quaint little town just south of Zeddam. I rode past the town castle and continued on the large smooth bike path into Germany. There were no signs designating the border, but the street signs had changed from straat to straße and the buttons at stoplights asked kindly - bitte - to be pushed.
The US cross team
Photo ©: Joscelin

Tuesday night was another league night but this time it was men vs. ladies. Lyne Bessette, Wendy Simms, and myself gave the boys Stu, Norm, Ryan, and Mike a sound beating. Wendy was our ringer; she might have been a pro bowler in a previous life. Our underdeveloped cyclist arms could only take a few rounds of bowling before they succumbed to fatigue and we resorted to granny style bowling. Even in that undignified style, Wendy kicked everyone's butt.
Wednesday at lunch I moved south from Canada to USA. The USA team hotel is right in Zeddam and you can ride to the course on a dirt road out the back door. After a few more laps on the course it was time for dinner and clothing distribution. It's really exciting to get the USA clothing, it feels like you just one small step away from finally getting to race. I've been thinking about racing at World's this year since I finished last years race. Thursday morning us ladies planned a shopping excursion to S' Heerenberg for tofu and other essentials. We were a bit early for the outdoor market, they were just setting up in the freezing temperatures and blowing wind. Last week's fever came back for a second visit - why can't it just leave me alone? The morning's short shopping excursion did me in and I didn't get out of bed until dinnertime.
For the rest of Barb Howe's diary from Zeddam, click here.
Previous News Next News
(All rights reserved/Copyright Knapp Communications Pty Limited 2006)