Cyclocross news & racing round-up for November 26, 2005
Edited by Steve Medcroft
Welcome to our regular round-up of what's happening in cyclocross. Feel free to send feedback, news and gossip to mtb@cyclingnews.com
Verge New England Cross heads for round four
Those racers motivated enough to push away from a second helping of turkey and toe the line at the Gearworks Bay State Cyclo-Cross, Saturday in Sterling, Mass., will get a sneak preview of what to expect from December's National Championships in Rhode Island. Round four of the 2005 Verge New England Championships Cyclo-Cross Series, presented by Cycle-Smart, Gearworks will use a course designed by the veteran hand of Tom Stevens, the man also responsible for laying out the course at Nationals.
"The two courses are very, very similar and the weather conditions will be about the same too," said Stevens. "They're both wide open with some hillsides and almost the exact same amount of elevation gain. If there's one course this year that will best prepare you for Nationals, this is it."
The forecast for a holiday week of inclement weather should have Tim Johnson (Cyclocrossworld.com-Louis Garneau) licking his chops as he enters Sterling. Johnson, leader of the Elite Men's Verge NECCS points, always excels in bad conditions and the prospect of snow and mud seems perfect for the former National Champion. But four-time defending Verge NECCS champion Mark McCormack (Team Clif Bar), currently sitting second in the points race, has also proven himself handy in the late-fall muck over his career.
The Elite Men's race promises strong performances from the Fior di Frutta duo of Michael Cody and Matt White as well as U-23 Series leader and overall threat Jesse Anthony (Team Clif Bar). As well, fresh off his turn on the European World Cup circuit, Connecticut's own Jeremy Powers (Jelly Belly-Pool Gel) is rumored to have the Sterling race penciled in on his schedule.
Having gone a perfect three-for-three in Verge NECCS races so far in 2005, Lyne Bessette (Cyclocrossworld.com-Louis Garneau) will look to keep her streak alive in Sterling. Coming off her only non-winning performance so far this season, at the USGP Finals in San Francisco, the reigning Canadian Champion will face a top regional field including Tara Ross (Victory Brewing), Maureen Bruno Roy (Independent Fabrication), Mackenzie Dickey (Bicycle Alley), Amy Wallace (Verizon Wireless), and Rebecca Wellons (GearWorks-SpinArts).
Going into the Gearworks Bay State Cyclo-Cross, Verge NECCS leaders are as follows: Elite Men, Tim Johnson (Cyclocrossworld.com-Louis Garneau); Elite Women, Lyne Bessette (Cyclocrossworld.com-Louis Garneau); Under-23 Men, Jesse Anthony (Team Clif Bar); Masters 35+, Jonny Bold (Corner Cycle); Masters 45+, Chris Long (Independent Fabrication-Gotham); Junior Men, Jerome Townsend (Bicycle Alley); B Men, Pascal Bussibres (Abbrsuz LA GoeLiche); Cub Juniors, Jared Reuta (44Velo); Masters 55+, Phil Bannister (Putney-West Hill).
For more information on the 2005 Verge New England Championship Cyclo-Cross Series please go to www.necyclocross.com.
National 'cross champions to race each other
Promoters of the Liberty Mutual US national cyclocross championships have organised a special event for elite men with the Liberty Cup, a 'showcase for all the national champions' to be held December 11, right before the elite women's championship.
"Any national champion over the age of 15 will be invited to race with no entry fee," said Tom Stevens, race director. "The one caveat is that we ask them to wear their national championship jersey. If they do that we give them a front row start position. We'll pay a good prize list and reward the top masters and top under-23 finishers." It's expected that Jesse Anthony, Jeremy Powers, and Bjorn Selander will race, with 16-year-old Alex Coelho also making an appearance.
Registration for the Liberty Cup is open, and entry fees will be refunded to those who win their national titles. For more information about the Liberty Mutual US national cyclocross championships, visit the website at www.cyclocrossnationals.com
Clif Bar's "Tussle for the Buckle"
Round 1
Photo ©: Paul McKenzie
The Clif Bar Cyclocross Sumo Suit Challenge, the brainchild of Clif Bar's Dylan Seguin, was held last Thursday, with Gavin Chilcott ending the night a deserving winner. Hosted by Clif Bar ahead of the USGP of Cyclocross final round as a means of gathering members of the cycling community in Northern California, there was a silent auction benefiting the Fast Freddie Foundation, plus pizza and beer and of course the sumo event. Riders donned sumo suits and 'tussled for the buckle', wrestling for the grand prize of a specially-made belt buckle.
Among those participating in the event were Gary Erickson, Freddie Rodriguez, Mark McCormack, Mike Sayers, Laura Charameda, Jesse Anthony and Troy Wells, plus the finalists Todd Wells and Gavin Chilcott. Emcee for the evening Richard Fries, commented that, "In terms of fun, it was off the charts. There's something between Halloween, Christmas and pagan rituals that makes humanity want to put on costumes. Something comes undone in us all at this time of year, so it's right in with cyclocross. You could never get a bunch of road weenies to do this in May or June. And I'm glad the event has 'Cyclocross' in the title."
The winning look
Photo ©: Paul McKenzie

When asked about strategy, buckle winner Chilcott quipped, "It pays to be short." When pressed further, Chilcott admitted, "Laura (Charameda) said she was going home with the winner and that was very motivating."
For a thumbnail gallery of these images, click here
Images by Paul McKenzie
New sumo champion Gavin Chillcott displaying the belt buckle medal of honor. If only he could find a belt that would fit that fine figure.
An interview with Wendy Simms, November 25, 2005
One big adventure
Having spent most of her racing career as a privateer mountain biker, Wendy Simms has enjoyed an excellent 2005, riding 'cross for Kona and accumulating an impressive tally of results in both MTB and 'cross. At last weekend's USGP of Cyclocross final round she managed to beat Lyne Bessette and take second overall in the series, exerting a level of dominance over Bessette not seen this season. With a wedding just around the corner and her job as a biologist keeping her busy, she managed to squeeze in some time to talk to Cyclingnews' Les Clarke.
Simms smiling
Photo ©: Normon Thibault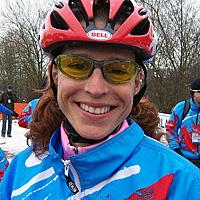 When Cyclingnews interviewed Simms earlier this year she spoke about the fact that nobody really knew who she was, even when amongst the leading riders at the Sea Otter Classic. Riding as a privateer and sponsored by her partner Normon Thibault's running shop Frontrunners and Helly Hansen, Simms took second place overall in the cross country race, beating the likes of big-team riders such as Alison Dunlap, Mary McConneloug and Dara Marks-Marino over the four stages.
During this 'cross season, Simms has been a part of the Kona team, riding the USGP of Cyclocross series and finishing second to Lyne Bessette at the Canadian national championships held earlier this month. But at last weekend's USGP of 'cross final Simms took her revenge, becoming the first rider to beat Bessette all season, propelling her to second in the final series standings. Simms wasn't exactly expecting the win, but knew what was required, saying, "I definitely knew it was going to be a big challenge - I was gunning for it and it was definitely a goal, for sure. But I knew everything would actually have to come together to beat her and it happened last weekend."
Canadian Cycling accepting 2006 'cross venue bids until Dec. 10
The Canadian Cycling Association is currently accepting bids for the hosting of 2006 international cyclocross events. Organizers wishing to submit bids must complete and return the following two documents to the Canadian Cycling Association office no later than December 10, 2005: National and International Event Application (pdf); and 2006-2007 UCI Calendar Registration (Word document).
For additional information, please contact Rémi Bérubé, Competition Coordinator, at competition@canadian-cycling.com.
Kansas City UCI race a dry run for 2007 U.S. Nationals venue
The Trek Bicycle Store of Kansas City, The Trek Bicycle Store of St. Louis are pleased to announce the KLM Marketing Solutions UCI Cyclocross Race and the Kansas/Missouri State Cyclocross Championships.

KLM Marketing Solutions will host their first UCI event to hone their Cyclocross skills in preparation for the 2007 & 2008 National Championships. Competition will take place at Wyandotte County Park located in Kansas City, Kansas. The 360 acre facility is a riders dream with fast terrain and painful run-ups. This will mark the 2nd time that a National caliber Cyclocross Race & National Championships have been hosted in the Kansas City Metro Area.

"We are very excited and honored to be the host for this great sporting event. We have put a lot of time and efforts into bringing the event to Kansas City. The support has been overwhelming from the Kansas City, Kansas Parks & Recreation Department, Unified Government of Wyandotte County and the Kansas City Sports Commission; all entities are dedicated to making sports an important part of Kansas City." Said KLM Marketing Solutions President Bill Marshall. For more event information visit www.kccrossnationals.com

(All rights reserved/Copyright Knapp Communications Pty Limited 2005)