Cyclocross news & racing round-up for November 25, 2005
Edited by Steve Medcroft
Welcome to our regular round-up of what's happening in cyclocross. Feel free to send feedback, news and gossip to mtb@cyclingnews.com
Bessette and Wicks take U.S.G.P. Series wins
By Paul McKenzie
Todd Wells (GT-Hyundai)
Photo ©: Paul McKenzie

In the final Crank Brothers U.S.G.P. - The San Francisco Clark Natwick G.P. - Wendy Simms and Todd Wells both redeemed their second place finishes on the previous day in Watsonville, by winning their respective races in San Francisco on Sunday.
In contrast to Saturday's hot, dry, dusty, conditions in Watsonville, racers were treated to nearly perfect weather in San Francisco's Golden Gate Park on Sunday. The course was fast and relatively flat, but included numerous tricky, soft, corners. Racers with superior handling skills would gain a little in the turns, only to lose it on the straights to riders with more leg speed. In other words, it was a nearly ideal 'cross course where the winner would need a balanced skill set. Much of the course was in the trees, which gave riders relief from the heat and dust of the previous day.
In the women's Elite Race, Wendy Simms (Kona) punched it from the gun, while Lyne Bessette (Cyclocrossworld.com-Louis Garneau) followed. Simms was on fire today, and in contrast, it appeared Bessette didn't have the same legs that have enabled her to take 13 consecutive cyclocross wins this season. In short order, Barbara Howe (Velo Bella), recovering from being sick the day before, charged into second place. Then Ann Knapp (Kona) passed Bessette and moved into third place, leaving Bessette fourth.
Simms was unstoppable, and gained a lead that would carry her to the finish. Knapp continued to press on, having a spectacular latter half of her race. She finished second behind Simms. Meanwhile, Barbara Howe faded slightly and was passed by Bessette. Bessette finished third, with Howe settling for fourth. Melissa Thomas, riding a solid, steady race rounded out the top five.
Simms, commenting on her race, said, "I felt really good, rode my own race and was just smooth." When asked if she thought she could best Bessette today, she answered, "I thought she'd be in front and I'd be trailing her, but then I saw how tight those first corners were and I had a good start. So I said, 'hey, here's your chance', and I decided to just go for it. When questioned if she felt vulnerable leading, she replied, "No, it's the kind of course where if you just ride your own lines, and you're smooth, I think you end up ahead, instead of trying to follow other peoples' lines. I really liked the course."
Wendy Simms (Kona) wins
Photo ©: Paul McKenzie

Bessette had this to say about her race, "On the first lap, I made a lot of mistakes. I was really nervous today and it played against me. When questioned why she was nervous when she had the series wrapped up, she said candidly, "I'm always nervous but today I was more so. I was hurting really bad yesterday in the heat and I wanted to make it nice and smooth today. But I was really rough on my bike, I unclipped in the sand a few times and lost a lot of time. I guess I was tired today. Wendy (Simms) and Ann (Knapp) had great rides and I can't take anything away from them."
In the men's race, a different set of circumstances were at hand. While Lyne Bessette clinched the U.S.G.P. Series Title the day before in the Watsonville Surf City G.P., the men's title was to be decided in San Francisco at the Clark Natwick G.P.
Tim Johnson led the series on paper, but poised to take his spot were Barry Wicks or Mark McCormack. McCormack was sitting in second, with Wicks in third. The series is scored on the best five of the six race series, and since Wicks had a race in which he earned zero points, he'd essentially already thrown out the points from his worst race. Wicks had earlier stated his goal of winning the series. Johnson had the jersey, but after a tough race in Watsonville, his lead was tenuous. The dark horse was Mark McCormack, who could win the series if he won today's race, or in any number of other complex, point juggling, mumbo-jumbo combinations. The spoiler was Todd Wells. While not in contention for the series win since he'd missed too many races, Wells could win on the day and upset the finishing order in a way that might determine the outcome of the series competition.
Read the entire race reports from the final two days of USGP racing in 2006 Surf City 'Cross and Clark Natwick GP.
Mutsaars signs to ride 'cross with ZZPR.nl
Ronald Mutsaars has signed a contract with the ZZPR.nl team. The 26-year-old from Brabant and team leader Frank Groenendaal have both signed until April 2007, with Mutsaars ending a four-year contract as a road rider with Rabobank. "The Pro Tour means you must be a good sprinter, time trialer or climber. I can do everything a little bit, but nothing really well. That made it difficult to get a contract as an all-rounder," said Mutsaars. He'll be joining the team of Dutch 'cross stars Wilant van Gils and Daphny van den Brand.
Global 'cross racing round up
Spills and the chills: the Barbara Howe diary
Barb Howe (Velo Bella)
Photo ©: Sabine Dukes

There is so much to write about this week. I started it off by getting sick. Josh was ill last week and I managed to keep the virus at bay until the last possible moment and then came down with a spanking good head cold. It was really hard on morale because of the last two USGP races were right here at home and I knew so many people who were coming to watch so I did what I could; mainly skipping work and eating enough vitamin C and Echinacea to resurrect a dead donkey. Saturday morning I still felt like poo.
Rough and tumble 'cross
Saturday's race was hosted by my team (Velo Bella) at the Watsonville Fairgrounds; the town where strawberry's and raspberries are grown. The race had a tiki luau theme and the weather could not have been more appropriate; the sun was sweltering. At least the long run up, being in the shade, was a bit more bearable.
All of my beautiful Bella teammates were bedecked in lei's, grass skirts and Hawaiian shirts. The podium was wearing a grass skirt and several of the officials sported colorful lei's around their necks. Maybe next year the theme can be igloos and polar bears and it won't be so hot! I barely had the motivation to get on a bike much less warm up and try to race.
While negotiating a tricky off camber I tipped over and tumbled down the down side of the bike turning myself into a dust ball. I wasn't hurt but I was slightly embarrassed (and dirty). I continued on my way. During the next warm-up lap at the same off camber I hear the final call to staging for elite women. This was bad because I was as far from the start as possible. So I began a treacherous, panicked dash for staging.
Read the entire Barbara Howe diary here.
On test: Zipp 303 'Cross Wheels
Carbon fiber wheels sound like a good way to throw money at a cross bike with little return. Not so, says Rob Karman, who is impressed with Zipp's carbon hoops.
Zipp 303 cross wheels
Photo ©: Rob Karman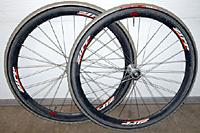 For the past several years, deep dish carbon wheels have been a popular choice among racers, first on smooth roads, and then in cyclo-cross. The unique demands that the conditions of cyclo-cross place on equipment has led wheel maker Zipp Composites to develop cyclo-cross specific versions of its two most popular wheels, the 303s and 404s.
First introduced at Interbike last year, Zipp's cyclo-cross specific wheels differ from their road brethren in three ways: the rims have an extra layer of carbon which Zipp claims increases their impact resistance twofold while only adding about 40g per rim; the hubs have been modified with extra seals to keep grit and grime out in the muddy conditions 'cross is famous for; and the wheels use Sapim Race butted (2.0/1.8mm) spokes for added strength. A full technical description of Zipp wheels can be seen in our recent review of the 404 road wheels.
So what does this mean in the real world? We got our hands on a pair of 303 'cross wheels and beat on them for about a month to find out.
Read Rob Karman's entire Zipp 303 'cross wheels review here.
(All rights reserved/Copyright Knapp Communications Pty Limited 2005)