Cyclocross news & racing round-up for November 19, 2005
Edited by Steve Medcroft
Welcome to our regular round-up of what's happening in cyclocross. Feel free to send feedback, news and gossip to mtb@cyclingnews.com
Alan Factory Team: committed to 'cross
By Steve Medcroft
There seems to be an escalating momentum in cyclocross in the United States. Although the sport has always had its followers, it hasn't been until recent years that U.S. cyclocross has earned mainstream credibility in the cycling world. Elite level road and mountain bike racers have crossed over to this once-obscure winter sport. 'Cross specialists are getting the kind of publicity usually reserved for cyclists of any other discipline. And successful series like the U.S. Gran Prix of Cyclocross and the Verge Mid-Atlantic Cyclocross Series are providing platforms for a core of 'crossers to emerge.
But besides the racers and media and promoters, one of the most important drivers of this momentum is the sponsorship community. The cycling industry has embraced 'cross as a valid and valuable way to expose their products and services to the cycling consumer.
To understand the role a sponsor plays in the development of cyclocross in the U.S., and the importance of 'cross for the business playing sponsor, we talked to Minneapolis-based Paul Schoening of Euromedia Group, the U.S. importer of Alan Frames, Barbieri cycling accessories, Ked Helmets and GSG Clothing. Schoening was en route to San Francisco for the final weekend of USGP racing accompanying Alan Factory Team junior racer (and USGP series leader) Bjorn Selander.
Cyclingnews: How did you get into the cycling industry?
Paul Schoening: I've been involved in cycling for 21 years in one shape or form. I raced in Italy as a U23 and senior; lived over there and raced seriously for six or seven years. I didn't quite make it as a pro so I shifted to career mode and got into consumer and business-to-business marketing. The whole time I was in business, I stayed active as a racer and sometimes race promoter.
CN: What's your history with cyclocross?
PS: I was always passionate about 'cross but got away from it for a while. Then the scene boomed in the Midwest in the past four or five years and I started racing again. The business I have now came about from a combination of things. I have a master's, I'm bilingual (Italian) and I'm a cyclist but I wasn't using those things in my career. Then on 9-11, I stood in midtown Manhattan and watched the World Trade Center towers fall to the ground and my priorities shifted; I wrote a business plan for Euromedia Group over the next few months. It was a pipe dream at first; a way to combine everything I knew about business with cycling. Then I fell in with a good partner and grew the business. I continued doing consulting work to support myself until about two years ago when I was able to jump on board fill time.
CN: How did you get involved in sponsoring cyclocross racers?
PS: Our first year promoting the Alan line and the team was 2003. For the business, we wanted to bring unique and unrepresented companies into the U.S. Since Alan had a strong name in cyclocross, and 'cross is a natural platform for all our brands, we sponsored three or four guys who traveled to races to build a name; maybe 30 riders nationwide including some grassroots riders. Last year, we grew to 75 riders and launched an elite team nationally. For 2005, we're up to fifteen elite and a hundred grassroots sponsored riders.
CN: One of your success stories is junior Bjorn Salender, who won the USGP of Cyclocross last year as well as last year's National Championship. Do you focus on working with juniors?
PS: Our 'cross team is about all levels but I have an affinity to juniors because I don't feel they're supported very well. In the example of Bjorn, we saw a kid with potential but who didn't have the support. He lives in the metro ( Minneapolis ) area – right across the border from us. I had met his father (Dag Selander) some time ago mountain bike racing – he's a Norwegian ex pro. I bumped into him again at a road race in Wisconsin where we were just starting to work with Alan. Bjorn was 15 and needed a new bike so we helped him out. We got Bjorn and his father interested in 'cross. We're proud that because of his 'cross racing, he's now on the on the map of national cycling.
CN: He's having a strong second year; leading the USGP?
PS: Danny Summerhill and Alex Howes (both TIAA-Cref/Clif Bar) are chasing him but Bjorn basically needs only to put together two solid days (in the final USGP weekend in the Bay Area) together to clinch the series. His fitness is on the way up so we're not putting any pressure on ourselves. After this, Bjorn's looking forward to Nationals and he plans to attend Geoff Proctor's European Cyclocross Camp (a ten-day camp hosted at the USA Cycling Development house in Belgium during the 'cross-crazy Christmas/New Year's week), the Worlds.
CN: The team has other success stories as well?
PS: Nicholas Weighall came second to Bjorn at nationals last year and he had no sponsor so we were able to help him. Matt Kelly was formerly junior world champion. I'd always admired him and when he decided he wanted to come back to racing after five years out of it, we approached him to do 'cross. One other notable junior is Logan Loder. He won a bunch of local races but hadn't traveled because he broke his wrist in September. He's coming to the Bay Area and we expect him to do well. We're always trying to find junior talent. We support some other junior development programs in the Minnesota area; kids from 10 to 18. We also promote ten races and a 8 week weeknight training series in the area. These are the kinds of things we want to do – promote the profile of the sport and reflect positively on the brand. Bjorn's a good example of the kind of success our type of program can have.
CN: Do a get a chance to race yourself?
PS: I race masters 40 plus and sometimes as an A in local races - I might be the oldest A-class racer in Minnesota (laughs). I did master's nationals as a racer last year, but it's just as much fun to travel with the riders and be part of the team. This weekend, I'm pitting for Bjorn. I'm also racing.
Tim Johnson interview: No regrets
In his five years on the pro circuit, Tim Johnson's been faced with a lot of tough choices. Tough choices inevitably call for tougher decisions, but as he enters a new year and a new team, he tells Anthony Tan there's no regrets.
Celebrating his first win of the cyclo-cross season
Photo ©: Breton Hornblower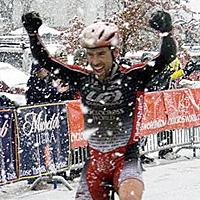 12 months ago, Tim Johnson had a lot of reasons to say to hell with the bike. A less than satisfactory season over in Europe with Saunier Duval-Prodir was hard to take. Facing his peers back home was possibly even harder. Then that vocal, often brash though extremely gifted countryman of his, Chris Horner, went back across the Atlantic and did exactly what he wanted to do - and in the same team, goddamnit!
"I have a lot of respect for Chris, and he has done what every American dreams of," Johnson admits, "but there are absolutely no regrets. For me to go back to Europe, it's either going to be on a 'cross bike or a month-long trip with Health Net, and that's something we're planning on doing."
When the now 28 year-old signed for Jittery Joe's-Kalahari before the start of the year, a small, unassuming eleven man outfit based out of Athens, Georgia, many thought Johnson's cycling career had gone off the rails. However, his experience with this team directed by Micah Rice and principally sponsored by a company that makes coffee beans turned out to be the perfect shot of espresso.
Click here to read the rest of the story.
Knapp time at Washington State 'Cross Championships
By Hyun Lee
Ann Knapp on her way
Photo ©: Hyun Lee

For the second time in three years, the Washington State Cyclocross Championships came back to Fort Flagler State Park, Marrow Stone Island, on November 12. After a week of rain in Western Washington, the weather was mercifully dry for the riders who traveled to Fort Flagler Saturday. With the Emerald City Cyclocross Series race the next day, over a hundred racers made arrangements to spend the night in the area to make it a double weekend of cyclocross.
Kristi Berg (Bicycle Centers)
Photo ©: Hyun Lee

In the Elite Women's Championship race, Ann Knapp (Kona) took command of the race early on and strung the field out along the course. Setting a blistering pace, the only rider in site of Knapp was Kristi Berg (Bicycle Centers). With the Washington Championship secured after a few laps attacking into the wind alone, Knapp started catching and passing riders in the Men's B field, which started a minute before the women. "Every race now counts as we get closer to Nationals [with the traditional Wednesday Night workouts at the Grouphealth Velodrome cancelled cue to construction] the only practice is racing" said Knapp. When asked if she had a plan for the race, Knapp replied "No plan. [I was] just going hard, thinking when you're with the best in the nation can you let up?" Silver medalist Kristi Berg reflected on the race, saying, "It was a great race. It's a lot harder racing it than riding it." On Knapp, Berg said, "She gets stronger and stronger every race...I tried to hang with her to get away from everyone and then hang on...with Ann, I'm always happy to hang with her." Closing out the medal count for the elite women was Jadine Riley of Team Grouphealth.
Read the entire Washington State Cyclocross Championship race report, results and pictures here.
Barbara Howe diary: The Martha Stewart of Cyclocross?
'Still life with food processor,'
Photo ©: Barbara Howe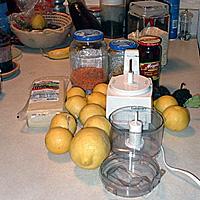 A weekend off racing and nothing interesting to write about except FOOD! Food is in my list top five favourite things ever and the term is used in the broad sense (including beverages too). Bike riding and food go together; you ride lots, you need to eat lots. It's simple. Fortunately, the people I spend the most time with (mainly Josh and Melodie) share my enthusiasm for food. Melodie and I usually don't get more than an hour into a ride before starting to talk about food. We talk about food that was, food that could be, food that should be and food that will be. We often plan out meals weeks in advance - we've been trying to get together and make mole for close to two months, for example. Melodie also likes to cook while Josh mostly prefers to reap the benefits of our cooking.
Asian markets, Mexican markets, Indian markets and farmers' markets in Northern California make for a wide variety of exotic ingredients, fresh produce and endless cooking possibilities. Nearly three years ago Josh and I made the decision to quit eating meat for health reasons. Except for the occasional sushi craving breakdown and hidden bacon surprises (beans served in Arkansas are usually cooked with bacon, this caught me off guard and ruined a meal) we've been able to subsist on a non-meat diet. I'm not intending to preach the goodness of vegetarianism - make your own choices - I'm just saying that it is possible to be an elite athlete and not eat cows, chickens and pigs. During the summer, I try really hard to grow a garden in the front yard. I've been thwarted by deer, raccoons and goodness knows what other animals that like to eat my tomato plants. Snails seem to prefer the pepper plants and basil just won't grow at all. One of these years I plan on constructing a large jail like structure around the garden to keep the animals out of the plants.
Read the entire Barbara Howe diary here.
New Arrivals – November 15, 2005
By John Stevenson & James Huang
A handful of new products hit the tech editors desk this past week, including USGP sponsor Crank Brother's newest titanium pedal,
Cranks Brothers adds more titanium
Photo ©: James Huang

Crank Brothers Candy 4ti
The Candy 4ti both adds to and removes titanium from last year's Candy Ti. The wings and sleeve are now titanium, and the spring and kickplates are both ti-nitrided. More importantly, Crank Brothers has shortened the spindles of the 4ti by almost 4mm each. The new cleats also now incorporate lateral adjustment and combine with the shorter spindles to provide a Q-factor that is nearly road crank-narrow. Oh, did I mention they're light, too? Our complete set is just 238g including cleats and hardware.
MSRP: US$350.00
More info: www.crankbrothers.com
Read about all the latest New Arrivals at the tech desk here.
(All rights reserved/Copyright Knapp Communications Pty Limited 2005)