Cyclo-cross news & racing round-up for December 23, 2005
Edited by Steve Medcroft
Welcome to our regular roundup of what's happening in cyclo-cross. Feel free to send feedback, news and gossip to mtb@cyclingnews.com
Top U.S. 'crossers head for Europe
By Steve Medcroft
Troy Wells and Jesse Anthony
Photo ©: Russ & Nancy Wright

Sixteen top American cyclo-cross racers are assembling in Belgium this weekend to take part in U.S. cyclo-cross national team coach Geoff Proctor's now annual 'cross camp. Based out of the Belgian home of USA Cycling's U23 road program director Noel Dejonckheere, Proctor, a high school English teacher from Helena, Montana, has organized ten days of focused European 'cross racing for the elite group.
Held over the 'cross crazy Christmas-to-New Year's holiday, the camp gives U.S. racers the chance to immerse themselves in cyclo-cross and get in a major block of training leading up to January's UCI Cyclo-cross World Championships in Zeddam, the Netherlands. The group will include twin-towers Ryan Trebon and Barry Wicks and espoir phenom and younger brother to newly-crowned U.S. National Champion Todd Wells, Troy Wells.
Check back on Cyclingnews in the coming days for a full interview with Proctor about the camp, the development of U.S. talent and America's chances at World's.
Camp Riders
Juniors: Danny Summerhill, Bjorn Selander, Alex Howes, Chance Noble.

Espoirs: Jesse Anthony, Troy Wells, Morgan Schmitt, Brady Kappius, Dan Neyens, Mitch Peterson, Adam McGrath.

Elite Men: Ryan Trebon, Barry Wicks, Jeremy Powers, Eric Tonkin, Jon Baker.
Camp schedule
Diegem SuperPrestige (C1): Saturday 24 December*
Wachtebeke: Sunday 25 December* (juniors only)
Hofstade WCS (not World Cup for Jrs/Espoirs): Monday 26 December
Loenhout GVA C1: Wednesday 28 December*
Hooglede WCS: Saturday 31 December*
St Niklaas C2: Monday 2 January
Surheisterveen (Holland) C2 Wednesday 4 January*
*junior schedule
World Cup #6; Wellens wins as Nys runs out of luck
What a World Cup! In the race report that follows, you'll read how Sven Nys finally proved himself human in a cyclo-cross race leaving Bart Wellens in position to take over for the win. Following the race though, it was reported that Wellens kicked a spectator in frustration after repeated verbal abuse and the spraying (read: wasting of prefectly good) beer and was disqualified (but allowed to keep the win).
Confused? take the two stories one at a time. Read the race report here then browse down a story or two for the piece about the disqualification.
Bart Wellens (Fidea)
Photo ©: Roberto Bettini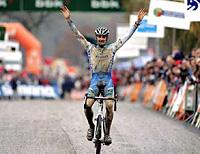 A shocking day for Sven Nys (Rabobank) and a good day for Bart Wellens (Fidea) has netted the latter his first World Cup victory this year in Igorre, Spain. Wellens claimed a huge win over Petr Dlask (Czech Republic) and Enrico Franzoi (Lampre - Caffita), with the gap to second place nearly a minute. Nys, a victim of various mechanical disasters, could only finish 8th at 1'54.
"This makes me very happy," said Wellens on Sporza. "Together with Sven Nys, I tried to make the race. The last lap would then decide who was the strongest. But when I saw that there were a lot of riders with problems with their derailleurs, I started running. I'm strong there.
"Hopefully I can keep it going next week in Hofstade. I would love to win a jersey, but I also know how difficult that will be."
Nys had his five race winning streak broken by the mud in Igorre. "It had to happen once, but I had a lot of bad luck," he said. "It all happened suddenly. My derailleur went into my back wheel twice, and I punctured. Bart Wellens was good, but without a mechanical I didn't have to be afraid of him. I knew where I could beat him, I was waiting for my chance."
"Actually I should have abandoned. But at the place where I wanted to pull out of the race, our coach was standing, and he convinced me to keep going," concluded Nys, who vowed that he would be back and going for the victory next Saturday in Essen.
Read the entire World Cup #6 race report and see photos and results here.
Wellens disqualified after hitting spectator
After an altercation with a spectator at Sunday's Vlaamse Druivenveldrit in Overijse, Belgium, Bart Wellens has been disqualified following a meeting of the UCI and the three race commissaires. Wellens won the race, and although it appeared he may have been disqualified on the day, was allowed to keep the win.
But after examination of the case it was decided that Wellens' actions, although prompted by the insults of a spectator constituted an offence strong enough to lead to his disqualification. He may also be fined after a meeting of the Disciplinary Commission decides whether the incident warrants a financial penalty.
UK National Trophy #5
By Luke Webber
Ian Field in second wheel
Photo ©: Luke Webber

A thrilling sprint finish concluded 60 minutes of the best cyclo-cross racing Britain has seen this year, as Ian Field took the final round of the National Trophy at Abergavenny. Second place was good enough for Crawforth to regain the series title, earning three emphatic victories on the way.
On a cold day in the Welsh hills bike handling skills proved all-important for those wanting to win. The lap was fairly flat and fast with a long tarmac section and several grassy flats allowing plenty of chaingangs to form. The undoubted sting came in the form of several tight and tortuous hairpins - many of which were off camber and slick with mud.
It was a track for the rider who possessed speed, agility, bike skills, tactical awareness and nerve - something Field had in spades.
How it unfolded
A class field took to the line for the final National Trophy, with many hoping to fine tune their form for the upcoming National Championships. Among the riders were the 2005 protagonists; Crawforth, Field, Wilkinson, Collins, Oldham alongside which was current national champion Nick Craig, mountain bike star Liam Killeen, Belgian Ronny Poelvoorde, Dane Joachim Parbo and American Jeremy Powers.
Riders set off at a lightning pace along the tarmac with Powers (Jelly Belly) taking to the front, followed by a string of riders sprawled across the Leisure Centre.
For complete race report, photos and results, click here.
Discretionary picks for U.S. Worlds team
USA Cycling announced its discretionary selections for the 2006 UCI Cyclo-cross World Championships this week. And the nominees are...

Junior Men
Alex Howes
Bjorn Selander
Chance Noble
Patrick Ethan Gilmore

U-23 Men
Adam McGrath
Brady Kappius
Dan Neyens

Women
Ann Knapp
Maureen Bruno-Roy
Rhonda Mazza
Global 'cross racing round-up
Previous News Next News
(All rights reserved/Copyright Knapp Communications Pty Limited 2005)