Cyclocross news & racing round-up for December 4, 2005
Edited by Steve Medcroft
Welcome to our regular round-up of what's happening in cyclocross. Feel free to send feedback, news and gossip to mtb@cyclingnews.com
Gearworks 'cross wrap-up: Johnson & Bessette swoop in the snow
Tim Johnson (cyclocrossworld.com-louisgarneau)
Photo ©: Paul Weiss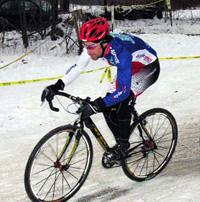 Billed as a sneak preview of the course for December's National Championships in Rhode Island, Saturday's Gearworks Bay State Cyclocross, round four of the 2005 Verge New England Championships Cyclocross Series, presented by Cycle-Smart, added an extra bit of intrigue: a healthy blanket of snow. The Sterling, Mass. course, designed by National's course guru Tom Stevens, was already challenging before the four inches of white fluff came down on Thanksgiving Day, but the added element of dodgy traction and sub-freezing temps made for an epic day in the fourth race of the 2005 Verge NECCS.
Verge NECCS Elite Men's points leader Tim Johnson (Cyclocrossworld.com-Louis Garneau) reveled in the slick conditions, taking a solid victory over four-time defending Verge NECCS champ Mark McCormack (Team Clif Bar). McCormack's teammate Jesse Anthony got the action started on the first lap as the Under-23 Series leader pushed the pace hard going into the race's main run-up. With McCormack falling back due to technical bobble in the treacherous conditions, Anthony and Johnson were on their own. Johnson powered away from Anthony on lap three, cracking open a lead that, while seriously threatened in the waning laps, never disintegrated totally.
McCormack fought back in the closing four laps, trimming Johnson's margin down to a mere six seconds with two laps to go. But while McCormack could see Johnson he couldn't catch Johnson, who goosed the pace just enough to make a last-lap lead change impossible. McCormack settled for a credible second, while Johnson solidified his overall Series lead. Anthony rounded out the top three and also finished on top of the U-23 podium.
Read the entire Gearworks 'cross race report here.
Horner looking for upset at 'cross nationals
A newcomer to cyclo-cross, Tour de France star Chris Horner, will line up to race at the Liberty Mutual US national Cyclocross championships. Horner recently made his cyclo-cross debut at the final two races in the Crank Brothers U.S. Gran Prix of Cyclocross in California where he started from the middle of the pack and placed 13th and 11th respectively over the two races. "I had a blast," Horner told the crowd after the final race in San Francisco, "I think this suits me."
Horner will step to the start of the elite race on December 10 to match skills with the likes of Jonathan Page, Tim Johnson, Ryan Trebon, Adam Craig, Todd Wells, and Mark McCormack. The men's elite race is set to start at 3 p.m. on December 10.
For the complete race schedule and information about the Liberty Mutual U.S. National Cyclo-cross Championships, visit www.cyclocrossnationals.com.
TIAA-CREF/Clif Bar riders heading to Europe
With a successful US race season wrapping up and the all-important national championships looming in early December, four members of the TIAA-CREF/Clif Bar cyclocross team have been selected to join US national cyclocross coach Geoff Proctor at his prestigious Euro Camp III. The riders are Alex Howes and Danny Summerhill as juniors, along with Brady Kappius and Troy Wells in the U23 ranks.
Based in Belgium and running from December 22 until January 5, the camp is intended to give the top tier of US 'cross racers the chance to compete against the world's best in the heartland of cross during the holiday rush of 'cross racing. Each rider will be able to race up to seven times at World Cup, Superprestige, and GVA Series events, with most riders attending the camp going on to compete at the world championships in Zeddam, The Netherlands on January 28-29.
Rhode Island Hosts Verge NECCS Finals
A state better known for its yacht racing, Rhode Island will become the center of American cyclo-cross with this coming weekend's Verge New England Championships Cyclo-Cross Series Finals, the W.E. Stedman Grand Prix of Cyclo-Cross, on Saturday, and the Castor's Grand Prix of Cyclo-Cross, on Sunday. Building up to the following weekend's Liberty Mutual U.S. National Championships, the Ocean State twin bill will provide perfect preparation for Nationals as well as a race-heavy end to the six-race Verge NECCS. With top riders from all across the U.S. flying in to get a final shot of racing before Nationals, overall Verge NECCS winner's will be decided in Warwick on Sunday
"I can tell you that Castor's GP organizer Matt Bodziony and I are very proud and excited to be hosting the Rhode Island Race Weekend," says Joel Brown, organizer of Saturday's W.E. Stedman GP. "Who would have ever thought that Rhode Island would become the epicenter of US cyclo-cross!? This coming week, Rhode Island will indeed be 'The biggest little state in the Union.'"
Coming into the Rhode Island "double dip" Tim Johnson (Cyclocrossworld.com-Louis Garneau) maintains a slim 15 point series lead over four-time defending Verge NECCS champion Mark McCormack (Team Clif Bar), but with double points on offer for Sunday's race an off-day for either rider could prove decisive. While Johnson and McCormack concentrate on racing each other for the Verge NECCS crown, non-title contenders Todd Wells (GT-Hyundai), winner of the final USGP, Barry Wicks (Kona), winner of the USGP #5, and Jeremy Powers (Jelly Belly-Pool Gel) may well throw a few wrenches into the overall points chase. Michael Cody and Matt White (both Fior di Frutta) sit fourth and fifth, respectively, in the points hunt and could steal a few decisive points from either Johnson or McCormack. Under-23 Series leader Jesse Anthony (Team Clif Bar) has cinched up his Verge NECCS title and appears likely to finish in the top-three in the Elite Men's points as well.
With Elite Women's points leader Lyne Bessette (Cyclocrossworld.com-Louis Garneau) missing the final weekend due to commitments in Europe, the Women's overall title hangs in the balance. Sitting second behind Bessette, Maureen Bruno Roy (Independent Fabrication) needs a solid weekend to take the overall Series jersey away from the absent Canadian, but winning the Series remains well within Bruno Roy's grasp. As well, Mackenzie Dickey (Bicycle Alley) remains mathematically in contention for the overall points races.
The Verge NECCS overall awards for all points-scoring categories will happen at 4 pm on Sunday, following the Elite Men's race. Racers finishing in the top 3 in their category overall are requested to attend the awards ceremony. For the Elite Men and Women, cash prizes will only be awarded to those who attend the final overall podium ceremony.
Going into the Rhode Island weekend, Verge NECCS leaders are as follows: Elite Men, Tim Johnson (Cyclocrossworld.com-Louis Garneau); Elite Women, Lyne Bessette (Cyclocrossworld.com-Louis Garneau); Under-23 Men, Jesse Anthony (Team Clif Bar); Masters 35+, Jonny Bold (Corner Cycle); Masters 45+, Colman O'Connor (Bicycle Link-MBRC); Junior Men, Jerome Townsend (Bicycle Alley); B Men, Pascal Bussieres (Abbrsuz LA GoeLiche); Cub Juniors, Jared Reuta (44Velo); Masters 55+, Phil Bannister (Putney-West Hill).
The 2005 Verge NECCS is sponsored by Verge Sport, makers of quality cycling apparel, and specializing in custom clothing orders; Cycle-Smart: Solutions for Cycling, personalized coaching for all cycling disciplines: Greyhound Juice, warming salves and skin care products for all athletes; Felt Bicycles, builders of the best bicycles in the world: BikeReg.com, the solution for all of your online registration needs for cycling events; and Litmus Designs, integrating web technology and graphic design solutions for your business needs.
Verge New England Championship Cyclo-Cross Series:
October 15 - Downeast Cyclo-Cross, New Gloucester, ME
November 12 - ChainBiter 7.0 Cyclo-Cross, Farmington, CT
November 13 - Cycle-Smart International Cyclo-Cross, Northampton, MA
November 26 - Gearworks Bay State Cyclo-Cross, Sterling, MA
December 3 - W. E. Stedman Co. Grand Prix of Cyclo-Cross, S. Kingstown, RI
December 4 - Castor's Grand Prix, Warwick, RI
Seattle's Emerald City Cyclocross wraps this weekend
With only one race remaining in the Emerald City Cyclocross Series, the final race at Kelly Creek Farms in Sumner, Washington (worth double series points), will determine the leader of the 2005 series. Only six points separate the top three spots currently occupied by Josh Squires (Recycled Cycles), Richard McClung (Broadmark Capital) and John Christian-Flack (the Valley).
Coming off an impressive third place at the U-23 race in San Francisco, Morgan Schmitt riding for Redline has been one of the key riders in the Emerald City Cyclocross Series. While still a devoted member of his fraternity, Schmitt has acknowledged that moving out of the frat house this year has allowed him to focus more on school and cycling. This has resulted in numerous top three finishes at races throughout the series and a win at the always challenging Fort Steilacom course in Tacoma, Washington. During most of the season, Schmitt has dueled with the other riders in the top four of the Emerald City Cyclocross Series: Josh Squires, Rich McClung and John Christian Flack.
After retiring from the elite road racing scene, Richard McClung (Broadmark Capital) has focused exclusively on cyclocross, except for the team time trial this summer, setting his sights on the Masters 40-45 National Title in Providence next month. With more than twenty years of racing under his belt, including years of US national team experience, McClung moved to the Seattle area only a few years ago and has become staple of the Pacific Northwest racing scene. With a focus on high RPM leg speed and focusing on the basics in training, McClung has pulled through with big wins, like the State Time Trial Championships, on little more than home made poster board disk wheels and the usual pre race meal of a Coke and Snickers. Until recently, McClung had a consistent streak of races in the Emerald City Cyclocross Series where he finished in the top three. Favoring fast, flowing courses like next week's Kelly Creek, McClung's odds are pretty good.
New to the elite category this season is Recycled Cycles rider Josh Squires. Consistently finishing in the top 10 in the elite races this season, Squirs won the 2005 Tour de Tunnel race at Fort Flagler State Park in Port Townsend. With a strong ride in Sunday's race at South Seatac finishing 5th, Squires amassed enough points through his consistency to take the lead in the Emerald City Cyclocross Series. However only three points separates Squires and Richard McClung, and six points separate him and John Christian Flack (third place) as of today. With only six points separating the top three and double points on the line, the Emerald City Cyclocross Series will have a climactic finish at Kelly Creek on Sunday.
Queen Ann: The Barabara Howe diary
Guys - ever want to know what really happens when two women get together and talk? Barbara Howe gives us an inside look in this week's diary...
The newest addition to the Velo Bella Elite cyclocross team is Ann Fitzsimmons. She currently resides in Morgan Hill, California with her husband Mark. Best known for her downhill exploits, she's making a name for herself as 'cross racer. I had the pleasure of interviewing Ann Sunday evening after her second win of the season.
Barbarella: Ok, so let's get through the normal stuff first then onto the fun questions. How long have you been racing bikes?
Ann Fitzsimmons: (long pause). Mmmm... I did my first cross-country race in '98 .
BH: And when did you start racing downhill?
AF:I started in 2003, it was thrilling and I love gravity.
BH: How about the clothing, were you attracted to the non-lycra downhill look?
AF: Actually I don't like downhill clothing at all, I find all the armor and full-face helmet restrictive.
BH: Like a medieval knight?
AF: More like a football player.
Read the entire Barbara Howe diary here.
Global 'cross racing round-up
(All rights reserved/Copyright Knapp Communications Pty Limited 2005)