How to watch cyclo-cross in Belgium, December 14, 2007
In Flanders fields…
Hold on to yourselves ladies!
Photo ©: Ben Atkins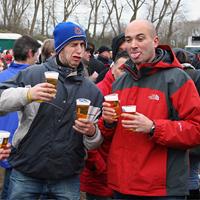 Despite becoming an increasingly global sport with major events happening throughout the rest of Europe and all over the world, Cyclo-cross has its roots firmly embedded in northern Belgium. Cyclingnews' Ben Atkins went undercover for the day at round four of the cyclo-cross World Cup in Koksijde, West-Vlaanderen to find out what makes racing in this part of the world so special.
In most countries, cycle racing outdoors is a summer activity, in the winter there's either recovery from the last season and preparation for the next, or for those with energy to spare there's the track. In this part of the world though, there are some riders who do things the other way around, focusing the peak of their season on racing in the cold, wet weather of the dead of winter.
Cyclo-cross, or Veldrijden as they call it round here, races are generally run in a closed venue, so like criteriums and kermesses - and unlike normal road races - they can charge people to watch. This extra income means that - again like criteriums and kermesses - organisers can afford to pay the top riders appearance money. Top riders like Sven Nys and Bart Wellens, who really draw the crowds, can command as much as €5000 a race before they've even turned a pedal.
The venue of this particular race, Koksijde, sits right next to De Panne (as in the Three Days of) on the North Sea coast. It's just over the border from France and a short hop from southern England. This proximity, and the fact that it's held on the same weekend as the finale of the Gent Six-Days, means that many Brits come over to catch the two events. Consequently, this particular race has a slightly more international crowd than at some events.
"For many, the most important part of the entire venue is the beer tent. Beer is bought with tokens available from a kiosk so that bartenders don't have to handle cash...or add up."
-Ben Atkins felt the need to get a true Belgian experience
What also sets this particular race apart from others is that this is the Vlaamse duinencross (Flemish Dune-Cross), so rather than the ankle-deep mud usually associated with this part of the world, most of the course is over sand, which presents its own peculiar set of issues.
I should mention at this point that although this is the fourth World Cup race of the season, the actual World Cup no longer exists - and hasn't done for a few years now. The World Cup races still carry more prestige, ranking points, and - most importantly - prize money than other, lesser races, but there's no overall World Cup to win. Maybe they just couldn't think of anything else to call them…
This tricky descent is always very crowded
Photo ©: Ben Atkins

This must also be one of the smallest areas for any major cross race. Somehow, the course planners have managed to make the route twist and turn around itself so much that a lap of 2.7 km only takes up a couple of acres or so of land. In an example of typical Belgian cyclo-cross craziness, near the centre is a point where the course passes three times: twice under and once over - the bridge that is a feature of many races has been put to good use. Fans that got here early enough get to see their heroes pass by in all directions, but in truth it's not the best place to be because you really can't see what's going on!
For many, the most important part of the entire venue is the beer tent. Beer is bought with tokens available from a kiosk so that bartenders don't have to handle cash (or add up - one beer = one token, two beers = two tokens, and so on). Unfortunately for that unique atmosphere of some races - although not this one - the practice of running the course through the middle of the beer tent has been outlawed, partly because some riders got wetter inside, riding under cover, than they did outside in the rain!
The other thing that Belgians are famous for
Photo ©: Ben Atkins

There's usually more than one kind of beer available: a witbier, or white beer, like Hoegaarden (pronounced Hoohhharden), maybe a dark beer, or a stronger one like Leffe, and the default option: a "pils" like Jupiler, Primus or Stella Artois. In this case the pils brand is Bel - not one I'm familiar with. Hmm, better test some...
Generally it's sold in 250ml plastic "glasses" (~8.5oz) so if you want more than that at once you have to carry them!
An essential part of any visit to Flanders is frieten, specifically frieten en mayonnaise (in English that's chips with mayonnaise). Some people call them "French Fries", but actually they were invented by the Belgians - their gift to the world of haute cuisine for which we are truly grateful! A selection of other sauces is available, like ketchup, curry and tatare, but mayo is really the only correct way to go.
Women's racing is getting more competitive and the quality of the racing gets better every year, so the crowds begin to swell early on - although to be honest, a lot of the fans entrenching themselves on the barriers at this stage may well be simply reserving themselves a good spot for the main event. The parts where the riders have to get off and shoulder their bikes are packed, the tricky parts where riders are expected to fall off a lot are almost as crowded.
Some people call them "French Fries"
Photo ©: Ben Atkins

With a few notable exceptions like world champion Erwin Vervecken and Kevin Pauwels, most people are either in the Nys (and Rabobank) or Wellens (and Fidea) camps, neatly dividing the crowd into two (mostly) good-natured factions. Most people of both camps tend to keep their particular allegiance under their hat, but many - mostly in organised groups - wear a plethora of fan club paraphernalia, from official team baseball caps to waterproof coats with the rider's name of their choice printed on the back. Particularly well represented is the Nys fan club from his hometown of Baal; he won here last year and they're looking forward to another party today.
As the start to the men's race approaches, every inch of barrier suddenly has a fan leaning against it. The high ground that surrounds the course is packed with more people than you'd think was possible to squeeze onto such a tiny piece of earth. From the barriers you get to see the stars up close, so the uphill parts are the most crowded, but from vantage points above the course you can see the race unfold as it twists its way around the maze of a course beneath you - take your pick!
Finally, the race gets under way, and Bart Wellens, resplendent in his Belgian champion's colours, attacks early to the delight of about half the crowd. He gets a pretty good lead in the first few laps as his Fidea team-mates manage to stifle the chase of Nys' Rabobank squad. Nys (clad in what must be the dullest navy blue "UCI Ranking" jersey ever seen [Note to UCI: More effort needed here please! - Ed.] ) is having a few problems of his own in any case…
No it's not the gents' they're standing patiently in line for.
Photo ©: Ben Atkins

Partly due to a mechanical issue - and probably partly down to the fact that he went on his own so early - Wellens gets caught by the other favourites and the race becomes quite tactical. Meanwhile, at the beer tent, this excitement is taken advantage of by some hardy souls who take advantage of the lull in the beer tent while everyone else is watching the race…
As the race goes on, no one is able to make their move stick, but the series of unsuccessful moves made by one or more of the local favourites, and countered by one or more of the others, causes an eruption (steadily more and more alcohol fuelled) from one sector of the crowd or other, which is far more entertaining than a one horse race.
Eventually Nys and Wellens' team-mate Klaas Vantornout manage to get away, with World Champion Erwin Vervecken - who's finally living up to his billing - in hot pursuit. The Nys half of the crowd gets louder and louder, but the Wellens fans won't let their man give it up without a fight and yell even louder as he passes them by. Everybody has that cannibal feeling though - they've seen Nys do this so many times before - and as the Wellens challenge fades with only a few laps remaining, everybody resigns themselves to yet another victory for the undisputed king of cyclo-cross. Some are more pleased about this than others…
Empty plastic beer cups
Photo ©: Ben Atkins

As the race reaches its climax, more and more people congregate in view of the big screen - which also just happens to be in front of the beer tent - so they can see the final part unfold. Nys manages to lose his companions to finish in his preferred style - alone (he has to, because he can't sprint!). Half the crowd cheers, the other half looks philosophical. The Vervecken fans look quite cheerful at least; the World Champion's second place means that finally his season is coming together.
Race over; everyone begins to disperse. Some make their way through the crowds back to their cars - or the shuttle bus that will take them there; some make their way to the podium - many to wave the yellow and black "Lion of Flanders" flag that is virtually a legal requirement at any cycle race; some simply head for the beer tent, where the serious dissection of today's action can begin.
Photography
For a thumbnail gallery of these images, click here
Images by Ben Atkins/Cyclingnews.com